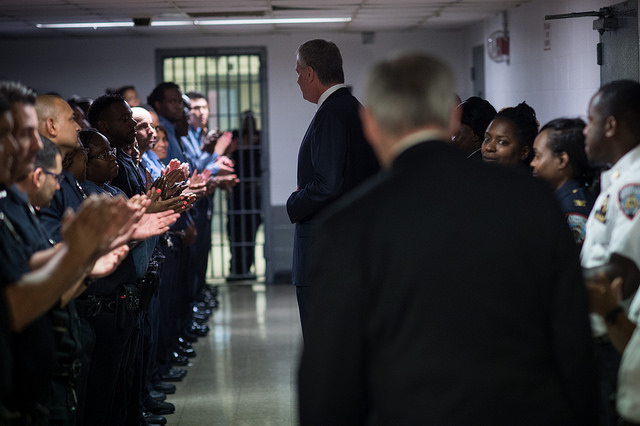 On Rikers Island (photo: Michael Appleton/Mayor's Office)
---
There is an ongoing conversation in New York about how to fix the bail system that many agree is broken, keeping too many poor people in jail after they are arrested for low-level nonviolent offenses but cannot afford to post bond and, at times, allowing individuals back onto the street who are prone to violence but able to pay bail. Efforts at reform have been full of fits and starts.
About a month ago, Mayor Bill de Blasio announced measures to make it easier for people to pay bail through an online payment system, as opposed to the insistence that bail is paid in person. More recently, City Council Member Rory Lancman introduced legislation that would require a city service provider to furnish judges setting bail with details of a defendant's financial situation.
These latest incremental local reform ideas and others are aimed at chipping away at the problems with the system, but many advocates, legal experts, and elected officials agree that there is a need for an expanded statewide conversation around the culture of bail and actual statutory reform, chiefly to ensure that those with limited material resources are not punished simply for their economic status.
Reforming the bail system in New York has been something of a priority at both the city and state levels, though tangible progress has been limited.
In January, Governor Andrew Cuomo included the issue in his policy agenda for this year, although there has been little follow-up through legislation. Cuomo proposed requiring judges to assess risk to public safety when making a bail decision -- something de Blasio and others are in agreement with -- and stronger regulations of bail bondsman practices.
In New York City, the de Blasio administration has implemented a number of initiatives this year to make bail payments less complicated and to provide alternatives to bail that keep people from being incarcerated. There have also been concerted efforts both in policing practice and through legislation to reduce arrests for low-level offenses in the first place, and arrests are down significantly while the city has become safer in terms of major crimes.
The population at Rikers Island jails, where about three-quarters of the city's jail population is housed, hovers around 7,500 daily, down significantly from peak years over recent decades.
In April, the mayor committed nearly $18 million for a citywide expansion of a supervised release program that will allow as many as 3,000 low-level offenders each year to remain out of jail and work while they await trial. The program cuts down on the use of monetary bail, ensuring that people who are of low risk to public safety but cannot afford bail do not languish in prison.
Last month, the mayor announced the creation of a system that allows cash bail to be paid online, by a phone, or through a courthouse kiosk by family members and friends of defendants. The system, due to be launched citywide by the spring, aims at alleviating the difficulty of having to physically visit a corrections facility to pay bail. "Nobody with the ability to pay bail should sit in jail just because the bail process is an inconvenience," de Blasio said at the announcement.
The City Council has also been inching closer to establishing a public bail fund, which was first announced by Council Speaker Melissa Mark-Viverito in her February 2015 State of the City speech. The fund received a license from the state Department of Financial Services in August but cannot begin operations until a pending license application for a bail bond agent is approved. If it becomes operational, the fund will provide bail money for qualifying participants so that they can leave jail between arrest and court appearance.
Bail reform is a key consideration for the Independent Commission on New York City Criminal Justice and Incarceration Reform, a body that was set up at the speaker's behest earlier this year to recommend broad criminal justice reforms, with an eye toward creating a plan for closing the Rikers Island prison complex. The body is being headed by former New York State chief judge Jonathan Lippman, who, when he filled that role, argued vehemently for bail reform.
Lippman believes that bail reform is moving ahead slowly in the city, but he stressed in a phone interview that there needs to be statutory change in law to effect broad change. "The city is doing really good things but they're nibbling around the edges, not able to get at the heart of it," he said. "My belief is that we need cooperation from Albany and we need a new bail statute."
Lippman suggested a two-fold approach to bail: giving judges the authority to assess risk to public safety and the need to "flip the assumption" that someone should be incarcerated instead of being released while waiting for a court date. "Bail doesn't assure the person coming back and it's an anachronism," he said, promising that the commission will directly address the issue when it releases its recommendations sometime in spring 2017.
Last year, when Lippman was serving as chief judge (he was forced to retire due to age restrictions and is now "of counsel" at Latham & Watkins), he announced administrative measures to reform the bail system in the absence of legislative action by the state. His own proposals from 2013 to essentially do away with cash bail have not been taken up by legislators in Albany, where Republicans control the state Senate and are often opposed to what is seen as progressive criminal justice reform.
"I think we got a lot of attention when I proposed the legislation," Lippman said, rueing that "getting a lot of attention and getting things done are two different things."
The challenge to changing the bail statute, he said, is the same that creeps up in any issue of criminal justice reform. "Legislators are elected and get into this soft-on-crime/tough-on-crime syndrome," he said. "I think we need to be smart on crime."
A major impetus to the conversation around bail reform was the tragic death of Kalief Browder, a young Bronx resident who spent three years on Rikers Island awaiting trial on charges of stealing a backpack. Browder couldn't pay bail but was eventually released when the case was dismissed. In jail, he faced physical and mental abuse and was placed in solitary confinement for nearly two years. In June 2015, Browder committed suicide.
The case prompted widespread outrage and besides putting a spotlight on the culture of violence at Rikers, it highlighted the problems in the bail system. Advocates use Browder's experience as a rallying cry in their push for change.
While there's a lot of agreement that an update of the legal statutes is necessary, there's a greater need, many say, for reexamining the purpose of the bail mechanism and reeducation in how it is practiced.
"Bail, by definition, discriminates against the poor," said State Senator Michael Gianaris, deputy Democratic Conference leader, who proposed a bill last year to scrap cash bail. "There's no rational basis for continuing this process."
Gianaris, of Queens, believes that reform is being slowed by a misunderstanding of the issue. "Bail was never intended to keep dangerous people off the street," he said, pointing out that defendants have a constitutional presumption of innocence and cannot be considered dangerous for the purposes of bail if they haven't been convicted yet."
Ezra Ritchin, project director of the Bronx Freedom Fund, one of two charitable bail funds already operating in New York City, commends the mayor and the City Council for the steps they've taken and says there is an urgency around bail reform at the state level.
"We're in an important moment right now where there's a lot of change happening," he said. "Since Kalief Browder...there has been momentum for reform."
But Ritchin warned, "There are things that we are missing in all of this." The root of the issue, he said, is the high volume of arrests in New York City, and the consideration that a defendant is likely to miss their court date. "It's often labeled as flight-risk," he said. "That's a massive misunderstanding of what's going on. No one is fleeing."
"It's a question of the way that we frame risk," Ritchin said, referring to the chances that a person might flee or even be a risk to public safety, which is a consideration that both Mayor de Blasio and Governor Cuomo have proposed as an addition to the bail statute. "What we don't talk about," Ritchin said, "is the risk of a person's life falling apart from being wrenched into the system."
Therein lies the biggest issue for Ritchin, the way the bail statute is put into practice. The current statute allows nine different forms of bail, including cash bail, that a judge can impose, some of which are less onerous.
"I think the statute, if used correctly, could result in a very different system than the one we see now," Ritchin said. This "golden question" of how to change the culture of imposing bail, among prosecutors and judges, is one for which Ritchin said he has no clear answer.
City Council Member Lancman echoed that sentiment. As the chair of the Council's Committee on Courts and Legal Services, Lancman is at the frontline of this issue. "The major obstacle is the unwillingness of judges and prosecutors to accept other forms of assurances for a defendant...than cash bail or bond, as well as the unwillingness to look at each defendant's financial circumstances," Lancman told Gotham Gazette in a phone interview. "The system in every way possible -- from the city side, the judiciary side, the district attorney's side, and, to a lesser extent, from the defense's side -- is not focused on eliminating this reality of people being sent to Rikers Island because they're poor."
Under the bill Lancman introduced November 29, an arraignment screening organization contracted by the city to provide details about a defendant, including a recommendation on their risk of flight, would also have to include information on a defendant's ability to pay bail. This is just one of the few ways the city can change how the bail system works, Lancman said, stressing the need for action at multiple levels. "The effort to reform bail requires many stakeholders adopting the new procedures and policies and outlook, which cumulatively would have an effect of greatly reducing the number of people on Rikers Island because they're poor," he said.
The understanding that cash bail is a misguided concept has taken hold in an unprecedented way at the city and state level, according to Insha Rahman, senior planner at the Center on Sentencing and Corrections at the Vera Institute of Justice. Less than a decade ago, "it wasn't a part of the rhetoric and conversation around bail as it is now," Rahman said.
She insisted that any legislative proposal, such as one that would consider adding public safety as a consideration, should be informed by data obtained through a statewide survey. "The push needs to be to understand the problems with the use of bail statewide to avoid unintended consequences in places where it's being used effectively as opposed to ineffectively," she added, pointing out that different counties employ different practices and that the system is far from a monolith even within New York City's five boroughs.
There is no cash bail in Washington D.C., where defendants are only detained if they are considered a risk to public safety. It's considered a model by many advocates of bail reform in New York. But, as Rahman argued, adding risk as a consideration in setting bail could create problems if not studied carefully. "Any change to that is basically change in the sorting mechanism of who stays in and who is released," she said.
Judge Lippman supports the idea of factoring public risk. So do Gov. Cuomo and Mayor de Blasio, and they have been criticized for it. The proposal has also held up reform at the state level as different stakeholders struggle to find middle ground. Advocates and legal experts fear that it could deprive defendants of their rights and further institutionalize racism in the judicial system.
Cuomo has not changed his stance since he first included it in his 2016 agenda, according to his office. "The Governor continues to champion comprehensive criminal justice reform, including changes to the state's antiquated bail system," said Abbey Fashouer, a spokesperson for the governor, in a statement. "New York is one of only four states in the nation that does not currently take into account public safety risks when making bail and release decisions – and it's past time to develop a new approach."
The mayor recently doubled down on his support for the proposal. During a November 7 appearance on NY1's Inside City Hall, de Blasio spoke of the need for bail reform in the context of the fatal shooting of NYPD Sergeant Paul Tuozzolo in the Bronx just three days prior. Tuozzolo was shot and killed by a man who was out on bail and suffered from mental health problems. It was reminiscent of the October 2015 killing of NYPD Officer Randolph Holder, which the mayor referenced in the interview as well. Holder was killed in East Harlem while pursuing an armed suspect who had earlier been sentenced to a treatment program by a drug court rather than being sent to jail.
"This is a reminder that we need bail reform in the State of New York," de Blasio told NY1 anchor Errol Louis of Tuozzolo's murder. "We need to include the question of how dangerous a criminal is in the bail decision because there are times when someone is not – a criminal is not a flight risk, but they are a threat to the community, or they have a profound mental health challenge that needs to be addressed. These issues have to be taken into account and we need a state law that recognizes that bail – judges should have the opportunity to consider the dangerousness of the individual when making a bail decision."
Peter Goldberg, executive director of the Brooklyn Community Bail Fund, said, as others did, that, "The fundamental problem with how bail operates is that it cages presumptively innocent people for their inability to come up with a certain amount of money." He warns that replacing it with a system that assesses public safety might ignore that presumption as well.
"There's a risk that a system that replaces it will exacerbate existing racial and socioeconomic inequalities," Goldberg said. "And in any system that looks to judge a person's dangerousness merely based on the accusation of a crime, the data being used to create that system needs to be made available to the public, to be vigorously validated, but the bedrock principle needs to be the presumption of release."
As 2017 approaches and with it the next budget and legislative agendas for state legislators and the governor, there's widespread optimism that bail reform will be a priority. Judge Lippman believes the issue has gestated long enough. "That digestive process has already taken place and it's time to pick it up and run with it," he said, confident that his commission's recommendations will be bold and "out of the box" and will not be politically constrained. "Because of the credibility of the commission, because of the depth of the research...no public official is going to be able to fuzz around these issues," he said. "That releases some of the political pressure."
Senator Gianaris is bullish on bail reform as well. "We've seen enough injustice," he said, "that the time has come to take a comprehensive look at this and get rid of bail once and for all."