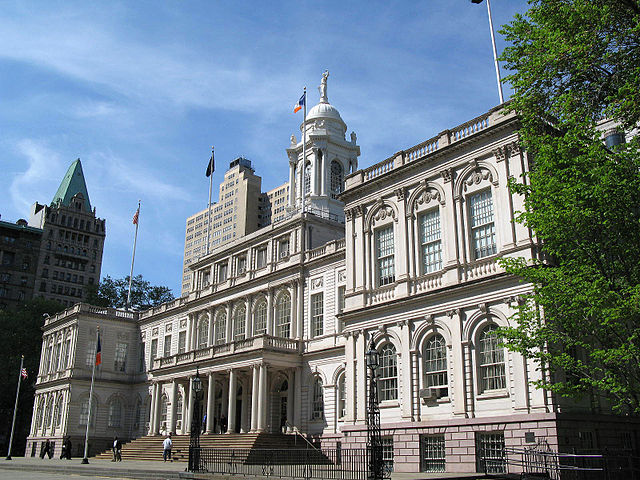 New York City Hall
---
What to watch for this week in New York politics:
There are just two weeks left in 2016, so get to work accomplishing any past new year's resolutions you may be slacking on. And, prepare some good ones for 2017.
As the year winds down -- this is our last Week Ahead of the year -- we're watching to see if Gov. Andrew Cuomo and state legislators will agree to hold a special legislative session in Albany. Time is obviously running out to do so. The full package of what would be voted on is not clear, with a variety of issues having been raised, mostly by Cuomo. At the top of the list, though, is a pay raise for lawmakers, which could come in combination with reforms to their positions and/or other legislative items like legalizing ride-hailing services like Uber outside of New York City.
We're also continuing to watch Donald Trump's transition efforts. The president-elect has been naming nominees for key cabinet and other administration positions. He continues to avoid holding a press conference, still has not released his taxes, and postponed an announcement about how he will remove himself from his business interests as president.
Trump has also held a number of "thank you" rallies in states he won, and he has continued to use his Twitter account to issue insults and complain about the discussion regarding Russia's involvement in the presidential election.
The event that is expected to cement Trump's place as the next president is scheduled for Monday: the Electoral College is due to vote. While the vote has been known as a rubber stamp of Election Day outcomes for many years, there has been some talk this year of electors keeping Trump from the presidency due to his erratic behavior, conflicts of interest, lack of qualifications and preparation for the job, and apparent support for foreign interference in U.S. democracy, among other reasons.
Still, the Electoral College is expected to name Trump the next president -- nearly half the states have laws binding their electors to the outcome of the state popular vote. In New York, Gov. Cuomo's office announced this past week that "The Electoral College for the State of New York will convene in the Senate Chamber of the State Capitol in Albany on Monday, December 19, 2016 at 12:00 pm. Electors will officially cast their ballots for President and Vice President of the United States." Cuomo, Mayor Bill de Blasio, City Council Speaker Melissa Mark-Viverito and a number of other prominent officials will be in Albany Monday for the vote.
Before he's in Albany for the Electorial College Monday, Gov. Cuomo will make an announcement in New York City -- details below.
Overall it looks like a fairly quiet week in city political events: the City Council did a lot of business last week and there are no Council hearings scheduled. Mayor de Blasio starts his week with his weekly appearance on NY1's Inside City Hall, during the 7 and 10 p.m. hours.
This, after an eventful weekend for de Blasio: on Saturday, the mayor joined City Council Member Steve Levin and others for a "celebration with residents of North Brooklyn to mark the City's acquisition of the last piece of Bushwick Inlet Park" and then, with First Lady Chirlane McCray and City Council Speaker Melissa Mark-Viverito, attended the Department of Youth and Community Development's holiday toy distribution event.
On Sunday, de Blasio made a campaign appearance at New Tabernacle Baptist Church in the Bronx. His re-election campaign announced on Sunday the endorsements of seven City Council members: Margaret Chin, Ritchie Torres, Helen Rosenthal, Donovan Richards, Steve Levin, Brad Lander, and Ydanis Rodriguez.
As for more this week, see our day-by-day rundown below.
***Do you have events or topics for us to include in an upcoming Week Ahead in New York Politics?
e-mail Gotham Gazette editor Ben Max: This email address is being protected from spambots. You need JavaScript enabled to view it.***
The run of the week in detail:
Monday
At 8:30 a.m. Monday, the Manhattan Chamber of Commerce will hold a Chairman's Breakfast with Congressman Hakeem Jeffries in conversation with MCC Chair Ken Biberaj.
At 9:45 a.m. Monday, Gov. Cuomo will make an announcement at Museum of Modern Art.
At 10:30 a.m. Monday, the Assembly Standing Committee on Banks will meet in Albany for a public hearing on Cybersecurity Regulations.
At 11 a.m. Monday, Airbnb hosts will testify before the Mayor's Office of Special Enforcement during its hearing, which will determine how the new state advertising law will be enforced in the city.
At 6 p.m. Monday, Common Cause New York will host an exit interview with Congressman Chris Gibson at SUNY New Paltz.
At 6 p.m. Monday, incoming Congressman Adriano Espaillat will hold a holiday fundraiser.
At 6:30 p.m. Monday, Manhattan Borough President Gale Brewer will attend the Manhattan Community Board 7 and P.S. 191 discussion on the future of P.S. 191.
Tuesday
On Tuesday at 8 a.m., City & State NY will host its "Bronx Borough 50," where the most powerful community leaders in The Bronx are honored.
At 9 a.m. Tuesday, "Chancellor Fariña will deliver brief remarks at NY EdTech Week, a conference focused on educational technology."
On Tuesday at 10 a.m., "Mayor de Blasio will host a press conference to discuss the GetCoveredNYC initiative and enrollment in healthcare insurance programs" at Gouverneur Health. "Later, the Mayor will deliver remarks at the United Federation of Teachers' holiday party."
On Tuesday at 10:30 a.m., the state Joint Commission on Public Ethics will meet in Albany.
At 10:30 a.m. Tuesday, Citizens Campaign for the Environment will host a rally in support of the offshore wind project at the Long Island Power Authority (LIPA) in Uniondale. Speakers at the rally will include State Senator Phil Boyle; State Senator Todd Kaminsky; State Assemblyman Steve Engelbright; Roger Clayman of the LI Federation of Labor; Dick O'Kane of LI Building Trades; Roy Coulombe of Local 37, Iron workers; Adrienne Esposito of Citizens Campaign for the Environment; Gordian Raacke of Renewable Energy Long Island; Lisa Dix of the Sierra Club; and Catherine Bowes of the National Wildlife Federation.
At 11 a.m. Tuesday in the Bronx, "Bronx Borough President Ruben Diaz Jr. will join hip-hop superstar and Bronx native Fat Joe to deliver new computers to the students at P.S. 146—Edward Collins, Fat Joe's alma mater, in time for the holiday season. The donation will be made in memory Fat Joe's sister, Lisa Cartegena, who was also a graduate of the school."
Tuesday evening's Inside City Hall on NY1 will feature John Liu, Vito Fossella, and Joe Lhota in the "Wise Guys" segment; Tony Avella, now a candidate for mayor; and Robert Doar, the former HRA commissioner.
Wednesday
On Wednesday at 6 p.m., the Panel for Education Policy will hold a meeting.
Thursday, Friday and the weekend
As of Sunday evening, nothing on our radar for the end of the week as the holidays approach.
Happy holidays! Our Week Ahead will take one week off, we'll be back on the evening of Monday, January 2 with our next edition. Throughout the next few weeks, we at Gotham Gazette will continue to publish articles, of course -- find our latest here.
***
Have events or topics for us to include in an upcoming Week Ahead in New York Politics? E-mail Gotham Gazette executive editor Ben Max any time: This email address is being protected from spambots. You need JavaScript enabled to view it. (please use "For Week Ahead" as email subject).
***
by Brendan Birth and Ben Max
@GothamGazette