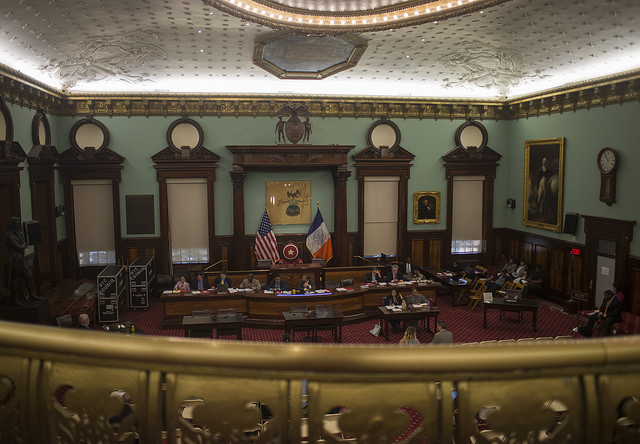 City Council chambers (photo: Sofie Hecht/Gotham Gazette)
---
The City Council is rushing through a package of bills to reform the city's campaign finance system. About a dozen bills driven by Council members' frustrations with the Campaign Finance Board and its rigorous reporting system are being moved through the Council at an almost unseen pace, raising eyebrows.
There are actually two packages of bills that will be passed through the Council this week: one that has been sitting idle for months after a hearing, which will go through the governmental operations committee, and the second, which only had a hearing on November 21, and is moving through the standards and ethics committee.
The first group of bills was the result of the independent Campaign Finance Board's most recent post-election report; the second group from Council members.
Many of the bills make technical changes to the workings of the city's public-matching campaign finance system, which is seen as a national model for limiting big money in politics, and the operation of the Campaign Finance Board itself. These include items related to documenting campaign contributions and the Campaign Finance Board's review of filings by candidates. One bill allows elected officials to use their campaign funds to pay for a wider range of governmental activity, such as supplying food at a public meeting.
Another bill driven by members' frustrations disallows campaign finance board staff from being "present during an executive session of the Board when an adjudication is being discussed."
There are also more attention-grabbing measures, like the elimination of public matching funds for money bundled by individuals with city business. There are currently strict limits, just $400 to a campaign, on those with city business who want to donate to a candidate. Bundling involves collecting donations from others. This bill was part of the initial package, per the Campaign Finance Board's recommendations, as another way to limit the potential for conflicts of interest and undue influence of money on politicians.
On Wednesday, each committee voted through its respective package of bills with little discussion. There will be a full Council vote on all the bills Thursday -- all of them are expected to pass either unanimously or nearly so. Still, there are several outstanding questions about the bills and the process by which they are moving, including the speed and the committee choice for the second package.
One of the newer bills, which alters requirements for how donor information is collected and submitted, has been adjusted after it raised significant ire from the Campaign Finance Board, good government groups, and Manhattan District Attorney Cy Vance. The alarm bells rang over a perceived increase in opportunities for fraud in filings and the bill was adjusted, seemingly satisfactorily to the critics.
The Campaign Finance Board says the second package, which has been moving on an extraordinarily fast timeline for city legislation, is moving too fast and has elements that still need tweaks.
"The Board continues to believe it would be better to defer action on these bills rather than move forward at this time," said a CFB spokesperson in an emailed statement. "Some of these bills could be improved further, however we recognize and appreciate the Council's efforts to take our feedback into account."
"Specifically, the revised version of Int. No. 1355 makes substantive changes that reflect our concerns and maintains the CFB's ability to protect the public funds invested in the Campaign Finance Program," the statement concluded, referring to the aforementioned bill that was adjusted.
It is unusual for the Council's standards and ethics committee to hear legislation, especially campaign finance bills that typically go through the government operations committee. A spokesperson for the City Council Speaker, Melissa Mark-Viverito, previously told Gotham Gazette that the package introduced through standards and ethics was placed there because it was grouped with another bill that deals directly with the Conflicts of Interest Board. That bill, sponsored by Mark-Viverito, will put new limits on nonprofit organizations that are affiliated with elected officials -- such as Mayor Bill de Blasio's Campaign for One New York. The bill was also passed through committee on Wednesday and will be passed through the full Council on Thursday. Mark-Viverito will speak about it on Thursday at City Hall.
The governmental operations committee is headed by Council Member Ben Kallos, who is more knowledgeable about the campaign finance system than Council Member Alan Maisel, the chair of the standards and ethics committee -- something Maisel acknowledged in a prior interview with Gotham Gazette. Kallos has expressed concerns about some of the second package of bills, including bill details and process.
A spokesperson for Mark-Viverito did not immediately respond to a request for comment for this article about the rushed timeline of the second package of bills.
Maisel previously told Gotham Gazette that he is not familiar with campaign finance legislation, but that he is also confident that the CFB is not being weakened by the bills his committee will quickly pass.
At his committee's vote on Wednesday, Maisel introduced the package with a few words. He first focused on Mark-Viverito's bill that would limit contributions that can be made to nonprofit groups aligned with elected officials. "This bill directly addresses the concern that organizations affiliated with elected officials can raise unlimited funds even from persons doing business with the city and even when the ultimate use of these funds is for the promotion of that elected official," Maisel said. "The city's campaign finance laws limit contributions by persons doing business with the city to protect against the potential influence of that money and to prevent the appearance of corruption. But under current law, those limitations could not be applied to the contributions received by the affiliated organization like the Campaign for One New York. That is why today we are voting on the law with the same goal: to protect against potential attempts to influence one's elected official and to prevent even the appearance of corruption with unlimited donations to an affiliated organization that promotes that elected official."
Note: this article has been updated to reflect Wednesday's committee votes and new comment from Maisel.