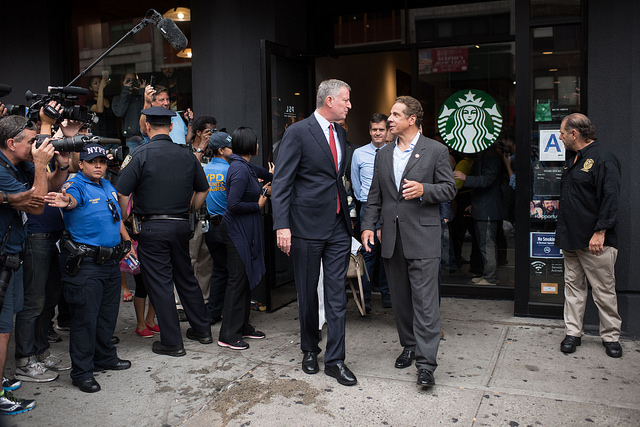 De Blasio & Cuomo (photo: Michael Appleton/Mayor's Office)
---
Happy New Year! As we get ready for 2017, there are, as always, many questions in New York politics. In early 2016, we asked 40 questions for the year ahead. This time, we're asking 70 for 2017.
There's a lot to look for in the new year, including a mayoral race and other city elections; so here are our big political questions for the year ahead -- if you want to share them, answer any, or let us know one we missed, tweet @GothamGazette:
1. Will Bill de Blasio win a second term as Mayor?
2. Will de Blasio or any of his top aides be indicted?
3. Will U.S. Attorney Preet Bharara and Manhattan District Attorney Cy Vance clear de Blasio of wrongdoing well ahead of 2017 votes being cast?
4. Will Donald Trump make life miserable for Bill de Blasio or (and?) will de Blasio find new life as a strong anti-Trump?
5. What will de Blasio's big 2017 initiatives be? What will his campaign platform look like?
6. Who will and who won't endorse de Blasio for re-election?
7. How will de Blasio approach Governor Cuomo during 2017?
8. Will de Blasio use a veto for the first time?
9. Who will be de Blasio's new commissioner for the Administration for Children's Services?
10. Which high-level members of the de Blasio administration are next to leave?
11. What will the de Blasio administration's next homelessness-fighting plan look like? Can its ongoing efforts reduce the shelter census?
12. Will de Blasio's affordable housing plan continue to stay on track?
13. Will city schools show more improvement under de Blasio?
14. Will there be additional movement to desegregate city schools?
15. Will de Blasio insist on more budget savings from city agencies? Will there be a city budget crisis of some kind? What will Donald Trump's presidency mean for New York City?
16. Will the BQX streetcar project continue to move forward as planned?
17. What will happen at the city's public hospital system?
18. How will the city's ferry service and Citi Bike expansion programs go?
19. Will de Blasio and municipal labor unions negotiate new paid family leave benefits into their contracts?
20. Will de Blasio change his approach to the news media?
21. Who will win the special election in Harlem for Inez Dickens' City Council seat?
22. What will City Council Speaker Melissa Mark-Viverito's 2017 agenda look like?
23. Will Mark-Viverito further assert her independence from de Blasio as she nears the end of her time in the City Council?
24. Will the City Council pass the Right to Know Act?
25. Who will win the "empty" City Council seats to replace the seven term-limited members?
26. Who will emerge as the frontrunner(s) to be the next City Council Speaker?
27. What will Melissa Mark-Viverito do next?
28. What will Dan Garodnick do next? Other term-limited Council members (James Vacca, Annabel Palma, Rosie Mendez, Darlene Mealy, Vincent Gentile)?
29. Who will run for Mayor?
30. Will Scott Stringer or Hakeem Jeffries or Ruben Diaz Jr. take the plunge?
31. Can Sal Albanese and/or Tony Avella raise real money and gain any traction in the Democratic primary?
32. Is there a Republican or independent who can make a real run for Mayor against de Blasio (or another Democratic nominee)? Will Eric Ulrich run? John Catsimatidis?
33. What will emerge as the major issues of the mayoral campaign?
34. Will there be a plan in place to close Rikers Island jails?
35. How bad will subway delays and disrepair get?
36. How will the city's different neighborhood rezonings progress?
37. Will crime continue to trend downward?
38. Will city pension fund performance rebound?
39. Who will win the Brooklyn District Attorney election?
40. What will happen with NYPD Officer Daniel Pantaleo?
41. Who will Preet Bharara bring corruption charges against next?
42. What will Governor Andrew Cuomo's big 2017 initiatives be?
43. How will the corruption charges against several members of Cuomo's orbit play out? How will legal proceedings affect Cuomo's standing?
44. What happens next with Cuomo's economic development programs?
45. Will Cuomo cede any power to outside monitors, oversight bodies, or investigative entities?
46. Will Cuomo's massive infrastructure plan continue to progress? Will he be able to pay for it all?
47. How will Cuomo next seek to undermine and punish de Blasio? Will Cuomo endorse de Blasio for re-election? In the primary?
48. Does Cuomo continue to assert that he's certain to run for reelection in 2018?
49. How will Cuomo and state legislative leaders get along this year?
50. Will the state Legislature increase its oversight activities to act as more of a check on the Cuomo administration?
51. Will Cuomo and legislative leaders move more budget and policy deliberations into the light of day, reduce the use of messages of necessities, and ensure that there is time for review of major legislation by the public and rank-and-file legislators?
52. Will the Comptroller be restored contract oversight powers stripped by Cuomo and legislative leaders a few years ago?
53. Will the Attorney General be given blanket authority to pursue public corruption cases?
54. What turns do the Cuomo-DiNapoli and Cuomo-Schneiderman relationships take?
55. What gubernatorial contenders for 2018 emerge, Republican, Democrat, independent, and otherwise?
56. Will John Flanagan's leadership of the state Senate be challenged from within the Republican Party?
57. How much influence will Jeff Klein and the IDC have on the state budget and other policy in Albany?
58. Do new IDC members Jesse Hamilton and Marisol Alcantara stick with the IDC? Do mainline Democrats prepare attempts to unseat them in 2018?
59. Who emerges as new strong voices in the state Legislature?
60. Will lawmakers pass a pay raise for themselves and other government officials?
61. Will there be any movement on new state government ethics reform? Term limits? Outside income limits? LLC loophole closure? A new campaign finance system?
62. What will be the major budget and legislative issues of 2017?
63. What will happen on 421-a?
64. Will there be a ride-hailing bill passed that legalizes and regulates Uber and other such services in areas of New York outside New York City?
65. Will New York "raise the age" of adult criminal responsibility?
66. What will come of the Hoosick Falls water crisis? Other water quality and water infrastructure issues across the state?
67. Will Cuomo and legislative leaders move to release more of the hundreds of millions of dollars allocated toward affordable and supportive housing, and fighting homelessness?
68. Is the DREAM Act dead in New York?
69. Which state legislators win New York City Council seats or other elected offices, and who replaces them in state government?
70. Will a state Constitutional Convention be approved by voters via the November 2017 ballot question?
[LOOK BACK: We had 40 Questions for 2016 in New York Politics, see what they were and if you can answer them!]