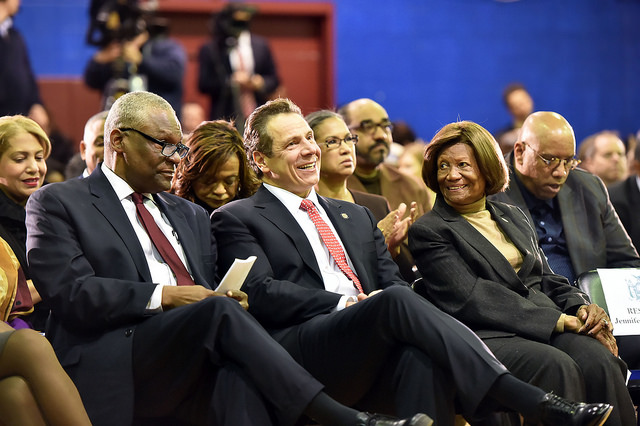 Keith Wright, left, & Gov. Cuomo photo: (Kevin P. Coughlin/Governor's Office)
---
A Democratic power broker from Harlem has been hired by a prominent lobbying firm to join its efforts to influence city and state government. Formerly state Democratic Party chair and a member of the state Assembly, Keith Wright is joining Davidoff Hutcher & Citron LLP, but under state law he must avoid matters before both chambers of the state Legislature for two years after leaving office.
Wright, who has been involved in New York politics for several decades, is currently chair of the Manhattan Democratic Party. He had been rumored as a City Council or state Senate candidate after he lost in a June Congressional primary and subsequently vacated his Assembly seat after declining to seek reelection. Wright's move to Davidoff Hutcher & Citron LLP was first reported by Politico New York on Wednesday morning.
The former legislator will "immediately take on a leadership role" in the firm's lobbying at the state and city levels, according to a press release posted on the DHC website. A partner told Gotham Gazette that Wright's exact role is still being defined.
Under New York State's Public Officers Law, however, Wright would be barred from lobbying before the state Legislature for two years. Without commenting specifically on Wright's case, Walter McClure, director of communications for the state Joint Commission on Public Ethics, said in an email that restrictions under Section 8(a)(iii) apply to former legislators. That section of the law prohibits a former member of the Senate or Assembly from receiving compensation for "any services on behalf of any person, firm, corporation or association to promote or oppose, directly or indirectly, the passage of bills or resolutions by either house of the legislature."
McClure clarified though that a former legislator "could appear before other local, state (such as agencies and/or the Executive Chamber), or federal bodies."
Wright has been figuring out his next step since his unsuccessful attempt for retiring Congressional Rep. Charles Rangel's seat. Wright lost to fellow Democrat Adriano Espaillat in that June primary.
"Keith Wright's only career has been in government and he's a valuable commodity because of his public service as an elected official," said Dick Dadey, executive director of Citizens Union, a government reform group. "He needs to do what he knows and he knows how government functions very well so he is doing what I think anyone would do in his position."
Dadey said Wright is "an honorable guy" and he should be careful not to come in contact with the state Legislature, but, "everything else is fair game" if he follows the law.
Wright's move comes as budget negotiations will soon begin in Albany. The former Assembly member and Democratic leader has a close relationship with Governor Andrew Cuomo -- as chair of the state party, Wright strongly advocated for the governor's reelection in 2014. He's also held crucial positions in the Assembly majority, chairing key committees like housing, and heads the New York County Democratic Party Committee.
"We've known Keith for a lot of years," said Charles Capetanakis, partner at DHC and member of the firm's management committee. Capetanakis said Wright would be part of the government relations team but could not specify in what capacity. "His role and involvement is yet to be determined," he said, noting the prohibitions that Wright will face under state law. Wright was not made available for comment.
In the announcement of his hire, Wright said, "While I will always cherish my time as a New York State Assemblyman, I am ready for a new challenge."
DHC's "team of lobbyists" is "led by Sid Davidoff in New York City and Steve Malito in Albany," according to the firm, and "DHC Government Relations clients have included Fortune 500 companies, major cultural institutions, land developers, government contractors, educational institutions, municipalities, public authorities, community interest groups, labor and professional organizations, non-profit corporations, and charities. We have seen success in local, state, and federal advocacy efforts in all of these areas."
Government watchdogs do warn that Wright must tread carefully in his new role on the other side of the fence. "[Wright] has to be very careful in the ethically charged political environment in Albany," said Blair Horner, executive director of the New York Public Interest Research Group. "My advice to the assemblyman is to follow the spirit, not just the letter of the law in terms of how he deals with government."
Although Horner acknowledged that Wright's new employment opportunity is "perfectly allowed" under state law and is "a well-tried path" for many lawmakers, he said his organization would instead like to see a more comprehensive ban on lobbying across the state Legislature and the Executive.
Citizens Union's Dadey said, "There is a bright line there that can be followed and [Wright] needs to make sure he follows it, between the Executive and the Legislature. He can influence what the Executive branch presents and decides on the budget but he can't come anywhere near any legislative activity. There are two halves to this budget process and he needs to make sure he stays in only one half."
[Read: Special Election for Harlem City Council Seat Kicks Off]
Note: Gotham Gazette is an independent publication of Citizens Union Foundation, sister organization of Citizens Union.