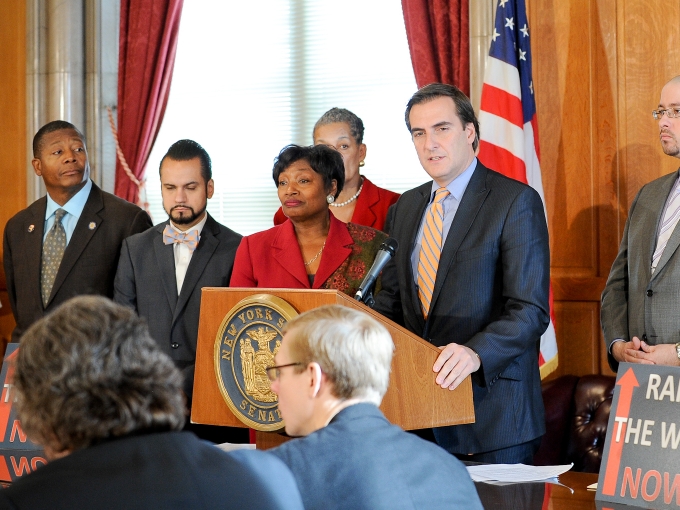 Sen. Gianaris (photo: State Senate)
---
New York state government has had no shortage of ethics scandals, but has had a deficiency in active, effective bodies to prevent, punish, and root out bad behavior among elected and appointed officials.
When the new legislative session began in Albany earlier this month, there was an immediate shake-up of the long-dormant state Senate ethics committee, throwing the always-simmering chamber to a quick boil.
The Senate ethics committee, as well as a parallel committee in the New York State Assembly, in theory, are places where lawmakers review and make recommendations on Senate policies, including travel expenses, time and attendance, sexual harassment, and other aspects of workplace ethics. Like other issue committees, the ethics committee should consider ways within its purview to improve governance, such as limiting legislators' outside income or requiring greater disclosure of potential conflicts of interest.
Yet, even with much to do, the committees' actual function is unclear: despite the fact that committee chairs in both chambers earn an additional $12,500 stipend per year, legislative ethics committees have rarely met over the last two decades, allowing misdeeds to go unaddressed in-house.
As the rules were being adopted for the new Senate class that will govern for 2017 and 2018, the majority coalition of Republicans and the Independent Democratic Conference -- a seven-member group of breakaway Democrats -- included changes to the ethics committee.
After a brouhaha over how the committee would be structured, how the political parties and conferences would be represented on it, and, essentially, what it means to be a Democrat in the New York State Senate, the committee's new shape was established. It will grow by one member, to nine, and will give the IDC significant power to determine what business, if any, the committee takes up.
Initially, Senator Thomas Croci, a Long Island Republican and the previous ethics committee chair, proposed that, at eight members, the committee be split evenly by representatives of the two major political parties, rather than by majority and minority conference, as was previously the case. Ostensibly, this would have meant that the committee could feature four Republicans and four IDC members.
The motion was challenged by Democratic Senator Michael Gianaris of Queens, who, on the first day of the session, January 4, pushed for the body's continued split between the two major conferences, or three ways among mainline Democrats, Republicans, and the IDC.
Croci argued that an equal split by political party would create parity with a similar body in the New York State Assembly, while Gianaris questioned how committee members would be selected and whether such a makeup would equate to a GOP/IDC power-grab.
"Ethics committees have always been treated differently, regardless of makeup of bodies, because of their very sensitive nature and the possibility of using an ethics overview committee for political reasons," Gianaris said on the Senate floor.
Though Croci's resolution passed at that January 4 session, last week Senate Republicans agreed to revisit the issue. They hammered out an agreement with Democrats that satisfied members of all three conferences. The new committee will include nine members — three Republicans, three mainline Democrats, and three IDC members.
Committee members are to be appointed by leaders of the three conferences. While the new structure disproportionately represents members of the Republican-IDC coalition, any investigation proposed by the body must have the approval of one member from each conference to move forward, according to the new rules. Effectively, it remains easy for a conference to kill an internal ethics investigation into one of its members.
The full list of ethics committee members were revealed during legislative session on Tuesday, with Elaine Phillips, a freshman Republican from Long Island, replacing Croci as chair, while former chairs Croci and Andrew Lanza, of Staten Island, remained on the body as Republican committee members. Senators David Valesky, Staten Island's Diane Savino, and David Carlucci of the IDC also joined the committee, and three mainline Democratic seats will be filled by Gianaris, Brooklyn's Roxanne Persaud, and Gustavo Rivera of the Bronx.
An aide to Croci said the senator never intended to politicize the committee's structure, but that he believed strongly that the body should mirror the Assembly's structure. A spokesperson for Senate Democrats said that Republicans were eager to find a solution at this Tuesday's session that is satisfactory to all parties.
"We are pleased with the final composition of the Senate Ethics Committee and thank the Senate Republicans for working with us to achieve equal representation for all Senate Conferences," said Mike Murphy, communications director for Senate Democrats, who are led by Minority Leader Andrea Stewart-Cousins.
IDC Leader Jeff Klein, who has been mostly silent on the issue so far, issued a statement through spokesperson Candice Giove: "The original intention of the Ethics Committee makeup was never to be unfair to any Senate conference, but in its new configuration I expect all appointees from each of the Senate's three conferences will carry out their work just the same -- in a fair and ethical manner."
Political affiliations aside, the ethics committees in both legislative chambers have been repeatedly criticized for failing to police their own houses or put forward any ethics reforms. Instead, critics say, they have been focused on protecting lawmakers from scrutiny, despite pervasive corruption and major ethical lapses. There has been a long parade of state legislators who have left office due to corruption scandal, including, recently, the two legislative leaders, Sheldon Silver and Dean Skelos.
Blair Horner, executive director at NYPIRG, a government reform group, said this move sets an unusual precedent for legislative standing committees, but said ultimately internal ethics committees are no substitute for meaningful independent oversight.
"It's understandable where they are going, if that's how they want to enforce their own rules, but what New York needs is independent oversight, and no one -- except [United State Attorney] Preet Bharara -- is talking about that," he said.
The Senate ethics committee has not met since 2009, when Senator John Sampson was chair, according to the Senate website. Sampson, ironically, was convicted in 2016 on charges of obstructing justice and lying in relation to a federal investigation into whether he had embezzled state funds, and is expected to be sentenced shortly.
U. S. Attorney Preet Bharara, who has overseen the convictions of more than a dozen state lawmakers, including former Senate Majority Leader Skelos and former Assembly Speaker Silver, told the New York Times that the ethics committee's blank calendar reveals how ineffectual these bodies are.
"The idea that the chair of the ethics committee has never had the opportunity to mark up a bill, has never had the opportunity to hold a hearing tells you everything you need to know about the enabling nature of all the people in the State Legislature who may not have been convicted of crimes, but seem not to care that they're going on," he said.
Senator Tony Avella, a Queens Democrat and former committee chair, testified at Skelos' 2015 corruption trial, that he was surprised to learn that Senate had never referred a bill to the committee and no bill has ever been produced by the committee for a vote.
"You'd think the standing committee would have the ability to have bills referred to it," Avella told the Times last year. "I think it would be important, for anything that has to do with ethics reform, that it should go to the Ethics Committee."
But when Avella tried to call a meeting to try to address some ethical issues plaguing the legislature, he told outlets the meeting was canceled over budget negotiations and was never recalled.
Whether this latest restructuring indicates a sign of life from the defunct committee, or results in yet another year of inaction -- one absent of hearings, bills, or proposed reforms -- remains to be seen.