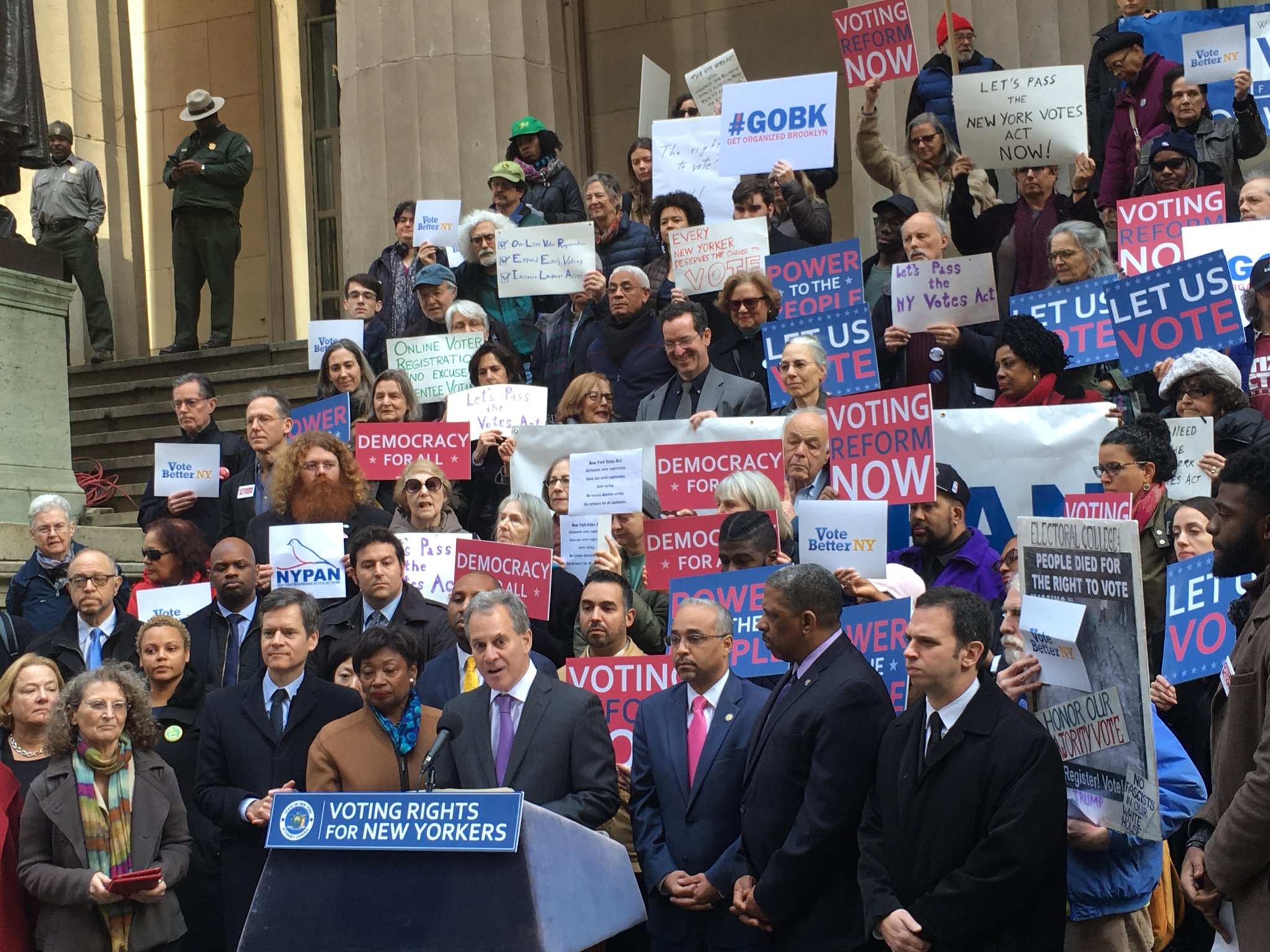 Attorney General Schneiderman with voting reform advocates outside Federal Hall (photo: @AGSchneiderman)
---
New York State Attorney General Eric Schneiderman unveiled an extensive voting reform package Wednesday that aims to streamline New York's voter registration system, boost voter participation and increase voter turnout.
Standing with elected officials, good government groups, union members, and voting reform advocates outside Federal Hall in Manhattan, Schneiderman released the legislation, called the New York Votes Act. The bill contains provisions to update the state's voting systems by adding early voting, automatic and same-day voter registration, consolidated primaries, shortened party registration deadlines, increased language access at the polls, online absentee ballots, and more. "Any law that makes it easier to vote is a good law; any law that makes it harder to vote is a bad law," said Schneiderman, in a statement Wednesday. "New York has long been a bastion of democracy, but our state's current system of registration and voting is an affront to that legacy."
New York State has seen abysmal voter turnout for years. In 2014, the state ranked 49th of 50 in the country, with just 29 percent of eligible voters casting their ballots in the general election. While other states have tweaked their voting laws to encourage participation, voter turnout in New York has only grown worse, with just 19.7 percent of eligible voters casting their ballots in the 2016 presidential primaries.
Many of Schneiderman's proposals grew out of the findings and recommendations from a December 2016 report produced by his office on the problems that voters faced during the presidential elections. The attorney general's office was flooded with thousands of complaints of problems at the polls during April's primary as well as hundreds during the November general election. These barriers, and the subsequent victory of Donald Trump, a historically unpopular president, have spurred renewed interest from New York's top elected officials in modernizing the state's electoral system.
New York City Mayor Bill de Blasio announced a fresh push for reform in the weeks leading up to election day. On Wednesday, the mayor praised Schneiderman's proposal, in a statement saying it would "help bring New York up to speed and ensure New Yorkers statewide aren't turned away from casting their ballots as a result of senseless roadblocks." Governor Andrew Cuomo has also pushed strongly for voting reform, making it a key platform in his State of the State agenda this year.
Schneiderman's bill, which encompasses both Cuomo's and de Blasio's voting reform proposals, will be sponsored in the state Assembly by Assemblymember Michael Cusick, a Staten Island Democrat who chairs the body's election law committee. "This legislation, aimed to simplify the voting process and improve voter accessibility, will give citizens a better opportunity to participate in the democratic process by increasing voter participation across New York State," said Cusick, in a statement.
In previous years, similar voting reforms were passed by the Assembly and backed by Senate Democrats, but were ultimately blocked by the GOP Senate Majority. Schneiderman's sweeping legislation, however, appears to have gained an added push from the Senate's Independent Democratic Conference (IDC) -- an eight-member body that has formed a ruling coalition with Senate Republicans. The legislation will be sponsored by IDC member Senator David Carlucci, and the body's seven other members will co-sponsor the bill, IDC member Senator Diane Savino told the Staten Island Advance.
IDC Leader Jeff Klein commended the attorney general's legislation in a statement, saying, "The Independent Democratic Conference has long been an advocate for making our election process simpler and more accessible for all New Yorkers."
Good government groups, many of which were represented at Wednesday's news conference, applauded Schneiderman's proposal to modernize the state electoral system. "New York ranks consistently as one of the nation's worst in terms of voter participation, driven by state laws that create obstacles to voting," said Megan Ahearn, program director for the New York Public Interest Research Group, "Much of the rest of the nation has developed practices that improve voter turnout. The Attorney General's package relies on those best practices."
Barbara Bartoletti, Legislative Director for the League of Women Voters of New York State urged the Governor and the Legislature to act on the reform as soon as possible to ensure that voters do not face barriers in future elections. "Laws that would allow for automatic voter registration, early voting, no-excuse absentee voting, and consolidation of primary elections will empower voters and give greater access to the ballot," she said.