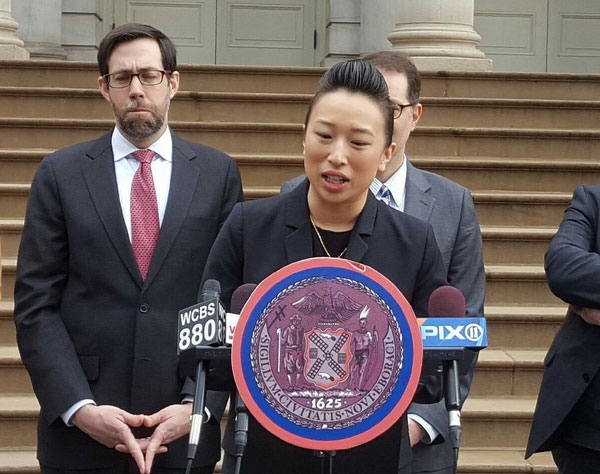 Assemblymember Yuh-Line Niou (photo via @yuhline)
---
Yuh-Line Niou, Assemblymember for the 65th District in Lower Manhattan, has a tough task. The new Assembly member takes the seat held by disgraced former Assembly Speaker Sheldon Silver for 40 years. Niou won the September 2016 Democratic primary -- backed by the Working Families Party -- and November general election after losing a prior special election to Alice Cancel, who had been the choice of the Silver machine.
Now, she must navigate growing into her role as an elected official, managing constituent services in a district that once got special attention given Silver's powerful perch, and making her mark on Albany's crowded landscape.
In February, Nious spoke with Gotham Gazette about the challenges of meeting the outsized expectations of her district, getting to know her new colleagues and figuring out how to be heard in a notoriously dysfunctional state government. She also shared some of the less glamorous aspects of being a new legislator from New York City, such as taking the train to and from Albany and ordering pizza to her hotel.
GG: How was your first month as a state legislator? What was orientation like?
YLN: The first month has been pretty hectic. It's been exciting in a lot of ways, but it's also a lot to take in. It's a pretty steep learning curve, because everybody else seems to know what's going on a lot more than I do. It's been also really exciting to get to know a lot of my colleagues. My cohort -- it's very exciting for us to be together, because we're all freshmen together, and there's about 11 of us on the Dems side. It's been kind of fun, that part of it...There's a lot of folks that just listening to them talk and understanding some of the issues that they are fighting for, I admire them.
GG: What's your commute like? Where do you stay? Favorite restaurants? Tell us about your day-to-day.
YLN: Actually, because there's been so many events going on in-district, I commute Sunday night and I take the latest train usually. Sometimes it's 9 p.m. and sometimes 11 p.m. I take the Penn Station Amtrak, and usually when I get [to Albany] it's around midnight, or if I got the 11 o'clock, it's like 2:30 a.m. But I try to go to as many district events as possible before I leave; because we're up here, we don't to get to be in the district as much as we would like and people want to see me out there. But because of the schedule and how busy it is is [in Albany] -- It's almost budget season, it's actually the last day for budget letters -- everything is really hectic.
I'm staying at the Holiday Inn Express — very fancy! — I actually have not gone out to eat at all really. Sometimes in the dead of night, when we finally get done with everything, it's like 11 p.m., and everything's closed. I go back to the Holiday Inn, and then I order pizza.
GG: Have you had much Assembly floor time? Do you speak up for your constituents?
YLN: It's really great, because they help us by putting things into packages and days. So there hasn't been much difficulty with drafting policy or the legislative schedule yet. I think that things get full and really crazy fast right after the budget is done — for the policy side.
Right now, we've done a lot on women's rights and I was able to speak up on reproductive health. We had a bunch of resolutions heard. Mine was the Lunar New Year resolution, and it was really great, because over 80 legislators signed on to it. We also had the immigrant rights debate, a lot of criminal justice reform debates. So those were really impactful right now, because of what's going on on a federal level.
GG: You are coming in during a strange climate given what's going on nationally. How has the Trump administration shaped your priorities?
YLN: That a really big question. One of the things that I'm lucky enough to be a part of, is being part of 'the people's budget,' I'm one of the legislators who is helping to put it together — and that's the document that the Black, Hispanic, Asian and Puerto Rican Caucus put together. It's really exciting. We get to talk a lot about the things I just mentioned, with criminal justice reform, and immigrant rights and women's rights. And we get to talk a lot about what we, as a caucus, would like to focus on. The other budgets don't necessarily make those things a priority, so at least it's a document for folks who believe in those things to have a voice. It's a very exciting project and I'm really honored to be a part of it.
One of the pieces -- because of the weird climate -- one of the things I got to speak up on, was stopping data registries, and I think that's really important because I know the city is going through some stuff with the [IDNYC (municipal identification card)] program. We are all trying do our best to look at what's happening, and then do really good preparation to be a good buffer and good representation of our district.
GG: You get this question a lot, but, Asian-Americans have been underrepresented in public office in New York State for so long. As the first Asian-American state legislator representing Manhattan, is there a lot of pressure to be a voice for an entire ethnic group?
YLN: I worked for [Assemblymember] Ron [Kim] last year and he was the only Asian-American on the entire state level — I bet he felt that! Right now, there's both me and him, and it's nice. But I also know that there are many of our colleagues that have very large Asian-American populations, and many of them have been very good at representing those communities in those districts as well. But yes, of course, a lot of people are going to come to our office with a lot of language-access needs, and immigration issues, and things like that. Just very basic things, like how to use mail. These are things Ron and I had to deal with that a lot at his office, because he was the only Asian-American elected on the entire state level, so many times a lot of those issues came to us.
I don't get tired of the question, by the way. I think it's sad that we have to keep asking the question more than anything. Because, I think that you are right, absolutely, we are the most underrepresented minority in New York State and the most rapidly growing as well in our state. We are at least 10 percent of the population in our state and we definitely don't even have 1 percent of representation on a state level. That's shocking, for sure. I think it's upsetting in the sense that, 'Oh, I can't believe I am the first on a state level,' because I didn't think that that was still a thing, but unfortunately, it is. I think it's very important to represent my whole district, but it is also a community that grew together, and everybody is supportive of one another. That's why it's such an incredible district.
GG: Any other surprising moments or takeaways from the past month and a half?
YLN: There hasn't been anything completely unexpected, but I definitely have just been just moved by how supportive everyone is. Especially with my office, the speaker [Assembly Speaker Carl Heastie] has been very, very good with my district and understanding the difficulty that I am under.
Given the history of this office, I think that we know that this district was serviced like no other district, because there were a lot of resources that, having the former speaker represent the district, that the district would have. Certain expectations have been set by the seat, which means I have to provide a very high level of constituent service and representation, but with only a fraction of the budget.
I was very moved and surprised by how much the Speaker understands that, and by how supportive the staff has been, on [The] Ways and Means [Committee], and the different committees, how they've been for our district in general, because it's got to be a drastic change.
I think it's my responsibility to the district to ensure that I'm super responsive, that we are able to get to folks' needs very quickly and efficiently, because it's crucial. This is a constituency that literally had the most service and then almost no service for a period of time. It's been a shock to the system. I'm hoping to make sure we are 100 percent accessible, that we are always transparent, and my priority is always constituents first.
[Read more from our series, Adjusting to Albany: Meet NYC's New Class of State Legislators]