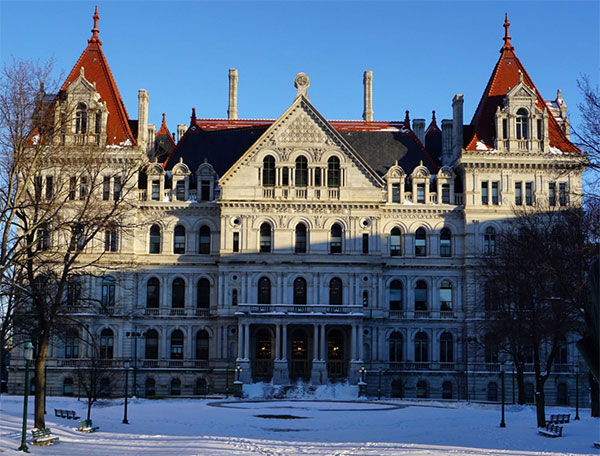 photo via @NYSCapitolTours
---
While the ethics trainings and orientation for new state legislators may have evolved over the years, one thing has remained constant: the daunting task of navigating the Capitol's maze-like corridors during one's first weeks of work in Albany.
Orientation provides some roadmap to Albany's byzantine legislative processes, including workshops in drafting bills, organizing a press conference, and conducting research, and legislative staffers are provided for support, but it can take a few weeks, if not months, for newly minted politicians to fully acclimate to life as a state lawmaker.
In fact, much of the training happens on the job, according Assemblymember Tom McKevitt, who oversees the trainings for incoming Assembly members in the chamber's Republican minority.
"For many people they are coming to a different part of the state, they are leaving their families, leaving their hometowns, to come to a very different place," said McKevitt, who represents part of Long Island, and has served in the Assembly for just over a decade. "New York State government is a massive operation. It really is. So we try to give them as much knowledge as possible and give them as much resources as possible to get them as productive a start to their legislative careers."
All new legislators in the Senate and the Assembly receive mandated training when they begin their legislative careers in Albany. In addition, each party conference provides training, as McKevitt indicated for the Assembly minority.
This year, there are 10 new state lawmakers from New York City, joining the 150-seat Assembly, which is dominated by Democrats, and the 63-seat Senate, which is narrowly controlled by Republicans. All of the new reps from the city are Democrats -- there are only a handful of New York City Republicans in the Legislature altogether, mostly from Staten Island.
Gotham Gazette began interviewing each of those 10 new members in February to gauge how they are adjusting to life in the state Legislature, which is notoriously dysfunctional and insulated, and has seen its share of corruption scandals in recent years.
While the first weeks of the legislative calendar leading up to one-house budgets in March are always fairly intense for new legislators, this year appears to have been more so. As with other state capitals and city halls around the country, the inauguration of President Donald Trump, followed by the unconventional president's chaotic first two months in office, have cast a long shadow over governing in New York.
As the Trump administration rushes to follow through on campaign promises to scale back reproductive rights, repeal the Affordable Care Act, and ban immigrants from select countries, many legislators, especially Democrats, are feeling more uncertainty and a greater sense of urgency. Both come in part from their constituents -- New Yorkers who overwhelmingly voted for Hillary Clinton in November.
Several incoming lawmakers hailing from the five boroughs are facing challenging political climates in their districts and given local political dynamics. Yuh-Line Niou, now representing Lower Manhattan's 65th Assembly District, must deliver for a constituency accustomed to receiving an exceptionally high level of resources given that the seat had been held for decades by (now convicted) former Assembly Speaker Sheldon Silver.
The 31st Senate District's new representative, Marisol Alcantara, is a member of the Senate's Independent Democratic Conference (IDC), at a time when the breakaway group of Democrats that forms a coalition majority with Republicans is facing some significant backlash. Meanwhile, Senator Jamaal Bailey, of the 36th Senate District, is joining the mainline Senate Democratic Conference that is struggling in the minority.
To begin our series on new city-based state legislators, Gotham Gazette spoke with Niou, Bailey, and Brooklyn Assemblymember Robert Carroll. Read their interviews through the links below, and stay tuned for our interviews with the seven other new lawmakers from the five boroughs.
Assemblymember for the 65th District
Lower Manhattan
Elected 2016; took office 2017
Democrat & Working Families Party
"This is a constituency that literally had the most service and then almost no service for a period of time. It's been a shock to the system."
READ THE FULL INTERVIEW with Assemblymember Yuh-Line Niou
---
State Senator for the 36th District
Parts of the Bronx and Mount Vernon
Elected 2016; took office 2017
Democrat & Working Families Party
"But a lot of the preparation, it just comes in real-time. Just seeing the bill and you have to vote on it."
READ THE FULL INTERVIEW with Senator Jamaal Bailey
---
Assembly Member for 44th District
Brooklyn (Windsor Terrace, Kensington, Park Slope, Flatbush)
Elected 2016; took office 2017
Democrat & Working Families Party
"I think if you are going to be in politics, you have to understand that you're not going to win every fight, and you have to be ready to stay in the arena."
READ THE FULL INTERVIEW with Assembly Member Robert Carroll
---
Assembly Member for 72nd District
Manhattan (Harlem, Inwood, Hamilton Heights, and Washington Heights)
Elected 2016; took office 2017
Democrat & Working Families Party
"It's definitely a great place to be, coming from the City Council, it's sort of government on a larger scale, so it's a welcome challenge for me."
READ THE FULL INTERVIEW with Assemblymember Carmen De La Rosa
---
Assembly member for the 30th District
Parts of Astoria, Long Island City, Maspeth, Middle Village, and Woodside
Elected 2016; took office 2017
Democrat
"The budget process was certainly long, but I don't have a problem with that. In my opinion, it's better to negotiate and negotiate and negotiate, instead of just doing the deal for the sake of doing a deal."
READ THE FULL INTERVIEW with Assemblymember Brian Barnwell
---
Coming soon, interviews with:
Assemblymember Tremaine Wright
Assemblymember Stacey Pheffer Amato
Senator Marisol Alacantra
Assemblymember Clyde Vanel
Assemblymember Inez Dickens