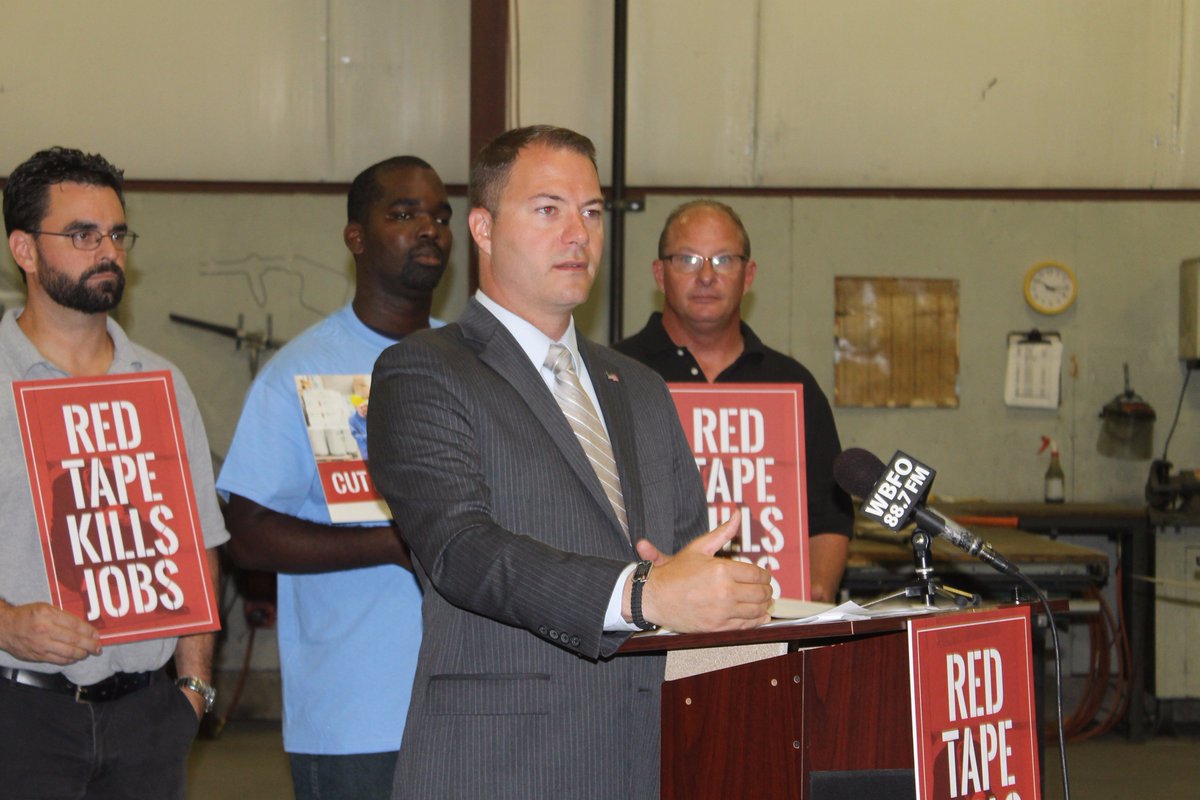 State Sen. Rob Ortt (photo: @SenatorOrtt)
---
Corruption charges brought against a member of the state Senate Republican majority Wednesday have provided an opportunity for Democrats to jumpstart the seemingly dormant conversation on government ethics as state budget negotiations enter their final week.
Senator Rob Ortt, of Niagara County, pleaded not guilty in Albany County Court Thursday morning, following his indictment on three felony counts of filing a false instrument, according to reports. For state government, this is just the latest scandal in an unrelenting stream of misconduct cases brought against members of both legislative houses on both sides of the political aisle, as well as individuals from and associated with the executive branch.
More than 30 current or former New York state lawmakers have been convicted of crimes or accused of wrongdoing over the last decade, according to a New York Times tally.
The charges against Ortt, who maintains his innocence, come as legislative leaders and Governor Andrew Cuomo face an April 1 deadline for a new budget. They also add a new dynamic to the miniscule difference that accounts for party control in the state Senate, where Republicans hold a bare majority and Democrats are divided among themselves.
The Senate's mainline Democrats, eager to regain control of the house, quickly jumped on this latest scandal as an opportunity to once again push for ethics reform, something that leaders of the majority conferences and the governor have shown reluctance in addressing this year. Cuomo laid out an ambitious reform agenda in January, but has done nothing to promote it publicly since.
"Once again this highlights the need for real ethics reforms, something the Senate Democrats have been calling on for years, and really shows the absurdity that there has been no talk in this budget process of cleaning up Albany and passing the strong ethics reforms," said Senate Democratic Conference communications director Mike Murphy in a statement.
Attorney General Eric Schneiderman's probe of election fraud in Niagara County found that Ortt's wife held a no-show job, allegedly in order to offset a $5,000 salary reduction in Ortt's previous capacity as Mayor of North Tonawanda, according to the charges.
A defiant Ortt denied the allegations to reporters after a court appearance Thursday with his lawyer Steve Coffey. "I am not guilty. I am not resigning. I believe I will be exonerated and vindicated," said Ortt.
Ortt and his attorney both maintain that the indictment brought by the attorney general's office is politically motivated, a charge denied by Schneiderman.
The Niagara County case was referred to Schneiderman by the state Board of Elections, a bipartisan agency. Schneiderman, a Democrat and former state senator, has prosecuted cases involving Democrats like former Senator Shirley Huntley of Queens, New York City Council Member Ruben Wills, and Democratic political operative Steve Pigeon, as well as Republicans.
Additional charges related to the probe were brought against Ortt's predecessor, former Senator George Maziarz, also a Republican, who is alleged to have "orchestrated a multilayered pass-through scheme that enabled him to use money from his own campaign committee" as well as the from the Niagara County Republican Committee, "to funnel secret campaign payments to a former senate staffer who had left government service amid charges of sexual harassment," according to the Attorney General's Office.
"No-show jobs and secret payments are the lifeblood of public corruption," Schneiderman said in a statement. "New Yorkers deserve full and honest disclosures by their elected officials — not the graft and shadowy payments uncovered by our investigation. These allegations represent a shameful breach of the public trust — and we will hold those responsible to account."
Maziarz, who also pleaded not guilty Thursday, was charged with five felony counts of offering a false instrument for filing. If convicted, both Ortt and Maziarz face maximum sentences of one and a third to four years on each count.
Senate Majority Leader John Flanagan, in an appearance with reporters, stood behind Ortt, saying he was confident in the judicial system and that he would not expect his colleague to resign.
"I'm going to continue to work with Rob, I'm sure he's going to be back here tomorrow. The primary thing that he's concerned about and I am concerned with is getting the budget done in a timely fashion," said Flanagan.
Typically, leaders of majority legislative conferences are resistant to increased oversight and transparency measures, as well as limitations on outside income or campaign contributions, while members of the minority conferences are for more reform. In the Legislature's one-house budget resolutions, voted through last week, the Senate and Assembly presented ethics reform plans that were not particularly aligned. Notably, the Assembly's resolution included more support for reform, including provisions for early and automatic voting, restrictions on use of campaign housekeeping accounts, and closure of the LLC loophole, which allows lawmakers to benefit from nearly unlimited and opaque campaign contributions.
The resolutions are meant to serve as guiding documents during budget negotiations, which occur among the "three men in a room" -- in this case, Governor Cuomo, Flanagan, Assembly Speaker Carl Heastie, and, this year, a fourth man, Independent Democratic Conference Leader Jeff Klein.
Cuomo, a second-term Democrat, has been mostly silent on ethics since introducing his wide-ranging plan for reform during his State of the State, which touched on campaign finance reform, increased contract oversight, and electoral reform. At a press conference earlier this week, Cuomo, who wields significant leverage over priorities addressed in budget talks, said policy matters, such as voting and ethics reforms, would likely be tackled after the budget was delivered.
"The budget is primarily about finances," Cuomo said in response to a question from a WNYC reporter. "If there's a policy matter that is related to the finances then I try to include it, because the budget is a good vehicle to reconcile as much as you can. Many of the democracy issues that you talk about, we are going to take up after the budget."
"[I]t's hard to believe that charges against one senator and one former senator will move the needle when convictions against the former leader of the Senate and the former speaker of the Assembly didn't," said Blair Horner of NYPIRG about the prospects of the latest indictments leading to reform. "It does remind everybody about how bad things are in Albany, that they have not really solved the problem," Horner said.
Senate Republicans have opposed closure of the LLC loophole, which good government groups argue makes lawmakers particularly susceptible to pay-to-play politics. Earlier this week, when asked about calls from good government to include significant ethics reform in the state budget, Flanagan pointed to the Legislature's moves to increase transparency.
"I would say that the good government advocates have not been looking at what we've done in the past six years," Flanagan said. "We have more transparency and more disclosure measures for elected officials than any other state in the country."
John Kaehny, executive director of Reinvent Albany, said that the increased transparency measures are good, but only meaningful campaign finance reform will stem the flow of corruption in Albany.
"Transparency is the first step you take in the long road towards clean government," said Kaehny. "The crucial steps that have to happen are restrictions on unlimited political giving, in particular, closing the LLC loophole and housekeeping accounts. Otherwise there's just a gusher of money pouring in."
But will the latest indictment drive the Legislature to overhaul its laws? "I think that's pretty unlikely," said Kaehny.