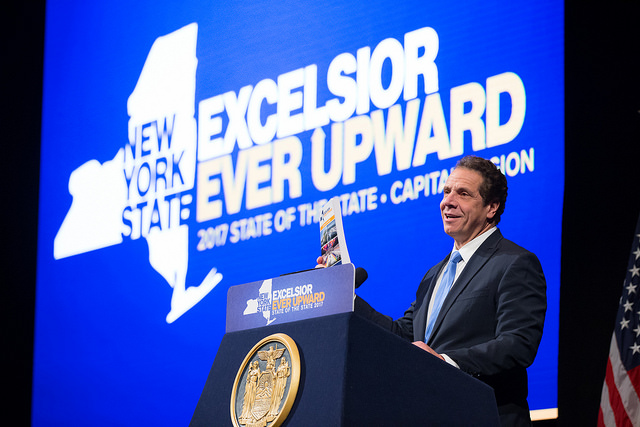 Gov. Cuomo (photo: Governor's Office, flickr)
---
For the second year in a row, in his January State of the State, Governor Andrew Cuomo laid out an ambitious ethics reform agenda that touched on a variety of issues and aimed at restoring public trust in New York State's scandal-plagued government. But, also for a second year in a row, Cuomo has not followed up with any discernible public push to rally support for that agenda or put pressure on members of the state Legislature to pass it.
Acknowledging that corruption and greed had tainted all branches of government, including his executive branch, Cuomo said on January 11 in Albany, "Imagine what we could do if we had the complete confidence of the people. If we had that confidence, there is nothing we couldn't do – and I am not going to stop until I get there."
Cuomo outlined his ten-point ethics and good government agenda in his Albany State of the State speech, his 2017 policy book, and his executive budget proposal -- which is significant in that the governor is again proposing to push through government ethics policy in the state's spending plan. The budget process is where Cuomo has the most leverage over the Legislature, but that has not paved the way for pushing through reform measures.
The governor's agenda -- put forth after major corruption scandals in the Legislature and the governor's inner circle over the past two years -- includes campaign finance reform and transparency and oversight measures. "This bill contains provisions needed to enact into law major components of legislation relating to Good Government and Ethics Reform," Cuomo's budget bill says, under "purpose."
But while Cuomo outlined the need for new campaign finance and ethics measures and proposed a slate of reforms, as in years past, the governor has made virtually no mention of these reforms since, nor has he indicated how he will persuade a resistant Legislature to pass them. Cuomo has made a variety of public appearances since his early January State of the State tour, but none have focused on government ethics or campaign finance reform.
A spokesperson for the governor said that Cuomo's priorities have not shifted, and that ethics will factor into budget negotiations this month. Cuomo and legislative leaders must agree to a new state budget by the April 1 start to the next fiscal year.
"The Governor has included comprehensive ethics reform in his Executive Budget proposal just as he has every other year. We will continue to strongly advocate for the passage of these meaningful reforms and we urge the Legislature to join us in this effort," said Cuomo spokesperson Abbey Fashouer, in a statement to Gotham Gazette.
While Cuomo may pursue ethics measures in closed-door negotiations, his public priorities have been elsewhere. The governor has promoted state infrastructure spending and investments in Central Brooklyn, traveled to Israel to condemn anti-semitism and show solidarity, and made other public appearances, including a rare cabinet meeting at the Capitol.
Meanwhile, this week the two legislative houses passed their one-house budget resolutions, and offered little indication that the governor's ethics agenda or reforms sought by good government advocates are on the precipice. Over the six-plus years Cuomo has been governor, there have been various incremental ethics reform measures passed, but they have proved insufficient in preventing corruption in state government.
In 2016, in the wake of the arrests of then Assembly Speaker Sheldon Silver and Senate Majority Leader Dean Skelos on public corruption charges, Cuomo proposed similar reforms in his State of the State, but was criticized for neglecting to push for them publicly. Most of the measures were not passed -- particularly because of an obstinate Republican majority in the Senate -- and those that did were again seen as small, mostly symbolic steps, insufficient for fixing Albany's systemic pattern of corruption.
Then, last year, the spotlight moved from the Legislature to the Cuomo administration and orbit. Nine Cuomo associates, including his longtime friend and advisor Joseph Percoco, were arrested for their roles in a massive bid-rigging, bribery, and kickback scandal related to Cuomo's Buffalo Billion and other economic development efforts. This increased scrutiny in his own front yard, coupled with an increasingly fraught relationship with state legislators may diminish some of the governor's willingness to barter for the reforms, according to John Kaehny, executive director of Reinvent Albany.
"His moral authority to pummel the Legislature is not very high right now. Because instead of the Legislature being on political trial because of Skelos and Silver, it's the governor this time," Kaehny said. "So every time the governor brings up issues like limits on outside income -- which good government groups advocate for -- for legislators, they are just going to say, 'well, who's on trial, you or us?'"
In the wake of the scandal, Cuomo renewed his call for ethics reforms and vowed to appoint a procurement officer to review all state contracts "with an eye towards eliminating any wrongdoing, conflicts of interest or collusion." But, this and other proposals Cuomo has made for new ways in which he will monitor executive branch operations have come up short for critics who note that Cuomo's solutions keep mechanisms under his purview, instead of empowering independent, outside regulators.
Cuomo sought to levy some of his proposed ethics reforms at the Legislature, including term limits for lawmakers and restrictions on outside income, in exchange for a pay raise, a move that enraged state lawmakers who have not seen a salary increase since 1999. A pay raise commission imploded and talks went nowhere, though they could be resurrected when the "three men in a room" start to hash things out.
"I think any hope in big progress this session was wrecked by the whole fight over the pay raise, which was perceived as incredibly bad faith by the governor by the Legislature," said Kaehny.
Also quieter this year are editorial boards and good government groups, who last March called on those "three men in a room" -- Cuomo, Senate Majority Leader John Flanagan and Assembly Speaker Carl Heastie -- to have an open and transparent meeting on proposed ethics reforms.
This budget season, advocates and reformers in and out of government have turned their attention to a clean contracting campaign as a result of the bid-rigging scandal. Many have called for reinstating Comptroller Tom DiNapoli's power to review contracts that go through government-created nonprofits, like those at the center of the economic development scandal. Cuomo and the Legislature voted to strip DiNapoli of this authority in 2011.
Little has seemed to grab the attention of legislators, other than many Democrats in both chambers who are pushing for campaign finance reform, starting with closure of the LLC loophole. And Cuomo, defiant in the face of calls for reforms that bring outside oversight to his administration, does not seem particularly animated by his desire to push through ethics and campaign finance reform.