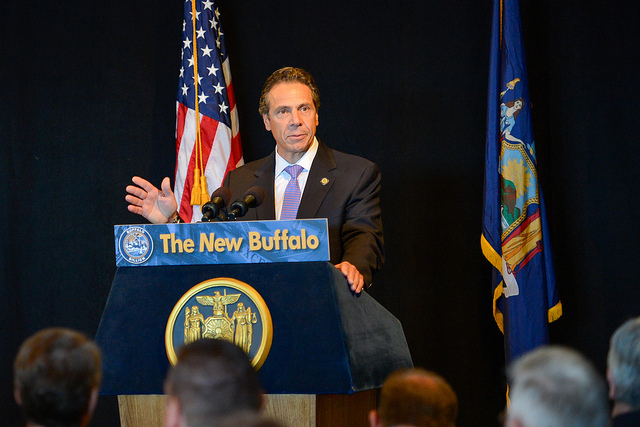 Gov. Cuomo in Buffalo (photo: The Governor's Office)
---
The new state budget, passed nine days into the fiscal year, is by many accounts a win for New Yorkers, with the inclusion of, among other things, significant new funding for education and affordable housing, college affordability measures, billions for clean water infrastructure, and important criminal justice reforms.
The agreement hammered out by Governor Andrew Cuomo and the Legislature also included major provisions central to what is perhaps the governor's top ongoing priorities. When he realized they would miss the April 1 deadline for a new spending plan, Cuomo squeezed into the state's emergency budget extender bills funding for all of his signature economic development programs and splashy infrastructure projects, forcing lawmakers to accept them or risk a government shutdown.
The nearly $1.8 billion in funds remained when the deal was then reached for a full fiscal year budget, which overrode the extender bills a week later. This money includes $150 million for the state's 10 Regional Economic Development Councils (REDCs); $500 million for the next phase of Cuomo's "Buffalo Billion" investments; and $700 million for the creation of a new wing of Manhattan's Penn Station.
The Legislature also agreed to a provision that would allow Cuomo the discretion to make mid-year changes to the budget in the event of major federal cuts to New York, though the governor conceded that the Legislature could have 90 days to come up with an alternative plan, which would override the executive's plan. Citing uncertainty from the federal government, Cuomo made clear early on that he would not agree to a budget that did not include this type of flexibility.
"I want to make sure we do not overcommit ourselves financially. We have never been in this situation before, where you basically have a federal government that has said that, in both their rhetoric and their actions, that there will be a financial cost to the state of New York," Cuomo explained on April 5, two days before he announced a budget deal.
But while it forges full speed ahead on the governor's signature economic development and infrastructure programs and gives him additional budgetary powers, the final spending plan fails to beef up disclosure and oversight measures on the governor's ambitious spending agenda. It also lacks any procurement reform and removes at least one crucial disclosure requirement previously attached to the governor's Start-Up NY business development program that runs on tax incentives.
Critics say lax oversight and limited transparency requirements for state-run nonprofits, through which the state funnels tens of millions of dollars each year, make Cuomo's economic development programs ripe for abuse. Last year, nine associates of Cuomo -- including top former aide Joe Percoco and economic development leader Alain Kaloyeros -- were arrested on federal charges for their roles in an elaborate pay-to-play scheme involving the governor's signature programs. The charges center around bid-rigging, kickbacks, and bribes and laid bare gaps in contract review and oversight.
In the wake of these scandals, Comptroller Tom DiNapoli released six recommendations for procurement reform, beginning with the restoration of the comptroller's independent oversight of SUNY, CUNY, and Office of General Services contracts. The governor and Legislature stripped the comptroller's office of this power in 2011 as they sought to speed the economic development process.
Other recommendations made by DiNapoli include prohibiting the use of non-profits to avoid procurement transparency laws, requiring state officials to follow the same procurement requirements as state agencies, creating tighter ethics requirements, implementing steeper penalties for those who abuse the procurement process, and requiring state agencies and their affiliates to make public all potential business opportunities in order level the playing field for all potential vendors.
In a statement after the new state budget was passed, DiNapoli expressed disappointment that procurement reform was not included.
"Hopefully before the end of session, the procurement reforms my office has advanced will be addressed," said DiNapoli. "With heightened risks to federal aid, a clear understanding of the impact of spending, revenue and policy decisions in this budget is especially essential. My office will provide more detailed analysis of the enacted budget in the coming weeks."
While it was immediately evident that procurement reforms -- like other government ethics, campaign finance, transparency, and voting reforms -- were not included in the budget, it will take time to unpack what is included, as DiNapoli indicated, in part because the budget was rushed through the Legislature over the weekend of April 7. Cuomo issued "messages of necessity" in order to waive the otherwise-necessary three-day bill review period.
One indication that reform measures were not likely to be included in the budget was how they were dealt with in the budget outlines put forth by Cuomo and each legislative majority. In their on-house budget resolutions, the Democratically- controlled Assembly and Republican-controlled Senate both called for Cuomo's 10 REDCs, which lawmakers have accused of self-dealing, to adhere to the Code of Ethics and FOIL requirements in the Public Officers Law, abide by the open meetings law, and mandate members file annual financial disclosure statements. However, the legislative houses rejected the governor's proposals to require legislators to file conflicts of interest disclosure notices regarding their involvement in the spending of lump sum funds and to subject the Legislature to FOIL, among other reforms.
Ultimately, the governor and Legislature agreed upon more unspecified spending than before and fewer accountability measures at a fiscally uncertain time for New York State and in the wake of corruption scandals.
Since 2011, both the executive and legislative branches have been home to scandal, often featuring people on the inside seeking to exploit this unchecked cash flow for personal gain.
Cuomo's executive budget proposal, unveiled in January, included $9.5 billion in funds in 44 separate economic development and infrastructure pots that do not specify any official as having authority and lack any disclosure and accountability about how the funds would be spent, according to Citizens Union, a government reform group, in its 2017 "Spending in the Shadows" report.
The analysis also identified $4.3 billion divided among 60 different pots of discretionary funding that are assigned to one or more elected officials and not subject to disclosure requirements -- a $2 billion increase from last year's executive budget. "We do not know what the criteria is, we do not know what projects are being considered, and we don't even know what projects are being denied," said Dick Dadey, executive director of Citizens Union.
It is not yet clear exactly how much of the 'shadowy' money outlined in Cuomo's executive budget made it into the final spending plan (Citizens Union has yet to do its analysis of the adopted budget).
Access to these vaguely defined funding streams make lawmakers particularly susceptible to corruption schemes like the ones executed by former Assembly Speaker Sheldon Silver and former Senate Majority Leader Dean Skelos, according to Dadey. Both Silver and Skelos were convicted on federal charges, leading to unmet calls for government ethics reforms.
"It's an increasing problem in New York. We have 33 legislators who were forced from public office since 2000 because of misconduct. In the last six years alone 16 have been forced from office," said Dadey at a press conference last month.
Meanwhile, an annual reporting requirement for Start-Up NY participants has been removed from this year's budget, as first reported by Newsday. Since 2013, business owners were mandated to report how many jobs their companies created and how much money they've invested in their operations, or they would be removed from the program. Instead, the new state budget directs the state's Empire State Development, which runs Start-Up NY, to publish broader reports on the program. A Cuomo administration source told Newsday the omission was an accident.
The three-year-old program grants businesses creating at least one new job per year and their employees up to a decade of tax relief for moving to or beginning in designated zones on or nearby public college campuses.
The Start-Up NY program drew criticism last year when annual reports showed that 1,135 jobs were created in its first two-and-a-half years, while $53 million was spent by Empire State Development on advertising the program. Cuomo in his executive budget requested a name change on the start-up initiative, and proposed loosening the requirements for participation in the program. The Legislature did not agree to these changes.
Note: Gotham Gazette is an independent publication of Citizens Union Foundation, sister organization of Citizens Union.