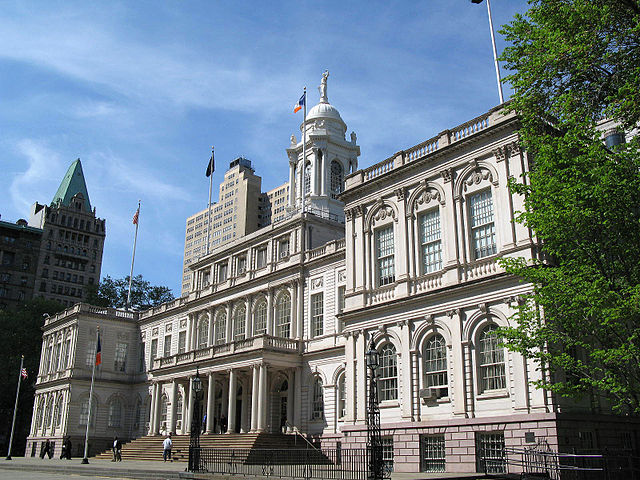 New York City Hall
What to watch for this week in New York politics:
President Donald Trump is due back in New York City for the first time since taking office this week -- see below for details and expect protests, traffic gridlock, and political statements from all corners.
The State Legislature continues its post-budget legislative session in Albany, with only six weeks to go. There will be legislation announced and bills voted through as early as Monday. Tuesday will see a group of New Yorkers lobbying for better voting laws hit the Capitol. See below for details.
City Council executive budget hearings start this week, just after Mayor Bill de Blasio presented his revised spending plan, an $84.86 billion executive budget -- hearing details below.
There will be candidate forums for mayor and in the Republican primary in the "open" City Council 43rd District in Southern Brooklyn this week. Speaking fo the mayoral race, we're watching early this week for a decision from John Catsimatidis about whether he'll join the Republican mayoral promary -- Politico New York's Azi Paybarah reported at the end of last week that Catsimatidis was going to spend the weekend with close advisors deciding whether to run. [UPDATE: Catsimatidis announced Monday that he will not run for mayor this year.]
And, several interesting panel events, awards ceremonies, and much more. See below for all the details of the Week Ahead!
***Do you have events or topics for us to include in an upcoming Week Ahead in New York Politics?
e-mail Gotham Gazette editor Ben Max: This email address is being protected from spambots. You need JavaScript enabled to view it.***
The run of the week in detail:
Monday
The New York State Legislature will be in session on Monday in Albany. During session, "The Senate will be acting...on a bill that strengthens and makes permanent "Kendra's Law."" Sponsored by Sen. Cathy Young, the legislation is "an end of session Senate GOP priority," according to a Senate spokesperson.
At the State Assembly on Monday: The Standing Committees on Corporations, Authorities, and Commissions; Consumer Affairs and Protections; Energy; and Environmental Conservation will hold a joint hearing regarding the Clean Energy Standard.
On Monday morning, "Mayor de Blasio will greet NYC Ferry commuters on the first day of service as boats dock at Manhattan's Pier 11" at 8:25 a.m., then the mayor "will appear live on Pix 11 Morning News" at about 8:45 a.m. The mayor has two other public events Monday -- see below.
City schools Chancellor Carmen Fariña will be in Albany Monday. At about 2:30 p.m., she'll address members of the State Assembly Education Committee in the Speaker's Conference Room at the Capitol.
At 7:30 a.m. Monday: "On May Day...immigrant and worker rights groups led by the Center for Popular Democracy and Make the Road New York will escalate their newly-launched "Corporate Backers of Hate campaign" with an early morning action at a major corporation targeted for supporting and benefiting from Trump's hateful agenda. The march, which will start at Bryant Park, will kick off events commemorating May Day (International Worker's Day), which is expected to feature scores of demonstrations in New York and around the country."
At 11 a.m. Monday, Comptroller Scott Stringer will host a press conference on an unannounced topic, at 72nd Street and Broadway.
At noon Monday, a "strike to defend refugees, migrants, and all workers" will be held at Union Square in honor of "May Day" (May 1). Meanwhile, uptown, Senator Marisol Alcantara, Congressman Adriano Espaillat, Assemblymember Carmen de la Rosa, and City Council Member Ydanis Rodriguez will lead a strike by immigrant business owners in protest of the Trump administration's immigration policies from 7 a.m. to 10 a.m.
"New York State Senate Labor Chairwoman Marisol Alcantara (D-Manhattan), joined by members of the Independent Democratic Conference and leaders of major labor unions, will announce legislation to combat union-busting tactics used in right-to-work states spreading nationally on Monday, May 1 in the New York State Capitol Building, 3rd Floor, Outside Senate Chambers at 12:30 p.m."
At 4 p.m. Monday, Assemblymember Mark Gjonaj, Senator Jeff Klein, Bronx BP Ruben Diaz Jr, Bronx Democratic Chairman Marcos Crespo, the BOEDC, and the Bronx Tourism Council will host "Bronx Day in Albany" at the Hart Theater Lounge at the Egg.
At 5 p.m. Monday, Mayor de Blasio, Comptroller Stringer and other officials will deliver remarks at the "Rise Up New York! 2017 May Day Rally and Celebration" in Foley Square.
On Monday evening on NY1, there will be a special Road to City Hall Town Hall on President Trump's impact on New York, featuring CUNY students and special guests including Mayor Bill de Blasio, Public Advocate Letitia James and City Council Member Joseph Borelli.
Tuesday
A"On Tuesday, Mayor de Blasio will travel to Atlantic City, New Jersey, where he will deliver remarks at 1199 SEIU's Unity and Power Membership Convention. This event is closed press. In the afternoon, the Mayor will return to New York City."
City Council Speaker Melissa Mark-Viverito has three public events Tuesday: at 10:30 a.m. she will speak at National Puerto Rican Day Parade Press Conference at One World Observatory; at 2 p.m. she will deliver opening remarks at the Committee on Fire and Criminal Justice Services hearing on bail reforms, at 250 Broadway; and at 7:15 p.m. she will speak at the Bed-Stuy Campaign Against Hunger 8th Annual Planter Awards.
At the City Council on Tuesday
-The Subcommittee on Zoning and Franchises will meet at 9:30 a.m.
-The Committee on Housing and Buildings will meet at 10 a.m. to discuss proposed laws relating to bedbugs
-The Committees on Public Housing and Environmental Protection will meet jointly at 10 a.m. for an oversight hearing at the Miccio Community Center in Brooklyn regarding "NYCHA's Record in Removing Mold From Public Housing," as well as to discuss a proposed law in relation to "requiring licensure for mold abatement, assessment and remediation work and setting minimum standards for such work."
-The Subcommittee on Landmarks, Public Siting, and Maritime Uses will meet at 11 a.m.
-The Committees on Public Safety and Transportation will meet jointly at 1 p.m. for an oversight hearing regarding "Engaging New Yorkers to Help Hold Hit-and-Run Perpetrators Accountable," as well as to discuss two proposed laws relating to hit-and-runs.
-The Committee on Mental Health will meet at 1 p.m. for an oversight hearing regarding ThriveNYC.
-The Subcommittee on Planning, Dispositions, and Concessions will meet at 1 p.m.
-The Committee on Fire and Criminal Justice Services will meet at 2 p.m. to discuss several proposed laws regarding bail and access to information.
The New York State Legislature will be in session on Tuesday in Albany.
On Tuesday, the "VoteBetterNY" coalition will hold "Voter Day 2017" in Albany, "an annual day of advocacy for statewide voting reform." Participants will urge Albany legislators "to take down barriers to voting in New York and to guarantee the right to vote for every eligible New Yorker with the passage of common sense reforms." There will be a rally at 9:30 a.m. at the Capitol.
At 10 a.m. Tuesday, schools Chancellor Carmen Fariña will address the State Senate Education Committee at Legislative Office Building.
At 8 a.m. Tuesday, the New York League of Conservation Voters and the Citizens Budget Commission will co-host a discussion on the "pros and cons of a constitutional convention in New York State." A debate will occur between Gerald Benjamin, the director of the Benjamin Center at SUNY New Paltz, and Jerry Kremer, chairman of Empire Government Strategies, moderated Marcia Bystryn, President of the NYLCV.
At 10:30 a.m. Tuesday, Think Outside the Box will host a panel "discussing solitary confinement in New York and efforts to stop the torture," featuring Akeem Browder, brother of Kalief Browder, as well as "New York Lawmakers, Survivors of Solitary Confinement, Mental Health Experts & Others." Following this, there will be a rally on the State Capitol's "Million Dollar Staircase."
At 4:30 p.m. Tuesday, Bronx Borough President Ruben Diaz Jr. and the Hebrew Institute of Riverdale will host the "Bronx Israel Independence Day Festival" at the Bayit in Riverdale.
Wednesday
At the City Council on Wednesday
-The Committee on Health will meet at 10 a.m. to discuss several proposed laws related to food safety and inspection in schools, restaurants, and street vendors.
-The Committee on Rules, Privileges, and Elections will meet at 10:30 a.m.
The New York State Legislature will be in session on Wednesday in Albany.
At 11:30 a.m. Wednesday, the Center for an Urban Future will host a symposium, "From Credential to Career: How to Get More Adults in New York on the Path to a High School Equivalency and Postsecondary Degree" at the Hilton Albany. Featured speakers include Amy Dalsimer, the executive director of the College and Career Pathways Institute at LaGuardia Community College; Kevin Smith, deputy commissioner of the New York State Education Department; and Stacie Evans, adult literacy advisor at the Mayor's Office of Workforce Development.
At 6:30 p.m. Wednesday, Citizens Union will host a discussion, "A Day in the Life of NY Legislators," featuring a panel of legislators detailing "how they represent their constituents, make critical decisions about New York public policy and balance competing needs." Panelists include Senator Michael Gianaris, Assemblymember and Republican Mayoral Candidate Nicole Malliotakis, Assemblymember Rodneyse Bichotte, and others. (This discussion will take place after the annual Citizens Union members' meeting, which is from 6-6:30 p.m.)
Between Wednesday and Saturday, the "Smart Cities" conference will take place at the Brooklyn Navy Yard, focusing on how to ready cities for the 21st century with regards to technology and urban planning.
Thursday
At the City Council on Thursday
-The Committee on Finance will hold the first executive budget hearing with the Office of Management & Budget at 10 a.m., following by Design & Construction at noon
-The Committee on Land Use will meet at 11 a.m.
President Donald Trump will be in New York City on Thursday; he'll be meeting with Australian Prime Minister Malcolm Turnbull on the USS Intrepid to commemorate the 75th anniversary of the Battle of the Coral Sea.
At 9 a.m. Thursday, the New York City Bar Association will host a Continuing Legal Education program on affordable housing, focusing on "current strategies to finance and preserve affordable housing projects in New York City." Panels will convene to provide insight on three topics: "New Housing Tax Incentives; Alternative Model for Permanent Affordability - Community Land Trusts; and a New Strategy for Public Housing."
At 6:30 p.m. Thursday, the Lexington Democratic Club will honor Manhattan Borough President Gale Brewer at its 2017 Gala Dinner.
At 6:30 p.m. Thursday, the Manhattan Institute will host its 17th annual Alexander Hamilton Award Dinner. This year's honorees are former Police Commissioner Bill Bratton and Eagle Capital Management Co-founder Ravenel B. Curry III.
At 6:30 p.m. Thursday, City & State will host its second borough series event of 2017, focusing on Brooklyn. The event will recognize prominent individuals who live or work in Brooklyn. Borough President Eric Adams will deliver the keynote.
At 7 p.m. Thursday, the Brooklyn Republican Party will host a debate at Bay Ridge Manor featuring three Republicans vying for the "open" seat in the City Council's 43rd District. The candidates are Liam McCabe, John Quaglione, and Bob Capano. The debate will be moderated by the Brooklyn Eagle.
At 7 p.m. Thursday, the Alliance for a Human Scale City and the East Harlem Civic Alliance will hold a bipartisan mayoral forum at PS 108 in Manhattan. Confirmed attendees are Democrats Sal Albanese, Tony Avella, Kevin Coenen, and Robert Gangi; Republican Darren Dione Aquino; and independent Bo Dietl.
Friday and the weekend
At the City Council on Friday: executive budget hearings regarding CUNY at 10 a.m. with the Committee on Higher Education, and regarding Youth and Community Development at 11:30 a.m. with the Committee on Youth Services
At 8:15 a.m. Friday, the Center for New York City Law will host its third annual "Civic Fame Awards." NY1 anchor Errol Louis will host. Honorees include former mayor David Dinkins; Wayne Hawley, former executive director and general counsel of the Conflicts of Interest Board; Susan Hinkson, a retiring member of the Board of Standards & Appeals; Con Ed; and NY1's Inside City Hall.
At 9 a.m. Friday, the Manhattan Institute will host "Reforming The Fed And Government-Sponsored Enterprises," featuring two panels focusing on monetary policy and on federal reserve reform. John Williams, President of the Federal Reserve Bank of San Francisco, will deliver the keynote.
***
Have events or topics for us to include in an upcoming Week Ahead in New York Politics? E-mail Gotham Gazette executive editor Ben Max any time: This email address is being protected from spambots. You need JavaScript enabled to view it. (please use "For Week Ahead" as email subject).
***
by Ben Brachfeld and Ben Max
@GothamGazette