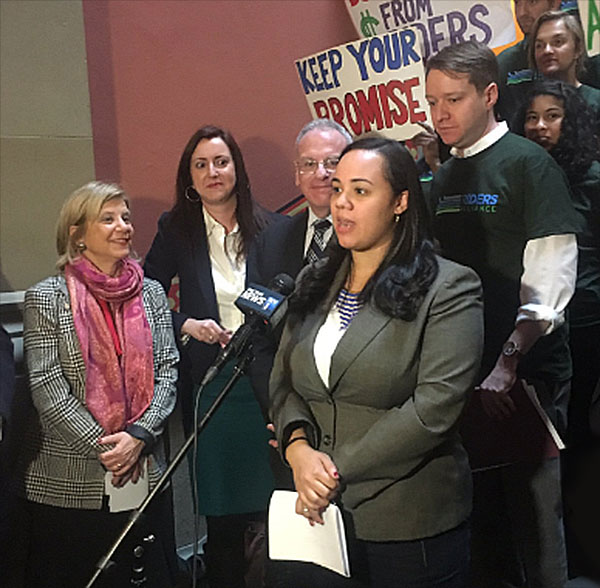 Assemblymember Carmen De La Rosa (photo via @CnDelarosa)
---
Born in the Dominican Republic, Carmen De La Rosa immigrated as a child to Inwood, in upper Manhattan, where she was raised and still lives, now with her fiance and daughter. She launched her legislative career in 2007, working for Assemblymember Daniel O'Donnell on the Upper West Side. She later became Democratic female district leader for the 72nd Assembly District and chief of staff to City Council Member Ydanis Rodriguez.
With the backing of her former boss and Rodriguez's mentor, then-State Senator Adriano Espaillat, the 30-year-old De La Rosa took on incumbent Assemblyman Guillermo Linares, a longtime rival of Espaillat. During the campaign, she defined herself as a feminist who understands the struggles of working families and immigrants, someone who could break barriers for the upper Manhattan district, which has long been dominated by male leadership.
Now in office, De La Rosa told Gotham Gazette in February that she is looking forward to making a difference in the community she has lived in her whole life, especially given the ascendance of an anti-immigrant Trump administration in Washington, D.C.
Gotham Gazette (GG): What was your first few weeks as a state legislator like? How was the orientation?
Carmen De La Rosa (CDLR): It's been obviously very interesting — and busy — getting to know the budget process and all the components of the budget and how to navigate our communities within that process. Also, learning the basic 101 of the legislative process, in addition to also getting our offices up and running for constituent services. So it definitely feels like longer than a month. But I definitely feel like everyone here is very helpful. There are a lot of people who can assist you with technical issues.
The training was very interesting. We got to meet the incoming class of members on the Assembly side and majority side. It was wonderful because you are able to meet other members from all different part of the state who are coming in with different perspectives, but we have one thing in common, which is we are all new here. We've sort of created a bond of helping each other out, because we have similar questions about like where a particular hearing room is, or how to get over to chamber quickly. So it's been really high pace. It's definitely a great place to be, coming from the City Council, it's sort of government on a larger scale, so it's a welcome challenge for me.
GG: How is the commute? Where do you stay? Any favorite restaurants yet?
CDLR: I've been taking the train. I actually am taking the train from the Yonkers stop. So I often either have my husband drop me off and I'll come up. It's only two hours and 15 minutes depending on how the rail is going.
It's really good to come on the train; you get a lot done, a lot of reading and catching up. I really like the train ride actually because you are able to disconnect and sort of just get your footing in before you even come up to Albany. So you do all the reading on what bills are coming up, on committees and all of that. And when I'm coming back into my district work, so what community events are happening and things like that.
I haven't found a favorite restaurant yet. We've been really busy this session and we had a few late nights with some votes. So I haven't had much time to go out and explore. I am usually eating in the members lounge or in the cafeteria or the concourse, so I definitely have goals for later on in the session to go out and find a good restaurant.
GG: As a mother of a 2-year-old, is it hard to juggle the demands of parenthood and the job?
CDLR: Definitely, I haven't been away from her since she was born and I've been really spoiled by being able to work in the city and come home to her every night. But I have a really good support system. My parents have both been very helpful, and my husband. And my mom has seven sisters so they're great aunts, they are always coming over, pitching in.
My daughter is at the age that she's in daycare during the day, and then she comes home and we Facetime. Then she asks me all these questions and I ask her about her day. She's now at a point where she doesn't fully understand what mommy is doing. Actually, the other day I asked her, I said, 'Bye, mommy's going to Albany!' She said, 'You're going to work mommy!' and I said 'Do you know what mommy does at work?' and she says, 'Talk to a lot of people!' So she doesn't really understand everything. But she understands that I'm up in Albany and I feel lucky because she's been adjusting very well.
GG: You enter state government under such a strange climate with President Donald Trump's administration moving forward with its anti-immigrant agenda. Has that shifted your priorities for the coming year?
CDLR: Absolutely. I think that actually contributed to the fact that in my brain, it feels longer than a month. Because very soon after I came to Albany, Trump was inaugurated and since then, especially in our district, it's been protest after protest, demonstration after demonstration.
As a immigrant woman here at the state Legislature, we actually in the Assembly have been able to pass bills about protecting immigrant communities against registries....we did a ton of criminal justice reform bills. So for me, I feel like I'm in the front seat of something that is so important for the protection of immigrant communities and communities of color throughout the state. I just feel privileged and honored to have a seat at that table and be able to actually take these votes that are having significant impact in our communities and understanding the dynamics of the [Republican-controlled] Senate, and really pushing on this, so that some of those things can be adopted by the Legislature.
Being able to be in the [Democratic] Assembly Majority, and actually be able push for these things is really important. I think now for us to have a voice in what's happening nationally and we show our constituents that on a state level there are some protections that can be put in place.
GG: As a freshman legislator, do you feel like you have gotten floor time where you really got to make your voice heard?
CDLR: Yes, I did! The first week we came in and voted on a ton of bills about contraception and women's rights. They were health bills. So those bills were really important to me as a woman, as a woman who is pro-choice, and especially with what is happening on a national level with women and Planned Parenthood. In addition, I did have floor time last week -- which was my first time speaking on the floor -- about the Dream Act, and the Assembly was able to pass the Dream Act.
I spoke about my experiences being an immigrant woman, coming to the country as a child, and knowing that education -- and the opportunity to be educated -- has certainly made a difference in my life. And what we hope we could lead for our children and the children that are coming from other countries around the world and may not have that opportunity to follow the American dream.
I was very excited to be able to speak up on that. And yesterday I spoke up about the 'Raise the Age' conversation and the importance of doing that in New York State.
GG: Any surprises? Disappointments?
CDLR: No disappointments yet. I am still coming with a new person's -- I'm not burnt out yet -- so I'm really coming with a fresh, hope perspective which I hope doesn't die. But I have been very inspired with the passion that I see coming from all over the state on some of these issues. It doesn't matter if you come from upstate or downstate.
A lot of the members of the chamber have really taken leadership roles when it comes to speaking out about women's rights, immigrant rights, and that has really been a pleasant surprise for me here.
[Read more from our series, Adjusting to Albany: Meet NYC's New Class of State Legislators]