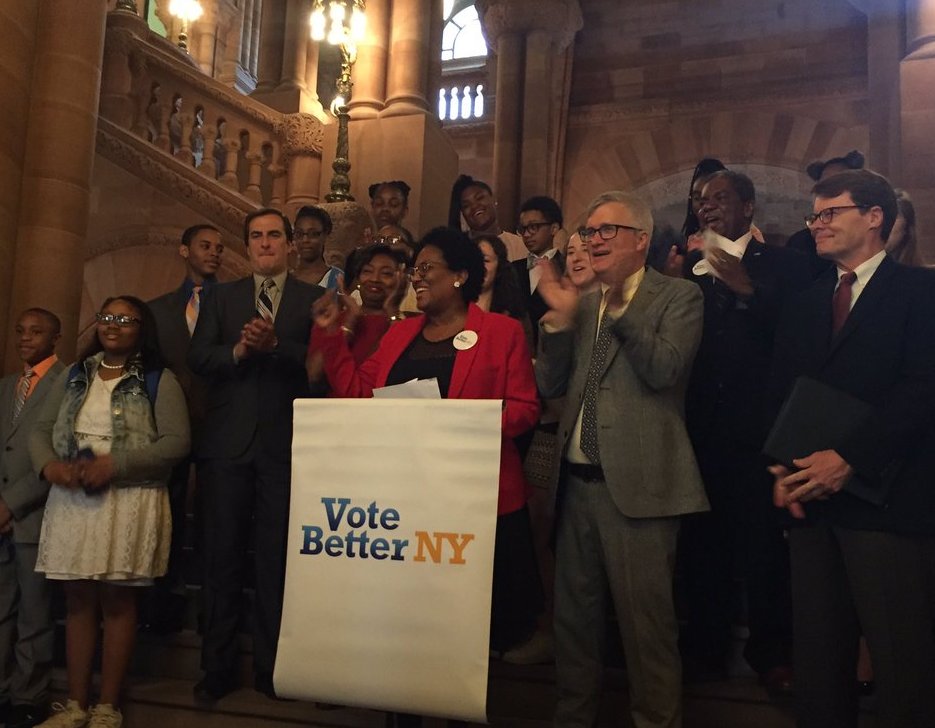 Tuesday's rally (photo: @NYCVotes)
---
A coalition of electoral reform activists were joined by Democratic state lawmakers during their annual pilgrimage to the New York State Capitol Tuesday to call for legislation that would remove barriers to the ballot and ensure that eligible New Yorkers are provided more opportunity to vote.
"Vote Better NY" seeks common sense changes to New York's voting laws to ensure that more eligible New Yorkers make it to the polls. This year, the organization is advocating for a slew of bills, including early voting, the Voter Empowerment Act, which would streamline the registration process, the New York Votes Act, which refers to automatic registration, as well as new preclearance measures before any additional requirements are added to the current voter registration process.
Senate Minority Leader Andrea Stewart-Cousins, Senator Michael Gianaris, Assemblymember Latrice Walker, and Assemblymember Brian Kavanagh attended the rally, which was organized in large part by NYC Votes, the voter engagement arm of the New York City Campaign Finance Board, and key member of the Vote Better NY coalition. More than 100 organizers and activists boarded three coach buses from the city early Tuesday morning to rally at the Capitol and then meet in small groups with individual legislators to lobby them toward supporting the voting reform agenda. There has been little movement on such reform in Albany despite a good deal of support and New York's decidedly antiquated laws.
"Elections have consequences. New York has one of the lowest voter turnout rates in the nation and that should embarrass us," said Stewart-Cousins, in a statement put out by Vote Better NY. "We should be making it easier to vote and not be putting up roadblocks. That is why I have advanced legislation to enable early voting, and why the Senate Democratic Conference has rolled out multiple pro-voter bills."
New York has some of the most arcane voter access guidelines in the nation. In 2014, the state ranked 49 of the country's 50 states in terms of voter turnout. While other states have improved their voting laws to increase ballot access, New York's abysmal turnout has grown worse for presidential, gubernatorial, and New York City mayoral elections.
Blair Horner, executive director of the New York Public Interest Group (NYPIRG), who participated the rally, said, "New York ranks consistently as one of the nation's worst states in terms of voter participation, driven by our archaic voter registration and election administration systems. Still, young people want to participate in democracy. NYPIRG sees that every day on college campuses across the state."
In the aftermath of the 2016 presidential election, a new movement to overhaul New York's voting laws gained support from several high-profile city and state officials, including Attorney General Eric Schneiderman and New York City Mayor Bill de Blasio.
During his 2017 State of the State speaking tour and in his executive budget, Governor Andrew Cuomo proposed a trio of significant reforms: automatic registration, same-day registration, and early voting. Though the governor vowed to "try like heck" to have the reforms included in the state budget, they did not make it into the final policy and spending plan that was announced last month. In an April appearance at the governor's mansion, Cuomo blamed the Legislature, which he said lacked the appetite for such reforms.
"My point is: There is more to do; there is no political will to do it. Otherwise we would have done it in the budget," Cuomo told reporters during an annual Easter open house.
While increasing voter access should be a bipartisan issue, Republicans in the State Senate have historically blocked electoral reform measures, for fear that the conference would lose its razor-thin majority. After appearing at a rally for the corrections officers' union Monday, Senate Majority Leader John Flanagan, suggested he may be open to discussing the idea, but couple that sentiment with skepticism about the cost and implementation of any real voting reform.
"It depends how you define voter access; it's a conversation we should be having regardless," Flanagan told reporters, citing enlarging the font on the ballot as a sensible reform measure.
When asked about early voting, he told reporters, "Early voting is defined so many ways, is it just one day? I was just joking around that I'm supportive of early voting, just start 5 o'clock instead of 6. It is a serious subject and something we should be talking about, but how do you do that without costing astronomical amounts of money? Our county boards of election are strapped right now."