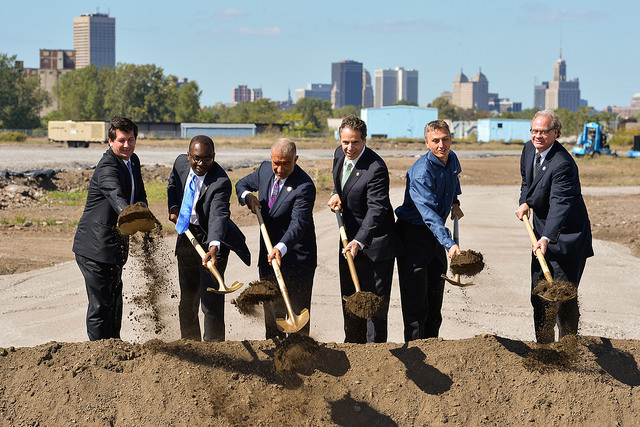 Gov. Cuomo in Buffalo (photo: The Governor's Office)
---
When Rockland County Democratic Party Chair Kristen Zebrowski Stavisky fills out her annual state disclosure forms, she consults her husband for question six, which requires the listing of contracts held with a state or local agency held by the filer, filer's spouse, or unemancipated child.
Evan Stavisky, a partner in the prominent Albany lobbying firm The Parkside Group, after checking with the firm's lawyer, has told his wife that his company does not represent any government entities. So, for the past six years, Kristen has entered "none" for the question, according to the disclosure documents obtained from the Joint Commission on Public Ethics (JCOPE).
At the same time, between 2010 and 2016, Parkside pulled in more than $1 million from representing quasi-public entities, including four foundations affiliated with city and state universities, three New York City-based public library systems, and a local economic development corporation, according to the lobbying firm's disclosure filings that can be viewed on the JCOPE website.
One of these contracts, on behalf of the Queens Economic Development Corporation -- which is treated by state law as a public authority -- expired in 2010, so according to filing instructions, Kristen Stavisky was not required to declare it on her JCOPE form for that year. But the other clients -- foundations associated with the CUNY Graduate Center, Queensborough Community College, Queens College, CUNY Creative Arts Team, and SUNY's University at Buffalo, as well as Brooklyn Public Library, New York Public Library, and Queens Public Library -- fall into an ambiguous zone, defined as local or state agencies in some statutes of New York State law, but not others.
Kristen Stavisky became Rockland County party chair in February 2011, so her first required JCOPE form covered 2010. Political party chairs play a significant role in deciding which candidates run for local and state office, so they are held to the same disclosure standards as elected officials. Meanwhile, Evan Stavisky's company is paid big money to lobby those same city and state officials on policy and funding matters that impact their clients.
"The reason that party committee chairs are required to disclose potential conflicts of interest because they wield considerable power in relation to elected officials, and they provide the political apparatus to get people elected," said NYPIRG Executive Director Blair Horner.
As the Stavisky filings show, there is a multitude of quasi-governmental entities that exist in grey area of New York law, and how to classify these entities has been the subject of some debate. A rudimentary search pulled up at least a dozen different definitions for "state agency" and "local agency" in New York State law.
A lawyer for Parkside pointed to the state's public officer's law, which defines a state agency as a "state department, any public benefit corporation, public authority or commission at least one of whose members is appointed by the governor, or the state university of New York or the city university of New York."
While each of the aforementioned Parkside clients rely to some degree on government funding (Queens Library, for example, draws 94 percent of its revenue from city, state and federal sources), have board members appointed by city or state officials, and may serve a public function, as independent 501(c)(3) nonprofits, one could argue these entities do not qualify as a public authority or public benefit corporation. But like more typical government agencies, they are subject to Freedom of Information Laws, according advisory opinions issued by the New York State Committee on Open Government.
A person who willfully files financial disclosure forms incorrectly could face a penalty of up to $40,000 from JCOPE. A spokesperson for the ethics agency -- who is prohibited by law from discussing the disclosure forms of a particular filer -- declined to offer clarification on whether nonprofits associated with CUNY and SUNY were considered government entities according to the public officer's law, but said JCOPE reviews filings and pursues investigations when there appears to be a discrepancy. In other words, the only person who can request an opinion on how a particular filer should answer question six on the JCOPE disclosure form is the filer.
There is also is a lack of consensus on the definition of a "public benefit corporation" and a "public authority," terms sometimes used interchangeably.
According to Comptroller Tom DiNapoli's office, public authorities -- which range from transportation agencies like the MTA to bodies created to spur economic development like Empire State Development -- are typically run by boards of directors and are not subject to the same transparency and disclosure as other branches of government. They are also able to borrow money without voter approval, as is constitutionally required of government agencies, a habit that has put the state in fiscal jeopardy.
Public authorities are increasingly enmeshed with state and local government operations, according to the comptroller. They do most of the state's borrowing and supply revenue streams for the state budget. Sometimes these entities spawn subsidiary public authorities, which are subject to even fewer restrictions. The state's first public authority, Port Authority of New York and New Jersey, was created in 1921, and more than 1,000 State and local public authorities, and subsidiaries of authorities, have been authorized since.
In 2004 and 2009, in response to a number of investigations into mismanagement, irresponsible borrowing, and questionable financial practices on the part of public authorities and their subsidiaries, attempts were made to streamline the definition and oversight of public authorities.
Then-Comptroller Alan G. Hevesi, raising concerns about "backdoor borrowing," joined with then-Attorney General Eliot Spitzer to introduce the Public Authority Reform Act of 2004 "to capture all of these entities in one place and impose new rules to govern the conduct of public authorities and their representatives." The proposed legislation compiled a list of "more than 640" entities, classifying them in A,B, C, and D classes. Class A and B public authorities would be required to adopt specific principles of corporate governance and fiscal integrity. They recommended Queensborough Community College Auxiliary Enterprise Association and the CUNY Research Foundation (two organizations that hired Parkside within the past six years) be classified as "Class B" public authorities.
Based on these recommendations, the Legislature and Governor George Pataki enacted the Public Authorities Accountability Act of 2005, later amended by the Public Authorities Reform Act of 2009, which established the Authorities Budget Office (ABO) and an official definition for "public authority." The legislation also directed the ABO to maintain a list of state and local authorities, a list that currently does not include CUNY and SUNY foundations, the New York City library systems, or other quasi-governmental nonprofits.
But while the ABO's office lists 578 authorities, a recent count by the state comptroller's office found 1,192 state, local, and interstate or international authorities. A footnote in the comptroller's report addresses this discrepancy: "Due to statutory, regulatory and administrative differences between the Office of the State Comptroller and the ABO, the ABO's list does not identify certain entities included in this count, such as subsidiaries (which ABO includes with the parent authority), inactive authorities, and college auxiliary corporations."
Government reformers say this ever-morphing patchwork of definitions only serves to confuse the public and obscure conflicts of interests, rather than increase transparency.
"Complexity defeats accountability and complexity defeats democracy. One of the reasons I'm a reformer is to simplify how things work," said SUNY New Paltz professor Gerald Benjamin. "The purpose of disclosure is for the person who is letting sunshine in to hold people accountable. If the detail of the law prevents transparency from doing its job, then it's getting in the way of good government."
While the Staviskys' situation is somewhat unique, this murky territory around what constitutes a government entity creates pitfalls for elected officials and others filing annual disclosure forms.
Furthermore, lax guidelines surrounding CUNY and SUNY nonprofits have led to wasteful spending and, in worst case, exploitation by bad actors. The state is currently facing a crisis of trust in government, according to public opinion polls. In the last year, both the CUNY and SUNY systems were rocked by allegations of financial impropriety involving related nonprofits. Now, more voices are calling for increased oversight of these nonprofits, which, like public authorities and public benefit corporations, are financially intertwined with government agencies and serve a public function.
Notably, two privately-run, deep-pocketed nonprofits affiliated with SUNY Polytechnic Institute -- Fort Schuyler Management Corporation and Fuller Road Management Corporation -- were at the center of federal and state investigations into Governor Andrew Cuomo's Buffalo Billion economic development program. Former SUNY Poly president and CEO Alain Kaloyeros and Cuomo's ex-executive deputy secretary Joe Percoco, along with six others, will face trial later this year on charges of bid-rigging, bribery, and extortion.
Parkside's business with CUNY Research Foundation factors into another ongoing investigation into widespread misuse of funds by CUNY-tied nonprofits by State Inspector General Catherine Leahy Scott. An interim report by the inspector general released last year highlights presidential discretionary funds doled out by the research foundation that are frequently tapped for housekeeping costs, and parties, personal drivers, and club memberships. The report also notes that CUNY-affiliated foundations spent a significant amount of money on lobbyists "engaged in questionable and seemingly redundant tasks," even though the system employs its own centralized and school-based government relations staff.
"These costs are significant to CUNY, and while they may be warranted in certain situations, appear to be duplicative in several cases. Even at this early stage of the Inspector General's investigation, it seems clear that these activities warrant scrutiny and that centralization of these services should be explored," wrote Leahy Scott.
Of $842,275 spent on outside lobbying by the CUNY Research Foundation during the report's 2013-2015 review period, nearly 20 percent went to Parkside Group, and another 50 percent went to two lobbying firms founded by former Parkside executives, according to year-by-year comparison of the report and JCOPE lobbying disclosure forms. The firms were hired to lobby the Legislature and New York City Council on funding as well as policy matters.
When the report was released in November 2016, Governor Andrew Cuomo, who had been dealing with blowback for the scandals tied to his economic development programs, seized on the news of the CUNY investigation as an opportunity to push for sweeping reform across the state and city university systems, vowing to expand the jurisdiction of the state inspectors general to cover the university-based nonprofits, and calling for these entities to embrace good government practices. Language in the enacted 2017 budget expands the inspector general's jurisdiction to include CUNY nonprofits, particularly, the research foundation, but notably it does not restore the state comptroller's oversight over procurement through SUNY non-profits -- a power that was stripped in 2011 to expedite Cuomo's economic development programs.
When reached by phone, Evan Stavisky, joined by his lawyer, offered a series of evolving explanations for their determination on whether Kristen Stavisky would disclose Parkside contracts, but noted that it was immediately obvious to them that as nonprofits, these clients were not government entities. He did not seek advice from JCOPE.
"Each year, our firm completes 12 separate filings for every single client for city and state regulators, a total of more than 500 annually. Since Kristen Stavisky became chair of the Rockland Democratic Party, our firm has filed 3,000 lobbying disclosures and not a single one has been for a government agency. It is false to suggest otherwise," said Dan Katz, executive vice president and a general counsel to The Parkside Group, in a statement.
While political party chairs are not prohibited from lobbying the New York State Legislature themselves, they are barred from offering "goods or services having a value in excess of twenty-five dollars to any state agency" and from working on "the adoption or repeal of any rule or regulation having the force and effect of law," according to a 1992 advisory opinion from New York State Ethics Commission, the first incarnation of JCOPE. The law does not necessarily extend to household members of the chairperson, but filers must indicate government contracts exceeding $1,000 held by a spouse or unemancipated child.
The decades-old regulation, along with most of the state's modern government ethics law, sprang from a 1986 corruption probe that rocked Mayor Ed Koch's administration, which landed a Bronx Democratic Party chair in prison, and was marked by suicide of Queens Borough President Donald Manes, who was also implicated in the scheme. The party chair, Stanley Friedman, was a stockholder in a company called Citisource Inc., which benefited from a $22.7 million contract with the city's Traffic Violations Bureau for traffic agents' handheld computers.
The reforms implemented in the Ethics in Government Act of 1987, which were hailed as a major turning point for government accountability in New York, were intended "to enhance public trust and confidence in our governmental institutions [by strengthening] prohibitions against behavior which may permit or appear to permit undue influence or conflicts of interest," according to then-Governor Mario Cuomo. Many amendments have been signed into law since.
This question of whether a political party chair can lobby government entities is likely to resurface over Keith Wright, currently the Manhattan Democratic Party chair, who earlier this year accepted a position at Davidoff Hutcher & Citron, LLP, a lobbying and government affairs firm which represents The North Shore Board of Education, a government entity, and NYC & Company, a government-funded nonprofit. Wright, who left his seat in the Assembly in an unsuccessful 2016 congressional bid, was not listed in the firm's January–February JCOPE filings. A spokesperson for the New York County Democratic Committee said Wright does not perform lobbying duties as part of his new role; he advises clients on government affairs.
The Staviskys maintain that Parkside's business interests are kept separate from Kristen's duties as Democratic committee leader and that there is no evidence that Evan or his company has benefited monetarily from the arrangement. Critics actually point to other members of the Stavisky family who wield the type of power likely to attract clients like libraries and SUNY and CUNY foundations. Policy and funding matters concerning these institutions fall under the purview of the Senate's Higher Education Committee, where Democratic Senator Toby Ann Stavisky of Queens, the mother of Evan Stavisky, is the ranking member.
Parkside's government-affiliated nonprofit contracts picked up in 2009-2010, the last time Democrats held a ruling majority in the Senate. Toby Ann, a former social studies teacher, chaired the Senate's Higher Education Committee that year.
At the time, Toby Ann, seeking an advisory opinion, wrote to JCOPE that though she was not required to, she would prohibit her son, but not his partners, from lobbying members of the Senate. Despite calls for a probe from ethics watchdogs, a 2009 advisory opinion from the state's Legislative Ethics Commission deemed the arrangement "appropriate," the New York Daily News reported.
Correction: A previous version of this article misidentifed the source of a 2009 advisory opinion. In 2009, the ethics advisory agency for state legislators was the Legislative Ethics Commission.The article has also been updated to include a comment from New York County Democratic Committee.