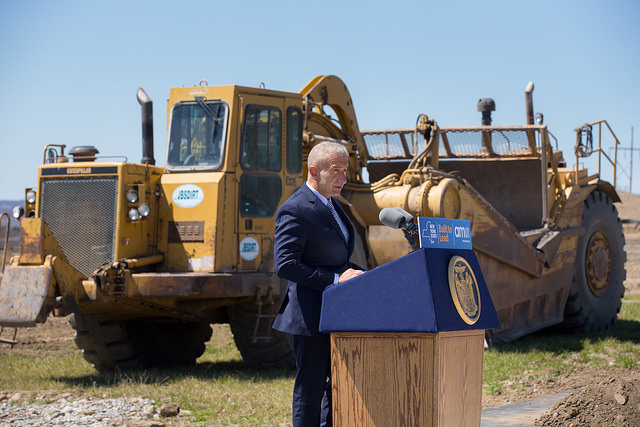 Alain Kaloyeros in 2016 (photo: The Governor's Office)
---
A coalition of budget and transparency watchdog groups are calling on the Legislature to pass, and for Governor Cuomo to sign, comprehensive "clean contracting" legislation in response to the bid-rigging scandal that rocked the state Capitol last year and continues to reverberate.
Specifically, at a Wednesday press conference the groups called for restoration of reviewing powers to State Comptroller Tom DiNapoli for all state contracts exceeding $250,000, an end to non-academic contracting by state-controlled non-profit organizations, the creation of a comprehensive "database of deals," and a prohibition against state authorities, corporations, and affiliated non-profits doing business with their board members.
The organizations -- including Reinvent Albany, New York Public Interest Group, Citizens Union, League of Women Voters, Fiscal Policy Institute, Common Cause, and Citizens Budget Commission -- are also urging state leaders to reduce the potential for conflicts of interest by exploring options to limit campaign contributions from anyone seeking a state contract. Nineteen states and New York City -- but not the state -- already have these anti-pay-to-play laws in place.
"The moment of truth has arrived. State and federal prosecutors say $800 million in state economic development contracts were rigged, but so far, the Legislature and governor have yet to act," said John Kaehny, executive director of Reinvent Albany, standing in the state Capitol. "It's time they pass common sense legislation that includes independent oversight over state contracts, uniform contracting rules, and transparency that will prevent corruption and abuse before it happens."
In 2016, an investigation into a sprawling alleged pay-to-play scheme connected to the Governor Cuomo's Buffalo Billion economic development program resulted in charges against nine men, including a former top aide to Cuomo, Joe Percoco, and the former president of SUNY Polytechnic Institute, Alain Kaloyeros, a close government partner of Cuomo's, on bid-rigging, bribery, and other charges.
In the aftermath of the scandal, DiNapoli called for comprehensive procurement reforms, including the restoration of his office's powers to review contracts with CUNY- and SUNY-affiliated non-profits -- a power that was stripped by Cuomo and the Legislature in 2011. The governor and lawmakers had reasoned that they could more quickly move economic development funds to important projects, especially in previously downtrodden Buffalo, where Cuomo has dedicated so much focus since taking office.
Following the enactment of the 2017 state budget, DiNapoli issued a statement noting the lack of procurement reform. "Hopefully before the end of session, the procurement reforms my office has advanced will be addressed," he said. The Legislature is in session until mid-June. Legislative leaders are looking at some procurement reform measures, while Cuomo remains opposed to what DiNapoli and government watchdogs are calling for.
At the time of the arrests, Cuomo vowed sweeping reform, and proposed a slew of them in his 2017-2018 executive budget. However few of these oversight and transparency measures -- which are different from those being proposed by legislators, DiNapoli, and reform groups -- made it into the agreed-upon spending plan, announced in early April. Additionally, at least one other key oversight and transparency provision -- a mandated report on the governor's Start-Up NY program -- was actually removed. Instead of focusing on reform, the governor has continued boosting the his signature economic development programs and infrastructure projects, to which the state is dedicating billions of dollars every year.
Senator John DeFrancisco, a Republican from Syracuse and deputy majority leader, has proposed legislation encompassing the Comptroller's Clean Contracting Bill, which has been approved by the Senate Finance Committee, and some form of it is expected to pass the Senate. A similar bill sponsored by Assemblymember Crystal Peoples-Stokes, a Buffalo Democrat, is currently being considered in the Assembly.
Assembly Speaker Carl Heastie, a Bronx Democrat, and Senate Majority Leader John Flanagan, a Long Island Republican, both expressed support for the legislation during a joint appearance at the Times Union's new media center in Colonie on Tuesday.
"I truly believe the comptroller plays an absolutely critical role in public policy in New York," Flanagan said.
"You don't always have to wait for something bad to happen to restore confidence to the public," added Heastie.
The "database of deals" -- which has long been advocated by good-government organizations -- was supported by both the Senate and Assembly in their one-house budget resolutions, and the governor agreed in the budget to create a report by January 2018 detailing the spending by each economic development program. However, critics say the database should go further, providing data on the benefits received by each company.
Cuomo, in his executive budget, proposed prohibiting campaign finance contributions to the executive by vendors when they are bidding on and negotiating contracts, and expanding the power of the Office of the Inspector General to include the SUNY Research Foundation and CUNY-affiliated nonprofits. He also proposed instituting a Chief Procurement Officer who would be appointed by the governor, a position that many called redundant and less effective than the position of Comptroller.
"How many scandals and indictments are needed before we enact any meaningful reforms," asked Ron Deutsch, executive director of the Fiscal Policy Institute, a think tank. "We need to restore the public's trust and put real accountability measures in place to ensure that we have full transparency and a solid return on investment before we continue to provide billions of taxpayer dollars to private businesses under the guise of economic development."
The legislation is currently facing opposition from SUNY. A spokesperson for Cuomo's office said the governor finds the legislation "duplicative" and "overly broad," and believes it does not address the core of the process on contracting reform. She noted that the comptroller can already perform audits on all procurement contracts before they are paid, he just cannot slow down the initial contracting process when awards are made.
Flanagan has indicated that there may be room for negotiation on the final bill. Heastie has been vague as he plans to discuss the issue with his majority conference.
Cuomo's former aides, associates, and donors are set to go on trial late this year.
Another spokesperson for the governor, Rich Azzopardi, sent Gotham Gazette a statement attacking the watchdog groups. "This is the same crew who preaches transparency for others and then sues to overturn state law and keep their benefactors secret. If we need a crash course on hypocrisy we know who to ask," he said.
"To create needed independence and effective oversight, the governor and the Legislature must enact sensible clean-contracting reforms," said Dick Dadey, executive director of Citizens Union. "Not to do so would be an unfortunate and careless shirking of their greatest responsibility to ensure that government operates in the interest of the people. Stronger oversight and increased transparency in the awarding of state contracts, including providing the state Comptroller with increased independent authority for oversight and approval, are principles that a strong and effective democracy must embrace."
Note: Gotham Gazette is an independent publication of Citizens Union Foundation, sister organization of Citizens Union.