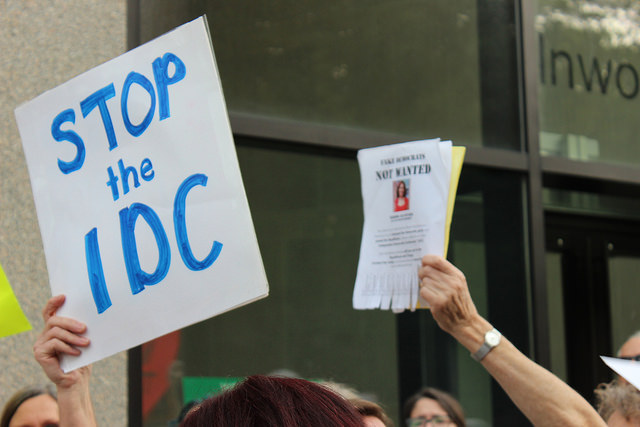 (photos: Samar Khurshid/Gotham Gazette)
---
"No fake Democrats! Take the New York Senate back!," yelled the crowd of protestors huddled on the sidewalk outside 5030 Broadway in Inwood, near the northern tip of Manhattan. The demonstrators -- a cohort of about three dozen older New Yorkers, millennials, and one as young as 10 years old -- were one of a number of groups that had gathered at locations across the city on a recent Wednesday to protest at the offices of Democratic state Senators who the protesters believe have betrayed them. These senators are members of a breakaway faction called the Independent Democratic Conference (IDC), which leverages its numbers to help Republicans control the legislative chamber, at odds with the Democratically-controlled Assembly.
The protest at 5030 Broadway, organized by True Blue NY, a four-month-old grassroots group, took aim at Sen. Marisol Alcántara of District 31, who was elected last year and joined the now eight-member IDC. Alcántara's election has coincided with a groundswell awareness of state politics -- owing largely to the election of Donald Trump as president, a wake-up call to many Democrats -- and a growing movement by grassroots groups to make the bicameral New York Legislature entirely Democratic. Activists' patience with the IDC has vanished, and with it much tolerance for the breakaway Democrats from other Democratic elected officials.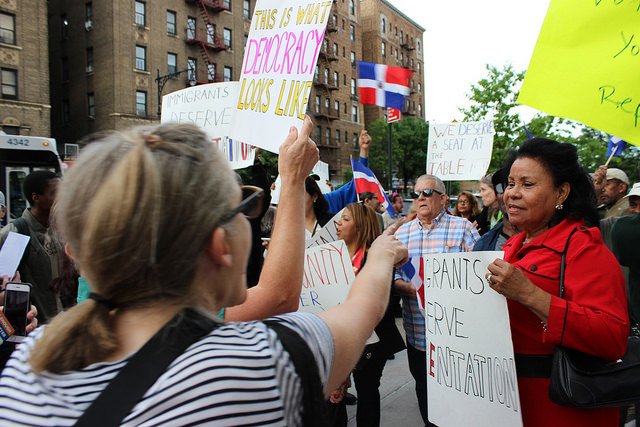 Alcántara's membership in the IDC is anathema to those hoping that New York Democrats can stand up to Trump administration policies, many of which Democrats believe will do significant harm to the state's most vulnerable people. Democrats at the national, state and local level have increasingly come to call for IDC members to make their way back into the fold and caucus with the 23 mainline Democrats, as well as one other nominal Democrat, Senator Simcha Felder, who conferences with Republicans. After the recent election of Democrat Brian Benjamin to the state Senate, Democrats have 32 members, including Felder and the IDC, to 31 Republicans. But, they remain in the minority.
Many leaders in the Democratic National Committee, the state Legislature, local county committees, and elsewhere have weighed in, urging the wayward Democrats to make their way back home. (Democrats like Governor Andrew Cuomo and Senators Charles Schumer and Kirsten Gillibrand have largely stayed out of the discussion, however. Gillibrand recently indicated her disapproval of the IDC and called for Democratic unity.)
Alcántara's opponents have declared their ultimatum to the senator: either join mainline Democrats or be replaced by someone who will. And those opponents see a clear path to deposing her in next year's election by supporting former City Council Member Robert Jackson, who has already declared that he is challenging Alcántara though the primary is 16 months away.
Jackson, a three-term Democratic Council member who left office in 2013, also ran for Senate District 31 last year, losing to Alcántara by a margin of just 533 votes in a four-way Democratic primary (He ran in 2014 as well but lost to Adriano Espaillat, who is now a member of the U.S. House of Representatives). Jackson was a close third, after Micah Lasher, who was just 294 votes behind Alcántara but has thrown his weight behind Jackson's campaign this time around.
Jackson is confident that the numbers are in his favor. "The race is pretty simplistic," he said in a phone interview, citing last year's vote totals and touting the recent endorsement he received from Lasher, which he believes will be more than enough to put him past Alcántara in a 2018 primary. "Then you take into factor, after Trump's election as president, all of the various groups that have basically risen up from the dirt as beautiful flowers," he said, referring to grassroots organizations that have sprung up to protest the IDC, groups that can mobilize support for his campaign. "There are many groups that are basically now standing up and fighting the system that basically they feel is not in their best interest."
Democrats who backed Alcántara and other IDC members now find themselves in an awkward position of explaining their support while also calling for a unified Democratic conference. Public Advocate Letitia James endorsed Alcántara in last year's race, but recently wrote in an editorial for City & State that "it's time for Albany's Democrats – mainline and Independent Democratic Conference – to come together. This is the only real way we will move forward on so many critical issues like reproductive choice, health care, education funding and the DREAM Act."
Gotham Gazette sought comment from James' office on whether she would support Alcántara next year, but a spokesperson did not respond.
Jackson cited the same policy issues, challenging Alcántara's assertions, and those of her colleagues and supporters, that the IDC allows its members a place at the negotiating table and the ability to deliver resources to their communities. Instead, Jackson said, the IDC is simply "eating crumbs off the Republican plate," while holding up the larger progressive Democratic agenda.
But Alcántara's victory resonated with residents of her district who are glad to see a Latina representative in the overwhelmingly white and male Senate. Some of those residents and local Democratic party functionaries showed up at the protest outside Alcántara's office to stand up for her and drown out the voices of her critics. "Marisol! Latino power!," they yelled in unison, inching forward and eventually circling the members of True Blue NY to, peacefully, drive them away. True Blue NY members slowly trickled away as police officers stepped in with barricades to cordon off the two groups and clear the sidewalk.
"The IDC exists because of lack of leadership from the Democrats themselves," said Alcántara supporter Manny De Los Santos, a state committee member and president of the Northern Manhattan Democrats for Change, at the protest. "At the end of the day, we need leaders that can not only represent the district where they live but also bring resources to this community, and Marisol has done just that. We had a senator who spent a lifetime in the Senate and wasn't able to deliver resources to the community. As a rookie state senator, she has done that." De Los Santos said Alcántara is a "pure Democrat" and vowed to fight back against those questioning her credentials. Alcántara has a history in labor unions and clearly progressive politics, which made her joining the IDC so shocking to some. The IDC pumped thousands of dollars into her primary, however, as she aligned with the breakaway faction.
The fight is likely to be a long, drawn out battle -- both in the 31st Senate District and elsewhere -- as groups like True Blue NY and No IDC are vowing a sustained campaign of opposition to the entire IDC. Just recently, the Manhattan County Democratic Committee, headed by Chair Keith Wright, a former Assembly member, passed a resolution vowing not to support members of the IDC in next year's elections, and the prominent progressive Working Families Party (WFP) rallied against the IDC once the Democrats gained the numerical majority.
"Here in this very supposedly blue state, we have a state Senate controlled by the Republicans and propped up and enabled...by these eight Democrats," said Bill Lipton, New York State Director of the WFP, in a May 25 NY1 interview, "these IDC independent Democrats whose voters elected them under the auspices that they were going to stand up and caucus with the Democrats. So people are extremely frustrated, they've become woke to this idea that these folks are not doing what they're supposed to and we've just seen an outpouring of support."
The WFP, with its considerable resources and strong grassroots following, could play a strong role in swaying voters away from reelecting IDC members. At the same time, the IDC will also be able to wield its own campaign finance machinery, which they employed in Alcantara's favor last year, spending nearly $100,000 dollars in advertising and other support.
As it stands, Alcántara seems the most vulnerable of the lot. "People are really surprised to learn about [the IDC] and dismayed and that's why all these people are out here," said Lisa DellAquila, a co-leader of True Blue NY, at the Wednesday protest. DellAquila said the group had signed up hundreds of people in the last three months alone and held a recent summit attended by representatives of about 50 community groups, nonprofits and advocacy organizations. "We're gonna have a big push to primary all the members of the IDC and Simcha Felder," she said, insisting that the IDC dynamic, propping up Senate Republicans, is increasingly becoming untenable. "[IDC Leader] Jeff Klein is severely wounded right now," she said. "I think he needs to come back to the Democrats and bring the IDC with him. Let's unify and pass progressive legislation in New York."
Alcántara was not made available to comment for this article. Instead, IDC spokesperson Candice Giove pushed back against the criticism, both of the senator and of the IDC at large. "Senator Alcántara was humbled to see so many Latina women come out to support her in the face of protesters from outside of the district attempting to distort her record, which includes securing $10 million in legal aid for immigrants in the face of bad policy coming from Washington," said Giove, in a statement.
That pushback, along with Alcantara's statements on the Senate floor in response to criticism of the IDC, have invited accusations of race-baiting by critics. Jackson reiterated that line in the phone interview. "They're playing the race card," said Jackson, who is black. "All of those people out there [protesting] are from the community...they live in the district."
Giove also addressed the growing calls for Democratic unity, insisting that, "Thirty-two is not a magic number unless there are 32 Democrats who are ready to stand up and unite on policies that combat Donald Trump."
"Until we achieve unity and stand up for women, immigrants, and the most vulnerable New Yorkers, all talk about a majority is nothing more than meaningless rhetoric on the part of failed leadership," she said in the statement. "The Independent Democratic Conference has made its positions and its values clear. We are asking every other Senator to do the same. It's time to call the roll." Giove's comments are in reference to the fact that Felder continues to conference with Republicans and that at least one mainline Democratic senator, Ruben Diaz Sr., is not supportive of a variety of socially progressive measures.
Jackson, however, sees it another way. If nine people in a room are holding up a ceiling, he said, and eight of them walk away, "What happens to that ceiling?" If the eight-member IDC abandons the Republicans, he's confident the ninth holdout, Simcha Felder, will too. Otherwise, he thinks they will all see a backlash at the polls.
"This is a movement that Jeff Klein and the IDC cannot stop," he said.
Note - This post has been updated to include a reference to Sen. Kirsten Gillibrand's recent comments on the IDC.