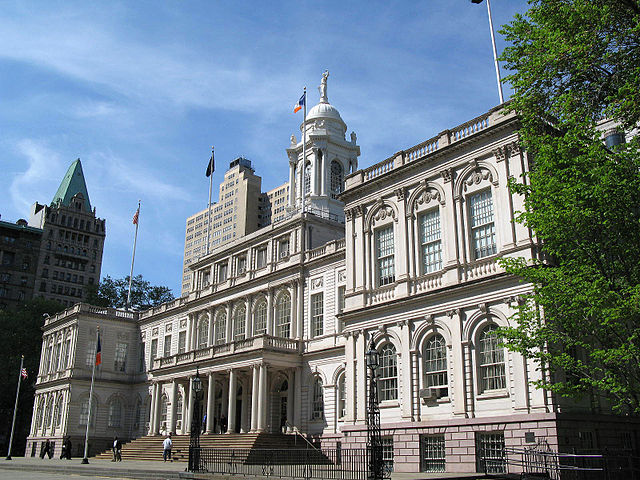 New York City Hall
---
What to watch for this week in New York politics:
A city budget deal was announced Friday night by Mayor Bill de Blasio and the City Council. As the week begins we're digesting and dissecting that and awaiting full details.
The City Council holds several committee hearings this week, and there is a full-body Council "Stated" meeting on Thursday at which new bills are introduced and bills that have been passed through committee voted through the full Council.
Speaking of the City Council, there are several candidate forums this week as the calendar moves toward the September primaries. There's also a Brooklyn District Attorney candidate forum this week -- see details below. Candidate petitioning begins this week, so you'll start to see political operatives, party members, campaign volunteers, and candidate supporters with their clipboards looking for signatures.
Mayor de Blasio will hold a town hall in Queens Thursday night and is set to speak about truth, politics, and media in "the Age of Trump" on Friday. De Blasio has three public events on Monday -- see all the details below.
The state Legislature is back in session this week, with just 11 meeting days left in the session over the next three weeks. There are four session days this week.
As always, there's a variety of other events to be aware of - see our day-by-day rundown below.
***Do you have events or topics for us to include in an upcoming Week Ahead in New York Politics?
e-mail Gotham Gazette editor Ben Max: This email address is being protected from spambots. You need JavaScript enabled to view it.***
The run of the week in detail:
Monday
At 10:30 a.m. Monday, "Mayor de Blasio and Schools Chancellor Carmen Fariña will visit P.S. 81, where they join an elementary school P.E. class. After, the Mayor will make an announcement." At 1 p.m., "the Mayor, Police Commissioner James O'Neill, and Chief of Crime Control Strategies Dermot Shea host a press conference in Central Park regarding crime statistics." Both events are open to the press and will include question-and-answer sessions. In the evening, the Mayor is expected to make his weekly appearance on NY1's Road to City Hall during the 7 and 10 p.m. hours.
Public Advocate Letitia James will speak at the mayor's 10:30 a.m. press conference. She'll then attend Congressional Rep. Carolyn Maloney's luncheon featuring Rep. Nancy Pelosi.
The New York State Legislature will be in session on Monday in Albany.
At 8:30 a.m. Monday, the Mayor's Office to Combat Domestic Violence, the Department of Cultural Affairs, and advocacy groups will host the "Connecting the Dots Conference," discussing the intersection between intimate partner violence (IPV) and the arts. The conference will take place at the Gibney Dance Center in Lower Manhattan.
At the City Council on Monday
--The Committee on Transportation will meet at 10 a.m. for an oversight hearing regarding how New York can "more effectively address traffic congestion."
--The Subcommittee on Zoning and Franchises will meet at 10:45 a.m.
--The Committee on Land Use will meet at 11 a.m.
--The Committee on Mental Health, Developmental Disability, Alcoholism, Substance Abuse, and Disability Services will meet at 1 p.m. to discuss proposed laws relating to "requiring autism spectrum disorder reporting."
At 10:30 a.m. Monday, Manhattan Borough President Gale Brewer will "join the Citizens' Committee for New York City and the Manhattan Solid Waste Advisory Board (SWAB) to announce the 2017 slate of Community-Scale Composting Grant awardees" at Lydia's Magic Garden in East Harlem.
At noon Monday, OATH Commissioner Fidel Del Valle, Queens Borough President Melinda Katz, Congresswoman Grace Meng, and others will announce an upcoming forum on "What to do if you get a city-issued summons."
At 6 p.m. Monday, Congressional Rep. Adriano Espaillat will hold a town hall meeting at the Adam Clayton Powell, Jr. State Office Building. City Council Member Bill Perkins will be in attendance. Topics will include "comprehensive immigration reform, housing, health care, social security, seniors, youth, education and infrastructure."
At 6:30 p.m. Monday, the New York City Bar Association will host "Part-Time vs. Full-Time State Legislatures: The Virtues and Potential Ethical Challenges." Jennifer Rodgers of Columbia Law's Center for the Advancement of Public Integrity will moderate a panel consisting of former Assemblymember Richard Brodsky; former US Attorney Robert Capers; and Richard Briffault, Professor of Litigation at Columbia Law School.
At 7 p.m. Monday, there will be a debate between candidates vying for the 40th City Council District seat at BKLYN Commons. The attending candidates will be incumbent Mathieu Eugene, as well as Brian Cunningham, Pia Raymond, Jennifer Berkley, and Rose St. Albord.
At 7 p.m. Monday, the Brooklyn Reform Coalition will host a forum for candidates for the Democratic nomination for Brooklyn District Attorney. Participants will be Acting DA Eric Gonzalez, City Council Member Vincent Gentile, Ama Dwimoh, Marc Fliedner, John Gangemi, Patricia Gatling, and Anne Swern. The forum will take place at the First Unitarian Church in Brooklyn Heights.
Tuesday
The New York State Legislature will be in session on Tuesday in Albany.
At 9:30 a.m. Tuesday, in Albany, the Senate Standing Committee on Corporations, Authorities, and Commissions will hold a public hearing regarding "the future hiring practices of the Port Authority of New York and New Jersey."
On Tuesday at 10 a.m. in Washington Square Park, Gov. Cuomo and a variety of Democratic elected officials and activists will hold a rally to build support for flipping the House of Representatives in 2018.
At 8 a.m. Tuesday, the New York City Economic Development Corporation will hold a meeting at the Bulova Corporate Center in Queens regarding the proposed Sunnyside Yard Project.
At 8:30 a.m. Tuesday, the New York City Food Policy Center will host "Saving Regional Farms: Why Every New Yorker Should Care." Panelists include City Council Member Dan Garodnick; Assemblymember Didi Barrett; Steve Rosenberg, of Scenic Hudson; Karen Washington, of Rise and Root Farm; and Chris Cashen, a farmer at Miller's Crossing.
At 10 a.m. Tuesday, the Business Council of New York State will host its "Information Technology & Telecommunications Forum & Luncheon" at the Hilton Albany, "focusing on the issues of a state "iCenter", cyber security, data breach, and internet issues related to business and privacy." Newly appointed State CIO Bob Samson will address the luncheon.
At 12:30 p.m. Tuesday, Brooklyn Voters Alliance, which is part of the Easy Elections NY coalition, will rally outside Gov. Cuomo's Manhattan office to demand the governor live up to his word and prioritize voting reforms this legislative session.
At the City Council on Tuesday
--The Committee on Aging will meet at 10 a.m. for an oversight hearing regarding how to "improve and expand services" for "naturally occurring retirement communities."
--The Committee on Resiliency and Recovery will meet at 1 p.m. for an oversight hearing regarding "preserving affordability in NYC's flood zone."
On Tuesday at 6 p.m. in Brooklyn, there is one in a series of hearings by the New York State Education Department, "seeking continuing stakeholder and public input as it develops the state Every Student Succeeds Act (ESSA) plan." There are "13 public hearings will be held across the state to gather feedback on the state's draft ESSA plan and written comments will be accepted May 9 – June 16."
Wednesday
The New York State Legislature will be in session on Wednesday in Albany.
At 11 a.m. Wednesday in Albany, the Assembly Standing Committees on Social Services, Code, and Labor, as well as the Puerto Rican/Hispanic Task Force, will hold a joint public hearing to "review available services for victims of human trafficking."
At 10 a.m. Wednesday, the City Planning Commission will hold a public meeting at Spector Hall.
At 12:30 p.m. Wednesday, the Vera Institute of Justice will host "The Fate of Police Reform in the New Administration." Yale Law School Professor Tracey Meares will "connect [President Obama's] Task Force's recommendations with her recent research on police reform and discuss the relevance of both in a world in which federal efforts to push police reform are likely to diminish."
At 5:30 p.m. Wednesday, City & State will host "Restoring New York's Justice System: Truth, Fairness, and Transparency in Asbestos Litigation" at the Renaissance Albany Hotel, discussing why New York should pass the "Truth, Fairness, and Transparency in Asbestos Litigation Act." Panelists include Judge Peggy Ableman, Special Counsel at McCarter & English; Phil Goldberg, Director of the Public Policy Institute's Center for Civil Justice; and Paul Johnson, a filmmaker.
At 6 p.m. Wednesday, the Manhattan Institute will host "What's Happened to the University," discussing the "profound cultural transformation" of the American university brought on by student protests. Panelists will include Frank Furedi, Professor at the University of Kent, and MI Senior Fellow Heather Mac Donald.
At 7:30 p.m. Wednesday, Brooklyn Young Democrats will host a candidates' forum for Democratic candidates in Southern Brooklyn City Council races at the Salty Dog in Bay Ridge.
Thursday
The New York State Legislature will be in session on Thursday in Albany.
On Thursday, Hillary Clinton will deliver the commencement address for Medgar Evers College's graduating class at the Barclays Center.
On Thursday and Friday, Civic Hall and Personal Democracy Media will host the 2017 "Personal Democracy Forum" at NYU's Skirball Center, discussing technology and the Internet in politics in the age of Trump. Speakers include U.S. Senator Cory Booker; immigrant activist Jose Antonio Vargas; Shannon Coulter, founder of #GrabYourWallet; and others.
The full City Council will meet at City Hall at 1:30 p.m. Thursday. The meeting will be prefaced by the Speaker's pre-stated press conference, hosted by Speaker Melissa Mark-Viverito.
At 7 p.m. Thursday, Mayor de Blasio will participate in a town hall at the Lost Battalion Hall in Rego Park, Queens. Also present will be Queens Borough President Melinda Katz, City Council Member Karen Koslowitz, Assemblymember Andrew Hevesi, and State Senator Toby Stavisky.
Friday and the weekend
At 8 a.m. Friday, New York Building Congress will host a "Construction Industry Breakfast" discussing transportation and infrastructure at the New York Marriott at the Brooklyn Bridge. Ali Chaudhry, Deputy Secretary of Transportation to Governor Cuomo, will discuss "the Governor's transportation and infrastructure priorities in New York."
At 10 a.m. Friday, HUB Third Avenue will host its "Annual Meeting and Leadership Breakfast," honoring Bronx Borough President Ruben Diaz Jr, Bronx Overall Economic Development Corporation President Marlene Cintron, Roberto Clemente Plaza designer Garrison Architects, and a "lifetime achievement" award for Richard Propper.
At 10 a.m. Saturday, Congressional Rep. Adriano Espaillat will join a Q&A session with WE ACT for Environmental Justice regarding "the EPA, climate justice, and budget cuts."
At 2:45 p.m. Friday, Mayor de Blasio will sit down with Buzzfeed editor-in-chief Ben Smith at the Northside Festival in Brooklyn. He will speak about "truth, lies, and politics in the Age of Trump."
At 4:30 p.m. Saturday, Indivisible Rivertowns and Rockland Citizens Action Network will host "Trump Democrats: How the IDC Flips NYS Red" at the Ethical Culture Society of Westchester in White Plains. Senate Minority Leader Andrea Stewart-Cousins and Senator Michael Gianaris will "provide an inside view on the IDC."
At 2 p.m. Sunday, there will be a "Queens Stand Up Rally" at MacDonald Park in Forest Hills for coming "together for liberty and our democracy in this uncertain time."
***
Have events or topics for us to include in an upcoming Week Ahead in New York Politics? E-mail Gotham Gazette executive editor Ben Max any time: This email address is being protected from spambots. You need JavaScript enabled to view it. (please use "For Week Ahead" as email subject).
***
by Ben Brachfeld and Ben Max
@GothamGazette