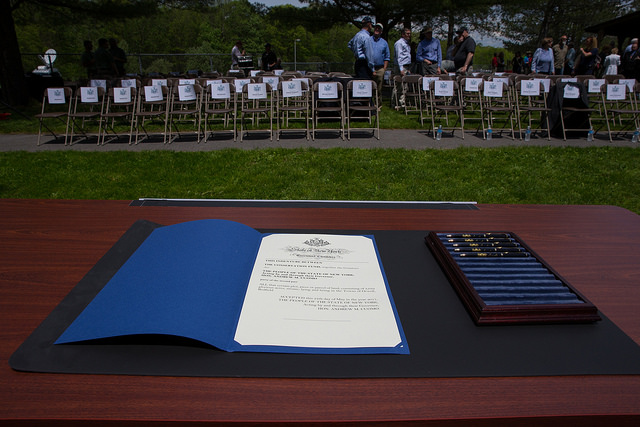 (photo: Philip Kamrass/Governor's Office)
---
A bill that would greatly strengthen New York's Freedom of Information Law (FOIL), already vetoed once by Governor Andrew Cuomo, has again passed both houses of the Legislature -- with some minor adjustments.
The bipartisan legislation, which passed the Assembly in May and the Senate on Monday, mandates that city or state agencies be liable for court costs incurred by any individual who submits a FOIL request, is wrongfully denied documents, and then prevails in a lawsuit. Currently, the public officers law states that a court "may" award legal fees -- leaving the decision up to a judge -- rather than "shall," a word change that would effectively penalize state agencies that willfully disregard disclosure law.
The governor's office did not provide indication which way Cuomo is leaning this time.
The Freedom of Information Law allows everyday citizens, journalists, advocates, and others to seek and obtain information, like documents and communications, from government entities. The scope of the law is fairly wide, though there are significant exceptions, including for the deliberative process and much of what the state Legislature does.
Nearly identical legislation passed the Legislature in 2015, but Cuomo vetoed it, along with another FOIL-related bill, at the eleventh hour and with some harsh words. In his 2015 veto letter, Cuomo wrote that the bill "would allow attorneys' fees to be assessed against a state agency, even if the state agency ultimately prevails."
In the same letter, Cuomo, who regularly rails against the Legislature's FOIL exemption, suggested that tightened FOIL requirements should also apply to the legislative branch. The governor is known for communicating himself in ways that are not FOIL-able -- for example, he is known not to use email.
Based on feedback from Cuomo's office and recommendations from the Committee on Open Government, which helped craft the bill, the legislation has been amended to create a two-tier system. The first tier relates to situations where the complainant in the FOIL lawsuit was victorious because the agency failed to respond to a request or appeal, in which case the court would still have discretionary authority to award attorneys' fees. The "second tier" mandates the award of attorney fees when a party denied access to records "has substantially prevailed" and the court finds that "the agency had no reasonable basis for denying access."
"We think [the two-tier system] address the veto messages that we had prior and conversations we've had with the governor's office," said Assemblymember Amy Paulin, a Democrat from Scarsdale who authored the bill and sponsored it in the Assembly, in an interview with Gotham Gazette. "So we are very confident that it will be a law this year and it will give everyone the opportunity to to file a complaint when there's been a violation."
This legislation, which has the backing of the newspaper industry and has been the subject of numerous editorials, would have immense implications for news outlets, good government groups, think tanks, and other organizations focused on transparency.
Reinvent Albany and the New York Civil Liberties Union also worked closely with Paulin and Senator Patrick Gallivan, the Senate sponsor, to fine tune the language, and hailed the legislation as an important step.
"We think this bill is a very big deal and, if the governor signs this, it will be the most important transparency legislation to pass in quite awhile," John Kaehny, executive director of ReInvent Albany, told Gotham Gazette.
Kaehny noted than many are dissuaded from bringing FOIL lawsuits, even when they are confident they were wrongfully denied, because they fear being stuck with the legal bill. "How many people or groups can afford to 'win' a FOIL lawsuit when winning gets them a government document and a bill for $10,000 or $50,000 in attorneys' fees?" he asked rhetorically.
Other states -- including California, Colorado, Florida, Illinois, and New Jersey -- already have such laws granting legal fee reimbursement to those who file FOIL requests and are wrongly denied.
A spokesperson for the governor's office said the bill is "under review."
Gallivan and Paulin said they were hopeful that Cuomo would sign this version of the bill. "If the governor cares about transparency, he should sign it," said Gallivan.