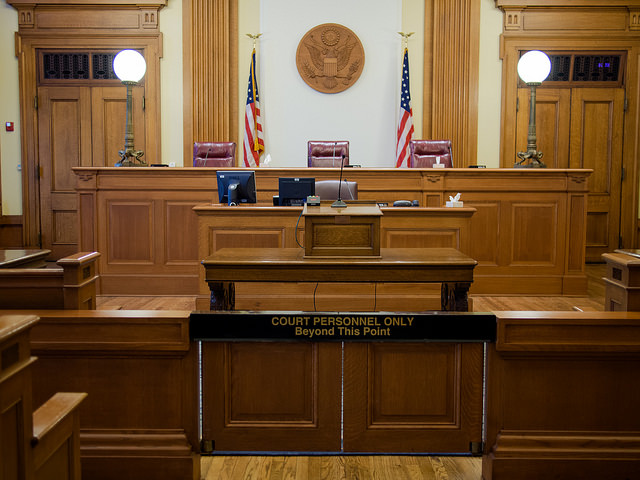 (photo: Karen Neoh)
---
For decades, the judicial courts in Queens have been plagued by nepotism and patronage charges, with judges accused of awarding lucrative appointments to a select few.
Some of the highest earners of guardianship appointments, doled out by Surrogate's Court for those who die or become incapacitated without wills, frequently have ties to the County Democratic Party machine, headed by Congressional Rep. Joseph Crowley.
A demographic breakdown of the highest earning beneficiaries of Surrogate's Court appointments over the past seven years suggests that a pattern of favoritism may be creating a systemic barrier to entry for lawyers of color, and even amplifying racial disparities throughout the judicial system.
Assignments are bestowed by Surrogate Judge Peter Kelly, who was elected to a 14-year term in 2010 after being nominated by the Queens Democratic Party and faced no opponent.
Of 929 lawyers who are eligible for Surrogate's Court assignments, and the fees that come with them, only 153 have received appointments from 2010 through 2016, the vast majority of them -- 129 -- are white. A similar ratio exists on the eligibility list: of 929 lawyers, about 850 of them are white.
Of nearly $7.2 million issued to attorneys over seven years of Surrogate's Court appointments, around $6.4 million (88.1 percent) went to white attorneys, but just $699,249 (9.7 percent) went to black attorneys; $137,325.00 (1.9 percent) went to Latino attorneys; and just $21,795 (.3 percent) went to Asian attorneys.
A year-by-year analysis of the data reveals a widening racial gap regarding the frequency and size of appointments. In 2015, almost 92 percent of the guardianship money paid made by the court went to appointees who were white, up from nearly 82 percent white just five years earlier. In 2016, percentage of money earned by whites dipped again to 88 percent.
Of the top 10 Queens Surrogate's Court earners over the last seven years, all were white. Of the top 20 earners, 19 were white.
Topping the list is Scott Kaufman, Rep. Crowley's longtime campaign treasurer and business partner to Crowley's brother Sean, who has raked in nearly $300,000 from Surrogate's Court in seven years. Kaufman is currently being investigated by the state courts inspector general, for exceeding the $75,000 cap on how much one appointee may earn in a year, and then continuing to earn appointments the following year, despite being ineligible according to court rules, The New York Post reported on Monday. (Kaufman maintains that he is in compliance with the rules and that no one has contacted him regarding an investigation.)
The ninth highest earner is Albert F. Pennisi, a regular financial contributor to the Queens County Democratic Party, whose law license was suspended for five years in 1990 for his role in an illegal kickbacks scheme.
Fifteenth on the list is the son of former Surrogate's judge Louis D. Laurino. The elder Laurino was censured in 1988 by the Commission on Judicial Conduct after the agency found he had rented offices to three lawyers to whom he granted lucrative appointments. He also was accused of pressuring a lawyer to hire his son, as well as a nephew, and making an improper political contribution to the late, scandal-scarred Queens Borough President Donald R. Manes, according to The New York Times.
Queens Surrogate's Court judges have long been selected by the borough's Democratic Party Chair, an arrangement that many see as responsible for the court's rampant patronage. Judge Kelly, who worked alongside his predecessor Judge Robert Nahman as Acting Surrogate for several years before taking the bench, ran unopposed in 2010. Kelly's sister, Ann Anzalone, is Rep. Crowley's district chief of staff and a Democratic district leader.
Kelly and Crowley are both white, as are most of the Queens Democratic machine leaders, and while both men have expressed intentions to diversify Queens' judiciary courts, the money trail shows little headway. Presented with data on the stark lack of diversity of lawyers receiving Surrogate's Court assignments, a spokesperson for Crowley's office said the party has no influence over the diversity of Surrogate's Court appointees -- the lawyers that receive assignments from the judge.
"The Queens Democratic Party is committed to diversity in all areas of our community. The party does not, nor should it, have a role in the selection of lawyers, but has made a commitment to nominating a diverse slate of judges to stand for election," said a spokesperson for the Queens Democratic Party.
'A Road to Nowhere'
Queens is often hailed as one of the most diverse places in the world; more than a quarter of borough's population identifies as Latino, another quarter is Asian, and about 18 percent is black, according to 2015 U.S. Census data.
The borough has become home to more people of color; from 2010 to 2015, the number of Latinos in Queens grew by nearly 5 percent, and the borough's Asian population rose by over 16 percent.
But when it comes to the borough Surrogate's Court, diversity among guardianship appointments appears to be declining, and for those lawyers of Asian or Latino descent, appointments are almost non-existent.
In order to get appointments, lawyers must be on the Office of Court Administration's eligibility list, which itself is lacking in diversity.
To determine the ethnic identities of those on the list of eligible lawyers as well as the 153 who received court appointments over the last seven years, their names were run through a VAN/Votebuilder database, which creates voter profiles based on voter registration, geographic information, public records, and a variety of other resources.
Of 929 eligible attorneys, 830 were identified as white, 45 as black, 29 as Asian, and 15 as Latino. Nine more could not be easily identified by VAN's database.
Getting on the eligibility list is not particularly difficult -- lawyers must take a three-hour "guardian ad litem" course with the New York Bar Association and fill out a form demonstrating their competence in the material, then renew their eligibility every two years to remain -- but an apparent bias in the way the assignments are distributed may discourage lawyers of color from even applying.
When they do get on the list, it often proves to be "a road to nowhere" for lawyers of color, as one attorney, who spoke on the condition of anonymity, put it, so they choose not to renew their eligibility.
A review of all payments disbursed by the Queens County Surrogate's Court between January 1, 2010 and the end of 2016 found an inverse relationship between the changing demographics of the borough and the racial identities of the court's beneficiaries.
Of the 153 attorneys who received Queens County Surrogate's Court payments during the seven-year review period, 129 (84 percent) were white, 17 (11 percent) were black, four (2.6 percent) were Asian, and three (1.9 percent) were Latino, according to the data.
The percentage of total money paid to black, Latino and Asian lawyers remains lower than the percentage of payments made to black, Latino and Asian attorneys -- a sign non-white attorneys are receiving less lucrative appointments and possibly making less for the same work.
One former appointee, Jimmy Wu, was for years the sole Asian attorney assigned "guardian ad litem" cases by the Queens Surrogate's Court judge. He was assigned to act as a guardian for incapacitated immigrant seniors with no known family members in the United States. The jobs were so complex and the money so insignificant that it amounted to pro-bono work, he said.
"A lot of people don't want to take on these kinds of cases. I knew the community needed help so I was willing to give time to it," said Wu, who added he was likely chosen because he speaks Chinese dialect, and previously worked for the court system.
The most recent case Wu took on, is still not fully resolved, though he now lives California, where he works as a pro-tem judge in San Mateo County Superior Court. Wu said that at the time, he was not aware that he was the only Asian appointee.
"If I was the only one, there should be more," said Wu. "I was told 'Wait until we trust you and you'll get bigger cases,' but after five or seven cases, I got tired of waiting."
Currently, there are at least 29 Asian attorneys on the eligibility list, but aside from Wu, only three were paid for Surrogate's Court work during the seven-year period, most of them in 2016. Most years, there was just one, or zero, Asian attorneys in the pool of appointees.
These four Asian attorneys also received disproportionately small appointments. Despite making up 2.6 percent of the total appointees, Asian lawyers benefited from just .3 percent of money paid out by Queens Surrogate's Court from 2010 through 2016.
Similarly underrepresented are Latino attorneys. Over the course of seven years, just three lawyers identified as Latino were paid for appointments. One of them, who received a handful of small payments in 2010, like Wu, appears to have stopped renewing his eligibility, according to the current list. That leaves just two out of at least 15 eligible Latino lawyers who are actively receiving appointments. One of them, Jose Araujo, is also the Queens Democratic Board of Elections commissioner, creating an inherent conflict of interest, and potentially a quid-pro-quo relationship, as Gotham Gazette has reported. In other words, this year there is just one Latino lawyer receiving court appointments who does not appear to have a patronage arrangement with the Queens Democratic machine.
Recognizing that Latino lawyers are underrepresented on the list of those eligible, Judge Kelly did reach out to the Latino Lawyers Association of Queens County in 2015, and held a Q&A session in an effort to recruit a more diverse pool of applicants -- a gesture that was appreciated by members of the organization.
"Our organization is dedicated to increasing the representation of attorneys of color in all areas of practice in Queens. We respect the autonomy of judges and we will continue to work with all parties to make Queens more diverse," said Catalina Cruz, president of the Latino Lawyers Association.
Perhaps these efforts paid off, because there was a slight uptick in total Surrogate's Court payments going to lawyers of color in 2016. Judge Kelly did not respond to multiple requests for comment.
Widened Racial Gap
While the number of guardianship appointees who are black is somewhat more representative -- 17 black lawyers have been paid by the Queens Surrogate's Court from 2010 through 2016, and 41 are currently eligible for appointment -- overall, the cases they have received are fewer and less lucrative than those assigned to their white peers.
Of the $7.2 million in payments issued to attorneys over seven years, around $6.4 million (88.1 percent) went to white attorneys, but just $699,249 (9.7 percent) went to black attorneys.
Additionally, the year-by-year trend indicates that the racial gap in Queens Surrogate's Court payments is widening, both in number of appointments per year and profitability of the cases assigned.
From 2010 to 2016, the percentage of money paid to white attorneys grew from 81.75 percent in 2010 to 87.79 percent in 2016, down slightly after peaking at 91.9 percent in 2015. At the same time, the percentage of Surrogate's Court assignment money paid to black attorneys has declined from 14.44 percent in 2010 to 7.19 percent in 2016, after previously falling to 6.86 percent in 2015.
The percentage of number of Surrogate's Court payments made to white attorneys rose from 77.98 percent in 2010 to 85.39 percent in 2016, after peaking at 90.02 percent in 2015.
Meanwhile, the number of fees disbursed to black attorneys declined from 18.38 percent in 2010 to 9.82 percent in 2016, after previously falling to a low of 8.27 percent in 2015.
Leaders of New York City's minority bar associations, like the Metropolitan Black Bar Association, say the organizations were founded to help mend systemic problems that lead to racial disparities and create a pipeline to opportunity for more lawyers of color.
"Institutionalized bias happens across all kinds of structures," said Paula Edgar, president of the Metropolitan Black Bar Association."Whether there is explicit bias or implicit bias, it seems to me that there should be a focus on shifting the commitment to diversity. Because Queens is a diverse borough and we should have representation in the court and access to opportunities to reflect the diversity of the borough."
Lack of Diversity in the Judiciary
On a larger scale, New York State's judiciary has failed to keep up with the changing demographics of the state, according to a 2014 report from the New York State Bar Association.
"The composition of the government, including the judicial branch, must reflect the composition of the governed or risk losing credibility. The lack of judicial diversity in certain regions of New York is incompatible with the egalitarian ideals of our democracy," the report cautions.
In Queens, where nearly half the population is foreign born, the court system's lag in diversity has had rippling consequences.
In March, The Daily News reported that "at least four Queens judges have made empty threats to potential jurors with limited English skills, telling them they have to take language lessons or return to court to prove their proficiency."
Two of the four judges – Ira Margulis and Kenneth Holder – were elected to their offices as official nominees for the Queens Democratic Party, meaning that they were effectively picked by the Queens Democratic boss, Rep. Joe Crowley.
Margulis was a Queens Democratic Party pick in 2003 and again for his Queens County Civil Supreme Court position in 2011. Holder was a Queens Democratic Party pick for Queens County Civil Supreme Court in 2007, when he moved up from his Civil Court position.
Campaign finance records show that neither Margulis nor Holder had their own campaign committees the year they were elected, meaning they would have been reliant on the Queens Democratic organization for campaign assistance.
Amidst all the scrutiny of Queens Surrogate's Court this year, two state legislators from Queens quietly introduced a bill that would gut court oversight by giving Surrogate's Court judges the power to waive annual reporting requirements for court-appointed guardians based on their previous years of service.