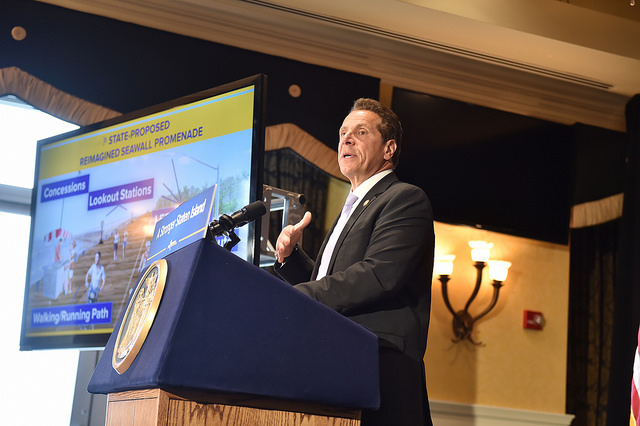 Gov. Cuomo (photo: Kevin P. Coughlin/Governor's Office)
---
With both houses of the state Legislature gaveled out, signalling the end of the 2017 legislative session, there a several unsettled issues for New York City, starting with the annual saga of renewing mayoral control over city schools, a policy set to expire at the end of June.
Deadlocked over mayoral control, legislative leaders were not able to come to an agreement by the end of the scheduled session on Wednesday evening, though on Thursday talks continued among legislative leaders, Governor Andrew Cuomo, Mayor Bill de Blasio and other stakeholders. The governor ultimately held an hourlong press conference at which he indicated he still wants to see a deal on several items and that he may call the Legislature back to Albany for a special session.
Also set to expire in November are a slew of local taxes, including New York City's personal income tax, which are necessary to keep municipalities functioning. The governor indicated Thursday that extensions of those tax provisions would have to be done this year. The Assembly tied the taxes to mayoral control, and the Senate would like to keep the two issues separate and instead connect mayoral control to more charter schools for New York City.
Assembly Speaker Carl Heastie told reporters on Monday that he would not budge on mayoral control. "At this point we stand by our bill, we treat it like every single county in the State of New York," said Heastie. "We've done our job as far as the Senate is concerned. We're not coming back."
Heastie was steadfast that the Assembly would not return to Albany to rehash an agreement mayoral control, local taxes, or anything else. But on Thursday he was polling his members about returning. "It remains our desire not to return as we are very comfortable with the bill that we passed. However, if the Governor and/or the Senate is asking us to engage, we would be derelict in our duties not to consider those requests. With that being said, there is no plan to return," Heastie said in a Thursday afternoon statement.
A spokesperson for Senate Majority Leader Flanagan confirmed that leaders were in talks, but said there was no plan for lawmakers to return.
Speaking Thursday afternoon in the Capitol's Red Room, Cuomo blasted the Legislature for a "dereliction of duty" for not passing mayoral control. Inaction, he said, is a vote for restoring control to the Board of Education, which was rife with dysfunction and waste. Mayoral control was first instituted in 2002.
If a deal is struck on mayoral control, charter schools, tax extenders, and/or other outstanding priorities of the various parties, it could create a later than expected "big ugly," Albany speak for a mashup of bills passed as a package deal -- which typically happens twice each session, once at the end of budget negotiations around April 1, and again in June as the legislative session ends and lawmakers go home for the rest of the calendar year.
While there was no deal on high-profile items like the above, electoral, ethics, and procurement reforms, and the Child Victim's Act, there were bills that moved in the final days and hours of the session.
WHAT DID GET DONE
The Legislature did pass an extension of Kendra's Law, which allows courts to order outpatient treatment for mentally ill New Yorkers. The law is named for Kendra Webdale, who was shoved in front of an oncoming N train in 1999 by a mentally ill man. It was set to expire in November.
Both houses have also passed a bill adding Post Traumatic Stress Disorder (PTSD) to the list of ailments that could qualify for medicinal marijuana, which is seen as a way to jumpstart New York's nascent -- and floundering -- medical marijuana industry.
A bill banning "child marriage" passed, which raises the age of consent to marriage from 14 to 18, though there are exceptions for 17-year-olds with parental and judicial permissions. The governor became a major proponent of the legislation all of a sudden this year and held a ceremonial bill-signing at the Capitol, though it was closed to the press.
A three-way agreement on a Buy American bill, which faced opposition from the Canadian government, was also reached and celebrated by the governor. It adds seven state agencies to the list of those that must use only domestic steel: the Department of Transportation, Thruway Authority, Bridge Authority, Metropolitan Transportation Authority, Office of General Services, SUNY Construction Fund and Dormitory Authority of the State of New York.
While ethics and electoral reforms were for the most part not even discussed among legislative leaders and the governor, one transparency measure did move through both houses. The bill is a reform to the state's Freedom of Information Law, adding penalties for city and state agencies that wrongfully deny FOIL requests, by mandating they cover attorney fees for any entity that successfully sues for withheld information. A similar bill was vetoed by Cuomo in 2015, but this version was amended based on concerns raised by Cuomo's office.
The Legislature also passed one of two noteworthy tax credits aimed at the entertainment industry, which have been closely watched by those in the business. One, which has gotten much buzz in the press, but has been criticized by budget watchdogs, is a tax credit on film and music production, sponsored by Brooklyn legislators Joe Lentol, a Democratic Assembly member, and Republican Senator Marty Golden. Last, year the measure was passed, but ultimately vetoed by the executive, and this year the bill passed the Senate, but never made it to a floor vote in the Assembly

The other, sponsored by Assemblymember Marcos Crespo, a Democrat from the Bronx, and and Senator Marisol Alcantara, of Manhattan and the Independent Democratic Conference, builds on an existing film production credit for part of New York's television industry. Specifically, it would allow credits for up to $50,000 per episode for television writer and director fees and salaries for women and minority writers and directors. For years, former Harlem Assemblymember Keith Wright had put forward similar legislation, but this year is the first time it is headed to the governor's desk.
At the eleventh hour, Cuomo also moved through a new appointee as Chair and CEO of the MTA: Joe Lhota will return to the role after being confirmed late Wednesday night, just minutes after Cuomo nominated him and he took a few questions from senators by Skype.
MORE ON WHAT DID NOT GET DONE
There are several prominent issues that progressed in one or both houses, but have been tied up in committee or stalled.
The Child Victims Act, which would lift the statute of limitations for adults reporting sexual assault that happened when they were minors, is facing opposition in the GOP-controlled Senate. Majority Leader Flanagan said the Senate has discussed it but it will not come up for a vote this year. Governor Cuomo expressed disappointment about the legislation failing during his Thursday news conference.
The Child Victim's Act passed overwhelming in the Assembly, but faces opposition from the Catholic Church, Boy Scouts of America, and others who fear they will be overburdened with lawsuits if the law applies retroactively. Another version, sponsored by Senator Jeff Klein, leader of the IDC, addresses concerns about "frivolous lawsuits."
Cuomo introduced his own Child Victims Act bill -- one identical to legislation that passed by the Assembly earlier this month -- but was forced to face the fact that the Senate would not take up the issue.
"It's under discussion, but the Senate is not going to be taking up the law," said Sen. Flanagan.
Procurement reform, which would add oversight from the comptroller to the governor's signature economic development programs, is opposed by the executive branch and also stalled, despite the bid-rigging scandal that came to light last year and appeared to cause a groundswell of support for reform from legislators, good government groups, and Comptroller Tom DiNapoli.
The Assembly also passed a bill "that will ban the request and requirement of a prospective employee's salary history as a condition to receive an interview, an offer of employment, or in determining wages or salary" in an effort "to prevent wage discrimination." It did not advance in the Senate.
Finally, there is always a slew of bills passed in one house but not the other, either by the Democratically-controlled Assembly or the Republican-controlled Senate, most if not all likely to be put off until at least 2018. Among the Assembly-backed bills are a single-payer healthcare bill; the Reproductive Health Act, which would codify Roe v. Wade; a euthanasia bill; the legalization of recreational marijuana; the expansion of design-build to New York City; and more. Bills that passed the Senate but not the Assembly include one aimed at reducing prison overcrowding, Leandra's law -- which makes it a felony to drive drunk with a minor in the car; a law automatically granting veterans high school diplomas; various protections for seniors; and a plethora of tax breaks for small businesses and farms.