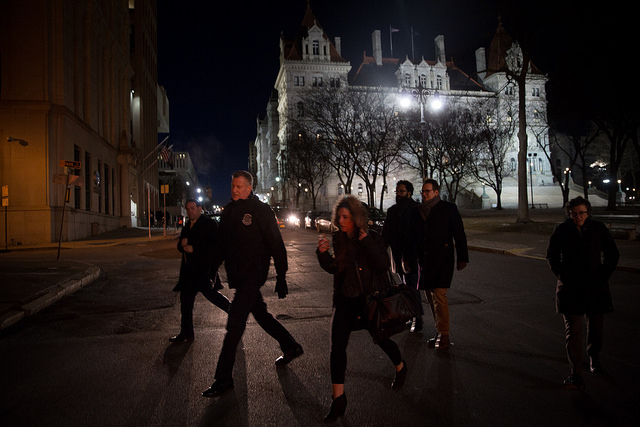 Mayor de Blasio in Albany (photo: Michael Appleton/Mayor's Office)
---
Mayor Bill de Blasio's control of the New York City school system is only good for the rest of this week. The state Legislature ended its scheduled legislative session last Wednesday without a deal on an extension, something Governor Andrew Cuomo called "dereliction of duty," and de Blasio has said puts the futures of 1.1 million schoolchildren at risk.
The New York Times reported Monday night that Cuomo is calling the Legislature back into special session "as early as Wednesday" in order to pass a one-year extension of mayoral control, perhaps offering state Senate majority Republicans a pension sweetening bill they had previously sought but not the expansion of charter schools in New York City that had held up negotiations with the Assembly, which is controlled by Democrats allied with the teachers unions, which see charter schools as an existential threat.
If the state Legislature does not reconvene and vote through an extension by Friday, June 30, the law will lapse and governance of the city's schools will revert back to the old Board of Education system that was in place until 2002, when Mayor Michael Bloomberg won mayoral control through Albany.
Perhaps instructive for the coming months, there was a brief period in the summer of 2009 when mayoral control lapsed due to chaos in state government, but it was restored before the start of the next school year. While Bloomberg received seven and six years of mayoral control in 2002 and 2009, de Blasio has received back-to-back one-year extensions leading into this year, in large part because of tensions with Cuomo, a fellow Democrat, and the Senate majority.
De Blasio is largely allied with the Assembly majority, though not all members of that conference are fully supportive of mayoral control and it walked away from the bargaining table because it does not want to approve more charter schools for the city.
The situation has become a test of Cuomo's leadership and reputation for getting things done.
According to the mayor and many others, circumstances are dire.
"I could not express the urgency more," de Blasio said on Friday during an interview with Politico New York from the U.S. Conference of Mayors in Miami, Florida. "1.1 million children's lives and education and future depends on it," the mayor said. "There are still differences clearly...there are things that need to be worked out, but my message to everyone is we've got to get this done by June 30, and that the results of not getting it done by June 30 are that we start back down a road of a system that failed our children."
De Blasio has pointed to successes of the past 15 years overall, like much higher graduation rates, and of his three-plus years in office, like the implementation of universal pre-kindergarten, as evidence that mayoral control works. He's also repeatedly pointed to dysfunction, corruption, and a lack of clear accountability under the old Board of Education system, which also involves 32 locally elected school boards.
De Blasio said Friday that "the action will begin in earnest again on Monday and I'm going to be talking to all of the key leaders on trying to settle all of the differences and getting this done."
On Monday evening, de Blasio told NY1's Errol Louis that his message to state lawmakers is "come back and get to work and finish this...get back to Albany and get this done."
A spokesperson for the mayor told Gotham Gazette that "Our team has been in constant contact with the governor's team and the legislative leader teams. We are optimistic a deal can get done. We're working around the clock to help that process with whatever we can."
De Blasio said Monday night that he had spoken to Gov. Cuomo earlier in the day and that the governor was "optimistic" a deal would get done. The mayor said he wouldn't be confident until legislators were headed back to Albany to vote on a deal. Cuomo may be making that happen.
On Sunday, Cuomo said he was hopeful that a deal will be reached this week. Yet, the governor has repeatedly voiced an understanding that some think de Blasio is not an effective steward of the city's schools. Cuomo said last week that he is a supporter of mayoral control under de Blasio, but added, "I understand the opposition, the questioning of the mayor's management and competence and record, I get it, but, what's the alternative, right?"
Though there is a home rule discussion to be had, at this moment it is prudent to put aside the questionable fact that state legislators, especially those from outside New York City who dominate the Republican-controlled state Senate, get to determine the city's school governance structure. It may be a discussion worth resuming after a mayoral control extension is reached.
Whether a deal is reached this week or not, this summer or not, mayoral control is currently on the verge of lapsing for a wide variety of reasons and fingers are rightfully being pointed in several directions -- just about everyone involved is due some blame.
Though Cuomo and legislative leaders could announce a deal this week, if not the city may have to at least go through the motions, as in 2009, of reconstituting the more decentralized Board of Education (two appointees by the Mayor, one each by the five Borough Presidents) and beginning to eye elections for 32 community school boards. As the mayor has warned, there could very well be a chaotic period, with a lot of time, energy, and money dedicated to reestablishing a system that would likely be temporary.
While the chorus is mostly singing another tune, there are some who say that mayoral control should be done away with, and that the Board of Education system, perhaps with a few tweaks, is more apt to respond to community concerns and that local school boards give communities more control over their schools. The most powerful people in the room, however, do argue that mayoral control is a stronger governance system for the city's 1,700 schools and 1.1 million students.
As Cuomo has pointed out, there are very real disagreements over charter schools, de Blasio's management, and even the overall system itself. It's apparent that the always politically potent issue of charter schools has been the main sticking point in negotiations over mayoral control: Cuomo and the Senate majority want room for more charters in New York City in exchange for an extension of mayoral control, whereas the Assembly majority is against expanding charter schools further. (Cuomo and Senate Republicans are heavily funded by charter school supporters, while Assembly Democrats and de Blasio are heavily funded by the teachers unions, who oppose charters.)
According to the New York Times, the bill Cuomo is seeking to move during Wednesday's special session would not include raising the cap on charter schools in New York City, despite the fact that Cuomo supports such a move. There is still room under the current cap for about two dozen more charters to be authorized.
The five key reasons that mayoral control is on the verge of lapsing:
1. Governor Cuomo has not negotiated a deal.
This could all change Wednesday. But, perhaps because he is no ally of Mayor de Blasio or because he is a strong supporter of charter schools, Cuomo did not get a deal done before the end of the scheduled legislative session. The governor said he was in regular contact with de Blasio over several days, but that a fundamental difference between the Assembly and Senate majorities led to a stalemate. "Mayoral Control is a fundamentally controversial topic," the governor said at a news conference last week in Albany.
"I was very involved with the mayor, I spoke to him multiple times a day for multiple days, I spoke to people on his team, I spoke to the Senate, I spoke to the Assembly, worked very hard until late in the night to try to get it done, and there's fundamentally no agreement between the two houses," Cuomo said.
2. Mayor de Blasio is unliked in Albany and does little to improve the situation.
The mayor has few allies in state government, and his closest allies -- Assembly Speaker Carl Heastie and his majority members -- have mixed feelings about mayoral control. De Blasio is loathed, though, by Senate Republicans, especially given that he got very involved in 2014 efforts to oust them from power. As is well-documented, Cuomo and de Blasio do not get along, and the governor is never in a rush to help the mayor. But, Cuomo and Senate Republicans do believe in mayoral control of city schools, which may be the only reason de Blasio has held on to control.
All told, it's not a great situation for the mayor, but he has done little over the past three years to improve it. He is hesitant to contact Senate Majority Leader John Flanagan, he makes few trips to the capital (three this year in the first six months), and he often does not put the effort into building and maintaining relationships with members of his own party, including Assembly members. The Cuomo situation is well-documented, but the mayor and the city continue to suffer due to the poor relationship. While it may be more Cuomo's fault than de Blasio's, the mayor has still not figured out to get more of what he wants with the governor's help.
3. Assembly Democrats oppose charter schools more than they like mayoral control.
Assembly Speaker Carl Heastie decided not to give in on an expansion of the cap on charter schools in New York City, so mayoral control is on the verge of lapsing. Assembly Democrats are extremely close with the teachers unions, who see largely non-unionized charter schools as an existential threat.
Heastie was steadfast in saying he refused to link charters to mayoral control, but his brinkmanship may soon see a compromise. There are still 23 slots under the current charter cap for New York City, which charter advocates including Cuomo have been calling for a total elimination of for years, so it may not be that Heastie has to agree to a higher cap. Politico New York recently reported that Heastie may have to just sign off on new rules around charter teacher regulations. However, it's unclear if his sign-off is even needed for them to go into effect.
As Cuomo recently said, de Blasio is also no fan of charter schools, though he has reached something of a detente with the sector after major battles in 2014. "[I]t's a different equation, supporting it with Mayor de Blasio who's an avowed opponent of charter schools," Cuomo said last week when discussing why the Senate GOP was less enthusiastic about mayoral control under this mayor, as opposed to Mayor Bloomberg, who was a major charter school supporter.
4. Senate Republicans are playing with house money.
The Senate majority has little reason to give in on mayoral control without getting something in return. Only three of the conference's 32 members are from New York City, with Majority Leader Flanagan hailing from Long Island. If there is disarray in city school governance it doesn't matter much to the conference and they get the bonus of watching de Blasio suffer. Republican senators are in excellent bargaining position given that there is room under the charter cap and mayoral control is on the verge of ending.
Still, there is some pressure on the Senate majority since it does need a good working relationship with the governor and, to some extent, the Assembly majority. Flanagan and Cuomo have had a very solid working relationship, including Flanagan signing off on Cuomo's signature issues each of the last two years (a minimum wage hike and paid family leave in 2016; a college affordability program and raising the age of adult criminal responsibility this year), and Flanagan introducing the governor's bill late on the last night of session that would name the new Tappan Zee Bridge after late Governor Mario Cuomo. Assembly Democrats did not pass the naming bill, but could agree to do so as part of a future deal.
5. The IDC has not helped make a deal.
The Independent Democratic Conference, or IDC, is a group of eight breakaway Democrats led by Senator Jeff Klein of the Bronx that has a power-sharing agreement with the Senate GOP, helping the majority to bolster its razor thin hold on the chamber. While the IDC supports mayoral control, it does not appear it has been able to influence its Republican colleagues to move on a bill. The IDC may not have tried given that it is also supportive of charter schools. Charter backers have been generous donors not just to the Senate GOP, but to the IDC, which helps keep charter-friendly Republicans in control of the chamber, which is seen as essential to charter survival and growth.
Part of how the IDC rationalizes its existence is by saying that it can help moderate the Senate GOP and move legislation that may otherwise be bottled up, like the minimum wage increase of last year or the Raise the Age bill this year. But, mayoral control does not appear to have made that list.