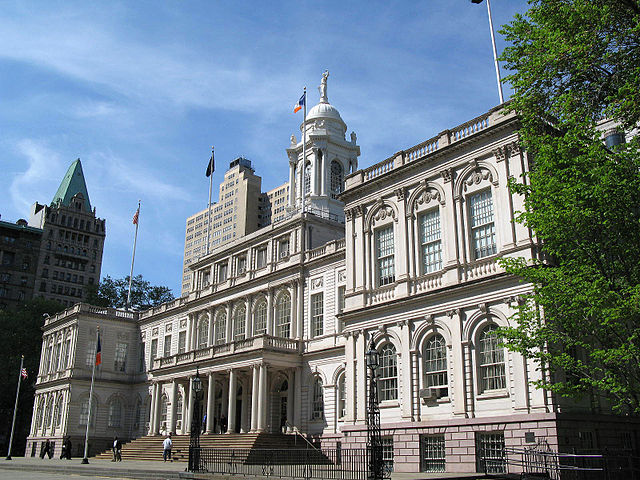 New York City Hall
---
It's a relatively quiet week in New York politics. The City Council has only a few hearings scheduled this week after holding a full meeting last week where they passed a number of bills, including the 'Right to Counsel' bill to provide free legal services to low-income tenants in housing court.
Mayor Bill de Blasio is back at City Hall after spending a week in Queens for the third installment of his City Hall in Your Borough initiative. On Sunday, the mayor commuted on the F Train from Park Slope to Downtown Brooklyn for a press conference, taking the opportunity to push back on recent claims by Governor Andrew Cuomo and newly-appointed MTA Chair Joe Lhota that the city is reponsible for funding the MTA. De Blasio insisted that the state has used the MTA as a "piggy bank" and that they must step up with solutions and funding for the crumbling subways. The MTA is expected to unveil a 30-day overhaul plan this week.
As always, there are a number of events to be aware of - see our day-by-day rundown below.
***Do you have events or topics for us to include in an upcoming Week Ahead in New York Politics? e-mail Gotham Gazette editor Ben Max: This email address is being protected from spambots. You need JavaScript enabled to view it.***
The run of the week in detail:
Monday
At 10:15 a.m. Monday, City Council Member Corey Johnson, Assemblymember Richard Gottfried, and State Senator Brad Hoylman will take part in a STEM education workshop held by Google at the Hudson Guild in Manhattan. The elected officials will also give remarks.
At 11 a.m. Monday, Mayor de Blasio will deliver opening remarks to the 2017 Urban Resilience Summit, a conference convening leaders of the Rockefeller Foundation "to spur new solutions and collaborate on best practices to tackle 21st century urban challenges." The Mayor will also make his weekly appearance on NY1's Road to City Hall during the 7 and 10 p.m. hours.
At 6 p.m. Monday, there will be a community meeting for residents of Battery Park City, hosted by the Battery Park City Authority, with State Senator Daniel Squadron appearing.
At 7 p.m. Monday, the Ernest Skinner Political Association and City Council Member Jumaane Williams will host a forum for Brooklyn District Attorney candidates at Clarendon Road Church in Flatbush. The attending candidates are Acting DA Eric Gonzalez, City Council Member Vincent Gentile, Ama Dwimoh, Marc Fliedner, Patricia Gatling, and Anne Swern.
Tuesday
On Tuesday at noon in Queens, "Chancellor Fariña will join Chancellor Betty Rosa, Commissioner MaryEllen Elia and members of the NYS Board of Regents for a visit to Thomas A. Edison Career and Technical Education High School."
At 1:30 p.m. Tuesday, the New York City Board of Elections commissioners will hold a meeting. The livestream of the meeting is available here.
At 6:30 p.m. Tuesday, Riders Alliance will host "Buses, Beers and Bytes: A Happy Hour for Tech and Public Transit in New York" at CARTO in Williamsburg. The event will include a panel discussion on buses featuring Lela Prashad, CEO and founder of NiJeL; Tabitha Decker, Director of Research and NYC program director at TransitCenter; and Natasha Saunders, Riders Alliance "member-leader."
Wednesday
At 8:30 a.m. Wednesday, City & State will host the "Pride Awards" at 80 5th Avenue in Manhattan, "honor[ing] and celebrat[ing] the work of New York organizations and individuals who serve the LGBTQ community through public service, volunteerism, government, or civic engagement." Featured speakers include State Senator Daniel Squadron and Christine Marinoni, senior advisor to Deputy Mayor Richard Beury.
At 9 a.m. Wednesday, Manhattan Borough President Gale Brewer, along with City Council Member Bill Perkins, the New York City Department of Veterans Services, the U.S. Department of Veterans Affairs, and other organizations will host a resource fair for veterans at the Adam Clayton Powell Jr State Office Building in Harlem. Loree Sutton, Commissioner of the City Department of Veterans Services, will deliver the keynote address.
At 10 a.m. Wednesday, the City Planning Commission will hold a public meeting at 22 Reade Street.
At 10 a.m. Wednesday, the MTA will hold a board meeting at the MTA Board Room in Manhattan.
At 6 p.m. Wednesday, the Bronx Chronicle will host a forum for candidates for the 8th council district, an open seat currently held by Speaker Melissa Mark-Viverito. The forum will be held at DREAM in East Harlem.
At 6:30 p.m. Wednesday, Humanities New York will host "Beyond the Ballot: From Suffrage to the Women's March" at Federal Hall in Manhattan, honoring "the centennial of Women's Suffrage in New York State by convening a roundtable of women from the fields of journalism, history, and community organizing for a public conversation on the history of women's rights, and to discuss what's next." Jia Tolentino of The New Yorker will moderate a panel consisting of "Jessa Crispin, author of Why I Am Not a Feminist; Tamika Mallory, one of four co-chairs of the Women's March; Kim Phillips-Fein, Associate Professor of American History at New York University; and Sarah Seidman, historian and curator at the Museum of the City of New York."
Thursday
At the City Council on Thursday
- The Subcommittee on Zoning and Franchises will meet at 9:30 a.m.
- The Subcommittee on Landmarks, Public Siting, and Maritime Uses will meet at 11 a.m.
- The Subcommittee on Planning, Dispositions, and Concessions will meet at 1 p.m.
- The Committee on Land Use will meet at 2 p.m.
At 8:30 a.m. Thursday, Governor Cuomo will speak at an ABNY "Power Breakfast" at 583 Park Avenue in Manhattan.
At 8:30 a.m. Thursday, the New York League of Conservation Voters will host the fourth and final policy forum of its four-part "Getting to 80x50" series at the NYU Wagner Graduate School of Public Service. This forum will focus on energy.
At 10 a.m. Thursday, the New York City Campaign Finance Board will hold a public board meeting.
At 6:30 p.m. Thursday, the New York City branch of the National Women's Political Caucus will host a candidate forum for female candidates running for the open seat in City Council District 4. The attending candidates are Maria Castro, Vanessa Aronson, Marti Speranza, Bessie Schachter, Rachel Honig, and Rebecca Harary. The forum will be moderated by Lili Gil Valletta, founder and CEO of CIEN Media.
At 7 p.m. Thursday, NY Indivisible will host a "Where's Hamilton?" town hall at Union Temple of Brooklyn at 17 Eastern Parkway, allowing constituents of IDC member Jesse Hamilton's district to get answers on questions "about the IDC and his role in it." Hamilton has declined an invitation to the town hall. State Senator Gustavo Rivera will appear to talk with Hamilton's constituents.
At 7 p.m. Thursday, Food and Water Watch will host "Save the EPA!" at the New York Society for Ethical Culture, featuring former New York regional administrator for the EPA Judith Enck, on "how EPA cuts would impact New York communities, and discuss the New York Campaign to Save the EPA."
"From Thursday-Saturday, the Office of the Chief Technology Officer of New York City and the Technology and Entrepreneurship Center (TECH) at Harvard are co-hosting the 2017 Smart Cities Innovation Accelerator at the HUB at Grand Central Tech. The three-day program is a hands-on, immersion accelerator where senior city officials from 17 cities across North America will work alongside fellow city leaders, industrial experts, Harvard Fellows, and researchers. The topics that will be addressed were chosen by and for cities—from mobility and transportation to scaling digital access and managing data. The goal is to send each city home with a specific, actionable strategic plan for the future."
Friday and the weekend
No other events on our radar for Friday or the weekend as of Sunday night, but the mayor is likely to make his weekly appearance on WNYC's The Brian Lehrer Show on Friday morning.
***
Have events or topics for us to include in an upcoming Week Ahead in New York Politics? E-mail Gotham Gazette executive editor Ben Max any time: This email address is being protected from spambots. You need JavaScript enabled to view it. (please use "For Week Ahead" as email subject).
***
by Ben Brachfeld and Samar Khurshid
@GothamGazette