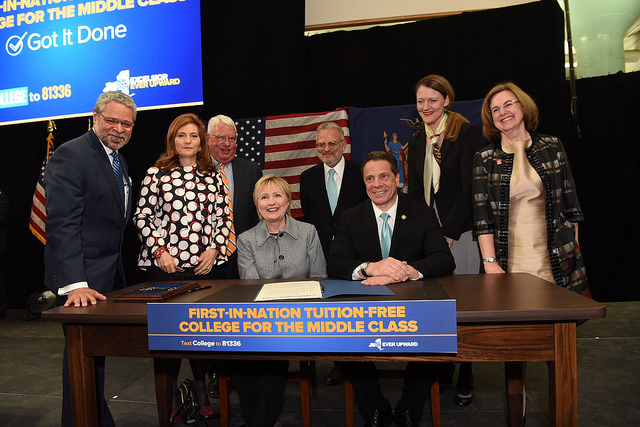 Cuomo with Hillary Clinton, Gail Mellow, far right, & others (photo: Governor's Office)
---
Dr. Gail O. Mellow, the president of LaGuardia Community College, contacted fellow City University of New York (CUNY) presidents to gather statements in support of the proposed Excelsior Scholarship program on behalf of Governor Andrew Cuomo, before the proposal was passed and signed into law earlier this year.
Gotham Gazette previously reported that the governor's office launched a push to bring CUNY leaders on board with the plan early this year, at the same time as the governor was pushing for greater oversight over the system and an investigation conducted by his appointed Inspector General was expanding. The role played by Mellow was rumored but not known. LaGuardia College was the site where Cuomo both announced Excelsior in January alongside Vermont Senator Bernie Sanders and ceremonially signed the bill alongside Hillary Clinton in April.
A public records request filed by Gotham Gazette requesting Excelsior-related emails between Mellow and Cuomo administration officials was initially denied, and only partially granted upon appeal. The heavily redacted emails block out much of the correspondence. What they do show is Mellow sending Dan Fuller, Cuomo's Assistant Secretary for Education, statements from Bronx Community College President Thomas Isekenegbe; Hostos Community College President David Gómez; Medgar Evers College President Rudy Crew; Brooklyn College President Michelle Anderson; York College President Marcia Keizs; and College of Staten Island President William Fritz.
The statements forwarded by Mellow would ultimately appear in a press release that the governor's office put out in May, touting the support of CUNY and SUNY presidents for the scholarship. Portions of the emails that came immediately before or after the statements, or direct interactions between Mellow and Fuller, are largely redacted. In one example, the email from Mellow followed "Dear Dan," followed by a black box, followed by Mellow signing off as "Gail," with nothing visible in between.
It's not uncommon for elected officials drafting and pushing legislative proposals to enlist and work with affected individuals, other officials, activists, and community members. However, a campaign to create a shift of the Excelsior Scholarship's magnitude may be more likely to be centrally coordinated, perhaps by CUNY Chancellor James Milliken or his staff. It is unclear why Mellow took the lead in this case, and what she was telling her colleagues, many of whom were skeptical of aspects of the plan, on behalf of the governor's office.
The scholarship will cover tuition for CUNY and State University of New York (SUNY) students from households with incomes up to $125,000 a year by 2019. The fact that it would cover tuition alone, after all other grants and scholarships have been applied, and requires students to finish on time and live in the state for a period after graduation has drawn criticism from some students, activists, and educators.
The exchanges have been carefully redacted so that the emails between Mellow and Fuller contain only the statements that Mellow is sending, which became public, along with brief notes like "Here is another quote." The subject lines are similar; examples include "FW: quote for NY's Excelsior scholarship," "Additional quote," and "RE: another one more & …" This seems to indicate that Fuller was requesting additional quotes.
In an emailed statement, Elizabeth Streich, a spokesperson for LaGuardia, said that "based on [Mellow's] national advocacy for free college, when Governor Andrew Cuomo announced the Excelsior Scholarship, she jumped right in to increase public awareness about it. She worked with fellow CUNY College presidents to help increase understanding, and build support for Excelsior."
Streich did not detail what Mellow had told the other presidents to elicit their responses, nor did she give details of or characterize Mellow's conversations with Fuller or other members of the Cuomo administration. Fuller did not return requests for comment. Emails to spokespeople for the governor were not answered.
CUNY colleges and affiliated nonprofits continue to be the subjects of a wide-ranging state Inspector General investigation into their structure and financial operations. The investigation released a preliminary report in November, and continued to expand early this year, at the same time as the governor's office was seeking support for Excelsior and Cuomo was calling for additional inspector generals – which he would appoint – to oversee CUNY and SUNY, as well as new taxes on their affiliated nonprofits. These proposals were not ultimately enacted.
Shown the email exchanges, John Kaehny, the executive director of good government group Reinvent Albany, said the governor and Mellow should release unredacted emails "to lay to rest public concerns about CUNY administrators being pressured to make supportive statements about the governor's Excelsior Scholarship program. We saw redacted emails that raised more questions than they answered."
One email in the chain involves Anthony Bernal, an aide to Dr. Jill Biden, the wife of former Vice President Joe Biden and a professor at Northern Virginia Community College. Bernal is responding to an email Mellow is copied on, in which Fuller has sent a draft of a statement that the governor's office wants to attribute to Jill Biden in support of the proposal. Mellow is described as "[working] closely with Dr. Biden on these important issues." The statement does not appear to have been ultimately used by the governor's office.