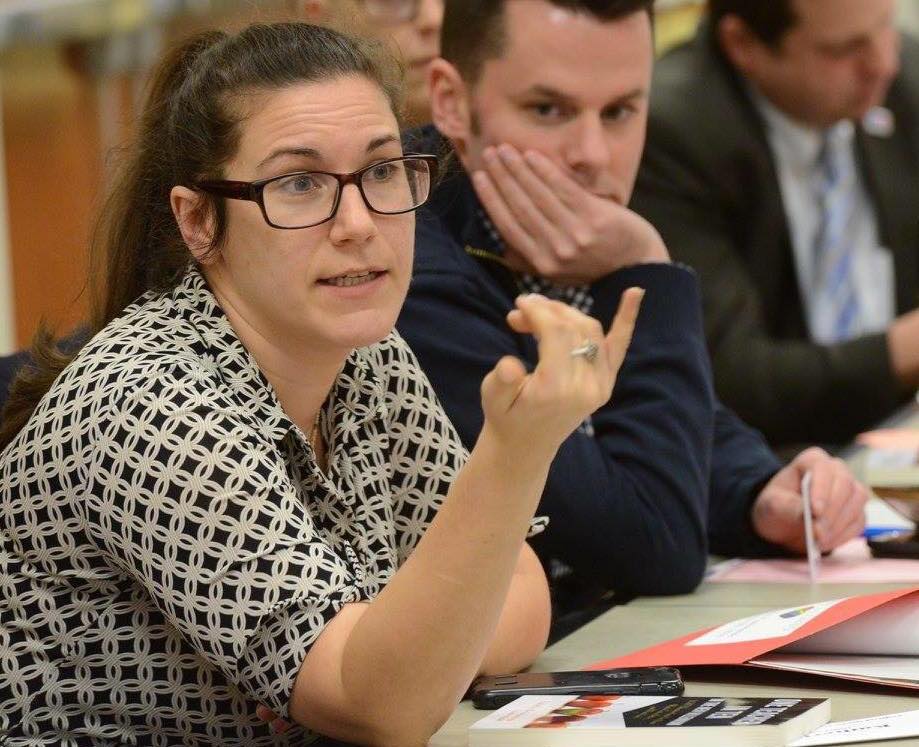 Katherine Brezler (photo via Facebook)
---
A teacher and grassroots organizer is scoping out the Westchester Democratic Party nod in a potential special election for state Senator George Latimer's seat, which would be triggered if the Democratic senator wins the race for Westchester county executive this fall.
On July 24, Katherine Brezler, a 35-year-old from White Plains who campaigned for Senator Bernie Sanders' presidential bid, became the first to register a campaign committee for the 37th Senate District seat currently held by Latimer, according to the New York State Board of Elections.
Latimer is challenging Republican incumbent Rob Astorino for the county executive position with the blessing of his fellow Democrats in the Senate minority conference. At least four mainline Democrats contributed to Latimer's county executive campaign. The largest donation, of $2,500, came from Senator Michael Gianaris, deputy leader of the mainline Democratic conference and head of the Democratic Senate Campaign Committee (DSCC). Latimer has received endorsements from the Independence, Working Families, and Women's Equality parties and will first face county legislator Ken Jenkins, from Yonkers, in the September 12 primary.
Brezler is also rooting for Latimer, whom she describes as "a mentor," and has been making phone calls on his behalf. "I have good feelings about the future of Westchester and the voters making [Senator] George Latimer county executive," she said. "I wouldn't be out here this early if I didn't believe that. But there is still a lot of work to do. We have a lot of doors to knock on."
If Latimer does unseat Astorino, the Senate seat he would vacate is likely to be highly contested. Since 2012, the last time the seat was empty, both the Republican and Democratic campaign committees have collectively poured nearly $2 million into district races. Governor Andrew Cuomo also threw his support behind Latimer last year to ensure that the seat remained Democratic.
By all accounts, Latimer has been an exceptional Democratic candidate. Despite a 2012 redistricting of the 37th Senate District, which the League of Women Voters of Westchester criticized for cutting out minority voters and favoring Republicans, Latimer won the seat that year, and retained his popularity in the district for three consecutive terms. In 2014, Latimer kept the seat with 49.9 percent of the vote, barely beating out Republican Joe Dillon, who drew 45.8 percent of the vote. Latimer's office did not respond to a message seeking comment for this article.
Brezler, who previously was a Sanders delegate and founding member of the People For Bernie, a national network that rallied support for the former presidential candidate, boasts a slew of progressive accomplishments. She was part of a national organizing campaign for the movement to "opt-out" of state school testing, is an advocate for affordable housing and, citing her background as the daughter of a doctor and nurse, she has made the passage of universal, single-payer health care a central part of her platform. She noted that there is a 2-1 ratio of registered Democrats over Republicans in the district, and that Democratic engagement in Westchester is on the rise since the 2016 election of President Donald Trump.
Brezler, who has also worked as a delegate for the Westchester/Putnam chapter of the AFL-CIO union, said she was inspired to run, in part, because of the stagnant state of progressive legislation in the New York State Senate, despite Democrats holding a narrow majority in the body. The Senate GOP maintains the legislative majority with the help of Senator Simcha Felder, of Brooklyn, who caucuses with the conference, and through an alliance with eight rogue Democrats who make up the Independent Democratic Conference (IDC).
"Two-thirds of this country supports universal healthcare and it's unconscionable that it's popped three years in a row, and the state Senate thinks it's acceptable not to bring it to the floor," Brezler said in an interview with Gotham Gazette.
Brezler said she spoke to a number of local elected officials who told her they were not interested in the seat, although she did not specify whom, and saw an opportunity to ensure that the district remained in Democratic hands.
Assemblyman Steven Otis, a Democrat whose district encompasses much of Latimer's and who previously worked as chief of staff to Latimer's predecessor, is one name likely to be floated for the post, according to people familiar with the district. Otis told Gotham Gazette he intends to remain in the Assembly where he is "excelling" and "can deliver the best results" for the communities he represents.
If Latimer wins the county executive primary election and then the general this fall, he will vacate his current seat by January, and it will be up to Governor Cuomo's discretion to call a special election. In a special election, a competitive primary is bypassed, and the Democratic and Republican nominees are picked by the party boss and county executive committee, which comprised of district leaders. In Westchester, the nominee may also be selected by party chair persons of city, towns and villages, Brezler said.
A former Yonkers district leader herself, Brezler says she has had productive conversations with Westchester County Democratic Party chairman Reginald LaFayette and believes she has the name recognition required to drum up county committee support.
"I've been working in local politics for a very long time," Brezler said. "They know me by name, face, and work; it's not a surprise to anyone that I'm running."
Brezler has also voiced opposition to Cuomo on a number of issues in the past, but noted the second-term governor's evolution since his re-election in 2014. "The governor is trying his best to put his progressive foot forward and I'm interested in seeing what this year looks like," she said.
Brezler said the supposed fissure between the progressive, grassroots Sanders faction of the Democratic Party and the Democratic establishment has been overstated in the media and is not as pronounced on the state level, where she believes Democrats are coming together to resist the policies of the Trump administration.
Veteran Democratic political consultant Hank Sheinkopf said Brezler's past criticisms of Cuomo could be a liability for her candidacy. "It's unlikely that someone who has attacked the governor will be picked as the nominee," he said, noting that, "Cuomo got the 2 percent property tax cap for the people of Westchester," which is plagued by some of the highest rates in the nation.
However, getting a headstart on fundraising and the potential to tap into support from a national Sanders coalition could help Brezler, because it may "scare off other candidates," he said.
As an educator, Brezler has been a proponent of the state meeting its school aid obligations under the Campaign for Fiscal Equity court decision -- the results of a lawsuit seeking to ensure "the constitutional right to a sound basic education" for all public school students -- which she says would infuse struggling schools in Yonkers and elsewhere with millions of dollars needed to ease the county's notorious property tax burden.
Brezler said her next objective is to win over the DSCC, chaired by Senator Gianaris of Queens, who she said will likely have a conversation with LaFayette about what is best for the party.
"If the DSCC isn't super excited about me then I think they will find that the network behind me is able to raise a considerable amount, and that I have more name recognition than they think," said Brezler.
Brezler, who is a first-generation Argentine immigrant on her father's side, noted that she would be a diverse choice for the Senate Democrats as the first openly queer woman in the legislative body.
A spokesperson for the Senate Democratic conference declined to weigh in on "hypothetical" candidates and Gianaris' office did not return a request for comment.
It may still be too early for Democrats to vet potential replacements for Latimer not knowing the outcome of the election, said Sheinkopf. "She's just out front faster than anyone else," he said of Brezler. "First order of business, is to know whether Latimer will beat Astorino. For that you would have to hire a magician and get the divine inspiration. Is it possible? Yes. Is it highly likely? 50-50."
Julie Killian, a Council member from the city of Rye in Westchester who challenged Latimer for the Senate seat in 2016 and received 44.3 percent of the vote, is rumored to be running again on the Republican party line, but she has not announced an interest in the race and her Senate fundraising account has been cleared out, according to her most recent BOE filings.
Regardless of whether Latimer wins the county executive race, Brezler said she intends to continue to shake things up on the state and local level.
"I'm not going anywhere," she said.
Correction: An earlier version of this article misidentified Latimer's 2014 Republican challenger.