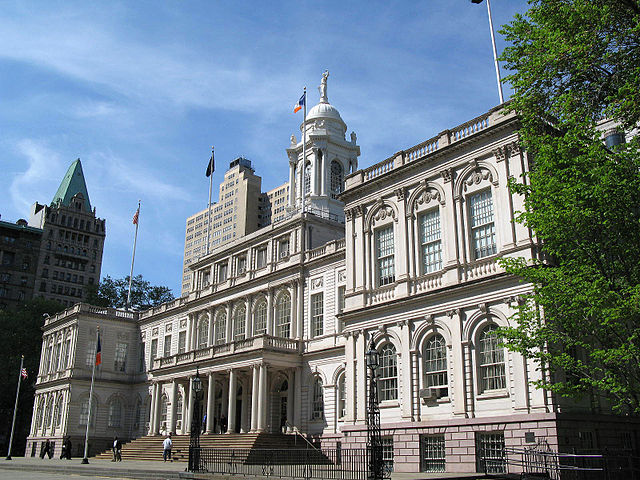 New York City Hall
---
What to watch for this week in New York politics:
It was a busy campaign weekend for Mayor de Blasio, who exchanged reelection endorsements at events with Queens Borough President Melinda Katz and Bronx Borough President Ruben Diaz Jr., as well as making several other campaign stops. De Blasio will mix governing and politics this week, including, on the government side, a bill-signing and press conference on Monday, and a town hall Wednesday night in Williamsburg with City Council Member Antonio Reynoso.
Overall, this week is a fairly quiet one in New York politics as we head toward the Labor Day weekend -- there are no City Council hearings, for example. But, there are several events to be aware of, and we're hitting two weeks until primary day in the 2017 city election cycle, so expect a lot of campaign activity in your neighborhood and/or around the city. See our day-by-day rundown of several events below.
***Do you have events or topics for us to include in an upcoming Week Ahead in New York Politics? email Gotham Gazette editor Ben Max: This email address is being protected from spambots. You need JavaScript enabled to view it.***
The run of the week in detail:
Monday
On Monday at noon at NYC Health + Hospitals/Kings County, "Mayor de Blasio will sign a package of bills aimed at decreasing smoking, Intro. 1131-B, 1471-A, 1532-A, 1544-B, 1547-A, 1585-A, 484-A." The mayor will also take questions from the press.
On Monday at 10:30 a.m. outside Staten Island Borough Hall: "Just One Ferry? Mayoral Candidate Sal Albanese Holds Press Conference on Need for a New Ferry for Staten Island's South Shore."
On Monday, "Attorney General Eric T. Schneiderman will attend the State Fair and speak at the Fallen Officers' Memorial in Syracuse."
Monday evening is the next filing deadline for candidates in the 2017 city elections, with financial reports due to the Campaign Finance Board.
"In an effort to promote a safe summer and safe J'Ouvert 2017, the first annual "Love Yourself" Brooklyn Peace Concert is being held on Monday." At 4 p.m. "at the Medgar Evers College Amphitheater, the event was organized by Assemblyman Walter Mosley in partnership with Council Member Laurie Cumbo, Senator Jesse Hamilton, and District Leader Geoffrey Davis."
Mayoral candidates Bob Gangi, Mike Tolkin and Richard Bashner will appear on NY1's Road to City Hall Monday evening.
Tuesday
Tuesday marks just two weeks until primary day for the 2017 city elections. See who is running here.
On Tuesday at 6:50 a.m., "Mayor de Blasio will greet the first NYC Ferry riders from Astoria arriving at the East 34th Street Ferry Landing, and deliver remarks." Then, between 7:20 a.m. and 8:05 a.m., "the Mayor will appear live on PIX11 Morning News, Good Day New York on Fox 5, NY1, WCBS 880 and 1010 WINS."
On Tuesday at 11 a.m., "Attorney General Eric T. Schneiderman will announce a crackdown on designer drugs in Watertown."
"Senators Jeff Klein, Diane Savino, Jose Peralta and Marisol Alcantara will release, "Preying on Pre-Ks," a report examining a dangerous loophole allowing hundreds of sex offenders to live near standalone pre-kindergartens throughout the city. The alarming report will be released on Tuesday, 12 p.m. at 250 Broadway, 20th Floor, New York, NY."
At 4 p.m. Tuesday, Governor Cuomo will deliver remarks at the Connect Four Ideas Festival, at Bay Street Theater in Sag Harbor. The event is closed to the press.
At 6 p.m. Tuesday, "Mayor Bill de Blasio and First Lady Chirlane McCray will host a West Indian and Caribbean American Heritage Reception at Gracie Mansion. Cicely Tyson will be honored with a proclamation."
At 7 p.m. Tuesday, Faith in New York will host a forum for candidates for Brooklyn District Attorney at Mt. Pisgah Baptist Church in Bed-Stuy. The attending candidates are acting DA Eric Gonzalez, City Council Member Vincent Gentile, Ama Dwimoh, Patricia Gatling, Anne Swern, and Marc Fliedner.
At 7 p.m. Tuesday, the Red Hook Star-Revue will host a debate for candidates for the 38th City Council district, covering Red Hook, Sunset Park, and Windsor Terrace in Brooklyn, at Pioneer Works. The attending candidates are incumbent Council Member Carlos Menchaca; Democratic party challengers Felix Ortiz, Sara Gonzalez, Delvis Valdes, and Chris Miao; and Green party challenger Carmen Hulbert.
Wednesday
On Wednesday at 11 a.m. at Center Circle at Maria Hernandez Park, "the community group Cleanup North Brooklyn (CNB) will be holding a press conference to draw greater attention to the immense harms brought upon the north Bushwick community by the operations of a local garbage processing facility. The facility creates strong odors, disruptive noise, constant truck traffic, and air pollution, which contributes to high rates of asthma in the community. Despite CNB's long-standing efforts to work with the facility to make improvements, little has changed, leading CNB and their partners at New York Lawyers for the Public Interest (NYLPI) and Schindler Cohen & Hochman LLP to take their actions a step further."
At 7 p.m. Wednesday, Mayor de Blasio will hold a town hall meeting at the Williamsburg Community Center. Hosting with the mayor will be local reps: City Council Member Antonio Reynoso, U.S. Rep. Nydia Velazquez, Brooklyn Borough President Eric Adams, and Assembly Member Maritza Davila.
Thursday
At 10 a.m. Thursday, the New York City Campaign Finance Board will hold a board meeting.
Friday and the weekend
Happy Labor Day weekend! We will have our next Week Ahead on Monday evening September 4. Remember, primary election day is Tuesday, September 12. See the full list of candidates running here or read about our 20 Races to Watch here.
***
Have events or topics for us to include in an upcoming Week Ahead in New York Politics? E-mail Gotham Gazette executive editor Ben Max any time: This email address is being protected from spambots. You need JavaScript enabled to view it. (please use "For Week Ahead" as email subject).
***
by Ben Brachfeld and Ben Max
@GothamGazette