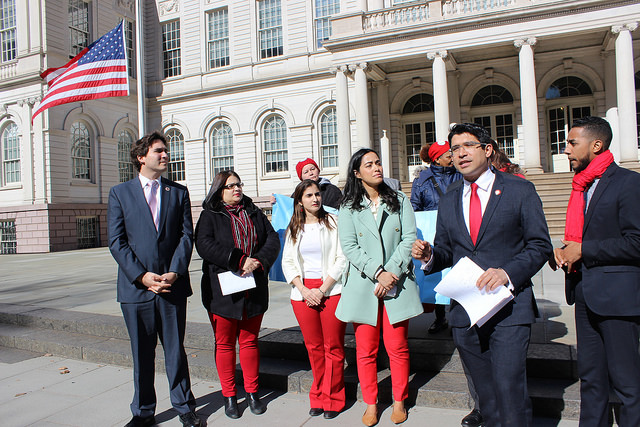 City Council members & candidates (photo: Samar Khurshid/Gotham Gazette)
---
The 2017 city elections are quickly approaching, with party primaries to be held September 12, followed by the general election on November 7. The offices up for election are the three citywide posts of mayor, comptroller, and public advocate; the five borough president positions; all 51 City Council seats; and two district attorneys (Manhattan and Brooklyn).
The citywide positions all have Democratic incumbents seeking a second term: Mayor Bill de Blasio, Public Advocate Letitia James, and Comptroller Scott Stringer. There is little, if any, primary competition for the three, though de Blasio does face several Democratic opponents, most notably former City Council Member Sal Albanese and police reform activist Bob Gangi. Republican and other candidates, all hoping to overcome the city's distinct Democratic voter enrollment advantage, await the incumbents in the general.
Republican J.C. Polanco is challenging James, as are Libertarian candidate Alex Merced, James Lane from the Green Party, Conservative Party nominee Michael O'Reilly, and David Eisenbach of the Liberal Party. Republican Michel Faulkner is Stringer's prime challenger in the comptroller race, while he also faces Julia Willebrand of the Green Party. Neither James nor Stringer faces a significant primary challenger.
In the mayoral race, the Democratic primary does not appear that it will be particularly competitive. On the Republican side, Assemblymember Nicole Malliotakis of Staten Island is the presumptive nominee. There will be other candidates on the November ballot, including independent Bo Dietl; Green Party nominee Akeem Browder; Albanese, who has the Reform Party line, and others.
Of the two district attorney races, the Brooklyn competition is fierce, with half a dozen Democrats competing, including Acting DA Eric Gonzalez, who took over for the late Ken Thompson. In Manhattan, Cy Vance will be reelected easily.
[Read: Brooklyn District Attorney Candidates Seek to Set Themselves Apart]
[Read: Brooklyn DA Candidates Address Reform at Forum]
All five borough presidents are incumbents seeking reelection, and none appears to be at risk of losing this fall. On Staten Island, the lone Republican borough president, James Oddo, does face a challenge from long-time Democratic activist Tom Shcherbenko, but Oddo is very popular in the borough and a heavy favorite.
Although all 51 City Council seats will be voted on, there are only about 17 races that will be competitive, mostly in the primary. There are currently 48 Democrats in the Council, meaning that most races are determined in the party primary. Some Democrats don't wind up facing general election opposition, though there are a handful of districts across the city that are either held by Republicans or could reasonably be swung to the GOP.
Of the current 51 Council members, seven are term limited out of office, ineligible to run for reelection. These are the "open" seats, as are those in three other races: District 21 Council Member Julissa Ferreras-Copeland announced she would not be running for reelection, opening up her seat for a competitive battle; in District 44, Council Member David Greenfield made a relatively late announcement that he will not seek reelection, but he is expected to be replaced by his chosen successor and close ally Kalman Yeger; and in District 28, Ruben Wills was recently removed from office when he was convicted on federal public corruption charges -- there is a crowded competition to replace him.
So, there are a total of 10 "open" seats, with varying levels of competition. They are the aforementioned Districts 21, 44, and 28, as well as Districts 2, 4, 8, 13, 18, 41, and 43.
As is typical, the remaining 41 incumbents have strong likelihoods of securing reelection, with many of them facing no primary challenger.
Even so, there are several races that are shaping up to be competitive with candidates challenging unpopular incumbents or seizing on community-based issues to win support from disaffected local voters. About a half-dozen City Council incumbents can be considered vulnerable, though most are still strong favorites to win another term. Although incumbents tend to have a leg up in fundraising, the Campaign Finance Board's public matching funds program ensures that first-time candidates and those with little access to wealthy donors can run serious campaigns by matching small dollar donations at a 6-to-1 ratio up to a certain amount.
The incumbents facing the most serious challenges are those in Districts 1, 6, 9, 14, 35, 38, 40, and 49.
While there are always district-specific issues, some are prominent in most races, including education, affordable housing, public safety, employment, transit, and the somewhat opaque "quality of life," which typically includes things like traffic, trash, parks, homelessness, and more.
Below is more on the City Council Races to Watch for the 2017 city elections. In some instances, Gotham Gazette has already written longer race-specific stories; in others we'll either soon be publishing stories that take a closer look at the races, or our partner on election coverage, City Limits, will have an in-depth story.
[For a full list of candidates in every race, see our updated Candidates for the 2017 City Elections.]
City Council District 1
District 1 covers the southern tip of Manhattan as well as Governors Island and incumbent Council Member Margaret Chin, a Democrat, is running for reelection against a few competitors. Elected to the City Council in 2010, Chin serves as the chair of the Committee on Aging, a member of the Committees on Education, Youth Services, Rules, and Transportation, a founding member of the Progressive Caucus, and as co-Vice-Chair of the Black, Latino, and Asian Caucus.
Chin is facing three primary challengers -- Christopher Marte, Aaron Foldenauer, and Dashia Imperiale. Marte, who worked as an investment analyst at IBM Retirement Fund, says corruption is one of the first issues that he would tackle if elected. Foldenauer, an attorney, is an environmental advocate and has proposed major capital investments in climate change resiliency, as well as compost initiatives and clean transportation alternatives.
Dashia Imperiale, a former tenant leader, has proposed housing solutions and has come out in favor of the Small Business Jobs Survival Act, which aims to help small businesses afford their rent. Additionally, Imperiale wants to prevent hyper-development in District 1, and believes that Council Member Chin has "sold out" communities within the district by favoring wealthy developers over everyday constituents.
One of the reasons Chin is facing opposition is because of her support for the Elizabeth Street Garden project, a proposed development that will replace the Elizabeth Street Garden with a six-story building slated as affordable housing for seniors, while also providing some green space. Chin's competitors have spoken out against the project and in support of preserving the garden.
Another controversial issue in District 1 deals with Rivington House. In early 2015, the City lifted deed restrictions on the former public school, then AIDS hospice center, and the building was subsequently sold to a luxury condo developer, at the outrage of the general public. Some constituents blame Chin for the issue while others acknowledge Chin's efforts to pressure Mayor de Blasio to return Rivington House back to the district for community use.
District 2
Democratic Council Member Rosie Mendez is term-limited after having served three terms. The district covers the East Village, Alphabet City, Murray Hill, Kip's Bay, Rose Hill, Gramercy Park, and the Lower East Side.
The race for District 2 is crowded with Carlina Rivera, Mary Silver, Jasmin Sanchez, Ronnie Cho, Erin Hussein, and Jorge Vasquez all running for the Democratic nomination, and Jimmy McMillan running as a Republican and as party leader of the Rent is Too Damn High party.
Rivera, Silver, and Cho have all raised significant funds, and appear to be frontrunners in the race. Rivera recently served as the legislative director for current Council Member Mendez, and was endorsed by Mendez, as well as Comptroller Scott Stringer, The Working Families Party, and other electeds and groups. Vasquez has raised enough money to compete.
Silver has a background in public service, as an elected member and officer of the Community Education Council for School District 2 for six years, and she currently serves as a member of Community Board 6. Cho, who worked at the White House as President Obama's Millennial Outreach Director, emphasizes advocacy for minority groups as one of his major focuses.
Other issues that are central to the race for the district include school overcrowding, small businesses, and, for Jimmy McMillan especially, housing affordability.
District 4
In District 4, which stretches from the Upper East Side to Stuyvesant Town and Waterside Plaza, three-term Democratic Council Member Dan Garodnick is term-limited. There are 10 candidates in the race. Running on the Democratic side are Jeffrey Mailman, Keith Powers, Bessie Schachter, Martha Speranza, Rachel Honig, Vanessa Aronson, Maria Castro, Barry Shapiro and Alec Hartman. There is also one Republicans candidate, Rebecca Harary.
Speranza has outraised her competitors, with over $181,000 in funds. One major focus of her campaign thus far has been transportation within the district. Speranza advocates for Move NY's fair tolling plan, and wants to hold the MTA accountable for completion of the Second Avenue Subway. Powers, a Democratic district leader, has also shown strong fundraising and believes that the city must decrease taxes on small businesses, and also better protect tenants. Honig is running in the Democratic primary and also has the Liberal Party ballot line for November. According to her campaign, she is focused on lead in public school water, the need for storm preparedness along the East River, and helping small businesses. Schachter and and Mailman have both been active in Democratic politics for several years.
[Read more: Crowded Field Competes to Represent Manhattan City Council District]
The issue of overcrowding in schools is near the top of the list for many of the candidates, as well as an effort to increase enrichment programs within the public school system. Mailman has also made air conditioning in all classrooms a priority.
With the Democratic primary looking very competitive, one Republican candidate awaits the winner. Harary has criticized Mayor de Blasio's placement of the homeless people into vacant hotel rooms, proposing allocating those funds instead to the development of more affordable housing and to the repair of existing NYCHA housing.
Another key issue in District 4 is the Midtown East Rezoning, a multibillion dollar project that aims to rezone 78 blocks in the district. The rezoning of Midtown East was unanimously approved in early June by the City Planning Commission. If the plan moves through the City Council with a few tweaks, it will be implemented during the tenure of Garodnick's successor. If it somehow fails (again), the next Council member will have to revisit the long-awaited endeavor with a somewhat clean slate.
District 6
City Council District 6 covers Central Park, Lincoln Square, the Upper West Side, and Clinton, and is currently led by Council Member Helen Rosenthal, who is running for reelection. Rosenthal was elected to the Council in 2013, chairs the Contracts Committee, and serves on the Finance; Housing and Buildings; Education; Cultural Affairs, Libraries, and Intergroup Relations; and Oversight and Investigations Committees. She has served as co-chair of the Council's Women's Caucus.
Rosenthal is facing two primary challengers, most prominently Mel Wymore, who is among the first openly transgender candidates to run for public office. Wymore came in a close second to Rosenthal in a very crowded 2013 Democratic primary.
Like the incumbent, Wymore has long record of public service, including on the local community board. He has also served as the state and federal director of TransPAC. While Rosenthal is proud of her track record on community and legislative issues, Wymore believes she has not been a strong enough voice for the district, particularly with regard to over-development. Wymore's campaign says the incumbent has not acted to change "New York City's overly-permissive, pro-development legal and economic framework," instead agreeing to foster more development by voting for major changes to the city's land use rules ushered through by Mayor de Blasio in an effort to build more affordable housing.
Rosenthal's campaign points out she has taken "the lead on pushing back on every proposed high-rise development during her tenure," successfully halting or negotiating "luxury high-rise development projects."
While Rosenthal has worked to create new school space in the district and carefully (too slowly, to some) move along a school district rezoning plan to address racial segregation in nearby schools, she has also used her background to hold the de Blasio administration accountable related to the budget and contracting practices through her committee work.
Cary Goodman, a former professor and public school teacher, is also running and is an outspoken critic of Rosenthal, shaping his campaign primarily around opposition to the $325 million expansion of the American Museum of Natural History. Goodman opposes this project because it would cut into Theodore Roosevelt Park, which he believes is an integral part of the district. Goodman also has outlined some educational plans, primarily centering around the desegregation of public schools.
District 8
City Council Speaker Melissa-Mark Viverito currently represents District 8 and is term-limited. Vying for the seat, which includes East Harlem and parts of the Bronx including Mott Haven, Highbridge, Concourse, Longwood and Port Morris, are Diana Ayala, Tamika Mapp, and State Assemblymember Robert Rodriguez. All of the candidates are Democrats.
Mapp supports a minimum wage of at least $20 per hour for all residents of her district, and wants to reform the Family Court system. Gibbs has spent more than two decades working in the East Harlem community, he says.
One of the more prominent candidates is Diana Ayala, deputy chief of staff for Mark-Viverito and her chosen successor. Ayala has been endorsed by the speaker, the Working Families Party, and Bronx Borough President Ruben Diaz, Jr. Ayala previously worked as director of a senior center in East Harlem, then as constituent services director for Mark-Viverito before rising to her current position.
Assemblymember Rodriguez is one of a number of state elected officials running for the City Council this year. Rodriguez has name recognition and has raised the most funds in the race, but Ayala does have solid money in the bank. Rodriguez has been endorsed by Bronx Democratic Party Chair Marcos Crespo, Manhattan Democratic Party Leader Keith Wright, former U.S. Rep. Charles Rangel, and City Council Member Bill Perkins.
District 9
Council Member Bill Perkins was elected in a February special election to replace Inez Dickens, who left the Council to join the state Assembly when Keith Wright left the Assembly after an unsuccessful congressional bid. Perkins must quickly run for reelection and he is facing several competitors, most notably Marvin Holland, who came in second to Perkins in the special election.
District 13
Council Member James Vacca is term-limited, leaving the seat for District 13, which covers Morris Park, Throggs Neck, and City Island Communities in the Bronx, open to several candidates. Running as Democrats are John Doyle, Alex Gomez, Marjorie Velazquez, Muhammad Abuhaikal and State Assemblymember Mark Gjonaj. There is also one Republican running, John Cerini.
Gjonaj has said that his mission in the City Council would be the same as it has been in the state capital, to bring resources back to his district. Behind Gjonaj, Velazquez is second in terms of both prominence and fundraising, and also has received the endorsement of current Council Member Vacca, as well as the Working Families Party and others. Gjonaj has his share of endorsements from officials and unions.
Doyle is running an upstart campaign, focused on ethics, environmentalism, and more. He's said he would work to create accessible waterfront areas in each neighborhood, and additionally supports efforts to reallocate city funds away from fossil fuel companies and instead towards renewable clean energy sources.
Gomez is focused on education, including afterschool programs for all students in grades K-12, with a special focus on music and arts in addition to vocational training. Cerini looks to increase the number of police officers, firefighters, and medical technicians in the district, and also is in favor of lower real-estate and income taxes. He'll await the winner of the Democratic primary.
District 14
District 14 includes Morris Heights, University Heights, Fordham, Kingsbridge, and West Bronx. The current City Council member is Fernando Cabrera, who was elected to the Council in 2010 and is running for reelection. Cabrera is a conservative Democrat, a rarity in the progressive-dominated City Council. He opposes marriage equality, and has previously made controversial comments regarding sexual orientation. Running against Cabrera are Democrats Randy Abreu and Felix Perdomo.
Sanchez, previously the recruitment director for the Working Families Party, pledges to be a strong advocate for the LGBTQ community, fighting for increased access to, and funding for, mental health services, as well as efforts to put an end to hate crimes in the district. As a gay man, Sanchez has criticized Cabrera's social conservatism.
Abreu, previously appointed by former President Obama to serve in the U.S. Department of Energy, has proposed green energy initiatives as well as efforts to decrease harmful greenhouse gas emissions.
Both Sanchez and Abreu support the closure of the Rikers Island prison complex, an issue that has come up in districts across New York City and particularly in the Bronx.
As of the July campaign finance filings, Cabrera is in the lead in terms of fundraising with around $73,000 in his war chest. Abreu has raised $48,000, Sanchez has raised $48,000, and Felix Perdomo has $12,000.
District 18
District 18 has an "open" seat as current Council Member Annabel Palma is term-limited. Included in the Bronx district are Castle Hill, Clason Point, Hunts Point, Parkchester, Soundview, West Farms and Westchester Square. Amanda Farias, Elvin Garcia, Michael Beltzer, John Perez, William Moore, and State Senator Ruben Diaz Sr. will face off in the crowded Democratic primary, and Carl Lundgren is running as the candidate for the Green Party.
Diaz Sr. represents District 32, which covers the Council district, and is considered a favorite to win the seat, though Farias does have considerable support from organizations and elected officials. Diaz Sr. previously served in the City Council from 2001-2003, representing District 18. A conservative Democrat, Diaz Sr. has the advantages that come with being a current elected official, including name recognition, institutional support, and the ability to raise money more easily.
Transportation is shaping up to be one of the key issues in this race. Farias has listed affordable and efficient transportation options as a priority of her campaign, while Garcia, who works in the de Blasio administration, has advocated for community involvement in the implementation of the first-in-the-Bronx ferry. Public safety and policing reform are also central issues, with Farias, Garcia, Beltzer, and Moore all calling for improved relations between the NYPD and residents.
Although the Campaign Finance Board shows that Lundgren has no funds in his campaign account, he is running his campaign in accordance with the 10 Key Values of the Green Party, including grassroots Democracy, ecological wisdom, non-violence, and personal and global responsibility, to name a few.
District 20
Incumbent Democratic City Council Member Peter Koo is facing a tough primary challenge from Alison Tan, a member of Community Board 7 and wife of Democratic State Assemblymember Ron Kim. Tan is a first-time candidate and was previously the managing director at a real estate capital advisory firm. She has mainly focused her campaign on quality-of-life issues in the district, which covers Downtown Flushing, Queensboro Hill and Murray Hill. Tan also favors smaller class sizes and increased investments in libraries and senior services.
District 21
In an unexpected move, Julissa Ferraras-Copeland, the current Democratic City Council member for District 21 and the Council's finance committee chair, has decided not to run for re-election in order to spend more time with her family and relocate to another state. Her decision to drop out has left hopeful candidates scrambling for her open seat. The district covers East Elmhurst, Elmhurst, Jackson Heights, and Corona in Queens, including Flushing Meadows Corona Park, Lefrak City and LaGuardia Airport.
Five Democrats are competing for Ferraras-Copeland's open seat: Hiram Monserrate, State Assemblymember Francisco Moya, Cristina Furlong, Yonel Letellier Sosa, and Erycka Montoya. Monserrate was a state senator from 2009-2010, but was removed from his position in 2010 after being convicted for misdemeanor assault against his girlfriend and fraud. He spent time in federal prison. The main issue driving his platform is opposition to the redevelopment plan for Willets Point in Queens.
Moya is seen as a strong favorite. Already in elected office, he has been vocal about supporting immigrant rights, investing in schools, and making affordable housing more accessible, which are predominant issues in District 21. He's been the main backer of the Dream Act on the state level, which would provide state college tuition assistance to undocumented immigrants and has not moved through the Republican-controlled Senate.
Furlong is an activist from Queens and a founding member of Make Queens Safer, an advocacy group that aims to make the neighborhood's streets secure. She has also been outspoken about protecting immigrants and increasing housing, in addition to advocating for universal 3-K and pre-K.
District 28
City Council District 28, covering Richmond Hill, Rochdale, South Ozone, and Jamaica sections of Queens, is without a Council member after Democrat Ruben Wills was recently convicted on public corruption charges. Wills is appealing the decision.
Hettie Powell, Christina Winslow, Allan Jennings and Richard David, all Democrats, were all running for the seat even before Wills' conviction. Since his conviction, local leader Adrienne Adams has joined the race with the backing of the Queens Democratic Party. Adams has been chair of a local community board since 2012, and involved in other civic matters as well.
Powell and David have greatly out-fundraised their opponents, campaign finance filings show. David is currently the chief of staff of operations at the city's Administration for Children's Services and gained other governmental experience working for the city's Economic Development Corporation.
Powell currently works for Queens Law Associates, a nonprofit law firm that represents low-income individuals on criminal, immigration, and family law matters. She advocates for increased afterschool programs for public schools and stronger ESL programs within the school system.
District 35
Incumbent City Council Member Laurie Cumbo is running for re-election after being elected to the Council in 2013. Her district covers Fort Greene, Clinton Hill, Crown Heights, Prospect Heights, and Bedford Stuyvesant. Although Cumbo has the advantages that come with being an incumbent, she is facing a competitive race (and doing so while pregnant). Ede Fox, a former top aide to Council Speaker Melissa Mark-Viverito, is challenging Cumbo in the Democratic primary. Fox came in third to Cumbo in the more crowded 2013 primary.
Jabari Brisport and Scott Hutchins are competing in a rare Green Party primary, and Christine Parker is running as a Republican.
Cumbo is running on her record of service in the district, including her support for local nonprofits.
Fox's policy platform is focused on protecting small, locally owned businesses, and limiting over-development and displacement. She also wants ensure that new development projects hire locally.
Brisport, who has performed for the last seven years with the political comedy theater group Political Subversities, has proposed that, if elected, he will lower his salary from $148,000 to the average income of Brooklyn, $47,000. He is dedicated to the Green Party Pillars.
One of the key issues in the district that has drawn the ire of many residents it the Bedford-Union Armory project, a city proposal to transform the vacant armory into a large development holding rental units and condos, as well as a recreation center with a swimming pool, basketball courts, and an indoor soccer field. The project has faced significant opposition from residents who believe that new development should include 100% affordable units, meaning those with rental caps based on income. Cumbo, Brisport, and Fox are all opposed to the project, though Cumbo has been criticized for not being vocal enough early enough in opposition.
Cumbo currently stands in the lead in fundraising, followed by Fox, then Brisport much further behind. Parker has very limited funds in her campaign account.
[Read more: Rare Green Party Primary in Brooklyn City Council Race]
District 38
Carlos Menchaca is the Democratic incumbent for District 38, which covers Red Hook, Sunset Park, and Windsor Terrace. He is running for re-election but is being challenged by four other candidates hoping to take his seat. Sara Gonzalez -- the former officeholder who Menchaca defeated in the 2013 primary, Javier Nieves, Chris Miao, Delvis Valdes, and State Assemblymember Felix Ortiz are running as Democrats, while Carmen Hulbert is running for the Green Party. Ortiz only announced his candidacy in mid-July, but is seen as a significant threat to the incumbent given he is a sitting elected official.
Gonzalez is seeking to regain her seat despite previous criticism that she was frequently absent while on the job, which led to Menchaca displacing her as the Council member, especially regarding Gonzalez's response to Superstorm Sandy, which was seen as severely lacking.
Nieves is the former State Assemblymember for the 51st Assembly District and Valdes is a children's advocate who has never held public office before. Carmen Hulbert is a former delegate for the Bernie Sanders campaign and the co-founder of LatinosforBernieNYC. She is also a retired journalist for the Associated Press running on a progressive agenda.
Some of the major issues in District 38 include affordable housing, immigrants' rights, support for small businesses, education, and transportation options.
District 40
Democratic incumbent Mathieu Eugene is running for re-election and has a handful of opponents that could threaten him. However, the crowded field could also split the anti-Eugene vote and allow the incumbent a relatively easy reelection. District 40 covers parts of Crown Heights, East Flatbush, Flatbush, Kensington, Midwood, Prospect Park, and Prospect Lefferts Gardens. The Democrats running against Eugene are Brian Cunningham, Pia Raymond, Rose Saint-Albord, and Jennifer Berkley.
One of the issues facing District 40 is affordable housing, and each candidate is emphasizing increasing and creating greater access to housing. Providing support for small businesses and public schools are also issues at the forefront of the race.
Cunningham has significant city government experience as chief of staff for Council Member Laurie Cumbo and as an aide to neighboring Council Member Robert Cornegy. Pia Raymond is a social worker, the chairperson of the Community Board 9 Economic Development Committee, and the founder of Creating Legacies, a non-profit that aims to promote multiculturalism, and Rose Saint-Albord is a Haitian immigrant advocating for immigration assistance and legal services.
District 41
District 41 includes Brownsville, Ocean Hill, Bedford-Stuyvesant, East Flatbush, and Crown Heights, and is an "open" City Council seat, with current Council Member Darlene Mealy term-limited out of office. Seven Democrats have entered the race including Henry Butler, Moreen King, Deidre Olivera, Cory Provost, Alicka Ampry-Samuel, Jamell Henderson and Leopold Cox.
In this heavily contested race, Ampry-Samuel is in the fundraising lead, and her primary goal is to hold landlords and developers accountable in order to protect tenants. She is seen as the frontrunner and is gaining endorsements from elected officials, community groups, and labor unions. Butler is the president of the Vanguard Independent Democratic Club and a former conductor for the New York Transit Authority. He is an advocate for labor unions and hopes to work with businesses, organized labor, and nonprofits to bring job training to the district.
Education is central to the District 41 race. Henderson, who is a three-time CUNY graduate, has criticized Governor Cuomo's Excelsior Scholarship Program on account of its strict requirements. Provost, on the other hand, supports Excelsior. Most of the candidates for District 41 have named decreasing class size as a priority.
District 43
There are nine candidates running for term-limited Vincent Gentile's seat in District 43, which covers Bath Beach, Bay Ridge, Bensonhurst, and Dyker Heights. District 43 is also one of the few areas in the city where Republicans have fared well in past elections, at the local, state and national level. Marty Golden of the New York State Senate and Congressional Rep. Dan Donovan are indicative of the area sending GOP representatives into government, though there are more registered Democrats than Republicans in the district. Gentile, the current Council member, is a Democrat. He is running in the Brooklyn District Attorney primary.
There are four Republicans in the CD43 race -- Bob Capano, Liam McCabe, Jon Quaglione, and Lucretia Regina-Potter -- in addition to five Democrats -- Justin Brannan, Khader El-Yateem, Kevin Peter Carroll, Nancy Tong, and Vincent Chirico. The driving issues in District 43 include transportation -- specifically, the R Line, which is being renovated at the Bay Ridge Avenue station -- as well as illegal home conversions, greater access to pre-kindergarten services, and building better relationships between the NYPD and the community.
Brannan most recently served as chief of staff for Gentile, and is the co-founder of Bay Ridge Cares, a non-profit organization created after Hurricane Sandy, and the Bay Ridge Democratic Club. Brannan worked for Gentile in two stints covering several years and in multiple positions, and also spent time at the Department of Education in between.
El-Yateem is a pastor and would be the first Palestinian-American elected to office in New York City. Tong is reportedly Brooklyn's first Asian-American Democratic District Leader, and she currently serves as the community relations director for Assemblymember Bill Colton. Peter-Carroll currently works as a staffer for City Council Member Stephen Levin. Chirico is an attorney and member of Community Board 11.
Capano, McCabe, and Quaglione have all stressed the need for more support for the NYPD and tighter quality of life policing. Regina-Potter, a party District leader and the only female Republican in the running, just recently jumped into the race. The winners of the Republican and Democratic primaries will face off in the general election later this fall in one of the only districts in the city where the GOP has a realistic opportunity to claim a Council seat.
District 49
Democratic City Council Member Deborah Rose is running for re-election for Staten Island's District 49, a North Shore district that includes a variety of neighborhoods. Rose faces competition from fellow Democrat Kamillah Payne-Hanks. Republican Michael Penrose is also running.
One major issue at hand in this race is the "North Shore Renaissance," economic projects secured by Rose aimed at creating a shopping mall, a hotel, three new Ferry boats, and the world's tallest observation wheel. Rose has been negotiating both aspects of those economic development projects and a rezoning of some of the area with the de Blasio administration, though much has slowed, including the rezoning process, as Rose has faced pushback.
That pushback has included Hanks' candidacy. She decided to run, in part, due to her opposition to the redevelopment projects of the North Shore as negotiated under Rose.
***
by Sinéad McKenna and Amanda Tukaj for Gotham Gazette
Note: this article has been updated.