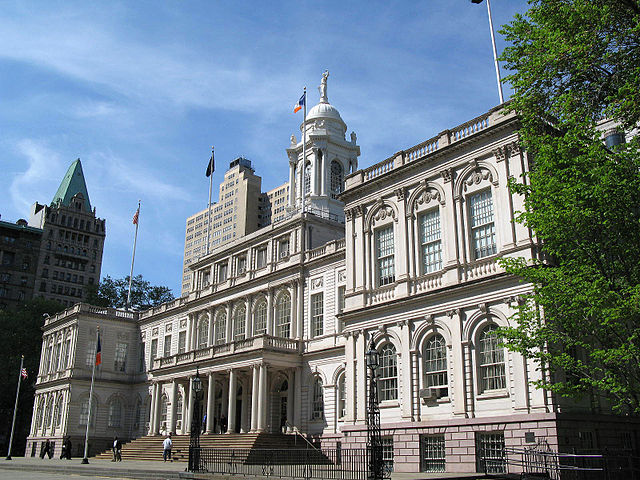 New York City Hall
---
What to watch for this week in New York politics:
Tuesday is primary day! Are you ready to vote? Because New York City has closed primaries, be aware that there are restrictions on who can vote in what races. All registered Democrats can vote in the Democratic primary for mayor and for public advocate. Brooklyn Democrats can vote in the Brooklyn District Attorney primary, and if you're a registered Democrat with a City Council primary in your district, you can vote in that, too. There is one Republican City Council primary: in Brooklyn's 43rd Council District. This is not the full list, though. There are other party primaries.
And, one more interesting thing: voters either enrolled in the Reform Party or registered to vote but not affiliated with any party can vote in the Reform Party primary for mayor. While Sal Albanese receivd the Reform Party backing, members of the party filed a "opportunity to ballot" petition and this has opened up the primary. Both Nicole Malliotakis, the presumptive Republican nominee for mayor, and independent mayoral candidate Bo Dietl are making a last-minute push for the Reform Party line, as we reported on Friday afternoon.
Most of the 2017 city election cycle will be determined by Tuesday's primaries because New York is such a heavily Democratic city. There will be few competitive elections for November's general. See what races you can vote in and who is running through our interactive election guide, in partnership with WNYC radio and City Limits. You can also find a great deal of city election coverage from us and our partners here.
Before primary day, New Yorkers and many others will stop on Monday to commemorate September 11. Sixteen years after the terrorist attacks of 9/11/01, there will be annual ceremonies of remembrance to honor those who died that day and after, and the toll the attacks took, as well as the resiliency of New Yorkers and many others.
And, after primary day, there are a number of events to be aware of this week -- see our day-by-day rundown below.
***Do you have events or topics for us to include in an upcoming Week Ahead in New York Politics? e-mail Gotham Gazette editor Ben Max: This email address is being protected from spambots. You need JavaScript enabled to view it.***
The run of the week in detail:
Monday
Monday marks the 16th anniversary of the September 11, 2001 terrorist attacks on New York City and Washington, D.C.. Memorial services will be held at Ground Zero and elsewhere. The Ground Zero ceremony is first thing Monday morning. Mayor de Blasio will be among those in attendance.
On Monday morning at 11am, our Ben Max will be on WNYC's The Brian Lehrer Show to preview primary day elections -- 93.9FM or at wnyc.org
At 6:30 p.m. Monday, Staten Island Borough President Jimmy Oddo will hold the annual memorial ceremony at the Postcards Memorial in honor of Staten Islanders who died on September 11, 2001. Mayor de Blasio, Comptroller Scott Stringer, and Public Advocate Letitia James will be among those participating.
On Monday and Tuesday, the New York State Board of Regents will hold its monthly meeting.
Tuesday
Tuesday is primary day in the city. New Yorkers who are eligible given their voter registration have the opportunity to vote in primary elections for Mayor, Public Advocate, Comptroller, City Council, Borough President, Manhattan and Brooklyn District Attorneys, District Leaders, Civil Court Judges, and Judicial Delegates. Use our voters guide to prepare.
Candidates for office and their supporters will be at subway stops and elsewhere throughout the day trying to win every last vote. Results will begin to come in Tuesday evening. See Gotham Gazette's Ben Max on NY1's evening coverage, from 9-11pm.
At 8:30 a.m. Tuesday, the Association for a Better New York will host a "Power Breakfast" with Amtrak Chairman Tony Coscia at the Hilton Hotel in Midtown.
At 8:30 a.m. Tuesday, the New York City Board of Correction will hold a public board meeting at 125 Worth Street in Manhattan.
At 11 a.m. Tuesday, Hillary Clinton will kick off her book tour at the Union Square Barnes and Noble.
Mayor de Blasio's primary night event will take place at Roulette Intermedium in Boerum Hill, Brooklyn starting at 9 p.m.
Democratic mayoral candidate Sal Albanese will be holding a primary night event in Brooklyn at Prospect Bar and Grill. Before that event, Albanese will vote on Staten Island, near where he lives, and visit all five boroughs campaigning.
Many other candidates will be holding their primary night events throughout the city.
Wednesday
At the City Council on Wednesday:
--The Committee on Immigration will meet at 10 a.m. for an oversight hearing regarding "best practices for NYC agencies, courts, and law enforcement authorized to certify immigrant victims for U and T visas."
--The Committees on Small Business, Contracts, and Economic Development will meet jointly at 1 p.m. to discuss proposed laws relating to "the reporting of information on the workforce of contractors performing construction work for the city," "racial diversity in the workforce and leadership of city contractors," and "the participation of minority-and women-owned business enterprises in construction projects related to properties receiving tax benefits in accordance with the industrial and commercial abatement program."
On Wednesday on Roosevelt Island, "join representatives from Cornell Tech, Cornell University, the Technion - Israel Institute of Technology, elected officials, and partners to celebrate the official opening of the Cornell Tech campus on Roosevelt Island." The day will include a 10:30 a.m. "campus dedication ceremony and press conference" and a 12:20 p.m. "Cornell Tech campus tour" for press and a 2 p.m. discussion, "Sooner Than You Think at Cornell Tech, hosted by Bloomberg LIVE. The conference will bring together leaders in technology and business to share vital insights into the trends and transformations that are poised to reshape the future. Featuring conversations with IBM Chairman, President and CEO Ginni Rometty, Former U.S. Secretary of Homeland Security The Honorable Jeh Johnson, Chief Technology Officer for the City of New York Miguel Gamiño, Google Chief Information Officer Ben Fried, Two-Sigma Investments, LP Co-Chairman David Siegel, Founder and CEO of Black Girls Code Kimberly Bryant and many more."
At 6:30 p.m. Wednesday, #GetOrganizedBK and City Council Member Brad Lander will host "After Charlottesville, What Must We Do?" at 274 Garfield Place in Park Slope.
At 6:30 p.m. Wednesday, the Civilian Complaint Review Board will hold a public board meeting at I.S. 49 on Staten Island.
Thursday
At the City Council on Thursday:
--The Committee on Higher Education will meet at 10 a.m. for an oversight hearing regarding "CUNY's efforts to reduce costs associated with rising textbook prices."
--The Committee on Housing and Buildings will meet at 10 a.m. for an oversight hearing regarding "HPD term sheets."
--The Committee on Education will meet at 1 p.m. to discuss a proposed law relating to "requiring the department of education to report on gay straight, or gender sexuality, alliance organizations" as well as a resolution "calling upon the New York City Department of Education to create and maintain a functional Gender-Sexuality Alliance (GSA) in all middle and high schools in order to support and protect lesbian, gay, bisexual, transgender, questioning (LGBTQ) and other vulnerable students."
--The Committee on Consumer Affairs will meet at 1 p.m. to discuss "repealing the Cabaret Law."
At 9 a.m. Thursday, the CUNY Urban Food Policy Institute, as part of its Urban Food Policy Forum series, will host "Litigation as a Strategy for Defending and Advancing Food Policy" at the CUNY Graduate School of Public Health in Harlem, discussing the advantages and disadvantages of using litigation in this policy area and its role in the Trump era. CUNY UFPI Director Nicholas Freudenberg will moderate a panel consisting of Peter Lehner, of Earth Justice; Thomas Merrill, of the New York City Department of Health and Mental Hygiene; and Margaret Brown, of the Natural Resources Defense Council.
At 10 a.m. Thursday, the New York City Campaign Finance Board will hold a board meeting.
At 6 p.m. Thursday, State Senator Liz Krueger and the Lexington Democratic Club will host a forum on the potential State Constitutional Convention and upcoming November vote on the subject, at All Souls Church on the Upper East Side. The forum will consist of a panel of supporters and opponents of the convention; it will consist of convention supporters Evan Davis of Cleary Gottlieb and Bill Samuels of EffectiveNY, and convention opponents Adriene Holder of the Legal Aid Society and Jordan Marks of New Yorkers Against Corruption.
At 6:30 p.m. Thursday, Riders Alliance will host "How Do You Solve a Problem like the Subway" at Solas Bar in the East Village. Executive Director John Raskin will moderate a panel featuring MTA board member Veronica Vanterpool; Jamison Dague, Director of Infrastructure Studies at the Citizens Budget Commission; and Dmitry Diment, a member-leader in Riders Alliance.
At 7 p.m. Thursday, Mayor de Blasio will hold a town hall meeting at P.S. 811 in Sheepshead Bay, Brooklyn, hosted by local City Council Member Chaim Deutsch. Also in attendance will be U.S. Representative Yvette Clarke, Brooklyn Borough President Eric Adams, State Senator Roxanne Persaud, and Assemblymember Helene Weinstein.
Friday and the weekend
At noon Friday, the New York State Board of Elections will hold a Commissioners Meeting in Albany.
***
Have events or topics for us to include in an upcoming Week Ahead in New York Politics? E-mail Gotham Gazette executive editor Ben Max any time: This email address is being protected from spambots. You need JavaScript enabled to view it. (please use "For Week Ahead" as email subject).
***
by Ben Brachfeld and Ben Max
@GothamGazette