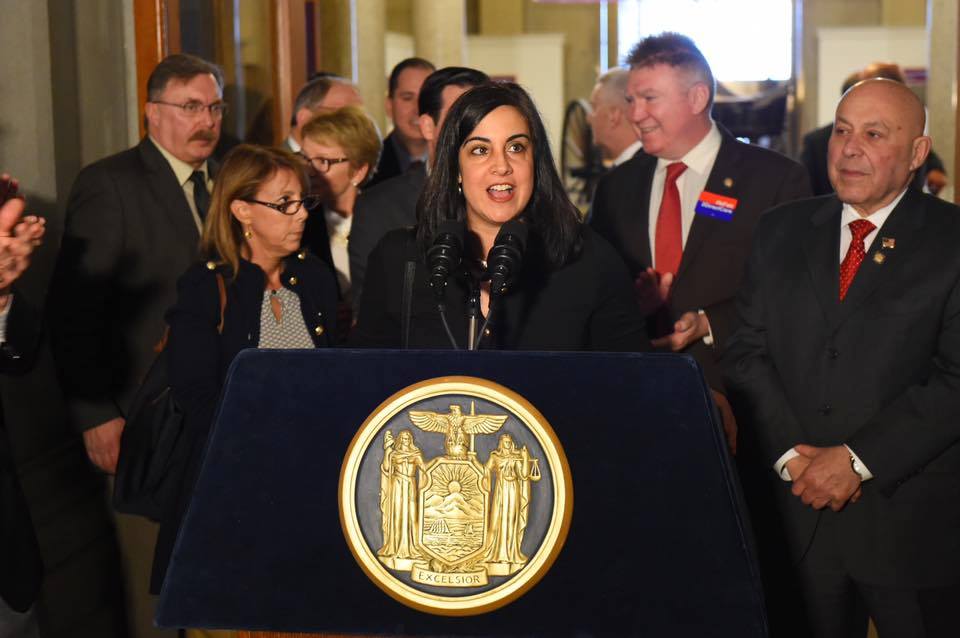 Assemblymember Nicole Malliotakis (photo: Malliotakis for Mayor via Facebook)
---
As state Assemblymember Nicole Malliotakis attempts to unseat Mayor Bill de Blasio in November, the Republican from Staten Island faces the ongoing challenge of striking the right tone to appeal to a citywide electorate dominated by Democrats without alienating her more conservative base.
That base, exemplified by the district Malliotakis has represented in Albany for seven years, has led her to accumulate a legislative record that closely tracks her Republican minority conference in the Assembly. Now, seeking to win over moderate Democrats, voters unaffiliated with any party, and as many of the city's 500,000-plus registered Republicans as possible, Malliotakis has positioned herself as an open-minded, "common sense" candidate who works across the aisle and isn't easily placed on the political spectrum, despite what her legislative record might indicate.
"I'm not looking to fight an ideological war in this election, or as mayor," she told Gotham Gazette. "I'm looking to do the job that Bill de Blasio has failed to do. To make sure that our traffic is running, that our trains are running, that our kids are being well-educated, and that the homelessness crisis is being addressed."
Stepping outside her district into the mayoral campaign spotlight, Malliotakis has faced few questions about her voting record on major pieces of legislation that have come through her house of the Legislature. Notably, she has said she regrets her 2011 vote against marriage equality; comparing herself to former President Barack Obama, she told news outlets that her views on the issue had since "evolved."
It is not the only vote Malliotakis must now account for to a broader electorate, as she has weighed in on dozens of high-profile bills of importance to New York City residents, like those regarding women's reproductive rights, criminal justice reform, equal pay, college affordability, rent regulations, and the minimum wage.
Twice, in 2013 and 2014, she voted "nay" or sat out the vote for the 10-part Women's Equality Act, pushed by Democratic Governor Andrew Cuomo, which would guarantee equal pay for women and strengthen protections for victims of human trafficking, but also codify into state law the Roe v. Wade Supreme Court decision. When the bills were divided up in 2015, all but the abortion plank were passed into law.
"I'm a woman; of course I support women's rights," Malliotakis said. "With the Women's Equality Act, we fought to bring the bills up individually. It's not simply codifying Roe vs. Wade. The language allowed for abortions based on the health of the mother, not the life of the mother. It's also expanding it into the third trimester, and that's why I'm opposed."
For the most part, Malliotakis' voting and legislative record has not been central to the mayoral race, a fact that may soon change given the upcoming first general election debate, scheduled for October 10.
"I think she's in a little bit of a pickle," said Richard Flanagan, political science professor at College of Staten Island, about Malliotakis' mayoral candidacy. "She just has a legislative record which is a good fit for Staten Island, but not really citywide."
Malliotakis' campaign has argued that she can manage the city better than de Blasio has -- she regularly criticizes the mayor for failing schools, the homelessness crisis, crumbling subways, and other quality of life issues. But unlike current MTA Chair Joe Lhota, who challenged de Blasio in 2013 and drew 24 percent of the vote, Malliotakis does not have extensive management experience. Rather, her record is largely defined by her years in the state Assembly minority conference, during which she voted mostly along partisan lines, often against the legislation that moved through the heavily Democratic house that is dominated by New York City representatives.
"I always do what's in the best interest of my constituents, I reflect the interests of my district, and I stay true to my beliefs," Malliotakis told Gotham Gazette. "When I vote for or against a bill, I read through these pieces of legislation and in many of them I find language that changes the entire meaning of the bill, and you have to keep that in mind."
Malliotakis argues that her critics take her votes out of context, such as her vote against a 2011 bill to bar discrimination based on race, gender, or national origin, which she said she opposed because it is redundant to existing state and federal law. Other times, she said she has rejected legislation that is part of an omnibus bill, which combines legislation she supports with policies or financial implications she takes issue with.
Malliotakis has consistently voted against several progressive measures that have repeatedly passed the overwhelmingly Democratic Assembly, but were blocked in the Republican-controlled Senate, such as increasing the minimum wage and paid family leave. Both were eventually passed in 2016 through a budget compromise, though Malliotakis voted against the budget bill that included the two items.
Being in the minority in her legislative chamber, Malliotakis has had limited opportunity to pass her own legislation, especially given that her political views often differ from her Democratic colleagues. Indicative of the district-focused nature of her legislative record, when Malliotakis released her first video advertisement of the mayoral campaign, she showcased three fairly low-profile accomplishments. "As a state legislator," Malliotakis says in the ad, "I successfully fought to restore lost bus service, for elder care to keep senior centers open; I even sued the Port Authority when they raised tolls."
It can be frustrating to serve in the Assembly's Republican conference, which has little influence over what happens in the 150-seat body. Despite authoring dozens of bills each year, in her seven years in the Assembly, no legislation for which Malliotakis was the prime sponsor has made it to the floor -- the best she can hope for is that some of her ideas are taken up by the majority.
"I can't think of many things worse in life than being a Republican member of the Assembly," said Hunter College political science professor Ken Sherrill. "You're not unemployed, but all you can do is be there and sometimes hold press availabilities -- which she is very good at doing -- but it just doesn't matter."
Along with other members of her conference, Malliotakis has been outspoken about reforming the rules of the Assembly to increase transparency and participation from members of the minority. A measure she introduced to grant greater public access to the legislative committee process has been adopted by the Legislature.
Malliotakis was also among the first to call for the resignation of former Speaker Sheldon Silver, a Democrat, during the 2013 sexual harassment scandal involving then Assemblymember Vito Lopez, and has pushed for reforms like the stripping of pensions from legislators convicted of corruption, a referendum that has moved through the legislative process and will be on the ballot this Election Day.
While occasionally she has voted against her conference, as she did with a vote in favor of landmark 2013 gun control legislation, the Secure Ammunition and Firearm Enforcement (SAFE) Act, another signature Cuomo accomplishment, her work on behalf of her constituents is appreciated, according to Assembly Minority Leader Brian Kolb, a Republican from Canandaigua.
"Nicole has been a dynamic force for our conference and her constituents. She is passionate about her community, she knows the issues, never backs down from a fight, and puts in the hard work necessary to be successful. Her drive and abilities are why her future is so bright," Kolb told Gotham Gazette. "We've been fortunate to have her in our conference. Certainly, New Yorkers would be lucky to have her in City Hall."
As one of two Assembly Republicans from New York City -- the other being Staten Island Assemblymember Ron Castorino, who chairs the county arm of the state Republican Party -- Malliotakis has not shied away from the spotlight and has been forceful on some of her more conservative views. Citing her experience as the daughter of Greek and Cuban immigrants, she has been outspoken in her opposition to the DREAM Act and has touted its repeated defeat as one of her legislative victories.
"Any immigrant who is a citizen of this state should be appalled by the DREAM Act," Malliotakis told National Review in 2014, "because while they're taking out debt...and while they're working multiple jobs to put their kids through school, those who do not follow the rules are set to get a benefit that should be reserved for citizens."
Malliotakis also opposed raising the age of adult criminal responsibility, and she voted against the 2017-2018 state budget bill that included a version of the legislation, which brings New York law to where virtually every other state has its thresholds. She has objected to Gov. Cuomo's recently-passed Excelsior Scholarship, which makes public college free for students from households earning up to $125,000, and voted against the budget bill that included it. She has instead sponsored several bills to expand the state's Tuition Assistance Program and other existing streams of financial aid for college students who are citizens.
Malliotakis was involved in a pair of high-profile lawsuits. She first sued the Port Authority of New York and New Jersey over toll increases, which she charged were illegal, though a judge ruled in favor of the transportation agency following a six-year court battle. More recently, she joined Castorino in trying to prevent the city from purging records of IDNYC members, those holding the city's municipal identification card, a program launched under de Blasio that has targeted all New Yorkers, including undocumented immigrants. The lawsuit was dismissed, but is under appeal, and Malliotakis has promised if elected mayor to retain such records and reevaluate the ID program.
Recent legislation Malliotakis signed onto as a co-sponsor that passed both houses has focused on transportation, senior services, public safety, storm recovery, and animal rights. As part of this year's state budget, she co-sponsored an extension of Kendra's Law, which allows a judge to mandate a mentally ill person undergo regular psychiatric evaluations, and signed on to Assembly Majority Leader Joseph Morelle's "New York Buy American Act," which requires certain industries to purchase materials from the United States. In 2015, with her district still dealing with the aftermath of Hurricane Sandy, she signed on to the creation of a disaster task force.
She has voted in favor of child protection legislation, including making illegal sexual orientation conversion therapy on minors, public safety initiatives, and various animal protection bills.
While it is not a matter of voting in Albany, Malliotakis has opposed the city's public matching of campaign funds, but says she is participating in it this year out of necessity, given that her main opponent, de Blasio, is doing so. On Thursday she received news that she would receive $1.5 million in such public funds.
Malliotakis' legislative and constituent services record appears to be working for her largely Republican district -- she has managed to keep her once competitive Assembly seat safely in GOP hands and was not challenged by a Democratic candidate in 2016.
Jumping into the race for mayor, however, Malliotakis has struggled to explain some of her votes to a much broader, more progressive city-wide audience. When questioned about specific votes, such as those against the minimum wage increase and paid family leave, and against early voting, she chalked them up to the "inside baseball" of legislating, and provided somewhat vague answers.
"We don't vote on ideas; we vote on legislation and whether it is a good bill," she told Gotham Gazette regarding a vote against an anti-discrimination measure she saw as redundant. "Often there are thousands of bills that are introduced and never become law."
Malliotakis said that she has rejected legislation she believes is flawed and should be revised. She cited several faulty medical marijuana bills that preceded the state's Compassionate Care Act, which she supported, that allows certain forms of cannabis to be used to treat a specific list of debilitating conditions.
"The legislation has been around for decades. It was a poorly drafted bill that didn't iron out the kinks; it just sat there. Every year, the same thing," she said. "But I voted for the final version that became law, because they made changes and they made it better. I think any legislator who is thorough and is thoughtful of whatever unintended consequences come out has to make sure that the words make sense."
Based on her legislative history, Malliotakis is one of the more conservative Republican nominees New York City has seen in recent history. Lhota is more socially liberal. Former Mayors Rudy Giuliani and Michael Bloomberg both started out as Democrats and expressed support for socially progressive issues like marriage equality. Both mayors were were also elected by a dramatically different constituency, according to Sherrill.
"New York City is significantly more diverse than it was when Giuliani was elected and for various reasons, he was running against a mayor who was not as popular as the typical Democratic mayor," said Sherrill. "Similarly, Bloomberg, who had no record, spent something like $75 million on his campaign and might not have won had it been for that massive expenditure. He was a more credible moderate because of his past behavior. She's facing a more daunting problem than Giuliani or Bloomberg."
Given that the city economy is doing well, and crime rates have dropped to record lows, the timing for a Republican mayor is not ideal, and the number of Republican office holders in New York City has consistently declined in recent years. This is coupled with the fact that de Blasio has greatly out-fundraised Malliotakis and the mayor posted a 47-point lead according to the first general election poll, taken by Marist/NBC 4.
In running citywide, Malliotakis has sought to focus the race on quality of life issues and management of the city, rather than more ideologically-charged topics like immigration and reproductive choice. Much of Malliotakis' platform appears to be offering a more moderate version of de Blasio's mayoral agenda: reform Riker's Island but don't close it; bring back more use of stop-and-frisk, but not to previous levels; expand the list of offenders that cannot be protected from immigration authorities; insist on affordable housing in new developments but not quite as much as de Blasio has mandated; and so on.
She has also embraced some typical Republican priorities, like reducing wasteful spending, freezing property taxes rates, and eliminating redundant city agencies. She has attacked budget growth under de Blasio and cited that too much of the spending is not being used effectively. Still, she has not indicated much from the $85 billion city budget that she would cut, only that she would eliminate many of the "special advisor" positions that de Blasio has hired so many of, which would amount to possibly a few million dollars in savings.
While many caution ruling anything out after the 2016 presidential election, even Malliotakis herself knows she has long odds, though her campaign insists the race is closer than the first poll showed. Malliotakis has said part of the reason she is running is that de Blasio had to be made to answer for his record and she didn't see that likely to happen with the early field of candidates.
If she is interested in pursuing another office in the future, which many suspect she is, it would be wise for Malliotakis to continue courting media coverage and focus on not alienating her base, according to Sherrill.
"The more votes she gets, the better position she's in, that she can say, 'Look, I did better than Joe Lhota.' She has to act as if she is seriously interested in winning, but a reasonable goal is to get more votes than Lhota got," he said.
In part because Malliotakis faced no challengers in the Republican primary, she has avoided any major scrutiny of her legislative record. Her votes against major sections of the 2015, 2016, and 2017 state budgets -- omnibus bills that combined popular legislation with controversial policy and basic funding measures -- may provide further ammunition for the opposition, according to Sherrill.
"I can assure you that de Blasio's campaign staff has done a thorough investigation of her Albany record. The time will come -- though maybe not until after the World Series -- to unload this stuff on her," said Sherrill. There could be glimpses when de Blasio and Malliotakis, and independent Bo Dietl, debate in the first of two official, televised contests on Tuesday, October 10. The second debate is scheduled for November 1.
Some of de Blasio's campaign staff have already pointed to her Albany votes, using them to further associate her to Trump's presidency.
"Assemblymember Malliotakis has made her career in Albany as a Trump-style conservative who has voted time and time against commonsense legislation, from raising the minimum wage to marriage equality and helping young immigrant students," de Blasio spokesperson Dan Levitan told Gotham Gazette. "New Yorkers need to know the truth about her right-wing voting record."
When asked her strategy for courting New York's liberal voters without alienating her base, Malliotakis said, "I'm just honest," and cited Democratic Mayor Ed Koch's oft-quoted line, "If you agree with me on nine out of 12 issues, vote for me. If you agree with me on 12 out of 12 issues, see a psychiatrist."
"No one out there is going to agree with me all the time," Malliotakis said. "I think they need to see overall what I'm offering the City of New York and decide whether they are better off with Bill de Blasio."