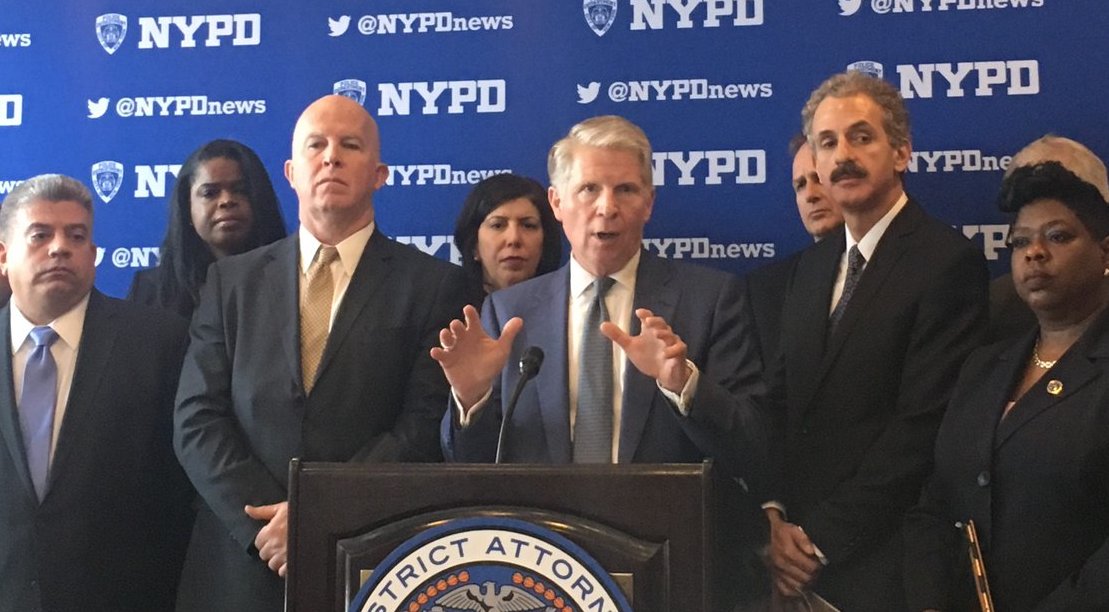 Manhattan DA Cy Vance (photo: @ManhattanDA)
---
Manhattan District Attorney Cyrus Vance, Jr., was recently dragged into an unflattering spotlight over his decision not to prosecute disgraced movie producer Harvey Weinstein for a forcible touching incident in 2015 and for dropping a fraud investigation into members of the Trump family in a 2012, while apparently receiving campaign contributions from lawyers associated with both parties.
While it is not illegal - or uncommon - for district attorneys to accept contributions from lawyers in any type of practice, the details of the two cases, including the relevant campaign donations, are drawing newfound scrutiny to the state's loose campaign finance rules for prosecutors and invite a new strain of age-old questions about whether legal immunity can be bought by the rich and powerful.
District attorneys, through their election campaigns -- which are not bound by New York City's strict fundraising and spending limits -- can receive tens of thousands of dollars from a single donor, including lawyers, regardless of whether the attorney has business before the office. Government reform advocates, including former U.S. Attorney Preet Bharara, say there are systemic issues at play and are calling for campaign finance reform, including a serious look at public financing for all state-level officials. Some say district attorney candidates should be subject to the same fundraising restrictions as judicial candidates to prevent real or perceived bias or conflicts of interest.
Currently, candidates for district attorney operate in one of the many largely unseen areas of state campaign finance law and enforcement, with minimal rules and almost no oversight. District attorney campaigns file disclosures through the state Board of Elections, but there is little evidence that those filings are examined closely -- an apparently statewide issue wherein regulators pay scant attention to campaigns for local offices.
Recent reporting from The New Yorker, ProPublica, and WNYC radio, outlined how Trump family attorney Marc Kasowitz -- a longtime donor to Vance's election campaigns -- met with the district attorney before he shut down an investigation into how Ivanka Trump and Donald Trump Jr. were marketing a new Trump condominium development, Trump SoHo, despite evidence compiled by his own prosecutors that the siblings may have deliberately misled investors. E-mails described by the three news outlets make clear that the Trumps "were aware they were using inflated figures about how well the condos were selling to lure buyers."
A $25,000 donation made by Kasowitz in early 2012 was returned by Vance's campaign prior to his May meeting with the district attorney ("standard practice" when a donor has matters before the prosecutor's office, Vance told The New Yorker), but records show Kasowitz made an even larger donation, of $31,993, to Vance in January 2013, that less than six months after the case was abandoned (after this reporting, Vance said he would be returning that money, too).
Similarly, a narrow timeline can be traced between payments from two law firms representing Weinstein, made before and after he was let off the hook for allegedly groping an Italian model in his TriBeCa office, despite an audio recording, made in conjunction with the NYPD, of the movie producer apparently admitting to the incident and apologizing. The lawyer who represented Weinstein in the case, Elkan Abramowitz, is a partner in the firm where Vance previously worked and had contributed $26,550 to Vance's campaign over the years, including $2,100 after the case was dismissed, as first reported by the New York Post. In addition, Abramowitz's firm, Morvillo, Abramowitz, Grand, Iason, Anello & Bohre, donated $11,500 to Vance's election fund, according to state campaign finance records.
Another $10,000 contribution came from attorney David Boies -- who has represented Weinstein in past high-profile cases, though none involving Vance -- after the investigation was dropped in April 2015, as first reported by the International Business Times.
Vance maintains that he decided each case based on its merits and denies that donations made by lawyers of his clients influenced his decisions. In the face of intense media scrutiny, he has emphasized that it is common for prosecutors to accept campaign donations from lawyers. "No contribution ever in my seven years as district attorney has ever had any influence on my decision-making in a case," Vance told reporters last week.
The recent criticism over Vance's handling of the two investigations has demonstrated how the state's current campaign finance system can easily lead to situations that sow doubt about the credibility of New York's top prosecutors. As county-level elected officials, district attorneys across the state, including in New York City, are governed by state law, including in their campaign activities. Therefore, the city's five district attorneys are not subject to the city's campaign finance system for municipal offices, which includes much more strict limitations than currently exists in state law, where little exists to limit or enforce district attorney campaign fundraising.
Government reform advocates say these Vance cases highlight the need for public financing of all campaigns, but in particular for prosecutors and judges, who receive the bulk of their campaign contributions from lawyers and legal firms.
"People rely on the legal system to be a fair and for [judges and prosecutors] to follow the law -- not to play favorites," said Blair Horner, executive director of New York Public Interest Group. "The campaign finance system creates an inherent conflict of interest. That's why we've always argued for all races -- but certainly district attorneys and judges -- to be publically financed."
Due to growing concerns over the real or perceived influence of special interests in judicial races since the 1990s, judicial candidates are now bound by fundraising guidelines, dictated by New York State Bar Association and other ethics oversight bodies, and enforced by the Office of Court Administration. However, there are no such rules for district attorneys, of which there are 62, one in each county of the state, and the Office of Court Administration has no jurisdiction over district attorneys, according to a spokesperson for the agency.
The primary ethics blueprint for prosecutors, published by the New York State District Attorneys Association, titled "The Right Thing: ethical guidelines for prosecutors," specifies that district attorneys should avoid certain political activities, such as making others aware of their presence at political events, but makes no mention of campaign finance rules. Campaign finance is also absent from a sparse section of the New York State Bar's "rules of professional conduct" handbook that pertains to "prosecutors and other government lawyers."
By contrast, the Judicial Campaign Ethics Handbook, citing an opinion from the New York State Bar Association, specifies that a judge's campaign committee "may not knowingly solicit or accept contributions from a party to litigation that is before the judge, nor one employed by, affiliated with, or a member of the immediate family of a party to litigation before the judge."
Judicial candidates are also instructed to avoid contributions from a party that may "reasonably be expected to come before the candidate if elected," or one who has come before the candidate "so recently that it manifests an appearance of impropriety." Furthermore, judicial candidates are prohibited from even looking at who contributed to their campaigns and must leave the room at fundraisers when a plea for contributions is made.
The judicial guidelines were implemented so that judges would conduct themselves in ways that "maintain public confidence in the judiciary," according to the handbook. It may be reasonable for prosecutors, who like judges are elected and entrusted by the public to uphold the law, to be held to a similar set of standards.
District attorneys in the five boroughs are also not subject to New York City's strict campaign contribution limits, which set, for example, an individual donation limit of $4,950 per cycle to a mayoral candidate, and much less so for those on the "doing business" list of entities with city business.
According to state regulations, an individual can contribute around $34,000 to a Manhattan district attorney's campaign (the formula caps donations at the total number of active voters in the candidate's party in the district multiplied by $0.05). There are more than 681,000 active registered Democrats in New York County, also known as Manhattan, as of April 2017. But, due to the state's porous campaign finance rules, contributors can easily circumvent even these limits, by donating through a company or spouse, or by creating multiple limited liability corporations, each of which it permitted to contribute up to $5,000 to county-level candidates.
A Turning Point
Weinstein's predatory behavior towards young actresses has frequently been described as an "open secret" in Hollywood circles, but a bombshell New York Times report last week detailed decades of sexual harassment complaints levied against the producer, as well as secret payouts to scuttle potential law enforcement complaints, involving actresses like Rose McGowan and Ashley Judd.
Days later, a piece in The New Yorker detailed further allegations, including several women who said they were raped by Weinstein, and embedded an NYPD recording of the mogul seemingly admitting to the Italian model, Ambra Battilana -- who was wearing a police wire -- that he had groped her breasts the day before. Vance's office, charged with investigating the forcible touching incident, ultimately declined to prosecute Weinstein. Since the story was published, allegations about the producer have piled up, with numerous high-profile actresses -- including Angelina Jolie, Gwyneth Paltrow, and Kate Beckinsale -- and other lesser-known actresses adding their voices to the chorus women claiming they were victimized by Weinstein.
The public backlash to the reports has been fierce, with many calling for Vance to resign and the National Organization of Women demanding a "full accounting" of his decision in the Weinstein case. A steady stream of New York elected officials have denounced Weinstein, who is a major Democratic donor, and announced that they would return or give to charity donations he made to their election campaigns. And with Donald Trump and his family rising to power, many are questioning whether immunity from criminal charges is at least in part dependent upon campaign donations.
Defendings its decision last week, Vance's office released a statement that while the behavior alleged in recent reports about Weinstein "shocks the conscience," at the time, the recording did not provide sufficient evidence to prosecute.
"If we could have prosecuted Harvey Weinstein for the conduct in 2015, we would have," said Chief Assistant District Attorney Karen Friedman Agnifilo, in a statement. "After the complaint was made in 2015, the NYPD - without our knowledge or input - arranged a controlled call and meeting between the complainant and Mr. Weinstein...While the recording is horrifying to listen to, what emerged from the audio was insufficient to prove a crime under New York law, which requires prosecutors to establish criminal intent."
In subsequent days, given the new reports, Vance's office confirmed it was working with the NYPD to investigate allegations against Weinstein.
Meanwhile, Vance has been cruising unchallenged toward reelection this fall. Yet, over the last four years his campaign has raised and spent hundreds of thousands of dollars, with funds coming mostly from lawyers and law firms, and has nearly $1 million left in the bank. In July, he raised $322,832.12, mostly from lawyers, and spent $358,061.43, leaving him with $1,305,989.18 in the bank, according to his filings with the State Board of Elections. Since the Democratic primary in September, he raised $18,400 and spent $399,084.31, leaving him with $925,333.49, according to his 32-day pre-general election filings.
The newfound scrutiny of Vance's campaign finances has placed him in a sticky situation, one that some say could be avoided with new limits on district attorney campaigns, public funding of campaigns for state-level offices, or both. Vance is also now facing at least two campaigns for write-in challengers to unseat him through the November vote, where only his name will appear on the ballot.
Some, including Mayor Bill de Blasio -- who was recently investigated by Vance's office himself, with no charges filed -- maintain that it is important to trust the system and that prosecutors are acting in good faith, and lawyers and prosecutors who have interacted with Vance told Gotham Gazette that he has a reputation as a "straight shooter." However, experts on judicial conduct say that even those with the best intentions may overestimate their own immunity to bias.
"There's a lot of literature out there on unconscious and unintentional bias with respect to financial conflicts of interest," said Lawrence Norden, deputy director of the Democracy Program at the Brennan Center for Justice. "The long and the short of it is that people are often poor judges of how they are influenced by financial conflicts of interest, and often take actions that seem unbiased to themselves, but will have the appearance of corruption to outsiders."
Former U.S. Attorney Preet Bharara, who was fired by President Donald Trump in March and is known for efforts to weed out corruption on Wall Street and in state government, weighed in on the controversy surrounding Vance on Friday.
"It's time that candidates for local District Attorney just say no to campaign donations from criminal defense lawyers," Bharara tweeted, later adding that there should only be public financing for district attorney candidates.
While public financing may be ideal, and is perhaps the "cleanest" way to prevent many conflicts, there may also be legal precedent for the passage of state law prohibiting who can contribute to a district attorney's campaign, according to Horner.
"You've got to be careful how you develop a law that restricts donations, because there are First Amendment issues that come up, but I think it can be done," said Horner, noting about half the states in the country have some restrictions on the ability of lobbyists to make campaign contributions.
"It's a clumsy process and someone has to enforce it," he added, noting that the Joint Commission on Public Ethics, an ethics advisory board that currently only has jurisdiction over lobbyists and state-level officials, could be incorporated through legislation.
News came on Monday morning that Manhattan Assemblymember Dan Quart plans to introduce a bill to drastically reform how district attorney campaigns are governed in terms of who they can take donations from and what the caps on those donations would be, as reported by The Daily News.
On Wednesday, Vance emphasized to reporters that his fundraising standards were legal, and said that he had a "very sound vetting system." But he acknowledged, in the wake of the controversies, he would be open to reexamining those practices.
"It obviously calls for an opportunity like this for me to rethink with my assistants how we wish to handle the matter going forward," he said. "So, in answer, it's absolutely legal, but [campaign donations] should be re-examined, office by office."
A spokesperson for Vance's reelection campaign declined to elaborate on these adjustments when Gotham Gazette inquired.
On Sunday, Vance published a Daily News op-ed in which he defended himself and announced that there will be an independent review of how his campaign has handled contributions, leading to recommendations for future operations, in order "to help us radically reduce the appearance of influence of money in our work." Vance promised higher standards than required, writing, "notwithstanding New York's lax campaign finance laws and sky-high contribution limits, I'm prepared to dramatically restrict who can donate money to our campaign — including lawyers — and the amounts that our contributors are able to give."
In the op-ed, Vance said the Center for the Advancement of Public Integrity at Columbia Law School would run the review of his campaign fundraising and larger campaign fundraising practices by district attorneys. The Center is run by Jennifer Rodgers, a former assistant U.S. attorney for the Southern District of New York, who in a Friday interview with Gotham Gazette said she was not familiar with all the details of the situation, but defended Vance's character and criticized the larger campaign finance system he's operating within.
"It's very easy after the fact to second guess whether he made the right decision," Rodgers said, adding that "reasonable people can differ" on whether certain cases may brought, but that she hadn't seen anything to make her think Vance did anything inappropriate. "He always struck me as a straight guy," she said, "and I don't think that this notion that he's dirty and is somehow on the payroll is valid."
Now, it will be up to Rodgers and CAPI to make recommendations to Vance that will undoubtedly reverberate to a much wider audience. As Vance wrote, "I never intended to start a conversation about money in criminal justice. But I see now that it's long overdue. Campaign finance reform is criminal justice reform, and I have a unique opportunity to push the ball forward."