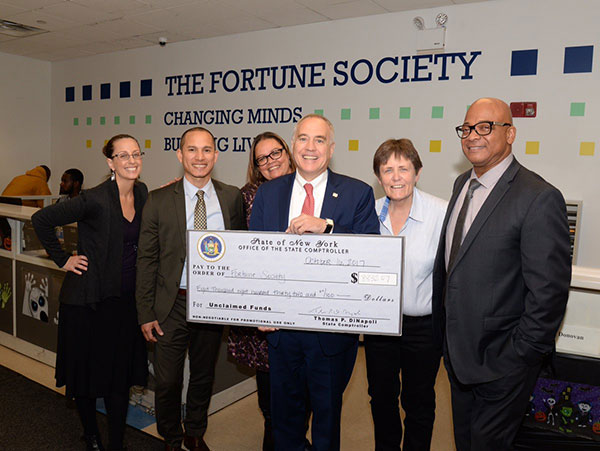 Comptroller Tom DiNapoli (@NYSComptroller)
---
As the office and campaign of Manhattan District Attorney Cy Vance reexamine internal policies regarding the acceptance of campaign contributions, they may want to reference the guidebook of the office of the State Comptroller or Attorney General, both of which have implemented their own donor-vetting systems and guidelines in the wake of controversies involving fundraising practices. These checks far exceed what is required by lax and porous state campaign finance laws.
District Attorney Vance, facing immense pressure over his handling of a sexual misconduct case against disgraced producer Harvey Weinstein and of a fraud investigation into Donald Trump, Jr. and Ivanka Trump, announced Sunday in a New York Daily News op-ed that he had enlisted the Center for the Advancement of Public Integrity (CAPI) at Columbia Law School to review and recommend restrictions on his campaign finance practices, especially with regard to contributions from defense lawyers with business before the district attorney's office.
In the column, Vance said he hoped that CAPI would "recommend that we go well beyond what is currently required by laws that govern contributions to district attorneys in our state," adding that "this is one of the first reviews of its kind ever undertaken in the realm of prosecutors' offices, and the firestorm we have experienced over the past week presents an opportunity for real reform."
The response to reports that Vance had accepted large campaign contributions from lawyers affiliated with the Trumps and Weinstein, before and after each case was closed, recalls another flare up involving Attorney General Eric Schneiderman, during his $40 million lawsuit against Trump University, which started in 2011 and spanned about six years, though the office does abide by internally enforced campaign finance guidelines.
Schneiderman's office came under scrutiny for his campaign's acceptance and alleged solicitation of funds from members of the Trump family while engaged in litigation against the university, which was widely seen as a scam. Trump has given $12,500 to help get Schneiderman elected as attorney general, and Ivanka Trump reportedly gave $500 to Schneiderman's campaign in 2012. Trump aides claimed the mogul was told Schneiderman's campaign solicited contributions from Ivanka offering to make the "very weak" ongoing investigation "go away," and filed a complaint with the Joint Commission on Public Ethics (JCOPE), though the ethics advisory organization decided not pursue the case.
It would not be not the first time Trump was accused of attempting to buy his way out of the legal mess surrounding Trump University. In 2013, Florida Attorney General Pam Bondi, who was up for reelection, reportedly solicited Trump for donations while acknowledging that she was considering joining Schneiderman in his Trump University suit, but decided not to pursue the case after the mogul made a $25,000 donation to an organization, called And Justice for All, that was backing her campaign. Trump was fined by the Internal Revenue Service, not for the obvious pay-to-play element -- which is legal -- but for making the political contribution from his foundation rather than his personal bank account.
Trump settled the Trump University suit, including paying $25 million to individuals who had enrolled in the school, and Schneiderman has continued to pursue cases against Trump, a fact that his representatives cite as evidence that the attorney general is not influenced by donors to his campaign.
Even prior to his ongoing battles with Trump, Schneiderman adhered to the policies of his two most recent predecessors by refusing to accept contributions from individuals or entities who have a matter before the office or have had such within the prior 90 days, according to a spokesperson for his office.
Furthermore, "every contributor who is personally solicited is subject to an extensive vetting process, and the office has both returned and refused to accept contributions from individuals and attorneys who have had matters before this office," said Amy Spitalnick, press secretary for the attorney general, in a statement.
The policy was tweaked after JCOPE put out an advisory opinion last year expanding this ban to one year for matters in which the attorney general was personally and substantially involved or for contributions that were personally solicited.
The ethics advisory commission, which has jurisdiction over state officials and lobbyists, also ruled that directly soliciting and knowingly accepting contributions from the active subject of investigations and enforcement proceedings violates Public Officers Law 74. Other conduct, such as directly soliciting from an attorney that is appearing before the office, would be evaluated on a case-by-case basis, according to JCOPE spokesperson Walter McClure.
County-level prosecutors like district attorneys, of which there are 62 across the state, are not under the purview of JCOPE. The city's Conflict of Interest Board does not deal with conflicts related to campaign finance, and neither the city's Campaign Finance Board nor the state's Office of Court Administration, which supervises the conduct of judicial candidates, have power over district attorneys, leaving these law enforcement officials a rare level of latitude and impunity.
The massive pay-to-play scandal involving former State Comptroller Alan Hevesi similarly resulted in self-imposed reforms for that office. In 2011, Hevesi -- who had resigned four years earlier as part of a plea bargain for an unrelated scandal -- admitted to accepting $1 million in gifts for himself and friends in exchange for offering "preferential treatment" and $250 million in state pension investments to Markstone Capital, which was owned by Elliott Broidy. Broidy, in turn, gave $500,000 to Hevesi's reelection campaign.
Following his election in 2007, Comptroller Tom DiNapoli enacted a series of reforms, including an executive order and interim policy that banned pay-to-play practices, which went into effect in 2009.
The order prohibited the state pension fund from doing business with any investment adviser who made a political contribution to the state comptroller or a candidate for state comptroller, and applied for two years from the date of the contribution. The regulations were put in place ahead of 2010 rules issued by the U.S. Securities and Exchange Commission, which they closely parallel.
"The point was to ban the practice without waiting for the SEC rule, which was then in the proposal stage. The SEC rule went into force in 2011, at which point it became the law of the land and superseded or obviated the Comptroller's executive order," said DiNapoli spokesperson Matthew Sweeney.
Recommendations from the CAPI review of Vance's practices are due in January. Meanwhile, at least two Democratic Assembly members have proposed bills that would significantly curb contributions to district attorneys.
One bill was sponsored by Assemblymember Tom Abinanti in February and calls for publicly-financed elections of district attorneys and State Supreme Court justices. It has a handful of co-sponsors, but it never went anywhere.
"As an attorney, I've always been troubled by a system where judges are elected on the basis of money of people who appear before them," said Abinanti, who represents Greenburgh and Mount Pleasant. "It's just unseemly."
More importantly, Abinanti said, for prosecutors, who are law enforcement officials, publicly-finance elections would enable them to more honestly express their views on issues like drug policy, immigration, and bail reform, at pre-election forums and debates.
The issue arose in the recent Democratic primary for Brooklyn District Attorney, when Acting District Attorney Eric Gonzalez was criticized for accepting money from the bail bond industry.
Another piece of legislation, expected to be introduced in January by Assemblymember Dan Quart of Manhattan, would compile a statewide database of criminal defense attorneys and firms and steeply reduces the amount these individuals and entities can contribute to a district attorney candidate's campaign (up to $320 per election cycle). It also would prevent the bundling of donations to district attorney candidates.
"It would create greater transparency and limit the influence of criminal defense attorneys," said Quart, who noted that the system was based on the "NYC Doing Business" database. Entities listed on the database are greatly restricted by the city's campaign finance system in what campaign donations they can give to candidates for city offices.
Though the New York State Assembly's Democratic majority conference convened for several hours on Tuesday in Albany, a legislative response to questions raised by the Vance controversy was not discussed, according to Assembly Speaker Carl Heastie.
"I understand where people are coming from," said Heastie of the public outrage. "We didn't get a chance to talk about that, I don't want to just make a decision without talking to members of our conference, but we are always open to election reforms that will give the confidence to our constituents that there are no inherent conflicts."