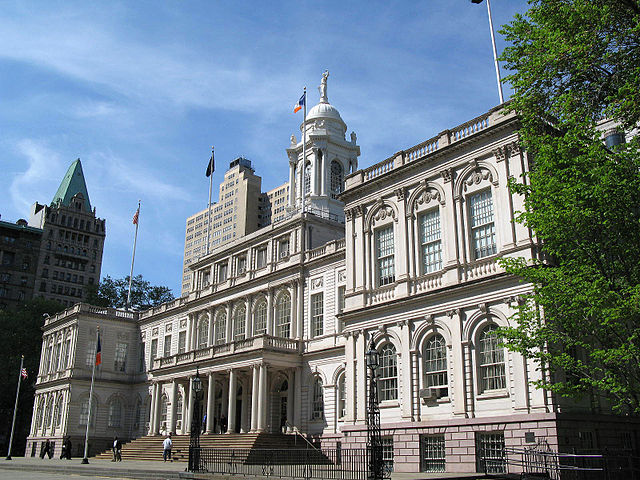 New York City Hall
---
What to watch for this week in New York politics:
Election Day is Tuesday! Be ready to vote -- both for candidates and on the three back-of-ballot "yes" or "no" questions. Use the Gotham Gazette-WNYC-City Limits voter guide; read up on the three ballot questions; and take a look at 10 Races & More to Watch. Find all of our election coverage, including links to our Max & Murphy Podcast episodes, here.
There's a few other events this week, including Mayor de Blasio giving a speech Monday morning at the Association for a Better New York, and there will be a lot of get-out-the-vote efforts all over the city and beyond -- see our day-by-day rundown below, and stay tuned to Gotham Gazette for your election results and analysis on Tuesday and beyond.
***Do you have events or topics for us to include in an upcoming Week Ahead in New York Politics?
e-mail Gotham Gazette editor Ben Max: This email address is being protected from spambots. You need JavaScript enabled to view it.***
The run of the week in detail:
Monday
At 8 a.m. Monday, Mayor de Blasio will be the featured speaker at the Association for a Better New York's latest "power breakfast," at the Hilton Hotel in Midtown. At 10:30 a.m. at City Hall, "the Mayor and First Lady McCray will hold a public hearing and sign Intro.1313-A, which creates Paid Safe Leave." At 11:30 a.m. at West Street and Vestry Street, "the Mayor, First Lady and President Mauricio Macri of Argentina will attend a tribute for victims of the Tribeca terrorist attack."
At 8:30 a.m. Monday, the New York City Special Education Collaborate will host "Addressing Disproportionality: Equity, Access & Culturally Responsive Education" at the New York Academy of Medicine. Topics explored will include "the root causes of disproportionality, classroom inequity, culturally responsive education, curriculum redesign, intersectionality, and more."
On Monday at 10 a.m. at City Hall, "Congresswoman Grace Meng, Public Advocate Letitia James, and Manhattan Borough President Gale Brewer will join Council Member Helen Rosenthal and the City Council Women's Caucus in commemorating the one-hundredth anniversary of women's suffrage in New York State." Other elected officials and advocates will also participate.
At 11 a.m. Monday, women leaders who support the constitutional convention will gather at the steps of City Hall to call for a con con and discuss its potential benefits. Participants include State Senator Liz Krueger and Citizens Union Executive Director Betsy Gotbaum.
At 11:30 a.m. Monday, Manhattan Borough President Gale Brewer will preside over the launch of the Elizabeth Cady Stanton and Susan B. Anthony Woman Suffrage Movement Monument in Central Park's Mall.
At 1 p.m. Monday, Writers Guild of America East will hold a rally on the City Hall steps in support of the employees of DNAinfo and Gothamist, who were laid off after the websites were shut down, a week after the employees voted to unionize.
At 4 p.m. Monday, Assemblymember Robert Carroll will hold a rally in front of the New York City Board of Elections to drum up support for his Young Voter Act, which would lower the voting age to 17 in state and local elections.
At 6 p.m. in Albany, the Katal Center for Health, Equity, and Justice will host a "community conversation on bail" at the Capital South Campus Center.
At 6:30 p.m. Monday, the Brooklyn Historical Society will host "Women's Suffrage Turns 100: Reshaping Politics." The BHS's Julie Golia will lead a conversation on how women in government are changing legislative priorities with Christine Quinn, former Council Speaker and mayoral candidate, and A'Shanti Gholar, Political Director at Emerge America.
Tuesday
Tuesday is Election Day. New Yorkers can head to the polls to vote for Mayor, Public Advocate, Comptroller, City Council, Borough President, Manhattan and Brooklyn District Attorneys, and other offices.
Wednesday
At the City Council on Wednesday: the Committee on Housing and Buildings will meet at 10 a.m. to discuss several proposed laws relating to co-op housing.
At 6:30 p.m. Wednesday, the Civilian Complaint Review Board will hold a public board meeting at Bronx Community College.
At 6:30 p.m. Wednesday, the Brooklyn Historical Society will host "Women's Suffrage Turns 100!: The 'Nasty Woman' Stigma," discussing the prevailing perceptions women have to face in politics and other fields. BHS' Julie Golia will lead a conversation with Joan Malin, former President of Planned Parenthood NYC; Allison K. Lange, historian of women and gender; and Jamia Wilson, Publisher of Feminist Press.
Thursday
At 9 a.m. Thursday, the CUNY Urban Food Policy Institute will host "Food Policy in New York City Since 2007: Lessons for the Next Decade" as part of its Urban Food Policy Forum series. The event will take place at the CUNY Graduate School of Public Health and Health Policy.
At 4 p.m. Thursday, the state Senate Standing Committee on Environmental Conservation will meet at the Wayne Central School District Performing Arts Center in Ontario, Ontario County "to hear from stakeholders on the implementation of Plan 2014."
Friday and the weekend
At 3 p.m. Sunday, leaders including Senate Minority Leader Andrea Stewart-Cousins and former gubernatorial candidate Zephyr Teachout will gather at Lehman College's Music Building to discuss the ways that the Independent Democratic Caucus supposedly blocks progressive legislation from being passed in New York. The event will take place in IDC leader Jeff Klein's district.
***
Have events or topics for us to include in an upcoming Week Ahead in New York Politics? E-mail Gotham Gazette executive editor Ben Max any time: This email address is being protected from spambots. You need JavaScript enabled to view it. (please use "For Week Ahead" as email subject).
***
by Ben Brachfeld and Ben Max
@GothamGazette