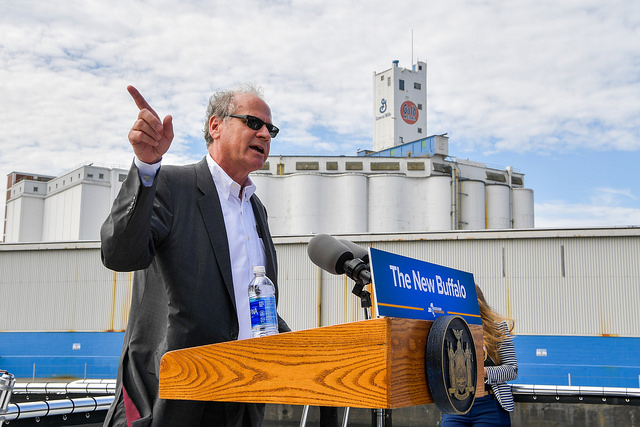 Howard Zemsky in Buffalo (via Governor's Office)
---
Ahead of the 2018 legislative session, the New York State Assembly's Economic Development Committee held a hearing Monday in Albany to evaluate the progress of the state's multitude of economic development programs and hear testimony from companies and organizations that have benefited from state grants.
Taking center stage was Howard Zemsky, Governor Andrew Cuomo's economic development czar as president and CEO of Empire State Development, who defended the state's jobs programs and was grilled for nearly an hour by members of the committee. Committee members, led by chair Robin Schimminger, a Democrat from Erie County, raised concerns about the effectiveness of Buffalo's annual 43North competition and Regional Economic Development Council grants; lower-than-expected job production; and increased regulatory burdens on small businesses.
Cuomo has staked much of his legacy and devoted billions of state dollars to revitalizing the upstate economy. The state has infused $8 billion a year into economic projects since he took office in 2011, according to a Gannett Albany review. But as Cuomo's economic development programs have multiplied each year, the Legislature has failed to pass any meaningful oversight measures to ensure transparency, that beneficiaries are meeting job creation goals, or that grants and incentives are going to well-vetted recipients. While some efforts, such as those aimed at farms and breweries, have been successful, others, like Cuomo's Start-Up New York program, have fallen short of job creation goals.
At Monday's hearing, Zemsky noted that upstate cities have seen a boom in tech sector jobs, which on average pay more than non-tech sector jobs, and touted a dramatic increase in venture capital investment throughout the state. The Empire State Development head said that ESD takes a "holistic" approach, pointing to the success of its downtown and waterfront revitalization efforts, which aim to attract a younger, more vibrant talent base, and investing in science, technology, engineering and mathematics (STEM) education.
He briefly defended the Regional Economic Development Councils, which have been accused of favoritism and conflicts of interests, and touted Buffalo as a success story -- a city that has been a major focus for Gov. Cuomo and transformed from a financially depressed post-industrial town to a vibrant hub of entrepreneurship.
"A lot of what we have done in Buffalo we have used as a template in many other parts of the state and I'm proud that we took some risks and took some chance," said Zemsky. "Every year we improve and make adjustments."
Schimminger cited an article noting that three-quarters of companies that are attracted to Buffalo by the 43North program have since left the city and inquired about whether the residency requirements, currently a year, could be extended.
"We're only a few years into the program, but after every year the 43North board reassesses and reevaluates what went right, what didn't go right, just like we do in government. Is it possible that we might change the regulations, that we might change the time frame? That's under active discussion," said Zemsky, noting that many companies retain active connections to Buffalo even after they leave.
Zemsky's presentation rang hollow for at least one committee member, Assemblymember Raymond Walter, a Republican from Amherst, who told Zemsky to provide hard data about the returns delivered by the state's Buffalo investments rather than "offering platitudes."
"Our job here is to draw a direct connection between what we are doing with taxpayer dollars to that renaissance and I'm not convinced you can do that," said Walter. "If we could focus on that, rather than the platitudes, that would be great."
Zemsky pointed Walter to ESD's progress report, insisting the number of new firms has grown and jobs have dramatically accelerated in Buffalo, by "almost any metric," particularly when compared to other struggling cities.
The conversation quickly turned personal, with Zemsky, who is a Buffalo businessman, accusing the Assembly member of opposing the state's efforts to spur Buffalo's economy, and demanding, "Do you go to any of the REDC meetings, do you know anything that is actually going on?"
At one point during the heated exchange about interpreting Buffalo's jobs data, which Walter said mostly highlights low-skill jobs growth, Zemsky snapped, "You don't know anything about the innovation economy."
The biggest indicator of Buffalo's growth, Zemsky pointed to the rise of the area's millennial population over the last decade. "Turning the corner on that is the most important thing we can do," he said.
After Zemsky, the Assembly panel was addressed by various industry leaders and experts, who described how programs like the Start-Up New York jobs program and the Southern Tier Startup Alliance (NYSTAR) have created or retained thousands of jobs and spurred both investment and innovation.
A representative of watchdog group ReInvent Albany then presented the positions of good government organizations, calling for the passage of a number of bills introduced in the Legislature last year, which would increase oversight of and transparency in the state's economic development programs.
Among the legislative fixes proposed by Reinvent Albany and others is the creation of a "database of deals," which would digitally list every entity receiving funds from the state along with where each dollar is going; a bill to restore the powers of the state Comptroller to review procurement contracts for SUNY, CUNY, and Office of General Services; and campaign finance restrictions to curb the appearance or reality of pay-to-play politics.
At least two bills, including the database of deals and one requiring nonprofit organizations affiliated with government entities to be subject to the freedom of information law and the open meetings law, are sponsored by Schimminger, but did not make it to the Assembly floor. Legislation related to procurement reform appeared to gain steam early this year in light of a major bid-rigging scandal that will see close associates of and donors to Cuomo on trial for corruption in 2018, but nothing was passed as the Legislature acquiesced to the governor's objections.
"The only thing the Legislature did do is write a check for $1.8 billion in the extender budget passed in April, a blank check granted by the Legislature to Governor Cuomo for economic development projects with no additional oversight," said Alex Camarda, senior policy advisor for Reinvent Albany.
Schimminger welcomed Camarda's comments, saying that good government groups are "preaching to the choir" when they call for increased accountability and oversight.
"Not a single one of those bills that you mentioned have been blocked by the committee, in fact, many of them -- the database of deals, the Start-Up fix -- have come out of the committee but are delayed elsewhere," said the Assembly member, referring to the fact that the legislation had been held up in other legislative committees.
The wisdom behind Start-Up New York, which creates tax-free zones for new businesses, local development corporations and other economic development programs is the finding that startups create significantly more jobs than companies that have matured 10 to 30 years and drive economic development. But critics say these programs continue to fall short of the job creation goals and many beneficiaries of these state incentives have failed to report on sufficient or any progress made through their grants.
Despite the fact that several members of Cuomo's circle are set to appear in court next year for their roles in the bid-rigging scandal involving the state's Buffalo Billion program, a second round of cash investment to the project was approved in this year's budget, with no new accountability measures.
While Schimminger acknowledged these problems in his opening remarks, the hearing was primarily an information-gathering session, and those outstanding issues will be addressed during the next legislative session, he told Camarda. The governor will unveil his next executive budget in January, leading to months of negotiations and hearings.