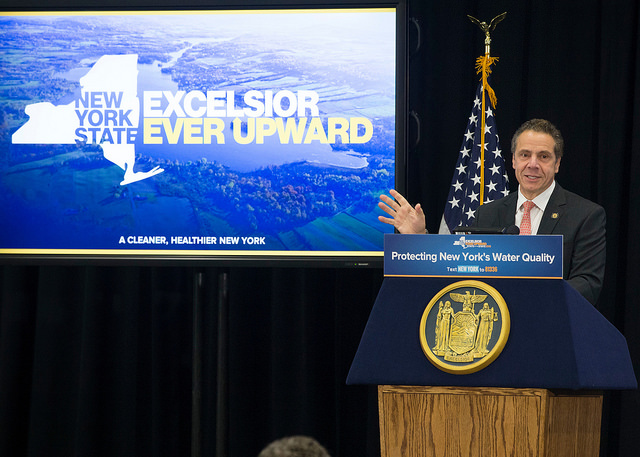 Gov. Cuomo (photo via The Governor's Office)
---
Governor Andrew Cuomo is set to deliver his 2018 State of the State address on Wednesday in Albany, at which he will outline his policy agenda for the year, his eighth as governor. A Democrat who plans to seek a third term later in the year, Cuomo has been rolling out planks of his State of the State agenda in the weeks leading up to the speech.
As of Wednesday morning, Cuomo had officially announced 22 pieces of the agenda, each in a separate press release from his office, some in conjunction with public events. They range from statewide proposals like environmental protections to more local topics, like fighting the MS-13 gang on Long Island, and also include promises to take away gun rights from domestic abusers, criminalize "revenge porn" and "sextortion," invest further in his program to revitalize local downtown areas, and reevaluate the lower minimum wage allowed for workers who regularly receive tips. Most of the 22 planks have several parts that at times cover a lot of ground.
These announcements have come as Cuomo has been working to preempt, then react to recently-passed federal tax reform legislation that is opposed by New Yorkers across the political spectrum. While he's put forth his initial 2018 agenda items, Cuomo has also been working to mitigate the effects of the tax reforms, which will likely force many New Yorkers to pay higher overall taxes, with measures such as allowing property tax prepayments.
Along with what he's announced so far, there are a number of topics the governor is expected to address either through his State of the State speech or the policy book that typically accompanies it. That policy agenda, in combination with his executive budget proposal, also due in January, forms the initial blueprint for bargaining with the Legislature.
Cuomo's 18th plank came on Tuesday morning and deals with combating sexual harassment in workplaces, including throughout state government. Cuomo had indicated the would unveil comprehensive sexual misconduct legislation that strengthens harassment and discrimination laws in all industries, a response to the ongoing national reckoning, which has touched high-profile Cuomo donors Harvey Weinstein and Mario Batali as well as a now-former member of Cuomo's administration, Sam Hoyt.
The governor recently made waves when he defensively responded to a reporter who asked him what he was going to do to root out sexual misconduct in state government. Speaking with a group of journalists, Cuomo told the female reporter who asked the question that singling out state government did a "disservice to women" because there are problems across industries and sectors. Cuomo vowed to deal with the issue holistically and said to look for plans during the State of the State. The governor's response drew widespread criticism and he made efforts to clarify his intent while he also called to apologize to the reporter, Karen DeWitt of upstate public radio.
According to SUNY New Paltz political scientist Gerald Benjamin, Cuomo must further address the new tax code, signed into law by Republican President Donald Trump just before Christmas, while he also seeks attention for his other plans.
"The run-up to the State of the State is being overpowered by the debate over the federal tax changes. So, it's taking the headlines and the governor is directly involved, when he's using terms like 'traitor' to describe people," said Benjamin. "The purpose of the early release of these items, one proposal at a time, is to control and direct the news flow. It's a classic practice that has gone on over decades in New York."
Cuomo recently told CNN hosts that even as he considers a legal challenge to the federal tax overhaul, "We're going to propose a restructuring of our tax code."
"I'm not even sure what they did is legal or constitutional and that's something we're looking at now," Cuomo added, referring to federal lawmakers. He said that the ways in which the reforms targeted heavily Democratic states like New York and California that have higher state and local taxes could be grounds for legal action.
Another piece of his agenda that Cuomo has already announced is his "Democracy Project," which includes several measures to make online political advertisements more transparent; secure elections from cyberattacks, and improve New Yorkers' access to the ballot box through measures like early voting.
The governor has not yet released any proposals around government ethics or campaign finance reform, which are annual topics of controversy in Albany. When Cuomo announced the Democracy Project, Gotham Gazette inquired whether New Yorkers should expect campaign finance and government ethics reform proposals from the governor. A spokesperson did not give an indication either way, but said the governor is committed to seeing his election reforms pass.
Cuomo has proposed such measures every year he has been governor, with some measures and half-measures passing on several occasions. But they have not stemmed the tide of corruption in state government. The spotlight will again be on Cuomo to make headway this year as several of his close associates are facing trial in early 2018 for their roles in an alleged bid-rigging scheme tied to Cuomo's signature economic development programs.
"There may be a degree of uncertainty in this session because of the monumental scope and character of recent events, but the ethics question is going to be very important," said Benjamin.
Voting, government ethics, and campaign finance reforms are among many of Cuomo's 2017 policy proposals that did not materialize last year, either due to resistance from the Legislature, a lack of more aggressive lobbying by the governor, or other challenges.
While it was not part of his agenda last year, Cuomo has indicated that a congestion pricing plan for the New York City region will be part of his 2018 agenda, and he empaneled a commission to make recommendations that are due soon. The governor may release the details of his proposal as part of his State of the State, with the goals of reducing congestion on city streets, especially in Manhattan, and funding MTA repairs, but he may also wait for later in the year. There are host of other issues Cuomo may look to address, including major areas like affordable housing, education, and health care.
Ahead of Cuomo's 2018 address, Gotham Gazette asked legislative leaders for what they would like to see on the governor's agenda. Senate Minority Leader Andrea Stewart-Cousins -- who is in talks with Cuomo and members of the Independent Democratic Conference about a potential reunification deal if Democrats can secure a numerical majority in 2018 -- noted that New York faces a difficult economic reality due to actions taken by Trump and Republican lawmakers in Washington, D.C.
"We must find more ways to protect taxpayers and create good jobs, ensure access to quality, affordable healthcare for all New Yorkers, protect women's rights, ensure our education system receives the resources it deserves, repair and fully fund our decaying infrastructure and MTA, and stand up for vulnerable communities under attack by the Trump Administration," she said. "We have a lot of work ahead of us, and Senate Democrats will push for action to be taken immediately."
Assembly Minority Leader Brian Kolb, who was the first Republican to announce that he is running for governor in 2018, took aim at Cuomo.
"The priority in 2018 must be on setting an agenda that helps New Yorkers, rather than setting an agenda that helps presidential ambitions," said Kolb, referring to Cuomo's apparent interest in a 2020 presidential campaign. "We have an affordability problem that's driving residents and businesses to other states. The growing infrastructure crisis is making everyday life more difficult for millions of New Yorkers. Endless unfunded mandates from Albany continue to drive up local property tax burdens. Billions in taxpayer dollars are spent on job-creation programs, with little return on investment. Government accountability and transparency have been ignored for too long. These are the priorities of the Assembly Minority Conference and I hope the governor and our legislative colleagues agree that they demand our immediate attention."
Spokespeople for Republican Senate Majority Leader John Flanagan and Democratic Assembly Speaker Carl Heastie did not return requests for comment. While an IDC spokesperson did not return a request for comment, the IDC did unveil on Thursday its 2018 state budget agenda -- a spending plan for next fiscal year is due by its April 1 start.
Among other things, the breakaway group of eight Democratic senators led by Sen. Jeff Klein of the Bronx is calling for early voting, no-excuse absentee voting, dedicating a portion of New York City sales taxes toward MTA repairs, tax relief for many New Yorkers, and protecting health insurance for children from poor families.
In a statement accompanying release of the agenda, Klein said that the "budget addresses issues...we can advance to improve participation in our elections, enhance our children's education, protect our workers, upgrade our infrastructure, and help our immigrant communities. As one state we must unite around passing a budget that achieves these goals that transcend party lines."
As for Gov. Cuomo, he is returning this year to the typical State of the State address in Albany after he gave six smaller addresses around the state last year, finishing in Albany, which had been a break from tradition.
A running list of Cuomo's 2018 proposals unveiled so far:
1. Removing firearms from domestic abusers - the legislation would build on existing restriction on gun ownership which currently only bars gun ownership from individuals convicted of a felony domestic abuse, not those convicted of a misdemeanor.
2. Protect the environment, protect the Hudson River - Governor Cuomo and Attorney General Eric Schneiderman will take immediate action to sue the federal government if the Environmental Protection Agency deems the Hudson River PCB dredging complete.
3. Round three of the Downtown Revitalization Initiative - Invest $100 Million in 10 Economic Development Regions and build upon first two rounds of downtown revitalization awards.
4. Cutting off the recruitment pipeline to eradicate MS-13 - A five-point plan to improve access to social programs, like after-school education and job training for at-risk youth. Additional support for unaccompanied minors and bolstered law enforcement in gang hotspots.
5. Examine eliminating the minimum wage tip credit to strengthen economic justice in New York State - Cuomo will direct the Commissioner of Labor to hold hearings to evaluate eliminating tip credit.
6. Continue to reduce the local property tax burden by making the state's county shared services panels permanent - state funding for local government performance aid will now be conditioned on shared services panels.
7. Major investment to accelerate improvement at Niagara Falls Wastewater Treatment Plant - Invest $20 million to launch phase one of treatment plant overhaul to protect water quality. Commit $500,000 to accelerate studies of outfall, facility upgrades required by consent order issued by DEC.
8. New York will take legal action to halt a rail operator's plan to store thousands of railcars indefinitely in the Adirondack Park.
9. Fossil fuel divestment - Calling on New York State Common Retirement Fund to cease all new investment in entities with significant fossil fuel-related activities and develop a decarbonization plan for divesting from fossil fuels.
10. Bringing the New York Islanders home with a world-class sports and entertainment destination at Belmont Park - Internationally recognized destination will feature 18,000-seat arena, 435,000-square-foot retail and dining village, and new hotel.
11, Ending sextortion - sextortion and non-consensual pornography will be criminalized under state law and require registration as a sex offender and be punishable by jail time
12. Protecting New York's Lakes from harmful algal blooms - a $65M investment to combat algal blooms that threaten recreational use of lakes and drinking water
13. Democracy Agenda - Protect integrity of New York Elections, require transparency for digital ads, and enact voting reforms.
14. Fast track state-of-the-art containment and treatment of U.S. Navy/Northrop Grumman contamination plume - Cites new analysis indicating it will be possible to fully contain and treat four-mile-long, two-mile-wide plume in Oyster Bay, Long Island.
15. Ensure students don't go hungry - a five-point plan to combat hunger for students in kindergarten through college including requiring breakfast after the bell in schools, creating more pathways to healthy eating in schools, and ending practices that shame students who cannot afford school lunch.
16. Take further action to fight the burden of student loan debt. Planks include appointing a Student Loan Ombudsman; requiring colleges to provide simple 'truth in lending' facts for students; and increasing consumer protection standards throughout the student loan industry.
17. Invest $34 million to modernize and expand Stewart International Airport in Orange County. Cuomo proposes the Port Authority approve the investment, which would increase access to the Mid-Hudson Valley via construction of a permanent U.S. Customs and Border Protection federal inspection station, which would allow for both domestic and international flights. Cuomo is also proposing modernization efforts for the airport.
18. Combat sexual harassment in the workplace. "Cuomo will propose legislation to prevent public dollars from being used to settle sexual harassment claims against individuals, void forced arbitration policies in employee contracts, and mandate that any companies that do business with the state disclose the number of sexual harassment adjudications and nondisclosure agreements they have executed."
19. Strengthen workforce development. The governor is proposing "a comprehensive workforce development program to ensure all New Yorkers have access to training to meet growing workforce needs and continue to move New York's economy forward. The new Office of Workforce Development will implement a multi-pronged plan to strategically target local workforce needs in emerging industries across the state and help workers and businesses succeed in the 21st century economy."
20. "Combat climate change by reducing greenhouse gas emissions and growing the clean energy economy. By further strengthening the Regional Greenhouse Gas Initiative and welcoming new state members, New York will continue its progress in slashing emissions from existing fossil fuel power plants. In addition, unprecedented commitments announced today to advance clean energy technologies, including offshore wind, solar, energy storage and energy efficiency, will spur market development and create jobs across the state."
21. Taking steps to revitalize Red Hook. "[C]alling on the Port Authority and the Metropolitan Transportation Authority to study potential options for relocating and improving maritime activities and enhancing transportation access to Brooklyn's Red Hook neighborhood."
22. Overhaul the state's criminal justice system. "This comprehensive package - the most progressive set of reforms in the nation -- will guarantee fairness for the accused by reshaping New York's antiquated bail system, ensuring access to a speedy trial, improving the disclosure of evidence in the discovery process, transforming asset forfeiture procedures and implementing new initiatives to help individuals transition from incarceration to their communities."
***
By Rachel Silberstein and Ben Max
Note: this article will be updated as the governor's office releases more proposals ahead of his speech.