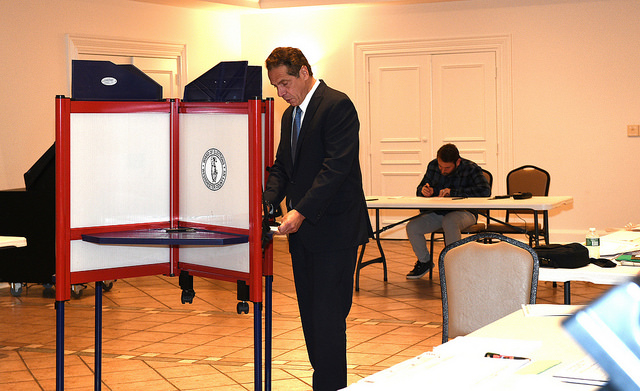 Gov. Cuomo voting (photo: Kevin P. Coughlin/Office of the Governor)
---
Governor Andrew Cuomo on Thursday unveiled his "Democracy Agenda," a plan to create more transparency in political advertising and require online platforms to archive political ads, protect state elections from hacking threats, and enhance voting opportunities.
The 13th proposal of the governor's developing 2018 State of the State speech, the advertising transparency and cybersecurity initiatives are joined by three voting reform measures that were introduced by Cuomo last year but did not pass: early voting, automatic voter registration, and same-day voter registration.
"What we saw during the last election was a systematic effort to undermine and manipulate our very democracy," Cuomo said in a statement. "With these new safeguards, New York — in the strongest terms possible — will combat unscrupulous and shadowy threats to our electoral process, as well as break down fundamental barriers that for far too long have prevented New Yorkers from being heard and from exercising their right to vote."
In his 2017 agenda, Cuomo included the voting reforms as part of his 10-point government ethics program, which included strengthening campaign finance laws, such as closing the LLC loophole, which allows virtually unlimited donations to elected officials. None of the planks were passed, either in the budget in April or at the end of the legislative session in June.
A spokesperson for the governor's office declined to reveal whether ethics and campaign finance reform will be introduced in a separate plank during the governor's upcoming SOTS address, but said the administration was committed to getting the announced electoral reforms passed.
"In our political environment, it can sometimes takes multiple years for the legislature to pass reforms like these—as was the case with raise the age, the minimum wage increase, and even marriage equality, which failed in 2009 and then passed with bipartisan support two years later," said Cuomo spokesperson Elizabeth Bibi. "This administration remains committed to modernizing our election process and will work with the legislature on this issue."
The voting reform measures are not embraced by leadership in the Republican-controlled state Senate, which clings to power through a ruling coalition with breakaway Democrats, and Cuomo told reporters that there was "no appetite" from the Legislature to implement them during budget negotiations earlier this year.
After the legislative session, the governor did sign an executive order expanding the list of agencies required to provide voting registration assistance, but advocates said that the order could have gone further. For example, they say, a task force assembled by Cuomo to explore the implementation of these new rules could also study the costs and benefits of more meaningful electoral reform -- such as early voting and automatic registration -- in order to better sell the proposals to legislative leaders in 2018.
If passed, Cuomo's early voting proposal would allow eligible New Yorkers to cast ballots up to 12 days before Election Day. Automatic voter registration would automatically register anyone who comes in contact with the Department of Motor Vehicles or other government agency unless the person chooses to opt-out, and same-day registration would allow New Yorkers to register to vote when going to the polls to cast their ballots.
Reform advocates praised the governor's Democracy Agenda while urging him to include funding for the proposals in his upcoming budget.
"While Governor Cuomo's recent push in cyber security and transparency for elections is an important step forward to ensure that New York's elections remain fair and safe, our basic voting processes also demand improvement," said Common Cause/NY Executive Director Susan Lerner, in a statement. "Common Cause/NY urges the Governor to include Early Voting in his upcoming budget to create a more equitable voting process for all."
Cuomo's democracy platform, as presented in a press release, focuses on the proliferation of "fake news" and political ad campaigns on social media platforms, which are not regulated in the same way as advertisements on traditional media platforms. Citing the influence of "unscrupulous and disruptive actors" on the 2016 presidential election, Cuomo's proposal would codify state regulations as introduced by United States Senate and House members to regulate online advertising for federal elections. The governor vowed to ensure that all social media platforms, and other states, adopt similar policies.
"As many as 126 million Americans are estimated to have seen Russian-bought political ads on Facebook alone last year, without realizing that they were seeing content paid for by Russia. Additionally, 131,000 Twitter messages, linked to more than 36,000 Russian accounts, have also been identified," states the press release from Cuomo's office.
To ensure the fairness and transparency of New York elections, Cuomo has put forth a three-pronged strategy to: expand New York State's definition of political communication to include paid internet and digital advertisements; require digital platforms to maintain a public file of all political advertisements purchased by a person or group for publication on the platform; and require online platforms to make reasonable efforts to ensure that foreign individuals and entities are not purchasing political advertisements in order to influence the American electorate.
Violations of these requirements would be subject to a civil penalty of up to $1,000, according to Cuomo's office.
The cybersecurity component seeks to keep elections uncorrupted by hackers. Earlier this year, following numerous reports of Russian meddling in the 2016 election, Cuomo directed the New York State Cyber Security Advisory Board to work with state agencies and the State and County Boards of Election to assess the threats to the cybersecurity of New York's elections infrastructure, identify security priorities, and recommend any necessary additional security measures.
As a result of this review, Cuomo says he is proposing a four-pronged approach to further strengthen cyber protections for New York's elections infrastructure: create an Election Support Center; develop an Elections Cyber Security Support Toolkit; provide cyber risk vulnerability assessments and support for local boards of elections; and require counties to report data breaches to state authorities.
Governmental reform advocates had praise for Cuomo's proposals, as promoted through the governor's press release.
"Our democracy urgently needs repair. Washington has not yet acted, but states can. Today New York lags behind many other states. With these reforms it can step into the lead, making it easier to register and vote, and protecting the system from abuse," said Michael Waldman, president of the Brennan Center for Justice at NYU School of Law, in a statement.
He noted that automatic voter registration, if done right, could add millions to the rolls, cost less, and bolster security. Meanwhile, early voting and same-day registration would make voting far easier for working people.
"And it is vital to ensure that foreign governments and other malevolent actors can't distort elections with dark money ads or attacks on voting machines and databases. Governor Cuomo's agenda would be a powerful step forward. It's worth fighting for. We hope Albany listens," Waldman said.
The governor's 13th State of the State proposal also received praise from Senator Todd Kaminsky, a Democrat from Long Island who has introduced similar legislation to prevent anonymous and false political attack ads on social media, and Kaminsky's fellow Senate Democrats, who have long pushed for voting reforms like the ones unveiled today.

"I thank Governor Cuomo for joining this important effort to rid our election process of these false, misleading, and anonymous advertisements. These often dirty attacks that are aimed at providing misinformation to voters undermine our democracy. Voters deserve full transparency during their elections," said Kaminsky. "It is important that we restore the voters' trust in government, and Governor Cuomo advancing this initiative will ensure we are able to take real steps to clean up campaigns in New York."
Each year, ahead of his annual State of the State address, which for 2018 will take place on January 3, Cuomo typically previews several planks of his new agenda. Other initiatives unveiled so far have focused on environmental investment and protections, strengthening of labor laws, gun control, and returning the Islanders hockey team to Long Island.