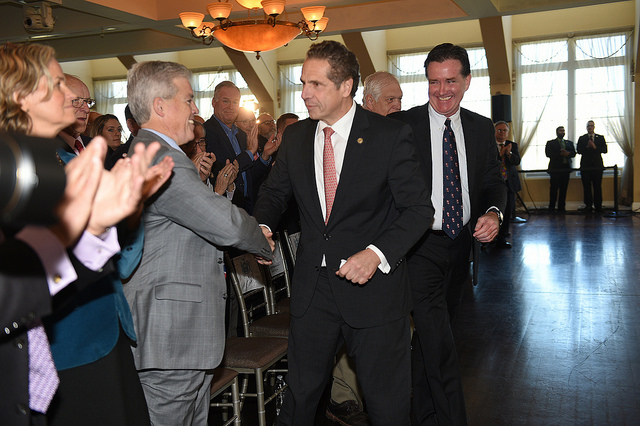 Gov. Cuomo and John Flanagan, right (photo: Kevin P. Coughlin/Governor's Office)
---
As the legislative session kicks off this week, there are a slew of open state Senate and Assembly seats, and Governor Andrew Cuomo has not indicated when or whether he will call a special election to fill the vacancies.
January 1 was the earliest the second-term governor could have called the election day to fill all 11 vacancies, and a growing number of critics are pressuring Cuomo to make the pronouncement as soon as possible. The election would occur 70 days after declared by Cuomo, who has not made clear if he intends to do so in time for the seats to be filled before the state budget is due, by April 1.
On the first of this month, George Latimer officially vacated his Westchester County Senate seat to take on his new role as Westchester County Executive, which he won in the fall, and Senator Ruben Diaz Sr., of the Bronx, left his Senate seat to assume his newly won City Council position. Nine Assembly seats remain empty for a variety of reasons, including officials who have won other elected posts, like Brian Kavanagh, who moved from the Assembly to the Senate.
If the governor calls a special election this week, 70 days would mean votes cast in the middle of March. However, Cuomo, a Democrat, has indicated that he may call the elections for a date after the budget process is concluded. Cuomo's delay is being criticized by progressive activists and good government leaders, either because of how the Senate elections factor into majority control of the chamber, which is currently held by a narrow margin by a coalition of Republicans and breakaway Democrats, or because of the basic lack of representation hundreds of thousands of New Yorkers are experiencing with the seats unfilled.
The state's $160-plus billion budget will be negotiated over the coming months by a heavily Democratic Assembly and the Senate, which has multiple party fractures and a Democratic unity deal on the table that could throw the process into disarray if the two vacant seats are filled by Democrats before April 1.
"The governor has a responsibility to his constituents to call a special election immediately," said Susan Lerner, executive director of good government group Common Cause NY in a statement on Tuesday. "There's no excuse to delay." Lerner stressed that all New Yorkers deserve their due representation in government.
The stakes are highest for the 63-seat Senate, where Democrats are now two seats short of the 32 votes needed to pass legislation. A Democratic majority can only occur if mainline conference members are joined by the nine Democrats who caucus with Republicans, along with Democratic victories for the Latimer and Diaz, Sr. seats. Complicating the situation is a potential deal between Senate Minority Leader Andrea Stewart-Cousins and Independent Democratic Conference Leader Jeff Klein, brokered by Cuomo and his allies, which would reunify the Democratic conference at the end of the 2018 legislative session, provided multiple developments and guarantees.
The vacancies have less of an impact on the 150-seat Assembly, which Democrats control handily under Speaker Carl Heastie of the Bronx. But leaving nine vacancies would undermine the state's democratic budget process and leave millions of New Yorkers without representation, notes Blair Horner, executive director of the New York Public Interest Group.
According to NYPIRG's calculation, 625,484 Senate constituents and more than 1.1 million Assembly constituents are unrepresented as the legislative session starts on Wednesday, January 3 in Albany.
Joining the calls for a special election sooner rather than later is Kat Brezler, a public school teacher and former Bernie Sanders organizer who is seeking Latimer's seat in the event that a special election is called.
"If you, the Governor, do not call a special election before the budget vote, you will effectively disenfranchise more than 700,000 residents in these Districts," Brezler said in a statement. "Representation matters. The residents of District 37 deserve to have a seat at the table" during budget negotiations. "It is for this reason that a special election cannot wait," Brezler said.
A spokesperson for Cuomo's office, when asked whether governor planned to call the election during the legislative session, pointed to the governor's comments during recent press appearances, when he said he would make a decision in January.
"There are some that want it sooner, some that want it later, there's some who don't," Cuomo told reporters in December. "Some would argue politicizing the budget isn't the best idea. It's a decision that we have to make next year in January."
Bronx Assemblymember Luis Sepulveda, who announced that he plans to run for Diaz, Sr.'s Senate seat, said in an interview with Gotham Gazette that he is confident both Senate seats will be filled by Democrats and hopes that a special election will happen in March.
"I think one of the most pressing things in the state Legislature is to continue to push for progressive policies and progressive legislation," said Sepulveda. "I encourage the governor to call the special election as soon as possible."
While the Bronx seat is virtually guaranteed to stay Democratic, the Westchester seat is less of a sure thing, though Democrats will have multiple advantages there.
Policy changes coming out of Washington are expected to have serious implications for New York, which is facing a larger than usual budget deficit, and progressives are mounting pressure on the governor, who, like all of the Legislature, is up for reelection this year, to call the special election before budget negotiations really heat up.
The balance of power in the state Senate will have significant influence over the final state spending plan that emerges. A number of Democratic activists insist Cuomo prefers Republican control of the Senate for as long as possible, especially during budget season, so that he can best limit state spending.
Heastie, whose Assembly majority conference is down several members, said in December that he hopes for a Democratic majority in the Senate, but in an interview with WCNY's Susan Arbetter said that he would defer to the governor's decision about the election.
"I've always said, as a Democrat, I look forward to the day of a Democratic Senate. I hope they get it together as soon as possible — particularly in light of what's happening in Washington," Heastie told reporters during a gaggle at the Capitol in December.
In the meantime, Senate Majority Leader John Flanagan, a Long Island Republican, wields enormous influence over how state funds are distributed. Flanagan, outlining his priorities for the coming session, struck a conciliatory note, but made clear that raising property taxes was a non-starter for addressing New York's growing budget shortfall.
"In Washington, Democrats and Republicans battle each other with predictable ferocity -- sometimes producing gridlock and dysfunction, and sometimes producing policies that are counterproductive for many New Yorkers. Here in New York, we've taken a vastly different approach," he said in a Tuesday statement. "We're working across the aisle to find common ground, partnering with Upstate and suburban Democrats to move our state forward."
Spokespersons for Heastie and Flanagan did not return requests for comment on when Cuomo should call the special election. The governor will deliver his 2018 State of the State speech on Wednesday in Albany.