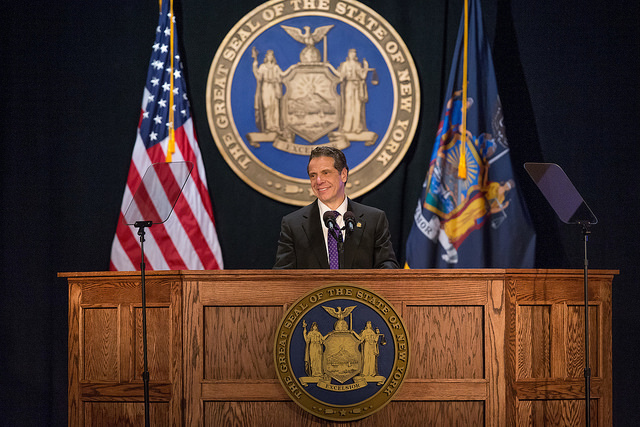 Gov. Cuomo delivers his 2018 State of the State (photo: Philip Kamrass/Governor's Office)
---
Governor Andrew Cuomo unveiled his full policy agenda for the 2018 legislative session on Wednesday, returning to his traditional State of the State format: a single address at the Empire State Convention Center, chock full of slideshow-aided proposals and lofty rhetoric, with legislative leaders of all five conferences and other statewide elected officials accompanying him on stage.
During the 92-minute speech, Cuomo gave considerable attention on his women's rights platform -- a timely legislation package in the face of international outcry over sexual misconduct in the workplace — as well as criminal justice reform proposals like significantly reducing the use of cash bail. Cuomo also focused a good deal on policies coming out of Washington, D.C., especially the recent tax overhaul program that will hit New York hard. He said the state will sue while also exploring other ways to blunt the impact of the drastically reduced ability for New Yorkers to deduct their high local and state taxes from their federal burden.
The second-term governor outlined a wide variety of proposals for the state and some that apply to different geographic areas. He touched on only a portion of the proposals listed in his 374-page policy book. The next three months will determine which Cuomo can accomplish through some combination of executive action, the regular legislative process, and a grand budget deal, due by the April 1 start to the new state fiscal year. After that, there will be another three months of legislative session.
Many of Cuomo's broader proposals, like on criminal justice reform, workforce development, and protecting the environment, impact New York City, while several are aimed directly at the five boroughs, such as the creation of a subway station in Red Hook, Brooklyn, the creation of a new park in Brooklyn, and proposals to address the state's homelessness problem, which is concentrated in New York City.
Mayor Bill de Blasio was in attendance for Cuomo's speech and, in a news conference afterward, praised certain aspects of it, such as Cuomo's promise to fight the federal tax overhaul, while taking a wait-and-see approach as the governor still did not unveil a congestion pricing scheme, and outlining a few of the city's top priorities for the upcoming state budget, like more funding for the mayor's plan to extend pre-school to all three-year-olds.
The Democratic governor wields an enormous degree of power over the state's $160 billion-plus budget. He'll unveil his executive budget proposal within the next few weeks, which will show at least some detail of how he plans to fund the initiatives in his State of the State while also balancing the roughly $4 billion deficit for next fiscal year.
As he alluded to during his speech, touting his ability to lead the state to bipartisan compromise, Cuomo is again negotiating with a split Legislature. While Democrats handily control the 150-seat Assembly, with most New York City lawmakers sitting in the majority, the 63-seat Senate is controlled by the Republican conference, made up of many members representing suburban and Upstate areas, that has formed a ruling coalition with the eight-member Independent Democratic Conference and rogue Democratic Senator Simcha Felder, of Brooklyn. As a result, downstate and left-leaning interests often rely on the governor to take up their policy items, and watch his annual address closely for signs that he will make them a focal point of the coming budget negotiations.
During his Wednesday remarks, Cuomo took slightly different approaches to two hot-button issues, important to many in New York City, that are also indicative of the political moment Cuomo finds himself in. Democrats in New York want to see Cuomo fight for Democratic takeover of the state Senate, including through special elections for two Senate seats that the governor has not yet called, despite being able to as of January 1. A long list of progressive legislation has been blocked in the Senate, with many believing Cuomo largely prefers to deal with a split Legislature so that he can better control spending and policy.
Advocates have been turning up their pressure on Cuomo to push for the Child Victims Act, legislation that makes it easier for people who were victims of childhood sex abuse to bring charges. The legislation has overwhelmingly passed the Assembly, but stalled in the Senate.
Those pushing for the the bill were disheartened by the governor's omission in his State of the State speech, though it is included in his policy book, as it was last year.
"In the #MeToo moment it's especially disappointing to see the Governor fail to mention child victims of sexual abuse in his State of the State address, even as he correctly prioritizes the issue of sexual harassment in the workplace," said Michael Polenberg, VP of Government Affairs at Safe Horizon, and survivor and advocate Bridie Farrell in a joint statement. "Survivors of childhood sexual abuse, advocates, and elected officials have been fighting to pass the Child Victims Act (CVA) for over a decade."
Meanwhile, the governor did give a brief shoutout to the New York Dream Act, which would allow undocumented college students who arrived here as children to obtain student financial aid as part of a comprehensive immigration package. Cuomo mentioned the Dream Act, which has also easily passed the Assembly but stalled in the Senate, when discussing the next phase of his Excelsior Scholarship, the middle-class college-tuition supplement he announced and passed last year.
Women's Rights
Cuomo released more than 20 planks of his 2018 agenda in the lead-up to his speech, including his proposals related to fighting sexual harassment in workplaces.
The governor's full women's right platform is wide-ranging, from policies Democrats have pushed each year like the codification of Roe v. Wade into state law and the Comprehensive Contraception Coverage Act, to his new call to criminalize "sextortion" and non-consensual pornography, often known as revenge porn, under state law, as well as legislation to remove firearms from domestic abusers.
In addition, the governor is proposing legislation to prohibit public dollars from being used to settle sexual harassment claims against individuals, and a proposal to void forced arbitration policies in employee contracts. He vowed that any companies doing business with the state would be required to disclose the number of sexual harassment adjudications and nondisclosure agreements they have executed. There appears to be a good chance that some, possibly most, of these measures will pass, as Republican and Democratic lawmakers in both houses have introduced legislation aimed at tightening sexual harassment laws.
"No taxpayer funds should be used to pay for any public official's sexual harassment or misconduct – period. It is the bad act of the individual, let the individual pay," said Cuomo.
Cuomo is also proposing that state pension funds only be invested in companies that have "adequate" representation of women and people of color on their boards of directors. And Cuomo is calling for the reauthorization and expansion of his Minority and Women Business Entrepreneurship program.
Criminal Justice Reform
In a dramatic moment, Cuomo addressed Akeem Browder, the brother of Kalief Browder, the young man who took his own life after being held for three years at Rikers Island jail complex, awaiting a trial for allegedly stealing a backpack that never came. "Akeem, I want you to know that your brother did not die in vain," Cuomo said, with the audience giving Akeem a standing ovation.
Referencing Kalief Browder's ordeal, Cuomo announced a comprehensive package including bail and speedy trial reforms, and improving the disclosure of evidence in the discovery process.
"To begin, our jails are filled with people who should not be incarcerated," said Cuomo. "Race and wealth should not be factors in our criminal justice system."
Many, including Public Advocate Letitia James and Tina Luongo, attorney-in-charge of the criminal defense practice at The Legal Aid Society, commended the governor.
"This comprehensive package of criminal justice reforms places a spotlight on the current system's flaws and the need for strong reforms to New York's criminal discovery, bail and speedy trial statutes. Reforming these core issues is required to end mass incarceration, avoid wrongful convictions and, for New York City, expedite the closing of Rikers Island," said Luongo. Mayor de Blasio has pointed to state-level bail reform as key to the goal of closing the Rikers jails by continuing to help reduce the city's detainee population.
New York Civil Liberties Union's Donna Lieberman noted that the initiatives could have gone further, including the passage of Kalief's Law, which ensures the right to a speedy trial, and the STAT Act, which would disclose policing data to improve transparency and accountability.
Affordable Housing
Cuomo lamented the state's homelessness crisis, noting that he began his work in public service running a non-profit aiding homeless families, but critics say his proposals to address the crisis are slim.
"Homelessness is on the rise in our cities and worse than ever before. It pains me personally to acknowledge this reality," he said. "It has become a part of our new normal, but it is abnormal and it is wrong," he later added.
Cuomo vowed to build on the $20 billion investment made in 2016 on a five-year plan to combat homelessness, including thousands of supportive housing units that provide stable housing and social services. The governor said he would instruct the appropriate state agencies to expand street outreach, homelessness prevention activities, rapid rehousing, and ongoing housing stability for the formerly homeless.
He said he would direct the state's mental health and substance abuse agencies to increase access at homeless shelters across the state. He also implored localities to do more to help mentally ill homeless people, saying that some claim their hands are tied. He vowed to "change the law this session."
In a variety of directions, affordable housing and homelessness policy has been a topic of conflict between Cuomo and de Blasio.
During his post-speech press conference, de Blasio said one major area the city wants to see more from the state is affordable housing. He called for the delivery of NYCHA funds allocated two years ago, among other items.
"The supporting housing plan – as everyone knows, the City of New York is committed to, and is funding, and is acting on and implementing a plan for 15,000 supportive housing apartments. The State has a plan for 20,000. We need to see that plan take off and start to have an impact on the ground in New York City so it can help us address homelessness," said de Blasio.
"And then the broader affordable housing plan that was put together at the end of the legislative session – again, we're looking for action, we're looking for results that will help us address the huge affordability challenges in New York City."
In her statement reacting to Cuomo's speech, Public Advocate James praised Cuomo on several fronts, but pointed to a need for Cuomo to improve his commitment to creating and preserving affordable housing. "I urge the Governor to push Albany legislators to adopt vacancy decontrol, make preferential rent permanent and repeal the twenty percent vacancy bonus and introduce a housing bond act to create more affordable housing," she said. "In order to truly protect New Yorkers, we must ensure that everyone has access to safe and decent housing. It is the most critical step to creating a New York that is just and inclusive for all."
Public Transportation
While Cuomo suggested that there is a congestion pricing plan in the works, he did not provide details, saying that he is waiting for his Fix NYC commission to "present options" to the Legislature. Any plan would be intended to create revenue for the MTA and reduce congestion into much of Manhattan, likely would add tolls on the East River bridges and other access points to the "Manhattan business district."
He also appeared to take one of several jabs at de Blasio, who opposes congestion pricing and wants to see an added tax on high earners to additionally fund the MTA.
"These are difficult choices, but difficult choices do not get easier by ignoring them," Cuomo said. "They only get harder. And in the meantime, cheap political slogans are just that—cheap political slogans. It's not a real policy or policy discussion. And that's what we need. Santa Claus did not visit the State Capitol this year. I was watching. Funding must be provided in a very tight budget and funding must be provided this session because the riders have suffered for too long, politics has gone on for too long, and we can't leave our riders stranded anymore -- period."
Speaking with reporters, de Blasio reiterated that he believes passing an additional millionaires tax to pay for subway system repairs is achievable because his proposal only impacts New York City residents, not the main constituents of the Senate Republicans outside the city.
"It's a way that we can solve our own problems. So, I'm going to keep working for that because I think it's the right solution," de Blasio said, adding, "No, I don't think we've seen enough now to know what any congestion pricing option may look like."
Public Safety
Cuomo opened his speech by noting the growing threats of terrorism, extreme weather, rising anti-semitism, and increasingly divisive politics. He proposed a number of initiatives aimed at making New York City, which is often a target for attacks, safer.
"Looking back, 2017 was a tough year by any measure, but New Yorkers once again rose to the occasion. We had frightening incidents of terrorism in New York City -- as Mayor Bill de Blasio well knows -- but we have the best police and first responders in the country and some of them are here today," said Cuomo.
To address gang activity, Cuomo has proposed a plan to cut off the recruitment pipeline to eradicate MS-13, which has a strong presence in Long Island and parts of the five boroughs. Cuomo's five-point plan would improve access to social programs -- including after-school education and job training for at-risk youth -- additional support for unaccompanied minors and bolstered law enforcement in gang hotspots.
He also introduced a number of counter terrorism initiatives, such as the construction of a new firefighter training facility to support the city's first responders, expanded vehicle rental regulations, and a terrorism tip line.
"[T]he state owns many of the places of potential vulnerability, our bridges, tunnels, trains, buses and airports, our transit hubs like Penn Station and Grand Central," Cuomo said. "Our transportation system must be better protected, and we must do it now. We have had warning." He specifically cited Penn Station as vulnerable and said he already has plans in motion, while also referencing the possible use of eminent domain to make the surrounding area more secure.
Voting and Other Reforms
Leading up to his speech Cuomo unveiled parts of his "Democracy Agenda," which aims to protect the integrity of elections, requires transparency for digital advertisements, and enact voting reforms.
Reform advocates, like Common Cause/NY's Executive Director, Susan Lerner, welcomed the proposals but said that "the Governor proposed a high tech blanket to protect an antiquated election system that cries out for common-sense low-tech improvement."
"It's not enough to simply pitch the idea of early voting – a crucial change that will bring New York in line with 37 other states- as well as same day voter registration, and no penalty absentee voting," she said. "The Governor must put money behind it. Initiatives like automatic voter registration, electronic poll books, flexibility to change parties, and parolee voting rights are pivotal upgrades to our current system of elections administration that can not be ignored."
The governor did not give much airtime to his government ethics and campaign finance initiatives this year, many of which are recycled from past years in his 2018 policy book. On Wednesday he talked briefly about ending outside income for lawmakers, and "spent less than a minute total discussing his remaining reforms," said Jennifer Wilson, of The League of Women Voters.
Education
The governor put forth several education initiatives, including to expand the availability of early childhood care, pre-kindergarten education, and afterschool; a proposal to guarantee free food for school children; and supports for teachers.
He also introduced a slew of measures to address the student loan debt crisis. Planks include appointing a Student Loan Ombudsman; requiring colleges to provide simple 'truth in lending' facts for students; and increasing consumer protection standards throughout the student loan industry.
De Blasio, after the event, told reporters he hopes to see a boost in education aid in the governor's 2018-2019 budget proposal, which would help fund the city's 3-K for All initiative.
Infrastructure
Cuomo said he would call on the Port Authority and the Metropolitan Transportation Authority to study potential options for relocating and improving maritime activities and enhancing transportation access to Brooklyn's Red Hook neighborhood and harbor. The plan would include the creation of a new subway line extending into the South Brooklyn neighborhood "to stimulate Red Hook's community-based development."
Citing the Trump administration's efforts to scale back national parks, Cuomo vowed to open the largest state part in New York City, a 407-acre plot of land on Jamaica Bay.
He vowed to finally complete the Hudson River Park on Manhattan's west side, a project started by his late father, former Governor Mario Cuomo, and Mayor David Dinkins.
"It was supposed to be finished in 2003. It was derailed by ongoing disputes. We now have settled the disputes. We now have a full completion plan that completes the park from Battery Park City to 59th Street," said Cuomo.
Next Steps
Along with congestion pricing recommendations, Cuomo is also awaiting the results of a study he's ordered of the possibility of eliminating a separate minimum wage for tipped workers, which could have significant impact in New York City.
Threats from the federal government loomed large at the State of the State, as the governor, who is facing reelection in 2018 and has presidential aspirations, painted himself as a unifying leader in the face of a divisive and hostile president.
While Cuomo prepares to release his executive budget plan in the coming weeks, he will continue to fight the federal tax overhaul and deal with other ways in which federal policies are cutting funds to New York. Still, Cuomo spoke in grand terms, saying that New York can accomplish anything it puts its mind to, as his tenure has shown.
"Ladies and gents I am a realist," Cuomo said. "I know that this an ambitious agenda and I know it is probably the most challenging agenda that I have ever put forth. But these are challenging times, and we have to rise to the challenge for the very survival of our state."