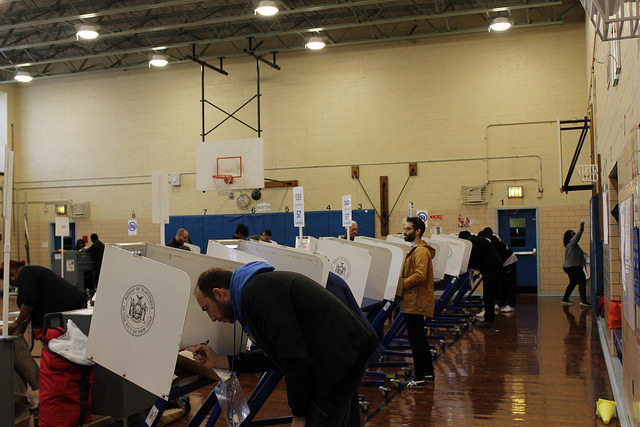 a polling place (photo: Samar Khurshid/Gotham Gazette)
---
This year will be another busy, contentious election year for New Yorkers. While 2017 saw the majority of elections confined to local government, 2018 will see three election days and races for state-level offices, including five of six statewide positions and all of the state Legislature, as well as all of the state's delegation to the House of Representatives.
A fourth election day will occur in some districts after Governor Andrew Cuomo called special elections to fill 11 vacant state Senate and Assembly seats. That election day is Tuesday April 24. Cuomo could have called the special election weeks earlier, but waited to do so, leaving those 11 districts with less than full representation throughout budget negotiations in Albany.
Aside from those special elections and depending on political party affiliation, New Yorkers will be able to vote in the federal primaries on Tuesday June 26; the state primaries in September (the date is likely being moved from Tuesday September 11 to Thursday September 13 because of Rosh Hashanah); and Election Day, Tuesday November 6. Only those registered with a party can vote in party primaries in New York, but the November general elections are open to all registered voters. So-called "independent" voters -- those registered to vote but not with a party -- cannot participate in party primaries, nor can those registered with parties wherein primaries are not being decided.
In 2016 there was an unsuccessful push to combine the congressional and state primaries to a single date, which ensured four election days given it was a presidential year and that primary was in April. There is a good chance there will be a similar push this year to combine primary dates, but while Democrats have sought to move the state primaries to June, Republicans have suggested an August date, leaving the sides at an impasse.
Along with all the 27 New York House seats, which are elected every two years, one of New York's two United State Senate seats, elected every six years, is on the ballot this year -- the one currently held by Senator Kirsten Gillibrand. At the state government level, the four statewide posts of Governor, Lieutenant Governor, Attorney General, and Comptroller are all on the ballot in their four-year cycle, as well as the every-two-year elections of all 150 seats in the state Assembly and all 63 seats in the state Senate.
In New York, this year's deadlines for candidates to file for federal office is April 12 and for state offices, July 12.
Another macro issue to watch ahead of this year's elections is voting reform in New York. There is an ongoing push to see early voting passed, among other reforms like same-day registration and no-excuse absentee voting. While Cuomo, a Democrat, and the Democrat-controlled Assembly support such reforms, Republicans who control the state Senate do not.
[Read: 11 Special Elections Set for April 24]
2018 Federal Elections in New York
While Gillibrand is up for reelection this year, New York's other U.S. Senator, Charles Schumer, won reelection in 2016 and won't be on the ballot again until 2022. Gillibrand served in the House of Representatives from 2007 to 2009 before being appointed to the Senate in 2009, and winning a special election in 2010, to fill Hillary Clinton's vacant seat when she was appointed Secretary of State. Gillibrand went on to win the regularly-scheduled 2012 election for the seat as well and is now running for her second full term as a senator. She is rumored as a possible 2020 presidential candidate. It is unclear who Republicans will run against her this year in New York.
In the House, New York and national Democrats are eyeing several seats to help flip control of the chamber through the 2018 elections. As of January 2018, the House is composed of 238 Republicans and 193 Democrats, with 4 vacancies.
Given Republican President Donald Trump's record unpopularity, which is especially acute in his home state of New York; recent Democratic electoral wins in New York and elsewhere; and historical trends whereby a new president's party loses congressional seats in the midterm elections, many are expecting a Democratic wave in 2018, with the potential for flipping the House and possibly the Senate.
Democrats' "red to blue" campaign across the country will include multiple New York districts while local party activists may target others. Governor Cuomo, himself seeking a third term this year, has promised a campaign to flip six New York House seats after their officeholders have supported legislation Cuomo deems detrimental to New York. Cuomo joined House Minority Leader Nancy Pelosi and other top Democrats at a June 2017 rally in Manhattan to kick off a campaign to unseat Reps. Lee Zeldin (CD1), Chris Collins (CD27), John Faso (CD19), Elise Stefanik (CD21), Claudia Tenney (CD22), and Tom Reed (CD23).
The national Democratic Party is currently prioritizing two of those New York Congressional Districts, the 11th and the 22nd. Rep. Donovan currently represents the 11th, which includes all of Staten Island and some of Brooklyn. Max Rose is seen as the Democrats' best chance to unseat Donovan in November, though Donovan also must first survivie a primary challenge by former Rep. Michael Grimm, who resigned from Congress after pleading guilty to tax evasion charges. Rep. Tenney represents the 22nd, sitting just east of Syracuse and including Binghamton, Cortland, and Utica, and the Democratic Party is apparently behind Anthony Brindisi, a state Assembly member.
New York's 19th Congressional District, currently represented by Faso, is expected to be a toss up. Faso won a hotly contested 2016 race against Democrat Zephyr Teachout. The Hudson Valley seat is likely to again be home to a great deal of political spending.
The 24th Congressional District may also be home to a strong challenge to a sitting Republican. Syracuse's recently-former mayor Stephanie Miner, a Democrat, has hinted at potentially challenging current Rep. Katko. The Democratic Party's "red to blue" campaign lists the district in its efforts as well but has not found a candidate to support yet.
In the other direction, in early February 2017 the National Republican Congressional Committee released it's Democratic targets for the 2018 elections. The list contained references to two New York Democrats: Tom Suozzi, who represents Congressional District 3 in the north and western portion of Nassau County, Long Island and Sean Patrick Maloney, who represents the 18th Congressional District containing Poughkeepsie, Woodbury, and Newburgh.
Aside from the Grimm-Donovan primary, there may be a handful of other intraparty challenges to sitting representatives worth watching. Rep. Joe Crowley of Queens, for example, is being challenged from the left by Alexandria Ocasio-Cortez. While Ocasio-Cortez faces very long odds, she may be able to at least make Crowley pay more attention to his home district than his larger ambitions and agenda.
State-Level Special Elections
11 Special Elections Set for April 24
2018 State-Level Elections in New York
As mentioned, 2018 is an election year for the four state-level statewide positions of Governor, Lieutenant Governor, Attorney General, and Comptroller. All four posts are held by Democrats expected to seek another term.
Governor Cuomo was first elected to the position in 2010 and won reelection in 2014. While Bob Duffy was Cuomo's first-term Lieutenant Governor, he declined to run for reelection in 2014 and Cuomo chose Kathy Hochul as his running mate. She has said she is running again. Candidates for Governor and Lieutenant Governor can run as a slate, but they are elected separately in party primaries, then together in the general election. Cuomo and Hochul may have to each survive Democratic primary challengers before they can rejoin as a ticket for the general election.
The Lieutenant Governor's role is similar to the Vice President of the United States. The LG is President of the State Senate and acts as Governor in the Governor's absence from the state, in the case of severe disability, death, impeachment, or resignation from office. Otherwise it is a largely ceremonial position often seen as a cheerleader for the governor and the administration's policies. Hochul often represents the Cuomo administration at events across the state, and has taken the lead on certain issues, such as co-chairing a recent task force put together by Cuomo on women's opportunity.
It is unclear who Republicans will nominate for Governor and Lieutenant Governor, but GOP leadership has indicated it wants to avoid a primary. Assembly Minority Leader Brian Kolb has launched a gubernatorial campaign on the Republican side. Meanwhile, several minor parties will also put forward candidates. Democratic challengers to Cuomo and Hochul have begun to emerge, with former State Senator Terry Gibson aggressively testing the gubernatorial waters and New York City Council Member Jumaane Williams opening an exploratory committee to run for LG.
New York State's Attorney General is also up for election in 2018. Eric Schneiderman first won election to the office of Attorney General in 2010. He would go on to win reelection in 2014. The Attorney General will be running for his third term in 2018 should he seek reelection. Schneiderman has been in the news a lot lately for his frequent lawsuits on behalf of New York against the Trump Administration and its policies.
Comptroller Thomas DiNapoli is also expected to run for reelection this year. Dinapoli was first appointed to the position in 2007 after the resignation of Alan Hevesi. He would go on to win election to the Comptroller's Office in 2010 and 2014. The Comptroller is tasked with managing the state's enormous pension fund, auditing state agencies and local governments, and reviewing state and local budgets.
All 63 seats in the state Senate will be on the ballot this fall. Unlike the Assembly, control of the Senate will be at stake, with several swing districts at play. There is currently a complicated and contentious breakdown of power in the Senate, where Republicans hold 31 seats, but have a majority because of nine Democrats -- Brooklyn Senator Simcha Felder conferences with the GOP while the eight-member Independent Democratic Conference forms a ruling coalition with that Republican conference.
Mainline and Independent Democrats reached a tentative deal in late 2017 to begin to work together in the State Senate, but only on a number of conditions, including winning the two special elections for currently vacant seats. The empty seat in the Bronx is all but a lock, while the empty Westchester seat will be closer to a toss-up. Felder's status is not completely clear in terms of what he will do -- he has always maintained he'll take the best deal for him and his constituents.
Complicating things is grassroots anger at members of the IDC, whereby several if not all IDC members will be facing primary challenges. IDC Leader Jeff Klein of the Bronx (SD34), Jesse Hamilton of Brooklyn (SD20), Jose Peralta of Queens (SD13), and Marisol Alcantara of Manhattan (SD31) are among those members already facing primary challenges.
Meanwhile, there are somewhere around a half-dozen swing districts to watch outside New York City, and one potential swing district within the five boroughs -- the Brooklyn seat currently held by Senator Martin Golden. The expected Democratic wave could lead to several seats switching hands, though local races can turn on different issues and long-time incumbents like Golden can be very difficult to beat. Districts on Long Island and in the suburbs just north of New York City are often more likely to change hands, while New York City and other large cities around the state are overwhelmingly represented by Democrats and upstate areas outside of other major cities are heavily Republican.
All 150 state Assembly seats are up for election in 2018. The chamber is heavily Democratic, with a current partisan split of 103 Democrats, 37 Republicans, one Independence Party member, and the nine vacancies.
With all that is happening in other races, especially those for Governor and in key House and state Senate swing districts, there will likely be little attention paid to most Assembly races this year.
There will be other local elections in 2018, including local school board and trial court judicial elections, among others.