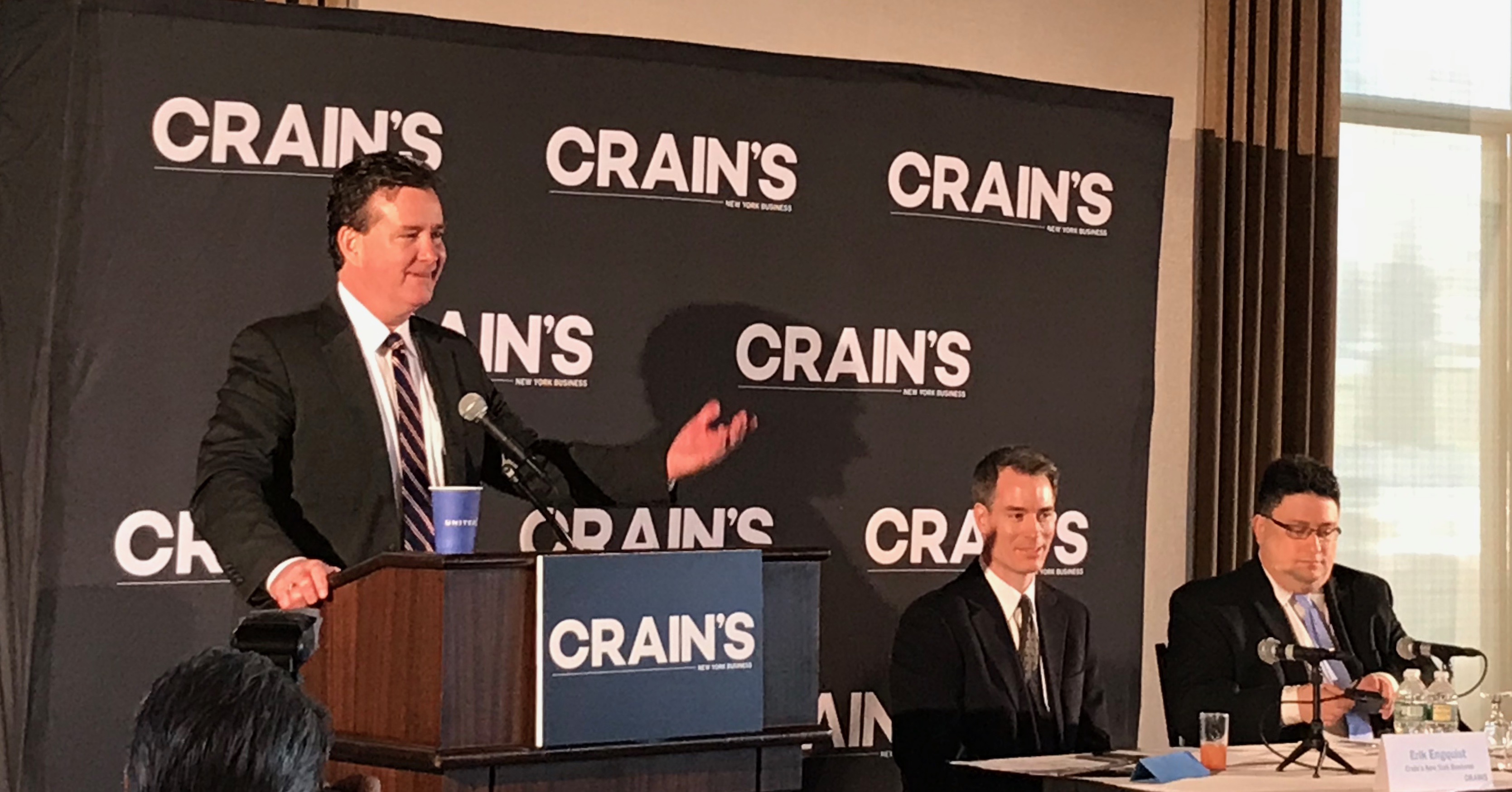 John Flanagan at Crain's breakfast (Ben Max/Gotham Gazette)
---
State Senate Majority Leader John Flanagan spoke publicly for nearly an hour Thursday morning in Manhattan, but said little on a variety of pressing topics. The Long Island Republican and key player in negotiations of the state budget and a variety of other legislative matters of great significance to New York City provided some indication of where he stands, but repeatedly gave evasive and unclear statements on issues related to housing, construction, economic development, and congestion pricing.
Flanagan was appearing at a breakfast forum hosted by Crain's New York Business, where he gave a brief speech that appeared improvised, then answered questions from two journalists, all in front of a crowd of about 150 at the New York Athletic Club. Flanagan rarely spoke in complete thoughts, at times providing confusing anecdotes or referencing people in the room, and at one point admitting, "I feel like my mind is racing, jumping all over the place."
Flanagan's appearance came just a few weeks into the 2018 legislative session in Albany, where he is one of the three most powerful individuals, along with Democratic Governor Andrew Cuomo and Democratic Assembly Speaker Carl Heastie. The three are also joined in top-level negotiations by Senator Jeff Klein, who leads the eight-member Independent Democratic Conference, a group of breakaway Democrats that forms a ruling coalition with Flanagan's Republican conference. Flanagan had kind words for all three of the other men when he spoke on Thursday.
The four must negotiate a budget by the April 1 start of the new fiscal year, and discussions were jump-started by Cuomo's presentation of his State of the State policy agenda and $168 billion Executive Budget plan. There are no shortage of key fiscal and policy matters on the table this year, headlined by the need to respond to the new federal tax code that President Donald Trump signed into law just before Christmas and the $4.4 billion budget deficit the state is facing for the coming fiscal year.
Flanagan discussed both those topics and a variety of others, both in his opening remarks and during the question-and-answer session with Crain's' Erik Engquist and Ken Lovett of The Daily News.
In his opening, Flanagan called New York City "the economic engine for the state" and explained that his conference is focused on "affordability, opportunity, security," which includes trying to lower or cap taxes, create jobs, and keep people from moving out of the state. He said he continues to believe New York City should be subject to the 2 percent annual cap on property tax increases that applies to the rest of the state. "I don't think the model that's in the City of New York right now, frankly, is sustainable," Flanagan said of property tax increases.
As Cuomo has floated possible alterations to the state tax system in an effort to blunt the impact of federal reforms that are likely to raise taxes on many New Yorkers due to the loss of most state and local tax deductibility from federal taxes, Flanagan said he is especially leery of shifting personal income taxes to payroll taxes, as the governor has discussed as an option.
"Just the whole notion of payroll tax scares me and my colleagues," Flanagan said. "But I want to be clear that we are ready, willing, and able to work with the governor on all types of issues. And in this instance when you talk about something like that, I will give the governor credit for raising a thorny, difficult, challenging issue. But when people talk about how you want to shift something to an employer to try to help an employee, honestly I don't know how that works."
Flanagan added, as he did on several issues raised throughout the morning, that he and his colleagues will "conference" the issue, meaning that the narrow Republican majority will hold closed-doors discussions to come to their collective stance.
On congestion pricing, another especially hot topic of late where Cuomo is pushing reform, Flanagan was less cogent. In his opening remarks he said that many people may not know what congestion pricing is and that it is important to consider all stakeholders. He again gave Cuomo credit for tackling a tough issue and said he'd talk it over with his conference. He acknowledged "how hard it is just to traverse the city," saying he used to worry about traffic coming from Long Island to Manhattan, but now it's much more difficult to just move through the borough. He said there's no enforcement of drivers "blocking the box," an issue raised by Cuomo's "Fix NYC" panel that recently released its recommendations, which will form the basis of negotiations on the topic. Mayor de Blasio, as part of a congestion-fighting plan released last year, vowed greater cracking down on blocking the box and double-parking.
Flanagan talked about his state-issued vehicle and E-ZPass, and said that many New Yorkers with the electronic toll-paying devices have become "jaded to a degree because nobody thinks about it anymore. Your account gets replenished, you don't really know unless someone tells you there's something wrong with your debit card or your credit card. And I know I've had that happen to me, but I think about working people, can they afford that?"
During the Q-and-A, Flanagan was asked again about congestion pricing. He said on New York City-related issues he often defers to the three members of his conference who represent parts of the city: Senators Andrew Lanza, Marty Golden, and Simcha Felder, a conservative Democrat who caucuses with Republicans. He agreed that Lanza, of Staten Island, probably disliked the Fix NYC recommendations because they did not include lowering the toll on the Verrazano Bridge. Though he has previously expressed a good deal of concern about adding new fees for entering Manhattan, likely to cost Long Island drivers, he said Thursday, "When someone asks me about congestion pricing, I don't want to gratuitously say 'no' because we have not conferenced this."
Later in the Q-and-A, Flanagan said he's glad there is now a framework put forward by the governor's commission, apparently unaware that there had been a comprehensive plan put forth years ago by the Move New York coalition that is similar to what Fix NYC created. "I remember a couple of months ago people saying to me, 'What do you think about congestion pricing?' I don't know what it is; 'cause there was no plan. Now at least we get something to be looking at and this is why it's actually very helpful for what I do," Flanagan said Thursday.
When asked about closing the state budget deficit, Flanagan downplayed the issue, repeatedly calling the $4.4 billion estimate "fluid."
"I'm gonna look at this cup right here, 'United,'" Flanagan said, referring to the cup holding his beverage on the lectern branded by one of the event sponsors. "I'm sure the people at United change their plans on a weekly, monthly, quarterly, or annually based on a variety of things and facts, so the State of New York, when someone says there's a deficit or a structural deficit or out-year deficit, that's been going on for like 30 years. It's not a new thing. The gravity of the number or the severity of the number is different."
He said he believes that federal tax reform will spur more revenue for New York. "I think we're gonna have more money coming in...do I think it eradicates $4.4 billion? Probably not. But I think we're gonna have more money coming in. Think about Wall Street and the stock market -- what are people gonna do there? I think we're gonna generate more revenue based on bonuses and things of that nature. That number, it's not static. It's something that we have to adapt to all the time."
Flanagan has not offered his plan for closing the deficit, but his conference will at some point put forward their budget vision.
On economic development, Flanagan said he is opposed to the governor's Regional Economic Development Councils because they pit regions against each other and don't offer everyone the same resources. He said the state has too many regulations, stifling businesses.
"I think we have to do a massive overhaul of our regulatory structure in the state of New York. I've said this time and time again, we should do a cost-benefit analysis on every existing regulation. And we have to take a harder look when things like minimum wage, paid family leave, predictable scheduling, all those types of things are being discussed, because that's real life. I have grave concerns about the continued prosperous and economic viability of the City of New York because of a lot of things that are being proposed and some that are being implemented now." He did not elaborate on what those policies are that he fears are dooming the city.
Flanagan appeared unprepared to discuss trimming costs at the MTA, seemingly unfamiliar by issues raised by a recent New York Times series.
He reiterated positions on government ethics, saying that issues with corruption in government make him "sick," but that "the system is actually working. There's someone gets in trouble, someone gets indicted, someone goes to trial, someone gets convicted and has to serve time or something like that. I wish there were none of this. I truly wish that there was none of this, it's not good. I think we have in the last five to seven years, we've made very significant change."
Flanagan indicated that he has taken steps in the Senate to enhance policies on sexual harassment and that it is a positive development that Senator Klein has sought an independent investigation into a recent allegation by a former staff aide that the IDC leader forcibly kissed her at an after-work gather in 2015.
Flanagan did not give clear answers when asked about modifying the state's Airbnb restrictions; altering statutes of limitation around child sex abuse claims; or repealing limits on the sizes of residential buildings.
When asked why the state would not grant New York City government permission to use design-build, a process for streamlining construction project bidding and execution that has saved the state billions of dollars, Flanagan was evasive. "First of all we have helped the City of New York," Flanagan said. "We've definitely helped the City of New York. Just because the city may come and ask for everything, doesn't mean they're gonna get it." [Related: Cuomo Omits Design-Build for New York City from Budget Proposal]
Asked about the state blocking New York City from instituting a five-cent fee on plastic carryout bags, Flanagan became especially animated. "I think the bag fee is just idiotic," he said. "And I care about the environment as much as anybody sitting in this room." Flanagan said part of why he had helped kill the city's law, passed by the City Council and signed by the mayor, was because the fee would have gone to the retailer, not to an environmental cause. He did not acknowledge that the purpose of the fee was to reduce plastic bag use or that the fee mechanism was used by the city because the state controls taxes, so the city had gotten creative in assessing a fee that had to be collected by the business.
Moving from policy to politics, Flanagan was asked about this year's elections, wherein all the statewide positions and every seat in the Legislature will be on the ballot. Is he concerned about a "blue wave" and the possible loss of the state Senate majority, which is Republicans' last stronghold at the state level?
"If there is a hint of arrogance that comes with this, I'll apologize for that in advance," Flanagan said. "We're not going to lose. We're not going to lose."