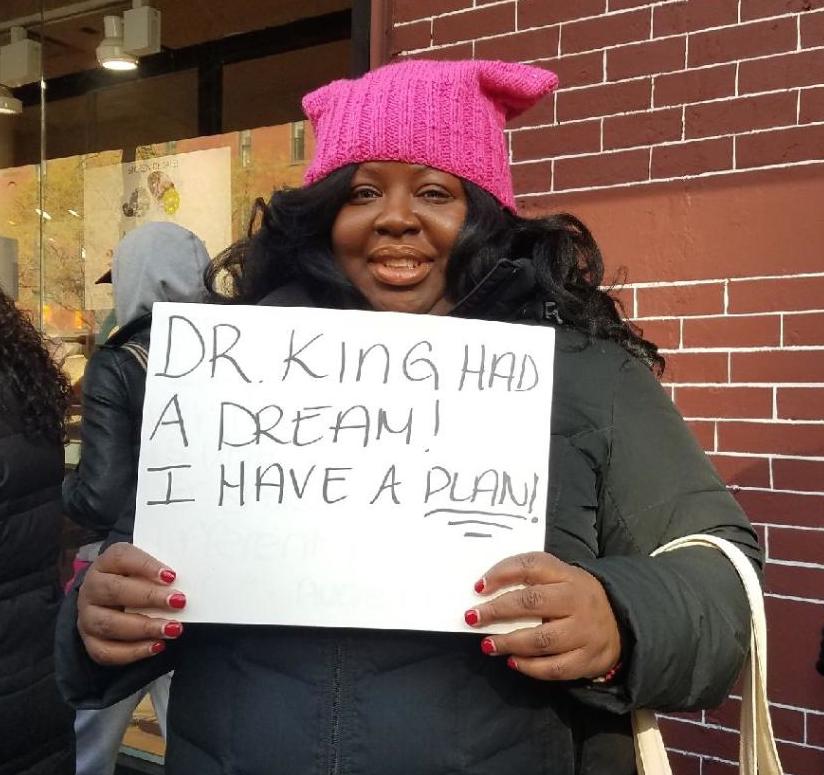 photo: Jasmine Robinson
---
State Senator Diane Savino, a founding member of the Independent Democratic Conference (IDC), may be facing a challenge in the Democratic primary this fall.
Jasmine "Jasi" Robinson, 38, a legal secretary and community activist from Port Richmond, told Gotham Gazette she is mulling a run for the 23rd Senate District that encompasses the North Shore of Staten Island and a sliver of southern Brooklyn, citing the anti-IDC movement among progressives as her inspiration.
Robinson, who has lived in the district her entire life, learned about the ruling coalition between the breakaway Democrats and Senate Republicans during an information session organized by "No IDC NY" in Manhattan in January. She was invited to the event with Staten Island Women Who March -- a group that formed out of the 2017 Women's March in Washington, D.C. -- and found it eye-opening, she said.
"I wanted to educate myself more about the IDC. I had heard [Savino's] side; I wanted to hear another side," said Robinson. "They were very fair, they showed both sides of the coin…I was informed about the different issues facing the different communities and how the progressive voice is being silenced in Albany and that can't be."
Robinson has not yet formed a campaign committee, saying she is considering her options and will make a decision about whether to run for office in the next few weeks.
Currently, five of the eight IDC members appear to be facing at least one challenger. IDC leader Jeff Klein, of the Bronx, has two declared opponents and three anti-IDC candidates have announced their intentions to unseat Jose Peralta, of Queens. Senator Jesse Hamilton of Brooklyn, Senator Marisol Alcantara of Manhattan, and Senator David Valesky of Oneida are each facing one challenger. Robinson's candidacy against Savino would bring the number of IDC members facing primaries to six.
Senator David Carlucci, of Rockland and Westchester counties, and Queens Senator Tony Avella remain unchallenged.
Notably, anti-IDC candidates are forging ahead with their candidacies despite a tentative Senate Democratic reunification plan on the table and lack of support from much of the Democratic establishment. A number of these contenders have shown significant initial fundraising strides, primarily from small individual donors (as opposed to corporations, unions, or political groups), over a short period of time. The party primaries are in September.
Progressives remain skeptical of reunification deal, which has been orchestrated by Governor Andrew Cuomo, a second-term Democrat who is also up for reelection this year. Four years ago, when there were five IDC members, several announced challengers dropped their bids, citing a potential Senate Democratic reunification deal that ultimately did not materialize, while others forged ahead without establishment support and lost. Staten Island lawyer and M.T.A. board member Allen Cappelli, who briefly sought Savino's seat in 2014, withdrew his campaign, telling Politico, "The rationale was not there anymore." Savino ran unopposed in the Democratic primary and the general election in 2016.
The current deal would only be implemented if Democrats hold the 32 seats necessary to retake the majority after a special election for two vacant Senate seats, which is expected to be called by the governor for April 24, and relies Senator Simcha Felder, a nominal Democrat who caucuses with the GOP conference, returning to the Democratic fold.
The anti-IDC backlash appears to have been stoked in part by the 2016 election of President Donald Trump, which energized the grassroots and is putting renewed pressure on the Democratic factions to reunite. A number of progressive anti-IDC groups have formed, like No IDC NY, which aim to make IDC a household phrase and educate voters about the structures in Albany that block the passage progressive legislation.
"The difference is Trump," said No IDC spokesperson Sean McElwee. "There's just an incredible salience to politics right now that is going to make a difference. The grassroots resistance to Trump is also resisting the machine-style politics that has been practiced in New York City over the past few decades."
On Staten Island's North Shore, many were mobilized to activism following the death of North Shore resident Eric Garner at the hands of a police officer, with Garner's final words, "I can't breathe," becoming a rallying cry in police accountability protests across the nation. After a grand jury decided not to indict NYPD Officer Daniel Pantaleo, who placed Garner in a deadly chokehold, there was much criticism over the lack of transparency in the grand jury proceedings. At the time, Senator Savino urged Staten Islanders to respect the judicial process, but sponsored a bill, along with Staten Island Assemblymember Matthew Titone, requiring grand jury testimony to be made public.
Robinson, who lives down the block from Eric Garner's mother and had met him a few weeks before his death, said that Savino's actions were not sufficient in making North Shore communities of color feel heard.
"We have not seen Diane Savino taking the lead or even lending a voice or a hand in the case of Eric Garner. There was a vigil for his daughter [Erica Garner, who passed away in late 2017] and she was not there. You can't pick and choose what issues you are going to be involved in," said Robinson.
A spokesperson for Savino noted that after Garner's death, Savino stood alongside Mayor Bill de Blasio and Council Member Debi Rose as they commemorated his life and acknowledged the need for a change in community-police relations.
"Senator Savino is up for re-election every two years and looks forward to the opportunity for a rigorous debate on issues that are important to her District," the campaign spokesperson, Jennifer Blatus, added.
If she becomes a candidate, Robinson says she hopes to change the public's perception of Staten Island, which is seeing a lively and growing progressive wave.
"Staten Island is not just Trump land," she said. "It's a coalition of so many different people; of progressives, of immigrants, of Latinos, of blacks -- it's just a melting pot of people who want and need change in their communities. I want to be part of that new wave of politics that is changing Staten Island."
Robinson has been active in local politics, working as a coordinator for the local Board of Elections and canvassing for a number of political campaigns, including that of former City Council Member Vincent Gentile and Staten Island Borough President candidate Tom Shcherbenko. She was recently elected to the executive board of the Staten Island Democratic Association, which touts itself as one of Staten Island's oldest and most progressive Democratic clubs.
Olusoji Oluwole, a longtime member of the club, said that he believes Robinson's potential candidacy would give progressives more visibility on Staten Island.
"For too long, some members of the Democratic Party have just played it safe and didn't want to alienate some of the moderates and conservatives on the Island, so I think some of the progressives in Staten Island are taken for granted," said Oluwole.
While she may not have the support of the Democratic establishment, Robinson would have the backing and support of No IDC NY, which runs a multi-candidate campaign committee that has raised more than $20,000, in mostly small donations, according to its most recent Board of Elections filings. The group seeks to create a Democratic majority by unseating all of the breakaway Democrats and replacing them with "real Democrats" who are committed to caucusing with the mainline conference. According to No IDC's chief strategist, Gus Christensen, Robinson fits the bill.
"Jasmine is off to a great start in building her support among progressive activists on Staten Island, in south Brooklyn and all around New York State. She has amazing potential -- she is extremely bright and charismatic," he said in a statement. "Even more importantly, she really knows the people, and their issues and their problems, right in her community."
Correction: An earlier version of this piece misidentified the location of Senator David Carlucci's district.