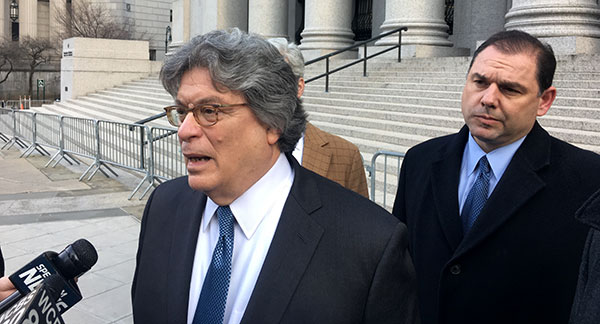 Barry Bohrer and his client, Joseph Percoco, behind (photo: Samar Khurshid)
---
Joseph Percoco, a former top aide to Governor Andrew Cuomo, was not "one of the most powerful officials in state government," argued Barry Bohrer, Percoco's defense attorney, on Wednesday, the second day of closing arguments in the federal corruption trial of Percoco and three corporate executives, Joseph Gerardi, Steven Aiello, and Peter Galbraith Kelly.
Percoco and the others face charges of bribery, fraud, and bid-rigging related to two separate schemes involving state contracts. The prosecution, which made its own closing argument on Tuesday, has alleged that Percoco used the immense power at his disposal to assist his co-defendants. "For a state employee, getting a call from Percoco was like getting a call from the governor himself," said Assistant U.S. Attorney Robert Boone in his opening statement when the trial began six weeks ago.
But Bohrer sought to counter that image, which he said was conjured by prosecutors and former lobbyist Todd Howe, a cooperating government witness who pleaded guilty to several felonies and admitted to facilitating the bribes that Percoco allegedly received.
Attorneys for each of the four defendants hammered home the notion that Howe is an unreliable witness who has sought to scapegoat their clients for his own misdoings and criminal schemes. Bohrer, who spoke last and longest over the last two days, said, in the government and Howe's view, "apparently, there's no one bigger than Joe Percoco. But you know from the evidence that that's an exaggeration, that's a stretch, that's Todd Howe in action."
Bohrer downplayed the influence that Percoco had in state government, calling him more of an "advance man" for the governor whose duties included office management, personnel relations, intergovernmental relations, and labor relations. Percoco was not "the guy who ruled the roost" in New York State, Bohrer said, but rather "the guy who takes care of his friends," "who rolls out the red carpet," "who greets them with a firm handshake."
Percoco, he said, never entered into a "corrupt bargain" to sell his office for personal gain and that the actions he is accused of taking to benefit his co-defendants were simply favors for his friends.
"The government's case is all talk, no action -- certainly no official action," Bohrer said Wednesday, emphasizing that the definition of an official act under federal corruption statutes is limited.
As with the other attorneys, Bohrer described Howe as a "pathological liar, a congenital liar," who exploited the better nature of the individuals on trial, who were his close friends. "Todd Howe described Joe Percoco as a brother, just like Cain described Abel," he said.
Howe, who was a go-between for Percoco and the other defendants, has a long history with both Percoco and Cuomo and a checkered past, with a prior felony conviction and a laundry list of misdeeds to his name. During the course of the trial, in which thousands of emails were entered into evidence, much of that was laid bare, including Howe's tendency to alter emails when forwarding them to others to either bolster his own standing or to mislead the recipients of those emails. "Mr. Howe was the butcher of emails. He was Mr. Cut and Mr. Paste," Bohrer said.
Bohrer also rejected the prosecution's contention that Percoco turned to a criminal conspiracy because he faced financial troubles. That was just another lie manufactured by Howe, Bohrer insisted. "Mr. Todd 'Ransom' Howe...he thought he could save himself by providing 'substantial assistance in the prosecution of another,'" he said, using a legal term in Howe's cooperation agreement with the government.
Earlier in the day, Daniel Gitner, the lawyer for Peter Galbraith Kelly, had also concluded his closing statement, reiterating that the government was attempting to "whitewash" Howe's part in the prosecution.
On Tuesday, prosecutors summed up their case, arguing that the defense attorneys would attempt to confuse the jury and complicate a corruption case that involved a very straightforward quid-pro-quo between the defendants. Bohrer, in turn, said Wednesday that it was the prosecution that had muddied the waters, particularly by repeatedly citing emails in which Howe and Percoco spoke of "ziti," a term that the prosecution said they adopted from the television show "The Sopranos" as a code for bribes.
"It's not the language of criminals," Bohrer said, in a reference to the prosecution's closing argument from Tuesday, "just because someone watches "The Sopranos" and picks up a phrase from "The Sopranos." Millions of people would be in jumpsuits if they watched "The Sopranos" and picked up the language, if that were the case."
"You'll find 16 'ziti' emails and the score is 14 to 2," he said, insisting that the term originated with Howe. "There are 14 instances in which Howe mentions the word and two where Joe does."
Outside the federal courthouse in lower Manhattan, in brief comments to reporters, Bohrer again criticized the prosecution's focus on the "ziti."
"It has been a diversion," he said, when asked by a reporter. "The evidence is totally lacking with regards to the changes."
Percoco stood somber behind Bohrer, betraying little emotion. When asked how he felt about his lawyer's closing, he said, "Barry's doing all the talking now. He's doing great."
On Thursday morning, prosecutors will offer their rebuttal to the defense's closing arguments. They will have a total of two hours to do so, Judge Valerie Caproni said Wednesday. The judge will then read all the charges to the jury and they will likely head into deliberations Thursday afternoon.