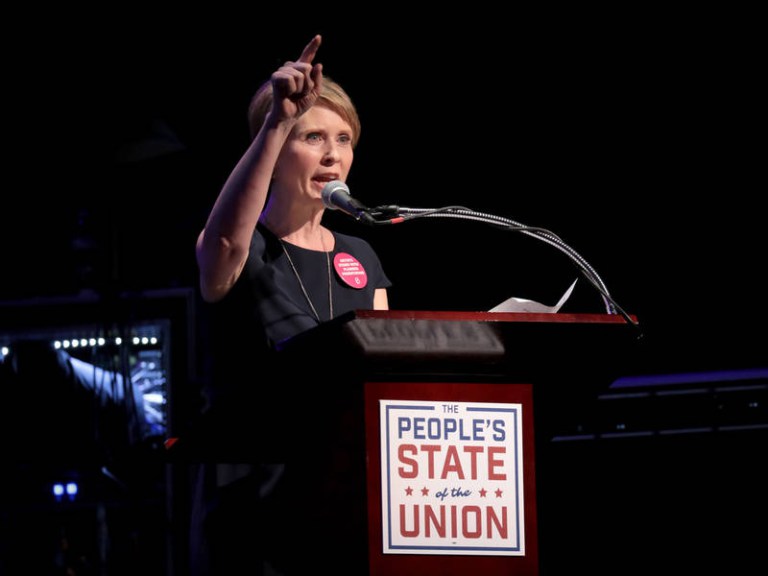 Cynthia Nixon (photo: Nixon campaign website)
---
After months of speculation, actor and education activist Cynthia Nixon officially announced Monday that she will run for governor, challenging two-term Governor Andrew Cuomo in this year's Democratic primary.
Nixon's announcement was all but expected, with her name circulating on the rumor mill for months and news reports just barely over a week ago that she had retained the services of two Democratic consultants with ties to New York City Mayor Bill de Blasio, whom Nixon has supported and been close with for years.
In a campaign video accompanying her announcement, Nixon positioned herself as a challenger from the governor's left. "I love New York. I've never lived anywhere else," Nixon said in the video, which features her wife, Christine Marinoni, who recently left a job with de Blasio's administration, and their young sons Charlie and Max. "But something has to change. We want our government to work again, on healthcare, ending mass incarceration, fixing our broken subway. We are sick of politicians who care more about headlines and power than they do about us. It can't just be business as usual anymore."
If there was any doubt that Nixon would push Cuomo from the left, it's dispelled by her choice of campaign treasurer: Zephyr Teachout, the Fordham Law professor who ran an upstart campaign against Cuomo in the 2014 primary and received more than a third of the vote. Not only will Nixon have Teachout's support, but she will have significant advantages Teachout did not enjoy four years ago, specifically more time, name recognition, and fundraising prowess. Teachout is on board with Nixon's campaign, she will serve as its treasurer and a surrogate.
"As I've gotten to know Cynthia, I have become convinced she is the right person to unseat Andrew Cuomo, eradicate the corporate corruption in Albany, and make New York a great place for all New Yorkers," Teachout wrote in an email blast to her supporters "In the past eight years, Andrew Cuomo has brought shame to New York and to the Democratic Party."
Nixon's written campaign announcement touts her as "a strong progressive alternative to the incumbent, Andrew Cuomo, a centrist and Albany insider." It goes on to criticize the culture of corruption in Albany, the failing city subways under the state's watch, and the governor's support for a power-sharing agreement in the state Senate which allows Republicans to control the chamber with the help of a renegade group of eight Democrats known as the Independent Democratic Conference. The Senate routinely shoots down legislation favored by progressives, prompting widespread consternation towards the IDC from Democrats on the ground.
The announcement also points to Nixon's efforts to fight for equitable education funding and her advocacy for LGBTQ equality and reproductive rights. If elected, Nixon would be the first woman governor of the state, as well its first LGBTQ individual to occupy the office, the announcement notes. Nixon has been a long-standing outspoken advocate for public education and school funding, with close ties to advocacy group Alliance for Quality Education, which is a union-backed advocacy group.
With six months till the primary, Nixon has an uphill battle ahead of her. Cuomo has already built up a $30 million campaign war chest and locked up a handful of early endorsements from labor unions and progressive advocacy organizations. He has also embraced more progressive causes in his second term and is widely expected to explore a run for president leading up to 2020.
A new Siena College poll released Monday found that Cuomo is an early favorite for reelection, despite recent drops in polling, apparently over his handling of the MTA crisis and possibly in part due to the corruption trial of his former top aide, Joseph Percoco, who was convicted on three felony charges last week. Among registered Democratic voters, 66 percent said they would pick Cuomo. Only 19 percent said they would vote for Nixon, who, despite being one of the stars of the popular 'Sex and the City' television show, lacks name recognition across the state. Her campaign is just beginning, though, with the primary vote set for September 13. Nixon is also expected to pursue the Spring endorsement of the left-leaning Working Families Party, which could bolster her campaign among progressives.
The governor has brushed aside any concern about Nixon running for governor, telling reporters earlier this month, "On people who may or may not run for governor on both sides of the aisle, that's up to them, and we'll deal with it as the campaign progresses."
Several hours after Nixon announced her candidacy, a statement was released by Cuomo's team, attributed generally to "a Cuomo 2018 campaign spokesperson," and saying:
"It's great that we live in a democracy where anyone can run for office. Governor Cuomo has delivered more real progressive wins than any other Democrat in the country, including passing marriage equality, the strongest gun safety law in the nation, a $15 minimum wage, free college tuition, paid family leave, record setting funding for public education, expanding and protecting healthcare for our most vulnerable, and banning fracking. We look forward to building on that record as we continue to fight and deliver for New York families statewide."
Mayor de Blasio has not said whether he will endorse Nixon, who campaigned for the mayor in 2013 and last year. "She is a strong, independent woman who makes her own decisions. So this is something you will have to ask her," de Blasio said on March 7, when asked about a then-rumored Nixon run. "What her choice is, whatever she does it is her own choice. It is as simple as that. I haven't spoken to her in a while. I'm not going to go into any private conversations with a friend. But whatever she does, she is going to be a politically active person. She always has been."
On Monday evening, a few hours after Nixon's announcement, de Blasio said on NY1 television that learned of Nixon's campaign through the media and hasn't spoken with her in more than a month. De Blasio also said he is still not ready to weigh in on state elections. "I'm not involved," de Blasio said. "I did not know which way she was going to go with her decision."
Terry Gipson, a former state Senator, is also vying for the Democratic gubernatorial nomination.
[Read: Fierce Cuomo Critics, De Blasio-Allied Advisors Have Been 'Ready for Cynthia']
Nixon's campaign launch video:
Note: this story has been updated