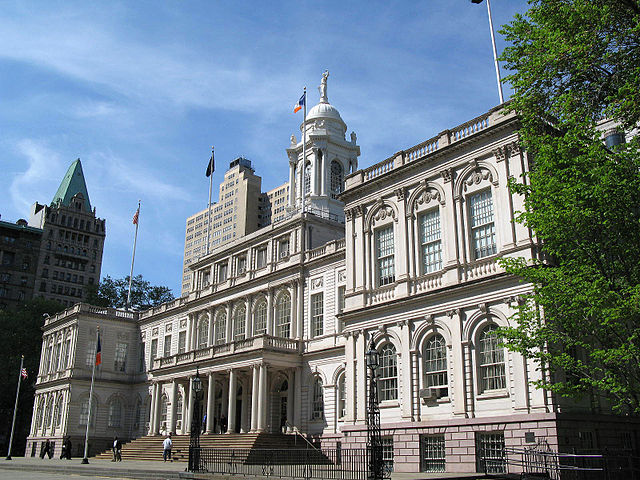 New York City Hall
---
What to watch for this week in New York politics:
With a new state budget in place, City Council preliminary budget hearings over, and it being the annual April school break, there are limited events scheduled this week. But, that does not mean the politics will be anywhere near quiet. In fact, things get moving quickly on Monday morning as Republican Marc Molinaro officially launches his campaign for Governor -- see below for details and read Gotham Gazette's new profile of Molinaro and his campaign.
Monday is also the first day on the job for new New York City schools Chancellor Richard Carranza.
As the week gets going we will also be digesting that state budget, marked for $168.3 billion for the new fiscal year, which was passed in the middle of the night on Friday. Governor Andrew Cuomo held a press conference at about 9 p.m. Friday to announce details of the agreement, which then was passed both both houses of the Legislature in the wee hours. We expect to hear more from Mayor Bill de Blasio about the budget outcomes, as well as other officials, advocates, and others.
Governor Cuomo will speak in New York City on Thursday, likely about highlights in the new budget -- see below for details. Cuomo also will participate in at least one election-related event this week. With the budget done, much attention will move to the April 24 special elections taking place for 11 state legislative seats, including, most pivotal, the Senate District 37 seat in Westchester, which could dictate which party is in control of the upper chamber.
There are a few other events to be aware of this week - see our day-by-day rundown below.
***Do you have events or topics for us to include in an upcoming Week Ahead in New York Politics?
e-mail Gotham Gazette editor Ben Max: This email address is being protected from spambots. You need JavaScript enabled to view it.***
The run of the week in detail:
Monday
Dutchess County Executive Marc Molinaro will launch his campaign for the Republican nomination for governor on Monday. He'll hold an 11 a.m. event in Tivoli and a 2 p.m. event in Albany. [Read: In Run for Governor, Marc Molinaro Will Make a Character Argument]
"On Monday, Chancellor Richard A. Carranza will arrive for his first day as NYC Schools Chancellor. In the afternoon, he will join Mayor de Blasio and First Lady Chirlane McCray for lunch at Katz's Delicatessen."
Along with his lunch with Carranza, de Blasio's other public event for Monday is his weekly appearance on NY1's Inside City Hall, during the 7 and 11 p.m. hours.
At 10 a.m. Monday, Bronx Borough President Ruben Diaz Jr, Deputy Mayor Alicia Glen, Assemblymember Marcos Crespo, and NYCEDC President James Patchett will "tour the construction progress of the NYC Ferry landing coming to the Soundview section of the Bronx this summer." [This event was postponed due to weather.]
On Monday "at 11:30 AM, Brooklyn Borough President Eric L. Adams and members of the New York City Police Department (NYPD) Muslim Officers Society, the nations' first fraternal organization representing Muslim-American police officers, will discuss plans to help keep Brooklyn safe amid the threats potentially posed by the "Punish a Muslim Day" campaign that has gone viral and generated fear in local Muslim communities. Last month, letters were circulated in the mail throughout the United Kingdom and on social media that called for violence against Muslims on Tuesday, April 3rd, including proposed "rewards" for acts ranging from verbal abuse and assault to murder and bombings. Borough President Adams, a 22-year veteran of the NYPD, will address community concerns and highlight Brooklyn's unity in the face of any bias-based attack."
At 2 p.m. Monday, Governor Cuomo will make an announcement at Johnson Community Center in Manhattan. Public Advocate Letitia James will be in attendance.
Also at 2 p.m. Monday, Lieutenant Governor Kathy Hochul will speak at the dedication of a historic site to honor the first woman to cast a vote, at 3 West Main Street in LeRoy, NY.
At 7 p.m., Public Advocate James will delivers remarks at the Italian American Women of Staten Island Meeting, at New Dorp Moravian Church.
Tuesday
"On Tuesday, Mayor de Blasio will deliver remarks and introduce new Schools Chancellor Carranza at the DOE's Spring STEM Institute" at Stuyvesant High School at noon.
At 7:30 p.m., "the Mayor and First Lady McCray will light the arch in Washington Square Park and play a recording of Dr. Martin Luther King Jr.'s "I've Been to the Mountaintop" speech in honor of the 50th anniversary of its delivery."
On Tuesday at 11 a.m., "New York Attorney General Eric T. Schneiderman will announce the filing of a multistate lawsuit to block the Trump administration from demanding citizenship information in the 2020 Census," at DC37.
Also at 11 a.m. Tuesday, "Fed up tenants and those impacted by homelessness, are taking their outrage to Governor Cuomo's Manhattan office among other sites across the state, who they accuse of helping increase the homelessness and housing crisis by not taking needed action in the budget. In fact, under Governor Cuomo's leadership for the past seven years, New Yorkers have seen the highest rate of homelessness with displacement pressures spreading to every corner of the state. Instead of protecting tenants and housing the homeless, Cuomo's housing policies continue to focus on benefiting real state developers and lobbyists. Tenants and homeless New Yorkers demand: Stronger rent laws, fully funded NYCHA and safe homes for all New Yorkers."
On Tuesday at 10 a.m. at City Hall, "New York City elected officials and three of CUNYs Latino Studies institutes, along with other partners, will release the "Latinos United in Action- New York [email protected]" Report and announce the second annual Summit on Latinos to be held on June 1st, 2018." Participants will include "Council Members Ydanis Rodriguez, Carlos Menchaca; Assemblywoman Carmen De La Rosa, The NYC Council Black, Latino, and Asian Caucus; Dr. Edwin Melendez, Director, Center for Puerto Rican Studies (Centro); Dr. Ramona Hernández, Director, Dominican Studies Institute (CUNY DSI); José Higuera López, Interim Director, Jaime Lucero Mexican Studies Institute." [This event was canceled on Monday]
At 2 p.m. Tuesday, the CUNY Journalism School's Center for Community and Ethnic Media will host "Newsmakers 2018: The 2020 Census and the Stakes for New York City," discussing "the Trump administration's decision to include a citizenship question in the 2020 census." NY1's Errol Louis will moderate a panel consisting of J. Phillip Thompson, Deputy Mayor for Strategic Planning; Marisa Lago, Director of the Department of City Planning and Chair of the City Planning Commission; and Bitta Mostofi, Acting Commissioner of the Mayor's Office of Immigrant Affairs. The event will take place at the CUNY Graduate School of Journalism in Midtown.
At 6 p.m. Tuesday, TransitCenter will host "Women Changing Transportation" at One Whitehall Street in Manhattan. Panelists will "contribute to the national dialogue around gender equality in the workplace and gender bias in transportation at the WTS/TransitCenter Women Changing Transportation event." Panelists include Naomi Doerner, Transportation Equity Program Manager at the Seattle Department of Transportation; Nicole Garcia, DOT's Queens Borough Commissioner; Midori Valdivia, Chief of Staff to MTA President Pat Foye; and Laura Weins, Executive Director of Pittsburghers for Public Transit.
Governor Cuomo will speak at a fundraiser for Democratic State Senate candidate Shelley Mayer on Tuesday evening at Harlem Tavern. Mayer is running in a special election in Westchester that is key to party control of the Senate.
On Tuesday at 7:30 p.m. in Washington Square Park, "Mayor Bill de Blasio and NYC Parks will honor the 50th anniversary of Dr. Martin Luther King Jr.'s "I've Been to the Mountaintop" speech, which was delivered the night before he was killed."

Wednesday
On Wednesday Cynthia Nixon will give her first TV interview as a gubernatorial candidate to The Wendy Williams Show.
Thursday
At 11 a.m. Thursday, Governor Cuomo will speak at an Association for a Better New York event at Cipriani Wall Street.
At noon Thursday, the New York State Board of Elections will hold a commissioners' meeting in Albany.
Friday and the weekend
Mayor de Blasio may make his weekly appearance on WNYC's The Brian Lehrer Show on Friday at 10 a.m.
On Saturday, U.S. Reps Carolyn Maloney and Nydia Velazquez will hold a town hall meeting on gun violence at MS 50 in Williamsburg.
***
Have events or topics for us to include in an upcoming Week Ahead in New York Politics? E-mail Gotham Gazette executive editor Ben Max any time: This email address is being protected from spambots. You need JavaScript enabled to view it. (please use "For Week Ahead" as email subject).
***
by Ben Brachfeld and Ben Max
@GothamGazette