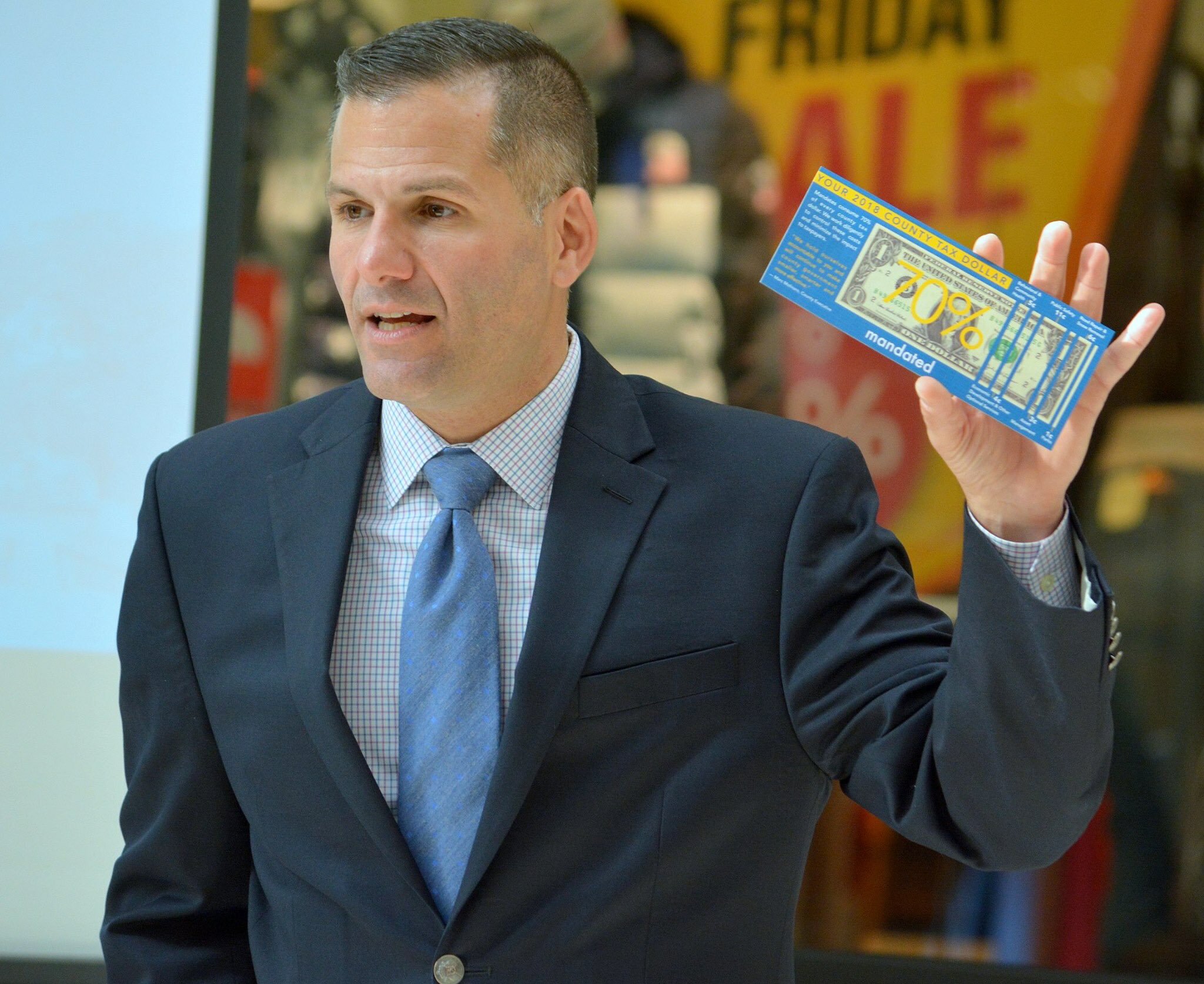 Marc Molinaro (photo: @MarcMolinaro)
---
Marc Molinaro wants you to believe in government again. In order to do so, he will argue, you must elect him to be the next governor of New York, eschewing the cutthroat, divisive, corrupt politics of Andrew Cuomo and opting for unity, dignity, and bipartisan problem-solving.
The 42-year-old Republican is in his second term as Dutchess County Executive; on Monday he will officially launch his gubernatorial campaign from the town of Tivoli, where he grew up and was elected mayor at 18, in 1994. In part, he is going to run for governor on the concept that Andrew Cuomo is a bad guy and that he, Marc Molinaro, is a good guy -- a man with good values, good character, and the right approach to government. Many will vouch for him; and loud will be the chorus decrying Cuomo, who, despite not being particularly well-liked by people in politics, has many of his own advantages as he seeks a third term.
While Molinaro has been a declared gubernatorial candidate for weeks now -- appearing at candidate forums, racking up endorsements from party leaders across the state, and emerging as the frontrunner for the GOP nomination -- Monday will mark a new beginning, setting off a seven-month push to become the first Republican elected statewide since Gov. George Pataki won a third term in 2002.
"We've elected state leaders who don't understand how government is supposed to function," Molinaro said in an interview earlier this year, "who don't think they are truly responsible and accountable and ought to be accessible to the voters. And I have done all of that." In order to inspire more confidence in government, Molinaro will argue, leadership must be more worthy of respect, more attentive, and more competent.
"[W]hen you look to Albany and Washington, you realize all of a sudden that they have one thing in common: they're divided," Molinaro says in the campaign video he released last week. "[T[he politics of today seems to be focused on tearing others down instead of lifting up the people we serve. We seek to bring people together, to work together, to overcome our challenges, and I know that the people working together can solve any problem, confront any challenge, and overcome any obstacle."
Though there will be plenty of lofty rhetoric, Molinaro will not be running a purely positive campaign, as he has already fired off acerbic attacks on Cuomo, the Democratic incumbent who must survive his own primary challenge before worrying about the Republican nominee. Molinaro is the heavy favorite to leave his party's May convention as the nominee -- Republicans are aiming to avoid a contentious primary, while Cuomo is likely to have to battle actor and activist Cynthia Nixon through the September 13 Democratic vote in what is shaping up to be a scorched-earth contest.
Part of the reason Molinaro is favored by many of his partymates is that he is something of an Albany outsider -- though he did spend five years in the state Assembly minority -- who is able to run on executive and legislative experience and a believable platform of changing the way business is done in a state capital known for secretive negotiations, pay-to-play politics, and other legal and illegal ethical breaches. Molinaro's main competition for the nomination is state Senator John DeFrancisco, the deputy majority leader who has been in the Senate since 1992.
Molinaro is folksy but assertive. He is self-deprecating -- "my mom still thinks I should get a real job" -- with a honed sense of himself and ready ability to talk about what he sees as the strengths of his record, having spent virtually his entire adult life in elected office. He talks about his family a lot - he has three young children, including one with special needs, which has helped inform one of his focus areas as county executive. He talks about growing up with a single mother, eating free lunch at school -- "we struggled quite a bit" -- and is quick to show empathy. He is a people-person; Andrew Cuomo is not.
"I wasn't born into politics," Molinaro said in the interview, "nobody anointed me anything."
There are a variety of clear reasons why Molinaro was recruited to run, even after he said in early January that he had decided against it, leading him to change his mind and answer the call from fellow Republicans. But, he'll face some daunting challenges if he does indeed win his party nomination and face the incumbent in the general election: raising money, especially enough to compete with Cuomo, who has shown tremendous skill at exploiting New York's porous campaign finance rules to accumulate a massive $30 million war chest; building name recognition across the state; and appealing to the more conservative Republican base as well as moderates from both major parties and independents.
"There are real people in the State of New York of all backgrounds who I think do want a competent, capable, caring leader, and who are willing to cross party lines to be supportive," Molinaro said.
Alongside character, he'll have to compete with Cuomo's record, which boasts a number of high-profile accomplishments, and the support for the incumbent from the Democratic establishment, including many labor unions, and, perhaps, an activist base that decides Cuomo is preferable to anyone with an "R" next to their name, especially in the Donald Trump era.
New York is a blue state, with a significant Democratic enrollment advantage, and November is expected to usher in the full impact of a blue wave building across the country, including in New York. But, there are many parts of the state that lean Republican and some signs of Cuomo fatigue. Seeking a third term in 2018 may be like seeking a fourth term in earlier eras that didn't have today's news cycles and social media. Mario Cuomo, Andrew's father, lost his attempt at a fourth term to Pataki in 1994.
Andrew Cuomo is likely to be damaged by what is already a bruising primary challenge from Nixon, who, if she doesn't win, is cutting powerful ads for use against the incumbent in the general. While Nixon is challenging Cuomo from the left flank, her criticisms of him as "corrupt Cuomo," "Andrew the bully," a poor steward of the MTA, and more, are all ones that will be tenets of any Republican campaign against the governor.
Though polls and campaign accounts show Cuomo in good position as the campaign season gets moving, and he is a famously crafty political operative, the amount of apparent vitriol from the governor's left and right should not be underestimated. Nixon launched her campaign less than two weeks ago, many prominent Democrats have sidestepped questions about endorsing the party's most powerful New York player, and anti-Trump and anti-Senate Independent Democratic Conference fervor may take major bites out of Cuomo's margins in the primary.
As the calendar turns to April and Nixon throws haymakers, enter Molinaro.
The county executive will talk "purpose" and "service" a lot, he'll talk about civic responsibility, shared values across political lines, family, and opportunity. He will continue to criticize Cuomo on ethical, management, and leadership lines. He will point to the struggling economies of upstate towns, the floundering New York City subway system, the high property taxes and unfunded mandates on localities, the corruption trials of top Cuomo aides, the secretive Albany budget negotiations, and the vengeful nature of an incumbent with few friends but many allies.
That will take him only so far.
Molinaro will need a clear platform, and his positions on a variety of issues will be vetted carefully. He'll need to secure votes across upstate New York and break through in the suburban counties surrounding New York City, including the areas around his own home in Dutchess and onto Long Island. He'll have to make himself exempt from the apparent suburban revolt against Trump's Republican Party.
Votes from the five boroughs would also be helpful, if not essential -- can he secure the Giuliani and Bloomberg Democrats and independents and hit the "magic 30 percent" that Republicans believe they need in the city to win statewide?
How will Molinaro tailor his campaign in the different regions of the state? How will he talk about Trump? Who will be his lieutenant governor candidate running mate?
As he seeks to mostly take the high road, Molinaro has been critical of the tone and tenor of the 2016 presidential campaign, and said at a recent candidate forum in Manhattan that he will support Trump when he works to help the middle class, but speak up when he disagrees with the president. "You'll always hear me say it the way I see it, just like I think many people admire the way he says it the way he sees it," Molinaro said.
Molinaro has said he did not vote for Trump in 2016, instead writing in former Congressional Rep. Chris Gibson, who at one time was many New York Republicans' hope to challenge Cuomo this year. Gibson decided against running. Molinaro's opposition to Trump has not stopped many Republican leaders from supporting him.
While some Republicans throughout the state will want to hear Molinaro back Trump's presidency, Democrats will surely use the president against whoever the GOP nominee is, especially in the state's large cities and suburbs around New York City.
When asked by Gotham Gazette if he calls himself a moderate, Molinaro said no.
"I have some strongly held beliefs," he said. "I have had to vote on them from time to time. You could consider me a communitarian. I know it's not a real term, but it was one. Everyone who has a stake in the game, everyone who has something to win or lose deserves a seat at the table and the leader needs to set the tone. In this case, a governor, a mayor, or a county executive sets the tone that gets people who may be on opposite sides of the issue to find some commonality so that we solve the problem, confront the challenge, and provide the outcome."
"We have to come to conclusions that don't divide people," he added. "This governor is often too happy to divide people. If you're too far right, you don't deserve to live in the state of New York. If you're too far left well then, he suggests, I don't have to listen to you. The truth of the matter is, everybody who calls the state home has to know that their leader is listening to them."
Molinaro said he has friends and colleagues who will vouch for him who are Democrats and Republicans. In Dutchess, he said with a laugh, "most of the Democratic leaders hate that they like me." He said that he would work better with Democratic Mayor Bill de Blasio than Cuomo has.
Molinaro is a fiscal conservative, promising job growth based on smart development, lower taxes, fewer regulations, and tighter government spending. "Driving down the costs of doing business and the cost of living is, I think, paramount," he said.
He will have his record to run on. "Under Marc's leadership, [Dutchess] County saw a transformation into a community where businesses and families thrive," said New York City Council Member Joe Borelli, a former Assembly colleague of Molinaro's who lived in Dutchess for several years and knows Molinaro well. "He is a pragmatic executive, willing to work with all sides, and has a reputation as a problem-solver. Most importantly, he has good character and a strong moral compass that guides his decisions."
In the interview with Gotham Gazette, Molinaro expressed concerns about the minimum wage hike that Cuomo orchestrated in 2016, which will see the wage hit $15 in many parts of the state over the course of several years. He said that especially outside of New York City, "I don't necessarily think it was a smart move and certainly hasn't produced, I think, the outcomes outside of the city. I didn't support it at the time. I'm all for indexing a minimum wage to growth, but I think that frankly it was a decision defined by political expediency. It is not necessarily defined by molding consensus and trying to come up with a policy that was in the best interest of taxpayers and employers and of people struggling to find any job."
Molinaro believes in targeted support for industries or sectors to help encourage growth, saying that power has become too concentrated in Albany and he wants to return much of it to counties, cities, and towns. Molinaro noted his endorsement from The Sierra Club, saying he was one of the "few Republicans in the state Assembly" to earn the environmental group's backing. He stressed that he's not easily labeled.
He promises to make education a priority if elected governor. "I think a wholesale look and review as to how we fund education and how we distribute funding," he said, adding, "it's important that we look at the delivery of special education in the state."
Molinaro may face challenges establishing broad-based appeal on social issues. He appears poised to run with a moderate, inclusive message on immigration, but on gun regulations, LGBT rights, and women's reproductive freedoms he may struggle to find the constituency needed to win in New York, especially given the attacks that Cuomo would level against him on those issues.
"When I was in the Assembly I did vote against same-sex marriage," he said of the 2011 vote that moved through what is perhaps Cuomo's signature policy achievement of his tenure. "I think that we've moved along. Everyone now enjoys and has the right to enjoy marriage. To celebrate whoever, with whomever they love. I accept that and as an elected official it's my job to uphold the laws of the state of New York. I don't have any reservations about the vote. I also accept that time has passed. As a society we've moved forward."
On abortion rights Molinaro said somewhat similarly. He believes in "preserving life," he said, "but I accept that there are certain situations where individuals need to be able to make that decision, but I also accept that this is settled law in the state."
"I'd like us to work as a society, as a community, to reduce the numbers and times that abortion is chosen," he added. "It's not something that I could support personally, and I don't, but I acknowledge that as a society we need to do our very best to help people make as many responsible decisions as possible and there are certain situations, obviously, where women are put into a position having to make that decision. As a government we need to be sure that individuals have access to affordable healthcare to ensure that they're as safe and healthy as possible."
On gun regulations, Molinaro echoed what many Republicans across New York believe: "Frankly, I do have concerns with how aggressive this governor has been. I think in some ways irresponsibly ignoring those that do support, as I do, the Second Amendment and forcing legislation without having the kind of local robust conversation necessary. I believe the constitution is as it's written." Molinaro is a regular at Friends of NRA events, something Cuomo -- who pushed through the SAFE Act gun regulations in early 2013 -- would likely seek to use against him.
Molinaro has been a steady critic of Cuomo's ethics, and been among many asking questions about a pay-to-play culture where campaign donors appear to be favored and massive amounts of cash flow into the governor's coffers from entities that have or hope to win state business. These issues were brought into sharp relief during the recent corruption trial of Cuomo's top former aide, Joseph Percoco, and others. They will again be on display during another trial set to begin in June that features Cuomo allies, projects, and donors.
The county executive said he'd "like to engage in a comprehensive reform of campaign finance." He said he's in favor of closing the LLC loophole, but only in combination with other reforms.
Calling for "wholesale review and reform of campaign finance in the state" that is informed by many perspectives, he said, "I'm one of the people that only thinks people should be able to contribute money."
"[T]hose are individual rights, those rights extend to individuals," he said, raising questions about donations from businesses and labor. "[U]nions have a great deal of influence, corporations have a great deal of influence; the state contribution limits are astronomically out of line to other states, independent expenditure opportunities are pretty broad in the state. There are a lot of those reforms that I think should go hand-in-hand," he said.
The endorsements of Molinaro that have steadily flowed in over the past few weeks speak to faith in him as a leader and as a person.
J.C. Polanco, a Bronxite who works for the Assembly minority and has known Molinaro for over a decade, believes he is the type of candidate Republicans need to run more in New York. "His youth and moderate positions on immigration, criminal justice, taxes and widening the tent of our party is one of the main reasons I'm excited to support my friend Marc," said Polanco, who unsuccessfully ran for New York City Public Advocate last year. "At a time when many moderate Republicans like me feel unwelcomed he's one of the few guys that has made it a point to include me and others like me into the conversation."
Many of those offering their backing cite different reasons, namely reigning in state spending, improving the economy, lowering taxes, and leading a more ethical government.
In his endorsement of Molinaro, Suffolk County Republican Committee Chair John J. LaValle called him "a proven leader" who "has both the executive and legislative experience, together with the energy and enthusiasm to lead our ticket to victory this November."
LaValle said that New Yorkers "are desperate for a Governor that is truly committed to cleaning up our government and fighting for our overburdened taxpayers. It's time to replace the Governor who has led New York to the bottom of virtually every economic category, while focusing on self-promotion."
As he formally launches his campaign, Molinaro will have to start proving that he can raise the money to compete, and that he has a sense of the path to victory. Much will depend on who emerges from the Democratic primary, but Cuomo is the obvious favorite at this point, no matter the state of the New York City subways, the recent corruption conviction of his former top aide, or the upcoming trial of his former economic development czar.
Molinaro's campaign believes that the stage is set for a competitive race, though, in large part because of those corruption trials, which have helped sink Cuomo's standing in and around Syracuse, Buffalo, and Rochester, and the primary challenge from Nixon, which could damage Cuomo badly downstate.
"I've thought about what a roadmap looks like and how one as a Republican in this state can win," Molinaro said. "We know it takes a lot of messaging and action in New York City to allay fear." To find a Republican governor acceptable, he said, would mean building trust in and around the five boroughs, but that he would be aided by the fact that Cuomo has "eroded" a significant portion of the progressive base of the party.
"And frankly upstate it's community by community," Molinaro said. "It just is. You have to be willing to commit every day until Election Day to go to, to get to the VFWs and fire houses and the community organizations, and as many voters as possible and make that connection."
"I'm not naive, I've worked on campaigns, I've run for office, it's a lot of work," he said. "[O]utside of the city it's district by district. It's neighborhood by neighborhood. Building the network to send your message over and over again so that we not only, not only earn the support but get the turnout."