Ben Max, left, of Gotham Gazette, and Jarrett Murphy, right, of City Limits
---
April 2, 2018 - Max & Murphy Podcast: Molinaro Launches Campaign for Governor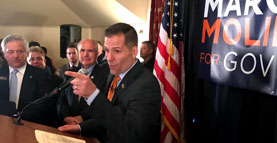 Dutchess County Executive Marc Molinaro has been a declared candidate for Governor for several weeks, emerging as the frontrunner to earn the Republican nomination, but he officially kicked off that campaign on Monday in Tivoli, a small village in Dutchess where Molinaro grew up and was elected mayor at the age of 18, in 1994.
For this week's podcast, Max & Murphy took the show on the road, traveling up to Tivoli for Molinaro's announcement, which consisted of a rally at the village hall, where Molinaro delivered remarks and was cheered on by family, friends, and other supporters. For the podcast, Max & Murphy set the context, then there's the first five minutes of Molinaro's remarks, followed by the hosts recapping and analyzing the speech, and discussing Molinaro's candidacy, especially as it relates to incumbent Governor Andrew Cuomo, who is seeking a third term this year.
Listen to the full conversation and let us know what you think -- we're on Twitter @TweetBenMax and @JarrettMurphy and guest Marc Molinaro (@marcmolinaro). You can listen to the episode through the embedded audio below or download the episode wherever you get your podcasts.
Listen to Molinaro's full remarks from Tivoli: