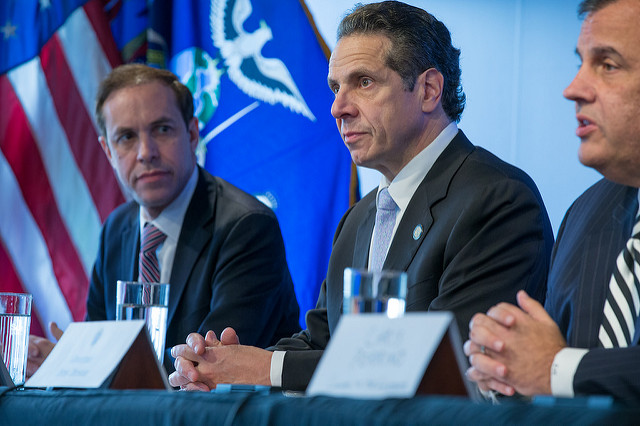 Gov. Cuomo (photo: Governor's Office)
---
In the 2014 race for governor, when Governor Andrew Cuomo, the Democratic incumbent, was leading by 37 points over his Republican rival Rob Astorino with nearly four months till Election Day, the Republican Governors Association wrote off the loss.
Then-RGA chair Chris Christie, governor of New Jersey at the time, publicly refused to come to Astorino's aid. "I will spend time in places where we have a chance to win — I said that right from the beginning," Christie said in late-July 2014, according to NJ.com. When asked if he'd campaign in New York, he added, "We don't pay for landslides and we don't invest in lost causes." Astorino went on to lose by about 14 points, receiving 40.6 percent of the vote to Cuomo's 54 percent, with some saying that though he faced steep odds, he had virtually no chance without support from the RGA and other forces that sat it out. Cuomo and Christie had a good relationship, and appeared to have something of a non-aggression pact.
This time around, with resentment against Cuomo intensifying among Democrats on the left, the incumbent's vulnerabilities showing on issues like the state-run New York City subway system and government corruption, and with Republicans eager to build on victories from 2016, the RGA is watching New York closely while state party leaders prepare to pitch the RGA for help in electing the party's first statewide official in New York since 2002.
"We are keeping a close eye on the New York governor's race," said Jon Thompson, RGA communications director, in an email to Gotham Gazette. "The RGA does not get involved in GOP primaries, but once voters choose a nominee, we will take a hard look at how we can make an impact. If Governor Cuomo's approval ratings continue to drop, or he loses the primary to Cynthia Nixon, it could create an environment that is competitive for Republicans."
The winds have changed since 2014 and a third-term for Cuomo no longer seems an absolute certainty. An enraged and engaged activist base is seeking to push the centrist governor further to his left, boosting the unlikely possibility that actor and activist Cynthia Nixon could prevail in her longshot Democratic primary challenge. The stink of corruption continues to linger over Cuomo's administration, with one former top aide to the governor recently convicted of fraud and accepting bribes, and another headed to trial on corruption charges in June. And then there's a degree of Cuomo fatigue, evident from recent polling that shows the governor's favorability at one of the lowest points in the seven years he has held his seat and voters more interested in "someone else" than reelecting Cuomo.
For Republicans, the time seems ripe for a strong challenge, embodied most likely by Dutchess County Executive Marc Molinaro, the Republican candidate who has already locked up enough endorsements to secure the party's nomination at its convention in late May. His main opponent, state Senator John DeFrancisco of Syracuse, even acknowledged that Molinaro has the leg up after the state Conservative Party chose last week to back Molinaro's bid, ("It's obvious that Molinaro has the momentum," he said, according to The Buffalo News) but has not dropped out of the race. Both candidates have pledged that they will not contest a primary beyond the convention, keeping in line with the party's plan of unifying behind a single candidate after the nomination is formally decided, giving that candidate from June until November to run with full GOP support.
But even though Cuomo may stand bloodied and bruised, whether from his own failings or after what is expected to be a scorched earth primary, he has a campaign warchest of $30 million and counting, far surpassing any candidate in the field on either side. That makes the intervention of the RGA a potentially game-changing factor for a Republican candidate's campaign.
"They can't coordinate but they certainly can have a huge impact," said New York State Republican Committee Chair Ed Cox, in a phone interview. "And they know how to win gubernatorial elections."
As opposed to 2014, Cox sees a clear path for a Republican victory this year -- with the governor's mounting scandals, his second-term swing to the left that has created resentment upstate, and his use of the race as a springboard for a presidential bid, which Cox said would rub voters the wrong way. There's also the possibility, he noted, that Cuomo will lose votes in the general to third party candidates -- Nixon won the endorsement of the Working Families Party, which would allow her to be on the general election ballot even if she loses the Democratic primary; and Howie Hawkins is running for governor for a third time on the Green Party line, on which he came in third with more than 180,000 votes in 2014.
In a race between a "governor who is a political thug" like Cuomo, and a "very impressive" candidate like Molinaro, Republicans stand a chance, Cox said. "New York may be a blue state, but it's a blue-collar state, not a West Side Manhattan blue state," Cox said.
"The money that the RGA could bring to any given gubernatorial race is massive," said Heath Brown, associate professor of public policy at John Jay College of Criminal Justice, CUNY, and an expert in campaign finance. "The millions of dollars that they could bring into a race, specially on the advertising side, has in the past been very significant in many states...Where they spend that money is I think very debated, but it's not debatable at all that if they decide to get involved in a race, that they, at the state level, can be one of the biggest players in any gubernatorial race."
Just on Tuesday, the RGA announced that it had raised $87 million so far in the 2018 cycle, $23.6 millon of which was in the first quarter of this year alone.
With 36 governor seats on the ballot this year, those resources will be put to use in competitive races. The RGA has already booked $34 million in television ads in the closing weeks of the general election in ten states: Florida, Nevada, Ohio, Arizona, Alaska, Connecticut, Kansas, Minnesota, Tennessee, and Wisconsin. Some of that funding may be employed by RGA Right Direction PAC, an independent expenditure group entirely funded by the RGA, which had just under $1 million at its disposal at the end of March.
Brown noted, however, that New York may be far down the list of RGA priorities. The national politics around President Trump, which may in some ways boost Republican enthusiasm, have also by-and-large riled up Democrats, and observers widely believe a blue wave is going to crash across the country. "I think everyone expects New York to be solidly Democratic and if there weren't so many other close races, I think the RGA might look at New York more seriously," Brown said. "But I think they've got bigger fish to fry and many more pressing concerns about Republican-held seats losing, which would be much much more serious."
According to The Cook Political Report, five Republican-held and three Democrat-held gubernatorial seats are toss-ups in this year's election, and New York is in the "Solid D" column.
A Siena College poll out Tuesday showed Cuomo with his lowest favorability rating as governor, but also showed him ahead of Molinaro in a head-to-head 57-31 percent, though many voters don't know Molinaro yet and Republicans are disputing the polling methodology.
Brown said that even if Christie had not publicly shot down the Astorino campaign in 2014, there was little chance of the RGA investing in that race. "I think that a competitive race among the Democrats is going to be something that national Republicans will enjoy. But the actual investment of resources is something that is too precious for national organizations to do anything other than place where they need to get wins...there is a question about the nationalization of gubernatorial races in 2018 and whether the national politics related to the president are going to be something that every governor running is going to have to confront. So I think that the nationalization that we've seen in other parts of the country is also likely to play out in New York."
That hasn't stopped the New York Republican Party from trying to woo the RGA. Next month, the Republican State Committee will honor RGA Chair Bill Haslam, governor of Tennessee, at its annual gala. The RGA is also expected to meet in New York around the same time.
DeFrancisco has already made his case before the RGA at a meeting in February. Michael Lawler, a spokesperson for DeFrancisco's campaign, said in an email, "I think the Republican Governors Association is definitely interested in the race. Fortunately, they are in a position of defending a majority of seats, and so like with any race, they will evaluate it on the merits, but I would expect they would look to be more helpful than they were four years ago, not just financially, but publicly offering support."
Molinaro campaign spokesperson Katherine Delgado said, "We remain in regular contact with the RGA and other outside groups that are encouraged by Marc's candidacy."
Cox predicted of Molinaro, "I can see him getting together with them and really impressing the RGA people."