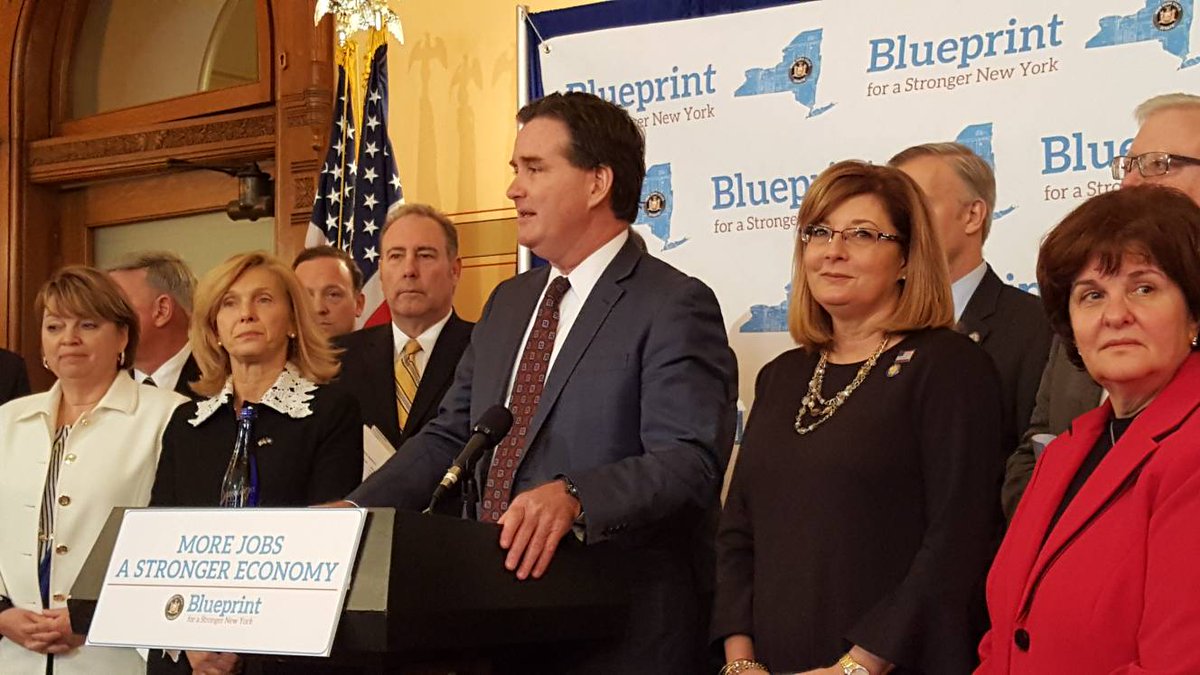 Senate Majority Leader Flanagan and colleagues (photo: @nysenate)
---
The Republican-led New York State Senate, which for years had a collaborative working relationship with Governor Andrew Cuomo, passed a slew of government transparency and accountability bills on Wednesday that further highlighted the GOP majority's recent split with the governor.
The package of 11 bills, covering everything from campaign contributions to state contracting processes, made its way through the chamber and was sent for approval to the Assembly, which is controlled by Democrats under Speaker Carl Heastie of the Bronx. Several of the bills have companion legislation in the Assembly and some have even been approved by that chamber. But it's unclear how the Assembly will vote on the entire package. A spokesperson for Heastie did not respond to a request for comment.
Some of the bills clearly target Cuomo, particularly one directly related to the executive chamber, who has fallen out with Republicans since he ushered the reunification of a divided Democratic conference in the chamber last month and pledged a full-throated campaign to seize control of the upper chamber through the elections this fall. Other bills are intended to end the type of pay-to-play practices laid bare in the recent corruption conviction of Joseph Percoco, a former top aide to Cuomo, and that will likely feature heavily in the upcoming corruption trial of Alain Kaloyeros, another former Cuomo ally.
"It is imperative that the public trusts the actions of their public officials, especially when it comes to spending the people's money," said Senator John Flanagan of Long Island, the Republican majority leader, in a statement after the legislative package was approved. "This extensive package would help fix many of the issues that lead to corruption and the misuse of taxpayer funds and will create a system where sound investments will be better able to grow our economy and create more opportunities for all New Yorkers."
In an op-ed in State of Politics on Monday, Flanagan made clear his differences with Cuomo, "whose unbridled ambition for higher office leaves every New York taxpayer in danger," he wrote. He criticized the governor for tacking hard to the left because of the primary challenge from Cynthia Nixon. "For years, the Governor worked with me in a bipartisan manner to find common ground and move our state forward. But, I no longer recognize the person who occupies this office," Flanagan said.
Taking direct aim at the governor's office, one of the bills passed on Wednesday would prohibit executive chamber appointees and members of their households from making campaign contributions to, or soliciting them for, the same executive who appointed them. Without naming Cuomo, the bill cites a New York Times report that highlighted the governor's practice of accepting such contributions despite a standing executive order from years ago that prohibited them. Cuomo's office has presented a much narrower interpretation of the order than has been indicated in the past.
Another bill would limit political donations from individuals or entities applying for state grants, licenses, and contracts to those officials and candidates who would approve them.
Another requires appointees to Regional Economic Development Councils -- controversial entities created by Cuomo in 2011 to encourage local economic initiatives -- to file the same financial and ethics disclosures as public officers. The bill would also codify REDCs into law. "It is vitally important that we put laws in place that prevent conflicts of interest with taxpayer dollars," said bill sponsor Senator Thomas Croci, a Republican from Long Island.
Croci also sponsored another bill in the package to create an online public database of projects that receive state subsidies and economic development benefits. Also known as the "database of deals," the proposal was included in the Assembly's one-house budget earlier this year but did not pass.
Most of the bills relate to transparency in government contracting and ensuring greater accountability for taxpayer dollars. One of the bills, termed the "New York State Procurement Integrity Act" -- which also has an Assembly counterpart -- reinstates the state Comptroller's pre-clearance oversight jurisdiction of contracting by SUNY, CUNY, and the state Office of General Services, as well as expands his authority over SUNY Research Foundation contracts worth more than $1 million. It also forbids state-affiliated not-for-profits from awarding state contracts without prior authorization. These bills relate directly to issues that will be front and center in the Kaloyeros trial, which involves the governor's signature economic development programs, namely the Buffalo Billion, and alleged bid-rigging therein.
One of the bills mandates that the Public Authorities Control Board be given more information before approving funding for any job creation projects, including any provisions that would allow the state to clawback funding if the project's stated goals aren't met.
The START-UP NY program, another Cuomo initiative, would have to resume reporting annually on its work under the provisions of another bill. Yet another bill creates a nonpartisan Independent Budget Office to analyze state revenue and expenditures.
Most of the bills seem intended to curtail the powers of the executive branch and of state agencies under its control. For instance, a bill sponsored by Senator Joseph Griffo would define how long, and how often, an interim appointee can serve at the head of a state agency or department. Another bill would limit the ability of state agencies to declare a public emergency unless necessary to protect the health and safety of the public.
Only one bill had a Democrat as lead sponsor -- Senator Liz Krueger of Manhattan -- mandating that the state budget division prepare a Unified Economic Development Budget each year showing how much the state has invested in economic development projects and the results of those investments. It is a measure that watchdogs, especially Citizens Budget Commission, have sought in order for the public to have more information about how successful the state's economic development initiatives are.
A group of government reform advocates and independent fiscal watchdogs including the CBC praised in particular the "database of deals" and the Public Integrity Act, calling on the state Assembly to approve them. That group also includes Citizens Union, Common Cause NY, Fiscal Policy Institute, League of Women Voters, NYPIRG, and Reinvent Albany.
"Both these bills will be effective in reducing the corruption risk of economic development projects that taxpayers spend billions of dollars on," said Alex Camarda, senior policy adviser for Reinvent Albany. "They're good policy. The governor should support them."
Cuomo's office did not respond to a request for comment about the Senate package. The governor has proposed his own reform agenda in recent years that includes elements aimed at the Legislature, as well as more sweeping campaign finance reform, government ethics measure, and voting reforms. The governor has indicated a top priority for him is banning outside income for legislators. Most of those proposals have seen less support in the Senate than the Assembly.
[Read: Post-Percoco Conviction, Kaloyeros Trial Likely to Further Stain Cuomo Administration]
Note: Gotham Gazette is an independent publication of Citizens Union Foundation, sister organization of Citizens Union.