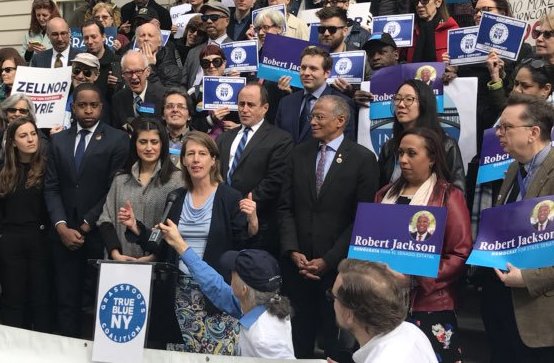 Zephyr Teachout at an anti-IDC rally (photo: Ben Max)
---
The recent resignation of former Attorney General Eric Schneiderman sent shockwaves through the New York political world, and with just six months until New Yorkers elect a new attorney general in November, it sent potential candidates scrambling. Political party nominations are being decided, ballot spots must be secured, and party primaries are September 13.
Soon after Schneiderman's departure amid accusations that he was physically abusive of four women he had been in romantic relationships with, according to reporting by The New Yorker, several individuals expressed interest in becoming attorney general.
One is Zephyr Teachout, the law professor who challenged Governor Andrew Cuomo from the left in the 2014 Democratic gubernatorial primary, who quickly said she was forming an exploratory committee. Among other moves, Teachout sent out e-blasts to her supporters asking if they want her to run and used her Twitter account to discuss her resume and the role of attorney general. Currently the campaign treasurer for Cuomo's leading 2018 primary opponent, Cynthia Nixon, Teachout even had a logo mocked up for her potential attorney general run.
On Wednesday, Teachout told Gotham Gazette that she has submitted her name for consideration by the Working Families Party, which is holding its nominating convention this weekend in Manhattan, and that she will be pursuing enough support at next week's State Democratic Party convention to secure a ballot line.
On the same day that New York City Public Advocate Letitia James, a Democrat, formally announced her candidacy for attorney general, Teachout also indicated that she's prepared to collect enough petition signatures to compete in the Democratic primary if she does not meet the threshold at the party convention.
"I'll be making a decision fairly shortly," Teachout told Gotham Gazette about whether she will indeed seek the statewide office that is New York's chief legal officer. "I'm grateful for the incredible response I've gotten from people I know from different aspects of my work: anti-corruption work, antitrust work, Trump work," she said. "It's been really wonderful to get this kind of support."
"I submitted my name to be considered," she said of the Working Families Party, which came close to backing her against Cuomo in 2014, but went with the governor after he agreed to a series of policy and political goals that he mostly did not follow through on. "I'm planning to be at the convention on Saturday," she added.
It is not clear who else is seeking the WFP nomination for attorney general -- a spokesperson for the party did not respond to an inquiry for the list.
"I plan to seek the Democratic Party threshold to get on the ballot, and I'll be at the convention next week," Teachout also said. "One of the most important things that I think can bring Democrats together is that the next AG can lead the fight against the Trump administration's lawlessness."
As Teachout has pointed out, her past and current work is suited toward continuing some of the attorney general office's most high-profile litigation against the Trump administration, something Schneiderman had made a top priority and is being continued by interim Attorney General Barbara Underwood, formerly solicitor general, who is seeking a legislative appointment to stay in the role through at least Election Day, if not the end of the year, but is not planning to run for election.
When announcing her exploratory committee on Twitter, Teachout said, "The next Attorney General of New York should be an independent fighter and a voice for the people, ready to take on corruption and lawlessness at the highest pinnacles of power" and "ready to investigate corruption in Albany, in real estate, and on Wall Street."
She touted resume items such as "writing about and fighting corruption my entire career," working as a death penalty defense lawyer, pushing for stronger antitrust enforcement and prosecution of financial crimes, being "the first national director of the Sunlight Foundation," and her work as a professor at Fordham Law School.
Teachout has received public support from a number of progressives with significant followings or resumes, including Professor Laurence Tribe, and several liberal New York activists.
"I have a great exploratory team--Tim Tagaris and Hector Sigala from Bernie's digital juggernaut, BrownMiller Group; ALG Research; Putnam Partners (whose past clients include Barack Obama, Hillary Clinton and Kamala Harris' AG race)," she tweeted.
Notably, BrownMiller is the firm that in 2013 "ran the petition drive that placed Eliot Spitzer on the ballot with over 27,000 signatures in just four days," as its website states of the blitz that got the former governor on the Democratic primary ballot for the city comptroller race. That type of work would come in handy if Teachout needs to go the petition route to make the Democratic primary ballot again the state party nominee, which at this point is likely to be James, and possibly others.
The public advocate, whose first win of elected office was on the Working Families Party line in a 2003 City Council race, has indicated that she is not seeking the WFP nomination, apparently siding with Cuomo after the governor's recent split with the party as it endorsed Nixon for governor after backing Cuomo in his 2010 and 2014 wins.
After her campaign kickoff event in Brooklyn on Wednesday, James declined to answer with specificity why she had made that choice, instead repeatedly stating that she is focused on winning the Democratic nomination. She did say that she is independent and not one to be bullied, though she did not explicitly state that Cuomo had not factored into the decision in some way.
Four leaders of the WFP put out a statement Wednesday morning accusing Cuomo of essentially forcing James to choose him and the Democratic Party apparatus that he controls over the WFP, even assigning racial and gender components to the alleged arm-twisting. The Cuomo campaign shot back in reciprocal fashion.
If Cuomo does support James' candidacy, she will have significant advantages as she seeks to become the first woman of color elected New York attorney general. James has a solid base of support in New York City and the likely backing of many labor unions, three of which endorsed her at her launch, but she has never been a strong fund-raiser and is not well-known outside of the city.
Teachout, meanwhile, has some degree of name recognition and support outside the city after her 2014 gubernatorial run -- when she won 34 percent of the primary vote against Cuomo, largely by doing well upstate -- and her 2016 congressional run in the Hudson Valley, which she lost to Rep. John Faso, 54-46 percent.
As for her role with the Nixon campaign, Teachout did not directly answer on Wednesday whether she would step down as treasurer if she does formally throw her hat in the attorney general race. "I've been very clear about my support for Cynthia Nixon, but if she's governor and I'm attorney general, if there's anything within the AG's purview, even a whiff of corruption, I would pursue it," Teachout said. "I'm a very independent person." But on Friday morning, Teachout told Gotham Gazette that she will indeed step down as Nixon campaign treasurer as she pursues an attorney general run.
[Related: Letitia James Launches Campaign for Attorney General]
Note: this story has been updated with Teachout's decision on Friday to step down from the Nixon campaign as she explores an AG bid.