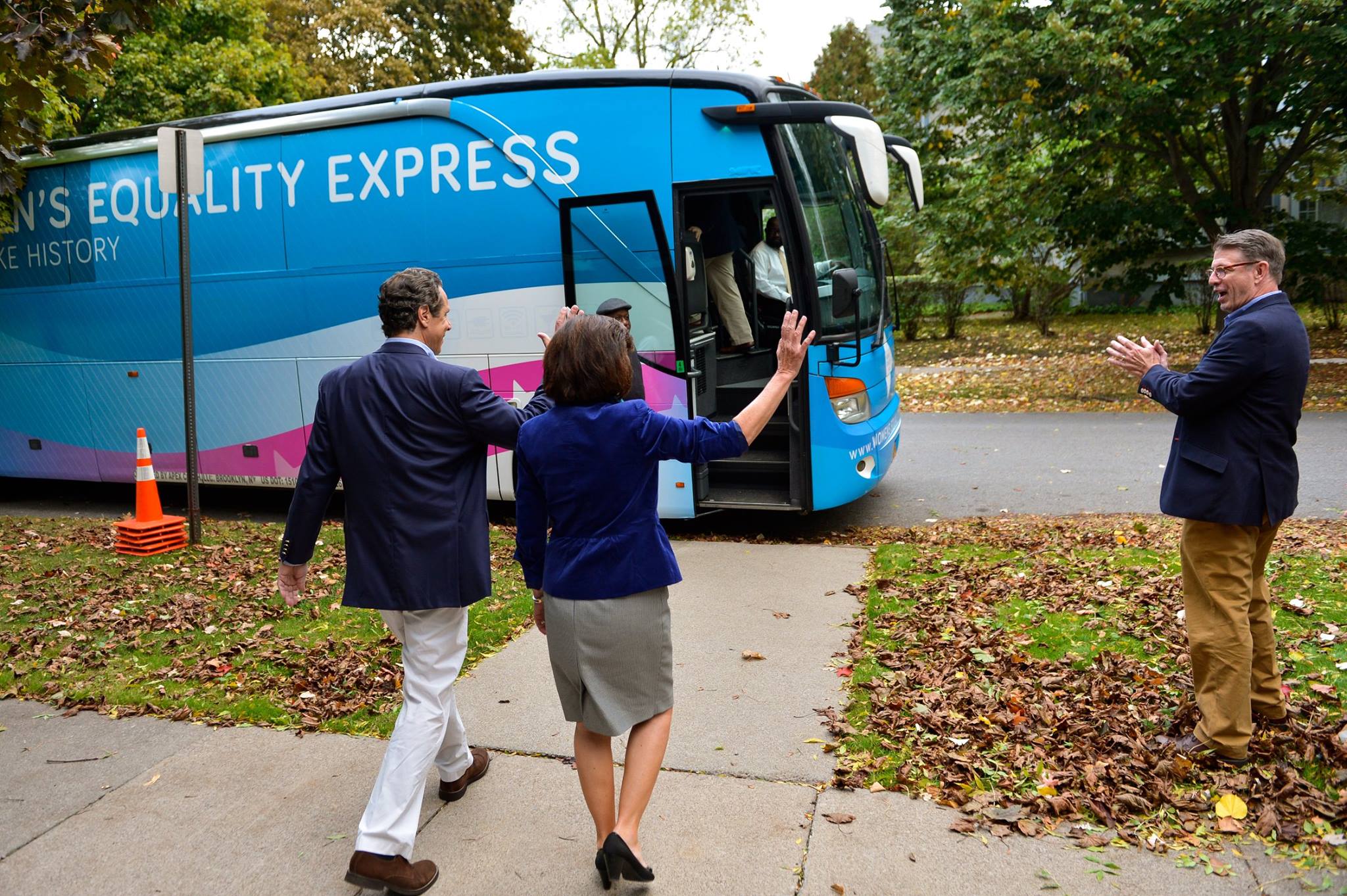 Cuomo, Hochul & the WEP bus (photo: Andrew Cuomo/Facebook)
---
As he sought a second term in 2014, Governor Andrew Cuomo created the Women's Equality Party amid a primary challenge from his left by Zephyr Teachout and as he sought to undermine the Working Families Party, which had begrudgingly endorsed him after he begrudgingly made a set of policy and political promises.
Cuomo said it was time for a political party dedicated to women and traveled around on a bus highlighted with pink streaks to underscore his point. The governor was running with Kathy Hochul as his potential lieutenant governor, after his first-term lieutenant governor, Robert Duffy, decided not to seek a second term, and was calling for the passage of a ten-point Women's Equality Agenda that included measures toward pay equity, abortion protections, and more.
In order for the WEP to earn a guaranteed ballot line in subsequent years through the next gubernatorial election, Cuomo and Hochul, its endorsed candidates at the top of the ticket, had to earn at least 50,000 votes on the line in 2014. They received 53,802, a fraction of their roughly 2 million total, mostly earned on the Democratic Party line.
Therefore, this year -- amid the #MeToo movement and heightened attention on women running for elected office -- the skeletal WEP has a ballot line to offer the candidates of its choosing. It is one of just eight such parties that come into this state election year with a guaranteed ballot line, and it appears it will be the last of the eight to announce its nominees for the statewide positions of governor, lieutenant governor, comptroller, and attorney general. (The WEP is already supporting incumbent Democratic U.S. Senator Kirsten Gillibrand for reelection this fall, as well as a slate of congressional candidates.)
As of April 1, there were 4,675 New Yorkers registered to vote as members of the Women's Equality Party, according to the state Board of Elections, including its current chair, Susan Zimet.
In the wake of the surprise resignation of Attorney General Eric Schneiderman amid accusations that he physically abused at least four women, Zimet recently put out a call for prospective attorney general candidates interested in the Women's Equality Party nomination to submit answers to a questionnaire that the party requires for consideration.
Statewide candidates have been scrambling to earn and accumulate ballot lines, as every vote and every method of appealing to voters count. For example, presumptive Republican gubernatorial nominee Marc Molinaro, currently the Dutchess county executive, is set to appear on the GOP, Conservative, and Reform Party ballot lines.
Cuomo already appears to have locked up nominations from the Democratic and Independence parties, though he is being challenged in the Democratic primary by Cynthia Nixon, and appears on track to again earn the nomination of the party he launched four years ago, the WEP, which has mostly been quiet over the past several years and boasts a website with several prominent pages last updated in 2015.
"Never before has our line been more important than it is right now, with the #MeToo movement and the #TimesUp movement," said Zimet, who took the reigns of the party earlier this year, in an interview with Gotham Gazette.
Zimet, whose day job is executive director of the Hunger Action Network of New York, indicated with great enthusiasm for the process that the WEP is still receiving questionnaires form candidates, including those running for state legislative seats in the Assembly and Senate, all of which are up for election this year, and that state committee members would be meeting soon to make nomination decisions.
The questionnaire, which includes 20 "yes" or "no" questions and an opportunity for candidates to expand more in additional writing, says at the top that "The WEP is not just the beginning of a new political party; it is a powerful movement to bring women's issues front and center to ensure that the voices of women are heard and counted where they matter most – at the ballot box."
The questions -- currently the same given to candidates for other offices as well -- include several related to women's reproductive rights, and others on leveling the economic playing field for women, gun control, immigration, protecting child sex abuse victims, and more. Several of the questions show clear alignment with Cuomo's record, like passage of sexual harassment prevention measures and tighter gun regulations, and policies he supports that have not been passed, like the Child Victims Act.
While Cuomo has several policy achievements that appear aligned with the WEP agenda, he has also been criticized for not including the lone female legislative conference leader, Senator Andrea Stewart-Cousins, in negotiations of new sexual harassment prevention legislation and other policy matters, for not doing enough to root out harassers in state government, for being paternalistic and mysoginistic, and for a particularly rude response to a female journalist who asked him about what he was doing to combat sexual harassment in state government.
By sometime in July, Zimet said, the Board of Elections requires that the WEP "designate and authorize" candidates, provide a "Wilson Pakula" to candidates not registered with the WEP in order for them to run on the line, and have candidates accept the nominations.
Without getting ahead of her party's process, Zimet indicated Cuomo has a strong shot at getting the nomination. She repeatedly noted that minor parties must be careful about their choices, in part so that they keep their automatic ballot lines in the future. She referenced the Working Families Party's difficult decision in backing Cuomo four years ago amid concerns.
"He did put in a questionnaire," Zimet said of Cuomo. "He did apply for the line. And the lieutenant governor did apply for the line. They had to fill out questionnaires like everybody else. He started the line, it's because of him we have the line. Any governor candidate has influence on every line...especially third party lines, because we have to get 50,000 votes on the governor's line."
Zimet indicated to Politico New York earlier this year that Cuomo would likely be the choice for the WEP.
She indicated that Comptroller Thomas DiNapoli had also submitted a questionnaire and is likely to again receive the party's backing. DiNapoli will likely have the most ballot lines of any statewide candidate -- he's set to appear on the Democratic, Working Families, Reform, Independence, and Women's Equality lines.
Zimet repeatedly stressed that she and her follow state committee members, of which there are about 13, would be discussing candidates and deciding nominations, that nothing is preordained and that the members follow the party bylaws. Zimet said that the party has about as many open state committee seats as those filled, but noted that she is "at the beginning of really building the party, and trying to get more people to change their registration, work with us on the issues, and promote the issues we believe in."
As for attorney general, Zimet said that she was as shocked by the Schneiderman revelations as anyone, and had to shift plans quickly after expecting that the WEP would again back him for reelection. "I can't see why we wouldn't have under normal circumstances; Schneiderman was at the forefront of our issues, we fully expected to support him," she said, with some residual disbelief in her voice. "Reading it was devastating. It's always harder when of your heroes fall. You feel betrayed in a way."
"I really believe in the issues that we stand for," Zimet said. "It's really scary to think going forward we could be endorsing people who have skeletons in their closets."
Zimet said during the Thursday interview that Gotham Gazette was the only one to request the attorney general questionnaire, which is the same as the WEP questionnaire for other offices (and embedded below). "I somewhat suspect, I could be wrong, the reason people might not be sending in questionnaires right now could be waiting to see what comes out of the Democratic convention," she said of the nominating convention set for this Wednesday and Thursday on Long Island.
New York City Public Advocate Letitia James has declared her candidacy for the Democratic nomination for attorney general and hopes to win the official nomination of the state party at this week's convention on Long Island. Zephyr Teachout is also seeking enough votes to qualify for the Democratic primary ballot, and The New York Times reported on Monday that Leecia Eve, a former aide to Hillary Clinton and Andrew Cuomo, is also entering the race. Candidates who don't earn the convention votes for a ballot spot can collect petition signatures to earn such a spot. The primary is September 13.
Of James seeking the WEP nomination, Zimet said, "I certainly hope she will."
"I like Tish," Zimet said. "I hope she does a questionnaire. It's not an endorsement."
James' campaign spokesperson did not provide an answer to several inquiries as to whether James would seek the WEP nomination. James has thus far eschewed the backing of the Working Families Party, the party that helped her first win elected office, amid WFP's internal strife and dramatic falling out with Cuomo as it opted to endorse Nixon for governor and Jumaane Williams for lieutenant governor, and lost several labor union members who sided with Cuomo. James has repeatedly said she is solely focused on earning the Democratic Party nomination, but she has said over the last two days that she is confident there will be some reconciliation with the WFP.
A spokesperson for Nixon's campaign did not return multiple inquiries as to whether she will fill out a Women's Equality Party questionnaire. A spokesperson for Williams' campaign said, "Jumaane has a strong public record of pushing for women's rights, which is why we're proud to be endorsed by the WFP— the primary political party that truly stands for New York's women," and did not directly answer the question of whether Williams would fill out a questionnaire and seek the WEP nomination for lieutenant governor.
Multiple requests on the subject to Molinaro's campaign were also not answered. On Sunday, he announced Julie Killian as his lieutenant governor running mate.
Teachout told Gotham Gazette that she had not reached out to the WEP for a questionnaire.
Zimet said she may talk to one or two WEP committee members to possibly tweak the questions for attorney general candidates.
Of the party's general stance, she said: "Here's the questionnaire, we want to see where you stand on our issues."
In the announcement requesting any new attorney general candidate applications, the WEP said it is "committed to fight against any attempts to roll back the progress that women have made in this Country and for true equality for all New Yorkers."
The party will continue to "fight back against the sexism and harassment women face on a daily basis" it said, and "will endorse an Attorney General that will fight for our values for equal rights and equal protection under the law for women and children in New York and beyond."
Of the party's nearly 54,000 votes last time around, Zimet called the showing "pretty impressive, for a line with no history."
"That just goes to show that people who drawn to women's equality," she continued. "People found an alternative, it was refreshing to see that."
Note: this article has been changed based on new information from Susan Zimet.